Do Bernedoodles like the cold? If you have a Bernedoodle, or if you're considering adopting one in a colder part of the world, you'll want to read this guide for more information and tips!
A Bernedoodle is a mix between a Bernese Mountain Dog and a Poodle, and your dog will carry some of the characteristics of each parent. We're going to learn a bit about the history of each AKC dog breed and how their origins impact the way Bernedoodles tolerate the snow and cold.
Before reading this guide, "Do Bernedoodles Like the Cold?," check out: Are Bernedoodles Hypoallergenic? (2023) and When to Neuter a Bernedoodle? (2023).
Bernedoodles: A History
The Bernese Mountain Dog is known to be at least 2,000 years old, but the breed is likely even older. The Romans brought them into Switzerland all those years ago, and as you know, the Swiss enjoy cold winters with plenty of snow!
The Poodle is a German dog, and Germany is another country with a cooler climate. Winters dip into the 30s on average but can drop well below that. Poodles date back to at least the 17th century. Like the Bernese Mountain Dog, these pups are probably much older than that.
Your Bernedoodle will inherit a few traits from his parents that will help keep him insulated and comfortable in these temperatures. An undercoat will help keep him cozy, and your Bernedoodle also has a high percentage of body fat relative to some other breeds. In addition, Bernedoodles are active dogs and this can help them stay warm.
So do Bernedoodles like the cold? Let's take a peek at the temperatures that are comfortable for your Doodle dog, and how you can help keep him safe, healthy, and active in the winter.
Do Bernedoodles Like the Cold?
In a word, Bernedoodles do enjoy a good romp in the snow. Your Bernedoodle will likely be more excited than you are to brace against the wind and cold temperatures of winter, no matter where you live.
That said, Bernedoodles also tolerate warmer weather pretty well. They do "run hot" due to their lineage, but your pup should be perfectly fine in normal weather conditions in the summer.
Since you're curious about Bernedoodles and cold temperatures, you may be interested to know that these dogs are usually pretty well set in outdoor temperatures of down to 20 degrees Fahrenheit.
Now, that's not to say you should leave your dog outdoors for prolonged periods. But playtime in the winter or even in the snow won't be problematic for your Bernedoodle so long as he's supervised.
How Do I Know If My Bernedoodle Is Too Cold?
Your Bernedoodle likes the cold weather, but it's absolutely possible for your pup to get too cold. He can't talk, obviously, so he'll rely on other indicators to let you know that he's a bit too chilly.
Your dog may try to lift his paws off the ground if he's too cold. He may curl into a ball in an effort to preserve his body heat. Your Bernedoodle may become lethargic, or even uncharacteristically "nippy" or aggressive. Of course, if your dog is shivering this is also a sign that he's too cold.
When you begin to see any of these signs, it's a good idea to move playtime back indoors where you'll both be more comfortable. Prolonged exposure to the cold may lead to hypothermia or frostbite, which can be extremely dangerous for your dog.
The best course of action to take if you notice your dog is uncomfortable is to bring him inside and make sure he's dry. Use a blow dryer on the low setting if you have one. Otherwise, ordinary towels will suffice.
Hypothermia and Frostbite in Bernedoodles
If your dog gets too cold, he's at risk of hypothermia or frostbite. Let's talk about both.
Hypothermia
Hypothermia is a condition in which your dog's body temperature drops to an abnormally low level. Your Bernedoodle's temperature should be between 101 and 102.5 degrees Fahrenheit, but a hypothermic dog's temps will drop to below 99 degrees.
If this happens, it's critical to your dog's safety that you bring him indoors to warm up. Untreated hypothermia can lead to coma, brain damage, cardiac arrest, and even death.
Use radiant heat to warm your dog, such as a supervised space heater, a hot water bottle, or a microwaved sock filled with rice. Surround him with blankets to warm him as you call the vet.
Frostbite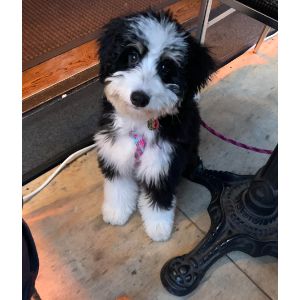 Frostbite is another condition caused by extreme cold. This is the freezing of blood vessels and skin tissue beneath the surface, and if left untreated it can cause permanent damage.
If you suspect your dog has frostbite, bring him indoors and slowly begin to warm the affected area. If you are able, it's okay to immerse your dog's affected skin in water that's around 104 degrees Fahrenheit. It's crucial that you don't warm up his skin too fast.
While your dog warms, call the vet. Frostbite and hypothermia go hand in hand, and it may be necessary for your vet to administer an IV with warm fluids to help your dog recover.
How to Keep a Bernedoodle Warm in Cold Weather
If you have a Bernedoodle, there's a good chance he's more comfortable in cold weather than you are! But if you feel the need to give your pup a little more insulation, there are options.
First, during the colder months, you should keep your Bernedoodle's coat longer than you would in the summer. Kennel cuts and summer cuts are better suited for the warmer seasons — your dog relies largely on his fur and undercoat to keep him safe and warm.
Clothes are another option. Your Bernedoodle may not be a fan of coats and sweaters, but if short fur is necessary there are plenty of adorable options available online and in pet stores. You can even find doggy booties that will keep his paws warm.
Don't leave your Bernedoodle outside for prolonged periods when it's cold outside, and certainly don't allow him to sleep there. Your dog should be inside with you — even a dog house will not provide adequate warmth.
Finally, once your Bernedoodle is safely indoors you can provide him with extra bedding. He'll instinctively nestle himself into the covers — just like you — to stay warm when it's cold outside.
Frequently Asked Questions
Still have questions about whether Bernedoodles like the cold? Here are a few of the most common.
What temperature is too cold for a Bernedoodle?
If temperatures dip below 20 degrees Fahrenheit, it's too cold for your dog to be outside for any longer length of time. Of course, potty breaks and walks will still be necessary, but your pup should come indoors when these "tasks" are completed.
Do Bernedoodles love cold weather?
Your dog's personality will, in part, determine whether he loves the cold weather. Like humans, some Bernedoodles love the cold while others would rather be safely indoors.

Supervise your dog's outdoor play and look for signs of discomfort, bringing him in if he shows you that he's getting too cold. Generally speaking, though, your Bernedoodle will be more comfortable in the cold than you will! A good rule of thumb to follow is that if you're cold, they're cold.
Do Bernedoodles like to be outside?
Bernedoodles love to be outside! Your Doodle will need between 30 and 60 minutes of exercise each day, no matter the weather. Take him for a walk or a jog — we promise it'll be easier for him than it will be for you.

Of course, we've already mentioned that extreme temperatures aren't suitable for your dog to be outside for prolonged periods. Bring him in when temperatures drop to freezing or below.
Conclusion for "Do Bernedoodles Like the Cold"
If you have a Bernedoodle, or if you're considering adopting one, you may be curious about the temperatures the dog breed can tolerate. Well, you're in luck! The Bernedoodle does well in cold temperatures and can tolerate warmer temps, too.
As you play with your dog outdoors in winter, monitor him for signs that he's getting uncomfortable. Frostbite and hypothermia are very real threats to your dog, so it's critical that you keep a close eye on your dog. At the first sign of discomfort, bring your Bernedoodle indoors to a warmer, cozy space.
If you find this guide, "Do Bernedoodles Like the Cold" helpful, check out:
Learn more by watching "7 Reasons You SHOULD NOT Get a Bernedoodle" down below:
Garrett loves animals and is a huge advocate for all Doodle dog breeds. He owns his own Goldendoodle named Kona. In addition, he volunteers at the Humane Society of Silicon Valley, where he fosters dogs and helps animals. Garrett enjoys writing about Doodles and believes that dogs can teach humans more about how to live than humans can teach a dog.
Why Trust We Love Doodles?
At We Love Doodles, we're a team of writers, veterinarians, and puppy trainers that love dogs. Our team of qualified experts researches and provides reliable information on a wide range of dog topics. Our reviews are based on customer feedback, hands-on testing, and in-depth analysis. We are fully transparent and honest to our community of dog owners and future owners.