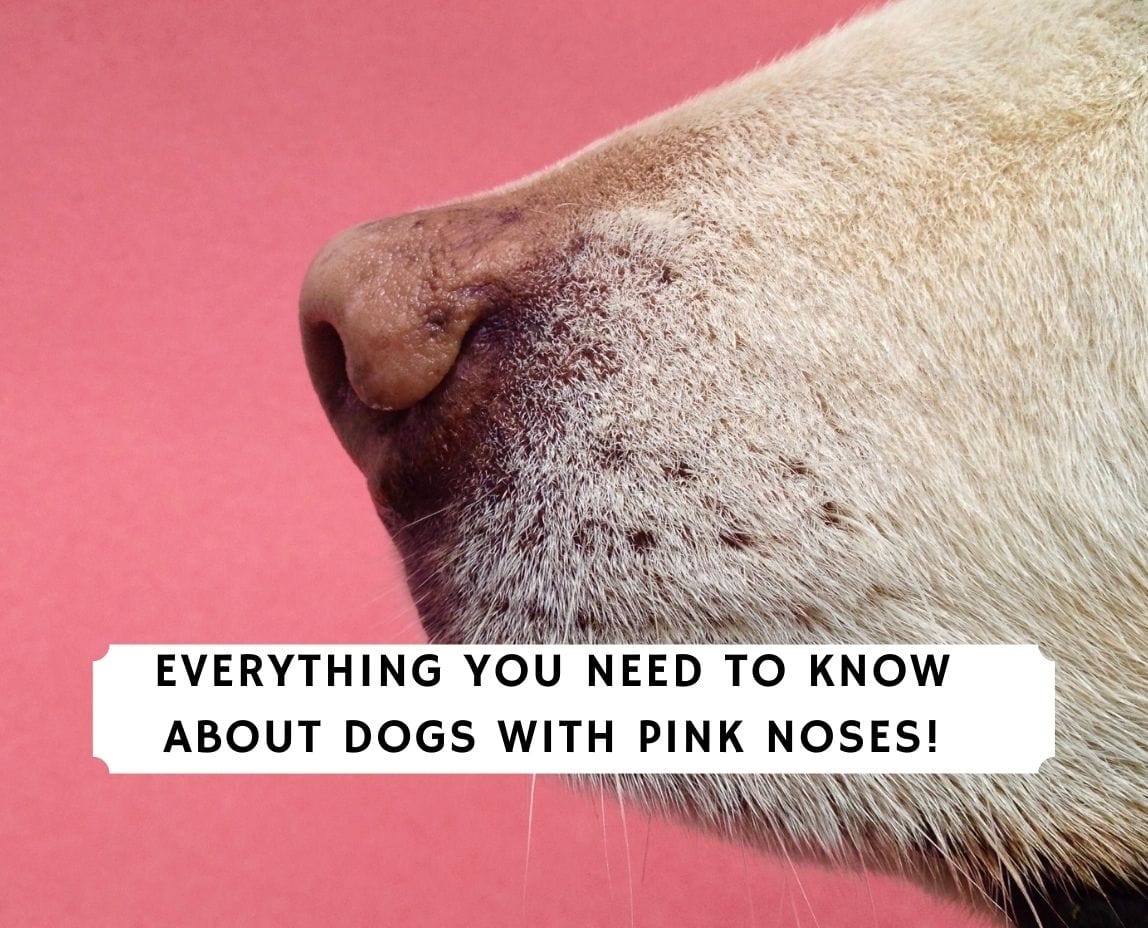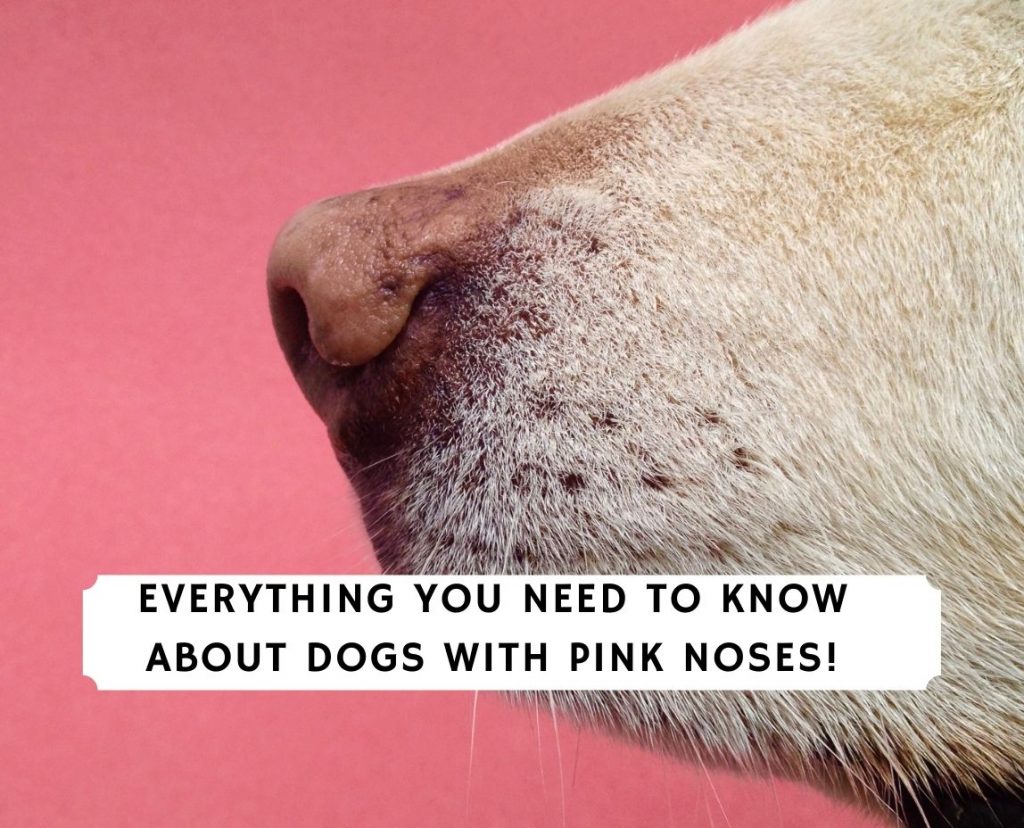 Perhaps the most important feature of a dog is its nose. While humans use our eyes to explore the world, dogs "see" everything through their sniffers. It is what they use to experience the world around them. Most dog noses are black in color due to the presence of melanin, which is what determines the skin and hair color of a dog.
In some dogs, however, the melanin is repressed, resulting in pink or liver-colored noses. This is often a result of intentional breeding, but it can occur unexpectantly as well. There are several reasons why a dog's nose can be pink instead of the usual black color.
Dogs with pink or brown colored noses are usually just as healthy as those with normal black pigmentation. The effects of these lighter-colored snouts are most often cosmetic, meaning they only affect the appearance of the nose. In some cases, however, dogs with pink noses can be a result of an illness or even cancer. Read below to learn about the most common reasons for pink-nosed dogs and what you need to know to keep them healthy.
Dog Breeds with Pink Noses
Here is a comprehensive list of some of the most common dog breeds that have pink noses. Below, we will talk about how a dog obtains a pink nose.
Dogo Argentino
White Boxer
Bull Terrier
Australian Shepherd
Nova Scotia Duck Tolling Retriever
Poodle
English Springer Spaniel
Beagle
Siberian Husky
Dogo Argentino
White Boxer
Bull Terrier
Harlequin Great Danes
Australian Shepherd
Bernese Mountain Dog
Golden Retriever
Siberian Husky
How Does a Dog Get a Pink Nose?
1. Selective Breeding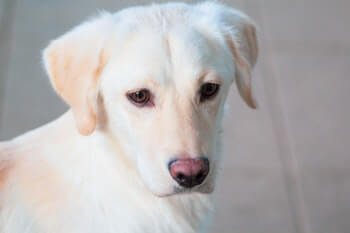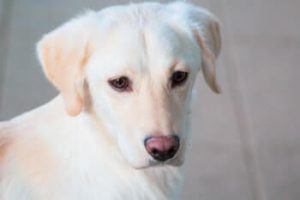 One of the main causes of pink noses in dogs is genetics. In order for a dog to possess the pink or liver nose, it must have the recessive liver gene, which is responsible for translating all of the black pigmentations of a dog into liver color. Dogs with this gene will never have any black coloration on their bodies, resulting in brown, liver, and pink noses, along with other features such as amber eyes and reddish-brown fur.
Certain dog breeds have been purposefully bred to feature this recessive liver gene. This gene affects the color of a dog's coat, eyes, and nose by changing the usual black pigment to a brown or liver color. It is quite common in dogs with this gene to see pink or brown noses, as they possess no black pigmentation. Many breeds, including the Chocolate Labrador Retriever, are liver dogs but tend to have brown noses rather than a pink nose. Liver dog breeds that commonly exhibit  pink noses include:
Nova Scotia Duck Tolling Retriever
Poodle
English Springer Spaniel
Beagle
Siberian Husky
2. Dudley Nose
The Dudley Nose is a condition in which a dog's nose permanently changes from black to flesh-colored or pink. The cause of this change is unknown, and it is most commonly found in the following breeds:
Labrador Retriever
Golden Retriever
Poodle
White German Shepherd
Doberman Pinscher
While the Dudley Nose usually occurs in dogs born with black noses that change color as they age, it can also be present at birth. This occurs most commonly in Labrador Retrievers. While all puppies are born with pink noses, some Labrador puppies keep their pink noses as they mature and are referred to as "Dudley Labs." While these Labradors are just as healthy as their black-nosed relatives, they are often faulted or disqualified from participating in purebred shows, as their pink nose does not match the standards for their breed.
Dudley Noses are usually not a health concern, as their effect is typically purely cosmetic. If your dog's nose starts to turn pink, it is important to ensure that this change is not accompanied by other symptoms such as nasal discharge or a change in the texture of the nose. When paired with a change in nose color, these symptoms can be signs of an illness or allergy in your puppy. It is always a good idea to speak to your veterinarian about any sudden changes in your dog's appearance or behavior.
3. Butterfly Nose
Some dogs have noses that have both pink and black or pink and brown markings. This type of coloration is known as a "butterfly nose". Butterfly noses occur as a result of a lack of pigment on certain areas of the nose. This is caused by genetics and can be found on dogs with white coats, though it is most common in dogs with a merle coat. This type of nose coloration is also commonly found on Harlequin Great Danes, as these dogs possess a gene that dilutes gray pigmentation to white, resulting in a lack of pigmentation on the coat and the nose.
Other breeds that are known to feature a butterfly nose include the:
Dogo Argentino
White Boxer
Bull Terrier
Australian Shepherd
Like the Dudley Nose, the Butterfly nose is not normally a cause for concern. The unusual markings of this nose do not affect the health of your dog. However, the lack of pigmentation can make it easy for your dog to get sunburned on their snouts if they are outside for long periods of time. Using sunblock products that are specifically designed for dogs can help minimize the risk of your dog's nose being damaged by the sun's UV rays.
4. Snow Nose
Some dogs will lose color in their nose during cold weather in which it turns pink. This is referred to as "snow nose." While the cause of this phenomenon is unknown, it is believed that during cold weather, the enzyme responsible for producing melanin called tyrosinase is repressed and turns its noses pink. Unlike a Dudley Nose, dogs that experience "Snow Nose" will regain their normal coloration after the cold weather passes.
The dog breeds that are most likely to experience "Snow Nose" include the:
Bernese Mountain Dog
Golden Retriever
Siberian Husky
Labrador Retriever
Although it is called "Snow Nose," this change is not limited to snowy regions. It can occur anywhere in the world during cool or cold weather. Snow Nose is not harmful to the dog, so there's no need to worry if your puppy develops this condition and their nose turns link. Just like with the Butterfly Nose, however, it is very important to monitor your dog for any signs of illness that can sometimes cause a change in the nose's appearance, such as sneezing, flakiness, or nasal discharge. Consult your veterinarian if you have any concerns about the health of your dog.
5. Illness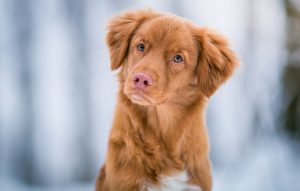 While most dogs with pink noses are perfectly healthy, there are some instances where a pink nose can be a warning sign of illness. Diseases such as:
Discoid Lupus Erythematous: This is an immune-mediated disease that causes pigment loss and ulcerations on the nose. This disease can result in tissue damage if left untreated.
Cutaneous lymphoma: This is a form of cancer that results in a loss of pigmentation of the nose and the lips and eyelids. The lack of pigmentation turns a dog's nose pink. Other symptoms include swelling around the nose and face as well as skin lesions.
Bacterial infections and autoimmune diseases can cause a dog's nose to change its color and texture. If you notice a sudden change in the color of your dog's nose, it is a good idea to consult your veterinarian. Nasal discharge and crusty spots on the nose are both signs that your dog may need medical attention. Never hesitate to talk with your veterinarian if you feel something isn't right with your puppy.
6. Allergies
Just like humans, dogs can have allergies to certain stimuli in their environment. Coming in contact with these stimuli can result in a change in the appearance of your dog's nose. These changes may include swelling, nasal discharge, sores, and even changes in color like pink. Be sure to take your dog to your veterinarian for treatment if you suspect an allergic reaction.
Some studies have shown that using plastic bowls for your dog's food and water results in irritation to some dogs' noses. If you feel your dog may be irritated by plastic, you should switch to metal bowls.
7. Age
As a dog matures, the production of melanin is reduced. As a result, a nose that was once solid black may start to lighten in color. Some pet owners think that their dog will have a pink nose. This change is common in older dogs of all breeds and is nothing to worry about as it is a natural process.
Caring for a Dog with a Pink Nose
Although most dogs that have pink noses are completely healthy, there are certain considerations you need to take if your dog's nose lacks a dark pigmentation.
First, you need to make sure that your dog's pink nose color isn't a result of any illness or allergy. As mentioned above, some autoimmune disorders and several bacterial infections can cause your dog's nose to lose its pigmentation and turn pink. After you determine that your pink-nosed puppy is healthy, there are still certain precautions you should take to make sure your dog stays safe.
Pink noses are a result of a lack of pigmentation. This pigmentation, controlled by the amount of melanin in the body, protects a dog's skin and facial features from harmful environmental stimuli, such as UV rays.
Since dogs that have pink noses do not have this protective pigmentation, it is up to you, as a dog owner, to shield your dog's nose from the sun. Specially designed dog sunblock products can help keep your dog's sniffer safe from the sun and prevent sunburn.
Conclusion for Dogs with Pink Noses
Dogs with pink noses are typically a result of the lack of melanin which is most often genetic. However, other types of pink dog noses are caused by Dudley Nose, Butterfly Nose, and Snow Nose. Your dog's nose could also turn pink as a result of an illness or allergies. There are several types of dog breeds that can have pink noses!
Other articles you would like:
Garrett loves animals and is a huge advocate for all Doodle dog breeds. He owns his own Goldendoodle named Kona. In addition, he volunteers at the Humane Society of Silicon Valley, where he fosters dogs and helps animals. Garrett enjoys writing about Doodles and believes that dogs can teach humans more about how to live than humans can teach a dog.
Why Trust We Love Doodles?
At We Love Doodles, we're a team of writers, veterinarians, and puppy trainers that love dogs. Our team of qualified experts researches and provides reliable information on a wide range of dog topics. Our reviews are based on customer feedback, hands-on testing, and in-depth analysis. We are fully transparent and honest to our community of dog owners and future owners.