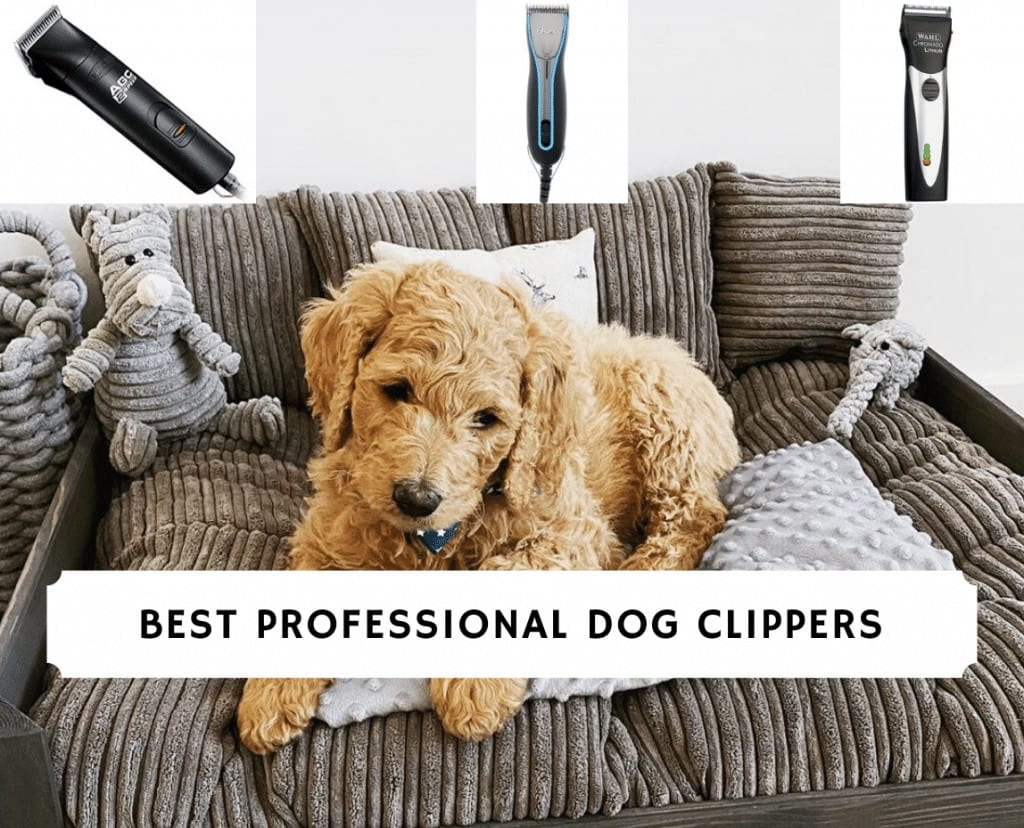 Dog and pet groomers have one of the most interesting and challenging jobs out there. They work with every kind of animal and every personality of an animal. Much like our personal hairstylists, we expect professional haircuts and styles for our pets.
Whether you're a practiced professional groomer or you're looking for professional at-home results, it's important to have the right set of professional dog clippers. You definitely don't want cheaper dog clippers will pull your dog's hair because it can't cut through it. There are many dog clippers that won't cut through thick or matted hair.
In this guide, we will share with you the best professional dog clippers on the market. There are so many options out there, but we've managed to narrow down the playing field to present you with our top picks. Most of our dog clipper picks are very budget-friendly, so after 1 or 2 grooming sessions you've already recouped your initial investment.
We hope you will stick with us while we share and review the 7 best professional dog clippers.
Product
Best Cordless
Oster Clipmaster
Image
The Top Professional Dog Clippers Reviewed
The following reviews are shared to let you know our top picks for the best professional dog clippers. We've sifted and sorted, tried and tested, and we have some great options to share with you.
Each review will share a descriptive review analysis and then we will wrap them up with a list of pros and cons for your reference. Let's get started!
Andis ProClip is our top pick for the best professional dog clippers in terms of budget, functionality, and features. This is one of the most highly sought after brands on the market and they don't even really advertise at all. We will have more than one Andis option in our top picks, but this one takes the cake. It's versatile and easily compatible and it's one of their more affordable options.
The Andis ProClip runs on 120 volts. It is cool and quiet when it is operating so it shouldn't scare the pets by noise or overheat. It works great for every coat and every breed and it's very versatile. The Andis ProClip is equipped with a detachable blade so you can easily change it and clean it.
This dog clipper runs on a 2-speed motor so you can control your speed. It's optimally designed for high-performance uses. This is a corded option but the cord is 14-feet, which should give you plenty of length to work with. It's sturdy and durable and it won't let you down.
This professional set of dog clippers from Wahl is a really great choice if you're looking for a cordless clipper. They can sometimes be hard to find in stock but you can't go wrong if you can get your hands on the Wahl Chromado. These are cordless clippers that are designed to run up to 90 minutes consecutively.
You may want to purchase 2 pairs so that one can charge while you work and you always have a backup, but that is purely optional. Charge time is about 60 minutes to a full battery so it's difficult to run these clippers all day long or if you have multiple pets. These come in black and silver chrome or white and rose gold chrome. They are comfortable and easy to use.
The Wahl Chromado are very lightweight and weigh less than a pound in your hand. They have a battery life indicator on the front so you can know exactly where your battery level is. They also come with a 1-year warranty. In addition, this cordless dog clipper works for all breeds and coat types as well.
If you're looking for another premium option that isn't sky-high in price, the Oster Golden A5 dog clippers will give your dog a professional grooming. These are one of our favorite budget-friendly professional clippers on the market.
These clippers are versatile and will work with every coat and dog breed. They are equipped with a size 10 CryogenX blade, which is one of the most versatile blades out there and is handmade in Europe. The blade is detachable so you can easily change it as needed as well.
The Oster A5 has a 2-speed motor so you can control your speed and your performance. Oster motors are great because they are high-torque and low speed which manes that they will almost never overheat. They work very well for general purpose trims and are quite versatile and user-friendly. These do operate on a cord so no charging necessary and you'll get a constant stream of power.
Here is another really great option from Andis. These UltraEdge professional dog clippers are corded and offer a 2-speed design that every groomer demands of their clippers. You can get them in blue, purple, green, orange, or burgundy.
These run cool and quiet. In addition, they have the detachable blade design so changing your blades is quick and easy. They are compatible with all types of dog coats and breeds and will easily cut through thick coats. The Andis UltraEdge are extremely versatile will do just about anything you need them to in terms of grooming.
These are equipped with a 14-foot cord so you don't have to worry about charging and you have plenty of cord to make your grooming simple. They are easy to use, operate, and they are reliable.
Here we have another option from Wahl that we think you will really like. The Wahl Bravura is a highly-rated pair of cordless clippers and you can get them in turquoise, pink, gunmetal, or berry. The range of colors is really fun, it just adds a little fun to the clippers.
These clippers have a 5-in-1 blade. Adjustments are super easy and the blade can be used as #9, 10, 15, 30, or 40. These operate both cool and quiet and are great for all types of coats and breeds. You can even use these on other thick-haired animals like horses.
These are lightweight and very easy to use. They are comfortably made and you get plastic guide combs as well with this set. Most professional clippers make you buy guide combs separately so this is a good bonus. The battery should hold 90 minutes and has a 60-minute charge time.
This set of clippers is another option from Andis that would be higher rated if they were in stock more often. Due to the influx of at-home groomers since Covid, it's rare to find these professional dog clippers on the market. This is another more affordable option but it can sometimes be hard to find in stock. These were recently upgraded and the new version can be challenging to get your hands on.
The ProClip series is simple and powerful. These are designed for heavy coats specifically but could still work for light and thin coats as well if you have the expertise to handle them. Moreover, they have the typical detachable blade to easily change the size of the guide comb. It has more than one power setting as well as a two-speed motor.
These are set up to operate cool and quiet. The Andis AG2 really are meant for high-performance grooming sessions. If you want something sturdy that is great for smooth cutting you should look at the Andis AG2.
These are your premium cream-of-the-crop clippers that are going to cost more. They are an investment but they are highly-rated and appear to be well worth the cost. You can purchase these to come with either the size 10 or the size 40 blade.
These are incredibly versatile. They work on all coats and breeds and can be used for cats, dogs, horses, and livestock to give you an idea of their capabilities. These do have a detachable blade that is easy to change and adjust for your needs.
The Oster 3000i is cordless. It is powerful with only one-speed setting. The battery will operate continuously for up to 2 hours and the charging time is fast. There is no battery light indicator on the handheld so you may have to mentally track your time to know when to charge them.
The Oster A6 is a great dog clipper that is used by professional groomers. For the price, you get an outstanding 3-speed motor which you won't find elsewhere for the price. The high motor speed is 4,400 SPM, medium speed is 3,600 SPM, and low is 3,100 SPM. The biggest benefit that I like about Oster dog clippers is that they stay a lot cooler in temperature compared to other dog clippers. 
The other unique feature about the Oster A6 dog clippers is the noise and vibration isolators. This is an ultra-quiet dog clipper due to this unique feature. When you're grooming around your dog's face and ears, they will definitely be calmer due to the low noise mechanisms.
The downside of this dog hair cutter is that they used plastic components to offset the cost of the expensive motor. A plastic interior and exterior don't tend to last as long as other durable materials like metal. However, it doesn't give an ultra-light feel at 13oz so if you have trouble holding a dog clipper great than 1 pound for extended periods of time, this is a great light-weight professional dog clipper.  
How to Choose The Best Professional Dog Clippers
When it comes to choosing professional dog clippers, there are several things that can come together to help professional dog clippers stand out compared to others. There are so many options, it can quickly become overwhelming to know which ones to buy and how to choose.
Don't worry! We're here to share with you some helpful criteria for choosing your professional dog clippers. Each of us has our own preferences, but these tips may help you know what to look for and narrow down your choices.
Blade Options
We recommend that you choose an option with a detachable blade or a multi-blade use. You will notice that all of our options have detachable blades, with the exception of one that offers a 5-in-1 blade choice.
Different blades are used for different types of trimming and different coats as well. It's important to be able to easily change or adjust your blade. For instance, your dog's leg and paw hair will be shorter than your dog's body hair. Blade versatility and ease is probably one of the most important aspects for you to consider.
If you are a professional groomer or want professional results, you'll be changing your blade all day long so keep this functionality in mind.
Speed Options
Motor speed is important. There are certain functions of grooming that just shouldn't always be done at high speed. If you're constantly using the highest speed on your dog clipper, it's very likely the blade is going to overheat and the dog clippers are emitting a loud noise and vibration level. Low speeds are helpful for grooming around your dog's face and keeping your blade cool.
We prefer clippers that offer 2-speed motors. These give you the best functionality and versatility to be able to switch to the speed you need for the part of the grooming you are working on.
If there are no speed options, we like to see something in the middle as far as speed goes. However, 2-speed or 3-speed is the best choice. This may not matter to you, particularly if you are comfortable with high speed, but it's something to be aware of.
Blade Functionality
If you're buying professional clippers because you have a Goldendoodle or other long-haired dog with thick coats, you're going to want to invest in a sharp blade. Spending the extra money upfront will not only save you tons of time, but it will also ensure that you aren't pulling on your dog's fur with blades that can't cut through thick coats.
In addition, if you're a professional groomer, you will see all kinds of breeds, coats, and styles. It's important that you have an option that will be functional for all of your needs.
Just be sure to check out what the clippers are or are not capable of, to ensure that they will work for the functions that you really need them to work for.
Wired vs. Cordless Clippers
A big debate is whether or not you want to use wired or cordless dog clippers. One of the main benefits of cordless dog clippers is that you can use them anytime and anywhere. There's very little setup involved and you won't have to carry around an extension cord.
The downside of cordless dog clippers is that they don't provide a steady stream of power and the motor torque can oftentimes fluctuate. In addition, if you don't have multiple batteries, you're limited on the amount of time you can use the dog clippers.
Conclusion for the Best Professional Dog Clippers
In terms of the best professional dog clippers, there are several really great options here. We think you can find something that works for your needs based on whether you're a professional groomer or want professional results. We made an effort to share an array of choices to give you plenty of different selections that higher-end and budget-friendly. Everything on this list rightfully earned its place here with quality and functionality.
Happy shopping and here's to simple and happy grooming as well! We also have tons of articles on how to groom your dog. Check out some of the articles below:
Garrett loves animals and is a huge advocate for all Doodle dog breeds. He owns his own Goldendoodle named Kona. In addition, he volunteers at the Humane Society of Silicon Valley, where he fosters dogs and helps animals. Garrett enjoys writing about Doodles and believes that dogs can teach humans more about how to live than humans can teach a dog.
Why Trust We Love Doodles?
At We Love Doodles, we're a team of writers, veterinarians, and puppy trainers that love dogs. Our team of qualified experts researches and provides reliable information on a wide range of dog topics. Our reviews are based on customer feedback, hands-on testing, and in-depth analysis. We are fully transparent and honest to our community of dog owners and future owners.