Dogs far and wide experience stress throughout their lives. But some dogs are simply more prone to stress than others. Stress releases a hormone known as cortisol into a dog's bloodstream, and too much of this hormone can lead to Cushing's disease. Apart from medical intervention, natural treatment for Cushing's disease in dogs is also an option.
Natural remedies are a possible alternative treatment for Cushing's disease in dogs. Reducing the overall fat content in a dog's diet, as well as supplementing their diet with herbs like kelp or dandelion root, can reduce some symptoms of the disease. Melatonin supplements are also beneficial.
Some of the treatments available to combat Cushing's disease can cause discomfort in dogs. Therefore, it is good to know that viable natural treatments for Cushing's disease are available. This guide will take a closer look at Cushing's disease to determine what causes it. We will also explore some beneficial natural treatments for your dog.
Before you scroll down to a more in-depth answer to this guide, "Natural Treatment For Cushing's Disease in Dogs," you can check out these other dog-related articles by our team at We Love Doodles: The 5 Best Dog Foods for Cushing's Disease! and What to Do If My Old Dog is Coughing and Gagging?.
What is Canine Cushing's Disease?
Cushing's disease is a condition in dogs that results when a dog's adrenal glands produce too much of the hormone cortisol. Like people, too much cortisol in the blood can cause health issues for dogs. Some of the most common symptoms of this disease are hair loss and gut bloat (not to be confused with gastric torsion).
Cushing's disease manifests in three different varieties. Let's take a closer look at each type of Cushing's.
Pituitary-Dependent Hyperadrenocorticism(PDH)
PDH is the most common type of Cushing's disease in dogs. This type of Cushing's disease occurs when a tumor (typically benign) grows on the pituitary gland in a dog's brain.
A dog's endocrine system is controlled centrally within the pituitary gland. When the tumor presses against the gland, it makes it larger and causes it to release large amounts of cortisol from a dog's adrenal glands.
As mentioned, the tumor linked to PDH is typically benign, but it causes distress to the pituitary gland.
Adrenal-Dependent Hyperadrenocorticism(ADH)
A rarer type of Cushing's disease is ADH. This condition is caused by a tumor growing directly on a dog's adrenal gland. Similar to PDH, the tumor presses on the glands that respond by releasing cortisol in excess amounts.
The main concern with ADH is that the tumors that grow on the adrenal glands are usually cancerous in a 50:50 ratio. Thankfully, there are treatment options for ADH, and only about 10% of dogs develop it.
Iatrogenic Cushing's Syndrome
The final type of Cushing's disease, and the second most common form, is Iatrogenic Cushing's syndrome.
This version of Cushing's disease comes from environmental factors related to a dog's diet, including any supplements or medications it takes. Iatrogenic Cushing's syndrome can manifest in dogs whose diets are high in animal fat from animals injected with steroids. Products like topical ointments and eye drops have also been linked to Iatrogenic Cushing's syndrome.
Thankfully, this type of Cushing's disease can typically be stopped in its tracks by changing your dog's diet and medication intake.
What Causes Canine Cushing's Disease?
Apart from Iatrogenic Cushing's syndrome, both PDH and ADH versions of Cushing's are caused by tumors.
Tumors are either benign or malignant, and benign tumors are not completely harmless, as you can see with a disease like Cushing's.
However, cancerous tumors can sometimes manifest in a dog with ADH Cushing's disease.
Trying to figure out what causes these tumors can be difficult. But many researchers suggest that dog vaccinations may lead to tumor development. Vaccinations disrupt a dog's immune system, which can directly cause fluctuations in the proper development and distribution of hormones in the adrenal glands.
Hormonal imbalances can also play a part in the creation of benign tumors.
Symptoms of Cushing's Disease in Dogs
Cushing's disease can be hard to classify at first, so it is important to pay attention to these symptoms:
Excessive thirst
Excessive urination
Skin infections and rashes
Puffy and swollen abdomen
Excessive shedding and loss of fur
Gray blotches on the skin after hair loss
Lethargy and lack of energy
Overeating
It can sometimes be difficult for dog owners to know if their dog has this disease. Why? Cushing's is known to affect older dogs, and some of the most common symptoms are also related to advancing age.
If you're dog experiences excessive hair loss and skin rashes, a visit to the veterinarian is in order to check for Cushing's.
Diagnosing Cushing's can also be complex for veterinarians. Numerous urinalysis and blood tests can pinpoint certain factors leading to Cushing's. Still, this may not be enough for an accurate diagnosis.
If you think your dog may have Cushing's disease, make sure to list all its symptoms for your veterinarian. They can perform increased testing on your dog to narrow down an accurate diagnosis.
Veterinarians have many treatment options for Cushing's disease, but you can also try some natural alternatives. Let's explore these different treatment options.
Natural Treatment For Cushing's Disease in Dogs
It is not currently known if Cushing's disease alternative treatments can completely cure the sickness. In fact, possible surgical options may be the only way to completely cure ADH Cushing's.
Still, there are some remedies for reducing the symptoms that can lead to excess cortisol production in your dog.
Monitor Your Dog's Diet
The hormone cortisol can cause weight gain in dogs just as it can in people. Once cortisol flows excessively throughout the blood, cholesterol and excess fat are more easily absorbed into the bloodstream.
One way to reduce the symptoms of Cushing's in your dog is to feed it a low-fat diet. Once the excess fat is removed from their diet, cortisol levels in the bloodstream should decrease.
However, fat is still essential to your dog's overall dietary needs. So make sure you choose a dog food high in lean protein (important for muscle growth and maintenance) and only includes small amounts of fat.
Supplement With Herbs
Another excellent natural remedy to help fight against the symptoms of Cushing's disease in dogs is the usage of herbs. Chinese herbs like dandelion and chamomile work great to limit the stimulation of a dog's adrenal glands and decrease the amount of cortisol pumped into a dog's bloodstream.
Some herbs from the Western world are also beneficial in treating Cushing's disease. Milk thistle helps relax the central nervous system, which also translates to a more relaxed adrenal function.
Use Melatonin
Melatonin is a powerful hormone that can help diminish some of Cushing's disease's more bothersome side effects.
Melatonin helps to regulate a dog's circadian rhythms. This leads to better sleep overall and a more regular sleep schedule. Melatonin can also help to keep a dog calm and less prone to experiencing stress that triggers the release of excess cortisol into the blood.
Try giving your dog melatonin supplements of about 6 mg once daily to see if it helps reduce the side effects of Cushing's. We do not suggest exceeding 6 mg of melatonin in one day.
Consider Acupuncture
Acupuncture is a procedure that is commonly thought to only benefit people. But studies have shown that acupuncture can help reduce the inflammation that leads to some of the worst side effects of Cushing's disease in dogs.
Acupuncture can also help to regulate a dog's pituitary gland, which promotes better overall health in the endocrine system.
A veterinary acupuncturist can perform acupuncture for your dog. They will stick small pins into various areas of your dog's skin to stimulate the neurotransmitters in its brain.
This can help to reduce hair loss or gut bloat related to Cushing's disease in dogs.
Are Cushing's Disease Alternative Treatments Safe?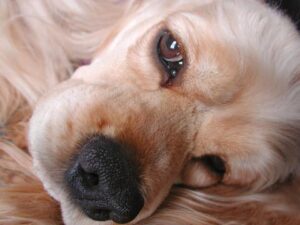 All of the natural treatment options highlighted above are safe for dogs. Having acupuncture performed on your dog may seem alarming, but once the acupuncturist settles your dog, they will become accustomed to the process. They may even start to relax and enjoy!
If your dog is experiencing a rough bout of Cushing's disease, medical intervention or surgery may be the only option available to cure the disease.
Still, these natural treatments can help relieve some of the most bothersome side effects of this disease. Always consult with your veterinarian before giving your dogs herbs and melatonin. Not all dogs respond to herbs the same way.
Frequently Asked Questions
What herbs can I give my dog for Cushing's disease?
Several Western and Chinese herbs can treat the symptoms related to Cushing's disease. These include dandelion root, nettle, milk thistle, and astragalus.
What foods should dogs avoid with Cushing's disease?
Dogs with Cushing's disease should avoid any food high in animal fat. Instead, focus on foods that are high in lean protein and low in fiber.
Can dogs live comfortably with Cushing's disease?
The majority of dogs diagnosed with Cushing's disease are older. They can live comfortably as long as you properly treat their symptoms, either naturally or using medication.
Natural Treatment for Cushing's Disease in Dogs: Are They For You?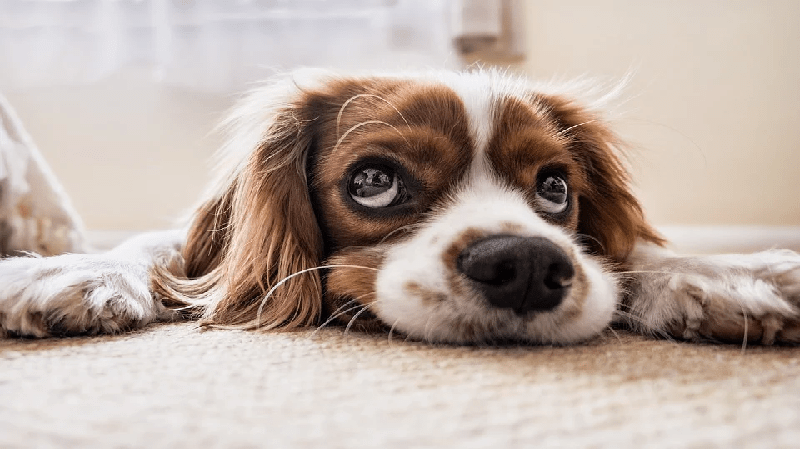 There are many Cushing's disease natural treatment options that you can consider to help reduce symptoms in your dog. Depending on the type of Cushing's disease your dog has, it could be that the only cure available is through medicine or surgery.
Whenever viable natural remedies are available for dogs, the benefits may outweigh the side effects of common medications. With that in mind, always consult your veterinarian before beginning any alternative treatment options.
If you find this guide, "Natural Treatment for Cushing's Disease in Dogs," helpful, you can check out these other dog-related guides from our team:
You can learn more about natural treatment for Cushing's disease by watching "Cushings Disease in Dogs: Natural Treatment" down below:
Garrett loves animals and is a huge advocate for all Doodle dog breeds. He owns his own Goldendoodle named Kona. In addition, he volunteers at the Humane Society of Silicon Valley, where he fosters dogs and helps animals. Garrett enjoys writing about Doodles and believes that dogs can teach humans more about how to live than humans can teach a dog.
Why Trust We Love Doodles?
At We Love Doodles, we're a team of writers, veterinarians, and puppy trainers that love dogs. Our team of qualified experts researches and provides reliable information on a wide range of dog topics. Our reviews are based on customer feedback, hands-on testing, and in-depth analysis. We are fully transparent and honest to our community of dog owners and future owners.