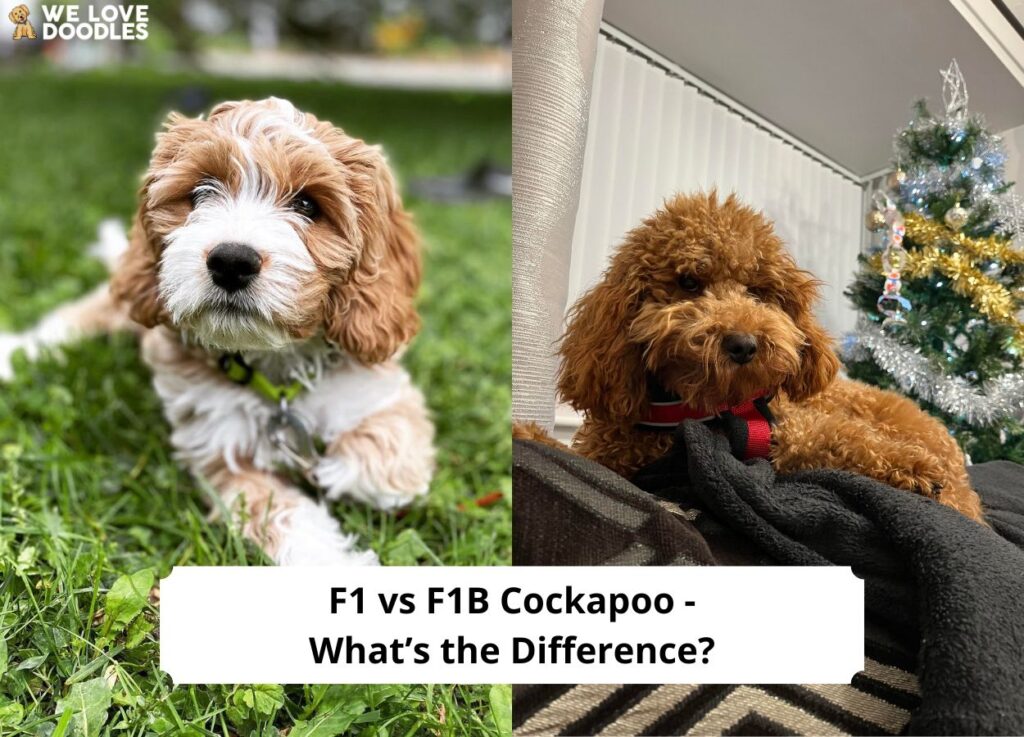 When you research hybrid dog breeds, like the Cockapoo, there are several different terms that you might see. For example, many hybrid dogs are labeled by generation (F1, F2, F3, etc.). The term F1B is also popular. Understanding these different terms will make a huge impact as you decide which dog to add to your family. In this article, we're looking at F1 vs F1B Cockapoos.
Dog breeds that are a mix of two pure breeds (like the Cockapoo) are typically labeled as F1, F2, and F3. It's also common to see terms like F1B as well. Ultimately, these terms dictate a dog's breeding and its parents. Before you choose your Cockapoo puppy, you should understand what the terms mean so you can make a good choice.
If you want to better understand what these terms mean, keep reading!
Before you scroll down this dog generation comparison, "F1 vs F1B Cockapoo," you can check out these other Cockapoo-related guides from our team at We Love Doodles: When is a Cockapoo Full Grown? and Are Cockapoos Hypoallergenic?.
The Cockapoo Explained
A Cockapoo is a hybrid dog, meaning it's a mix of two pure breeds. They are the result of breeding a Cocker Spaniel with a Poodle. Cockapoos are typically medium-sized dogs. However, they can be mini or small dogs if they have a mini or toy Poodle parent.
This breed can have even more variations since there are different types of Cocker Spaniels. While the Cocker Spaniel breed won't change the name of your dog, you might want to pay attention to the Spaniel parent if you're looking for something specific.
F1 Cockapoo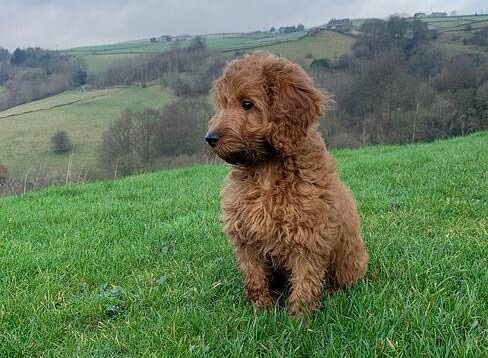 F1 is the term for the first generation of breeding. F1 puppies are closest to purebred parents. An F1 Cockapoo is the direct child of a Cocker Spaniel and a Poodle. You can think of it as the "base generation".
To breed an F1 Cockapoo, breeders will genetically test each parent and choose carefully to achieve a certain result. Since it's an even split between a Poodle and a Cocker Spaniel, your puppies might look more like one parent in the end. There is no way to predict.
The F in this F1 title isn't for nothing! It stands for filial hybrid, which just means that the hybrid comes from two purebred parents. So, F1 means the first generation of filial hybrid. It's a simple formula that can be expanded, which we will see shortly.
Size
The size of an F1 Cockapoo ultimately depends on its parents. The Poodle will have a greater effect on a Cockapoo's size, as it may be standard, mini, or toy size.
A Standard Cockapoo comes from breeding a Standard Poodle with a Cockapoo. The result is a dog that will weigh up to 19 pounds. They stand 18 inches high and are the largest type of Cockapoo.
Next, you have the Miniature Cockapoo – the child of a Miniature Poodle and a Cocker Spaniel. Miniature Cockapoos are small dogs, measuring 11-14 inches tall and weighing 13-18 pounds.
Lastly, a Toy Cockapoo results from breeding a Cocker Spaniel with a Toy Poodle. This smallest Cockapoo weighs 6-12 pounds and is considered an extra-small dog.
Genetics & Appearance
Cockapoos usually have long hair that is silky and curly, but some of them have more curls than others. While an F1 Cockapoo has a 50/50 gene split of its parents, predicting its exact appearance is near impossible. You can always make an educated guess by looking at the parents, but you never know which parent's traits will present more dominantly.
Temperament
F1 Cockapoos get the best from both of their parents. They inherit the Poodle's intelligence and loyalty and also have the friendly energy of a Cocker Spaniel.
F1B Cockapoo
Now that you understand the F1, let's compare the F1 vs F1B Cockapoo. In the case of the F1B Cockapoo, the B stands for backcross. It refers to crossing back on the breed. If you're looking for a hypoallergenic dog, an F1B Cockapoo may be a better choice.
In an F1B combination, the parents are different. Rather than two purebred parents, you have one hybrid parent and one purebred parent. For example, you would breed a Cockapoo with a Poodle to make an F1B Cockapoo. In most cases, the purebred parent is a Poodle. This is because Poodle traits tend to be more desirable.
When you backcross the breed, you'll end up with a dog that has 75% of the genes from one purebred parent and 25% from the other. This will affect a dog's appearance, temperament, and size.
Size
Just like with F1, your F1B Cockapoo's size heavily depends on its parents. If you're backcrossing with a Poodle, its size will matter even more. Usually, you end up with a pup that is similar in size to the parents.
Genetics & Appearance
You will find that an F1B Cockapoo's appearance is more predictable. Because you now have 75% of one parent, a Cockapoo's appearance will be easier to determine.
If you mix a Cockapoo with a Poodle, it will still have some features of the Cocker Spaniel, but the Poodle's traits will be more dominant. This is why F1B Cockapoos tend to be more hypoallergenic than F1 Cockapoos.
Temperament
Temperament is less predictable in F1B Cockapoos. However, you will likely get a good mix of friendly, intelligent, loyal, and energetic. Most breeders selectively breed with the goal of achieving good temperament and health.
Frequently Asked Questions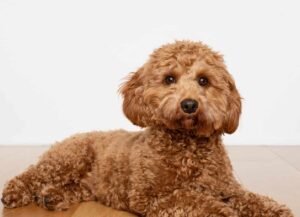 Are F1 Cockapoos Better?
F1 Cockapoos are sometimes considered "better" because they have more stable breeding, which is linked to better health and longevity. But, the F1B also has mixed genes, which points to better long-term health. Further, some may prefer the F1B Cockapoo as it is more hypoallergenic.
What is an F2B cockapoo?
An F2B Cockapoo is the result of breeding an F1 Cockapoo (50% Spaniel, 50% Poodle) with an F1B Cockapoo (25% Cocker Spaniel, 75% Poodle). The resulting dog is 62.5% Poodle and 37.5% Cocker Spaniel.
Are all F1 Cockapoos curly?
Because an F1 Cockapoo is a 50/50 split of a Cocker Spaniel and a Poodle, there is a 50% chance that they'll have curly hair. The more Poodle genes a Cockapoo has, the curlier its hair will be.
F1 vs F1B Cockapoo: Which One Is for You?
Choosing between an F1 and F1B Cockapoo doesn't have to be confusing. In the end, it all depends on your needs. For the most part, you won't notice any difference between the two. If anything, you'll notice the Poodle features more strongly in an F1B Cockapoo. The F1B also tends to be more hypoallergenic.
No matter what you choose, both generations are great dogs and would make a fantastic addition to your family!
If you find this guide, "F1 vs F1B Cockapoo," helpful, you can check out:
You can learn more about Cockapoo's generations by watching "Cockapoo Generations: F1 🐶 F1B 🐶 F1BB 🐶 F2 🐶 F2B 🐶 F2BB 🐶 F3 🔴 2023 🔴" down below:
Garrett loves animals and is a huge advocate for all Doodle dog breeds. He owns his own Goldendoodle named Kona. In addition, he volunteers at the Humane Society of Silicon Valley, where he fosters dogs and helps animals. Garrett enjoys writing about Doodles and believes that dogs can teach humans more about how to live than humans can teach a dog.
Why Trust We Love Doodles?
At We Love Doodles, we're a team of writers, veterinarians, and puppy trainers that love dogs. Our team of qualified experts researches and provides reliable information on a wide range of dog topics. Our reviews are based on customer feedback, hands-on testing, and in-depth analysis. We are fully transparent and honest to our community of dog owners and future owners.