Goldendoodles are one of the most popular designer dog breeds around and rightfully so! With their low-shedding, potentially hypoallergenic coats, floppy ears, and soulful eyes, they are the perfect addition to any household. We want to help you find reputable Goldendoodle breeders in British Columbia.
However, like any dog, they are prone to several health problems such as hip dysplasia, Addison's disease, and eye problems. That's why it's so important to select a responsible breeder who screens for genetic problems.
Fret not! We've done the heavy lifting for you. Here is a list of all of our favorite Goldendoodle breeders in British Columbia.
Before scrolling down this list of Goldendoodle breeders in British Columbia, check out: 5 Best Labrador Breeders in British Columbia! (2023) and Best Poodle Breeders in British Columbia! (2023).
1. Silver Star Doodles
Silver Star Doodles is a small breeder located on a hobby farm in North Okanagan. They only one litter a year and train with crates, car rides, and basic commands, all before the time comes for the Doodle puppies to go to their new families in their forever homes.
Goldendoodles are excellent companion animals, and Silver Star Doodles raise all their litters together with their family, children, and cats.
They are one of the few breeders in Canada that is a Blue Ribbon Goldendoodle Association of North America member. They only breed dogs that have clear genetic panels with the highest health testing standards, which ensure a happy, healthy, and long life for these dogs in their new homes.
Silver Star Doodles takes its time to make sure the families and the dogs are a good match. To do this, they go through temperament testing in week seven so that in week eight, they can be matched with the perfect family and officially have a new home.
Microchips, deworming, vaccinations, and a goodie bag complete their purchase process and the two-year health guarantee begins.
Silver Star Doodles Details:
2. Shadymaple Doodles
With a focus on mini and medium-sized F3 and F2 Goldendoodles, Shadymaple Doodles produces dogs with little to no shedding and sound temperaments. Located on Vancouver Island, these breeders donate some of their puppies to service dog organizations every year.
All their dogs have their eyes, hips, and ears tested as well as undergoing cardiac testing as well. Most dogs also qualify as service dogs through rigorous testing and thorough training.
With promising health and proper care, these dogs will be perfect for you and your family. If you have allergies but want a Goldendoodle, Shadymaple Doodles is the place to go as their dogs barely shed.
Shadymaple Doodles will keep you updated with weekly group photos and will also provide detailed information on how to prepare your home and your family for the arrival of your puppy. They also have updated photos and videos on their Facebook page.
In the process of picking the perfect Goldendoodle, you will be matched at the sixth week and then allowed to pick up your newest family member at eight to nine weeks.
Shadymaple Doodles Details:
3. DeeCor Goldendoodle
DeeCor breeds exceptionally petite Doubledoodles and mini and medium-sized Goldendoodles. The breeders do not believe in keeping their puppies in kennels and allow the dogs to roam freely within their homes with the family while getting proper care and early socialization.
They have three to five litters every year and have high breeding standards, allowing them to focus on each puppy's socialization and training.
Before the breeding program, each dog is tested for eVet, Pawprint Genetic, and OFA. Each dog has a two-year health warranty.
DeeCor Goldendoodles upload photos and videos regularly to keep prospective dog parents updated on their pups and how well they are training and behaving.
DeeCor Goldendoodle Details:
4. Bren's Doodles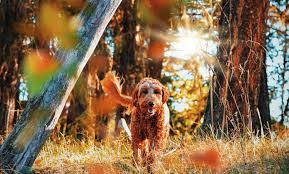 Bren's Doodles aim to produce Goldendoodles that are ideal therapy dogs with little to no shedding.
The dogs and puppies all live in a family environment so they remain healthy and become well-adjusted.
The puppies begin training and are properly socialized in just two weeks, so you can expect a well-socialized, healthy, and properly trained puppy from Bren's Doodles. All pups and parent pairs are tested rigorously for genetic disorders, including tests by the Orthopedic Foundation for Animals (OFA).
This breeder also takes responsibility for every dog they produce for the rest of their lives. Only two to three litters per year are bred in this small, boutique breeder.
This allows them to focus on giving the pups more love, care, and attention so they grow to be well-behaved, trained, social dogs who will easily adjust to homes that they are matched to depending on their temperament.
Bren's Doodles Details:
5. Parkridge Goldendoodles
Based out of Duncan, the main focus of Parkridge Goldendoodles is to produce Goldendoodle puppies with excellent health and temperament and provide loads of opportunities for socialization.
They also specialize in producing rare colors of Goldendoodles that are all health-certified with no genetic disorders. The mother needs proper care and attention before, during, and after giving birth so that she may not feel a lack of attention when her babies come. Each litter spends over 1,000 hours in the breeder's care!
All these puppies are microchipped and fully vaccinated. The breeders do professional temperament testing on these puppies so they know which one is the perfect one for you and your family.
Only one litter is bred at a time in the homes of Parkridge Goldendoodles where the puppy is raised and trained with individual attention. The health certifications at Parkridge are above standard as is the temperament testing.
The dogs that come out of Parkridge Goldendoodle are known to be very well-behaved and loving additions to the family. The reviews and experiences so far have always been top-notch, making it the perfect place to go if you are considering getting a well-bred Goldendoodle.
Instagram will give you insight into the daily activities of the puppy and any updates going on. The Parkridge blog is also helpful for day-to-day updates and info on the puppies.
Parkridge Goldendoodles Details:
6. Puppy Patch Goldendoodle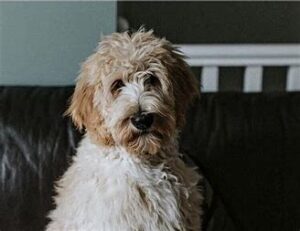 With 12 years of experience, one of the most popular and reputable Goldendoodle breeders in British Columbia is Puppy Patch Goldendoodle located in Kelowna.
They have F1 Standard Goldendoodles and Australian Labradoodles and only breed their dogs three to four times, after which the dogs are sent to a new home where they are loved as members of the family.
Each puppy gets individual attention which is necessary for quality puppy development. They all possess hypoallergenic coats and are easy-going with outstanding obedience training potential.
All the dogs live in guardian homes where they are provided with all the care they need. Socializing and training begin early so these dogs adjust with ease into their new forever homes. Many of the dogs produced in Puppy Patch Goldendoodle are employed as service and therapy dogs.
Puppy Patch Goldendoodle Details:
7. BC Goldendoodles
Based in Vancouver, BC, Goldendoodle dogs are conditioned to Early Neurological Stimulation (ENS) to reduce aggression and fear within the dog when they see unfamiliar people, children, and environments.
Puppies are constantly exposed to new people, loud noises, and other dogs and cats. Each puppy comes with a two-year health guarantee and is introduced to temperament testing, potty training, puppy culture, tolerance training, and much more.
Their puppies sell fast and there's a waiting list. Each application is reviewed carefully you so end up getting the perfect match for your family.
You can join the BC Goldendoodle social media groups to get daily pictures, videos, and updates. You can even book your puppy visits beforehand.
BC Goldendoodles Details:
How to Pick a Breeder
Still didn't find what you want? You might want to check neighboring Alberta out. You might also want to avoid accidentally stumbling into a puppy mill or a profit-focused backyard breeder.
It's crucial to do your research to find a breeder that will be a good fit for you and your future puppy. Here are some things to consider when picking a dog breeder:
1. Reputation Matters
A breeder's reputation says a lot about their business. Talk to friends, family, and your veterinarian to see if they have any recommendations. Once you've narrowed down your options, take to the internet and read reviews from other customers.
2. Ask Questions
Some things you'll want to ask about include: how long the breeder has been in business, where the puppies are raised, how often the puppies are handled, what type of health care the puppies receive, and what type of guarantees or warranties the breeder offers.
3. Meet the Puppies' Parents
If possible, always meet the puppies' parents before making your final decision.
4. Inspect the Breeding Facility
If you're able to visit the breeding facility, take some time to look around and make sure it is clean and well-maintained. The dogs should have plenty of room to run and play, and the breeding staff should be attentive and knowledgeable about the dogs in their care.
Frequently Asked Questions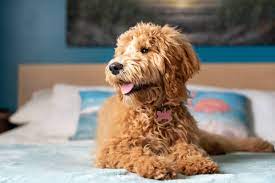 How much does a Goldendoodle puppy cost?
This is a popular breed, so prices often come at a premium. A standard-sized Goldendoodle puppy from a reputable breeder can cost around $2,000, while multi-colored and toy-sized Goldendoodles can range from $3,000 to $5,000.
Is an F1 or F2 Goldendoodle better?
Many people prefer F1 Goldendoodles, but that's not to say F2 Goldendoodles are inherently bad.

With an F1, you're getting a puppy that is 50% Poodle and 50% Golden Retriever. With an F2, you're getting the offspring of two F1 Goldendoodles, so the coat type, coat hair, and shedding level can be less predictable.
How long do Goldendoodles live?
The life expectancy of a Goldendoodle is 10 to 15 years.
Conclusion for "7 Best Goldendoodle Breeders in British Columbia"
If you look around and ask the right questions, you're sure to find a reputable Goldendoodle breeder. Start with our recommendations to get a feel for what's available in British Columbia, then expand your search as needed.
Puppies often go quickly, so try to start looking early and get on a breeder's waitlist.
For more guides similar to this list of Goldendoodle breeders in British Columbia, check out:
Before you bring home a Goldendoodle from a breeder in British Columbia, learn more by watching "Goldendoodle – Characteristics & Advice" down below:
Garrett loves animals and is a huge advocate for all Doodle dog breeds. He owns his own Goldendoodle named Kona. In addition, he volunteers at the Humane Society of Silicon Valley, where he fosters dogs and helps animals. Garrett enjoys writing about Doodles and believes that dogs can teach humans more about how to live than humans can teach a dog.
Why Trust We Love Doodles?
At We Love Doodles, we're a team of writers, veterinarians, and puppy trainers that love dogs. Our team of qualified experts researches and provides reliable information on a wide range of dog topics. Our reviews are based on customer feedback, hands-on testing, and in-depth analysis. We are fully transparent and honest to our community of dog owners and future owners.