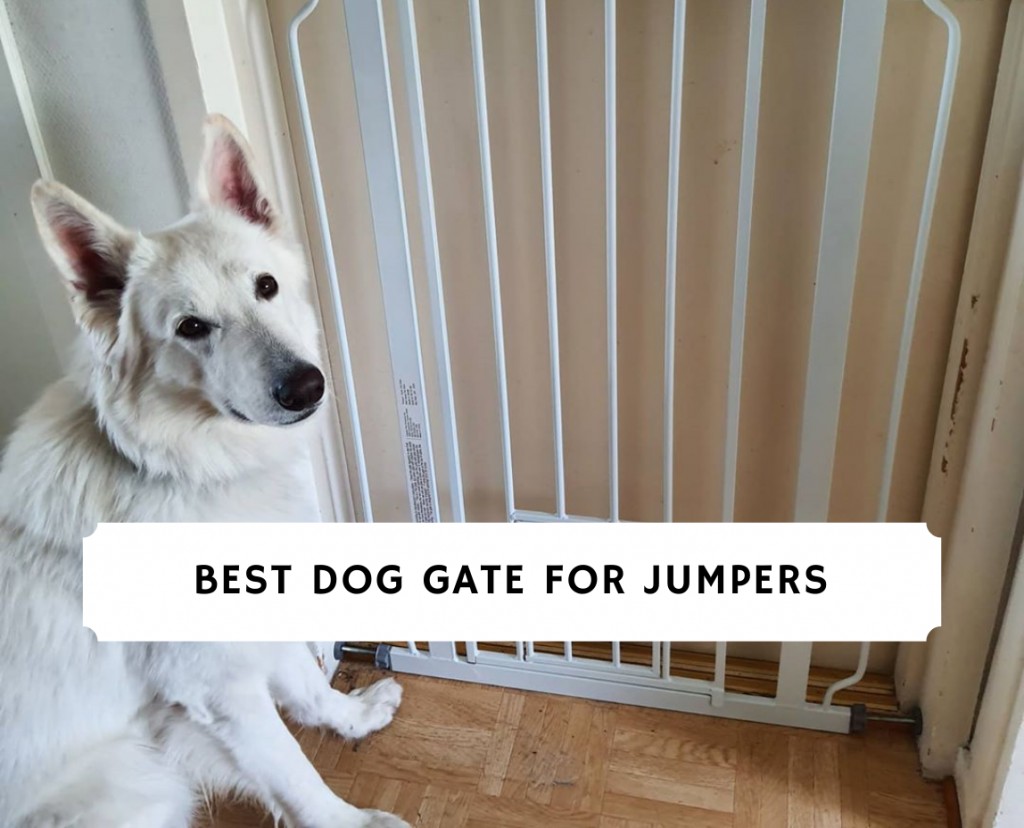 Dog gates are essential for keeping your canine in one area of your home. They are mainly used to separate dogs from other animals and keeping dogs out of certain rooms. Many dogs do their best to outsmart their pet parents and try to jump over the top of the gate. Unfortunately, many dogs are successful when jumping over standard size dog gates. The pet industry understands this dilemma and has created taller gates for dogs that jump. 
These unique gates stand taller than the standard size and are made with steel to prevent your dog from escaping. If you have been on the search for a dog gate that will finally stop your dog from escaping, check out the high-quality gates listed below.
In a rush? Here are our top picks!
Product
Best Overall
Midwest Homes
Image
Review of the Best Dog Gate for Jumpers
We've done our own independent research and tested several different dog gates and baby gates. In general, you're going to want a dog gate that is at least 30 inches tall for a medium-sized dog. If you have a larger dog that can jump extremely high, you may want to consider a pet gate that is closer to 40 inches tall. We have evaluated several different dog gates for jumpers and we consider the best ones below.
This sturdy dog gate for jumpers measures 39.125" Height x 29.5" Length and 38" Width and comes with two extensions that measure 3 inches. It can be operated with one hand quickly and easily. 
The spring-loaded latch keeps the pet gate secure and closed. The door is 19 inches wide and provides plenty of space for your dog to enter and exit comfortably. 
This dog gate is made from non-toxic materials and is lead-free. It's also chew-proof and designed to withstand aggressive chewers. In addition, this heavy-duty dog gate is easy to install and comes with pressure gate mounts and hardware to customize the installation. 
The super-strong steel frame is designed to prevent your dog from escaping while at the same time features pressure mounts that do not damage the walls. At almost 40 inches tall, this dog gate will be difficult for any animal to jump over.
This is one of the tallest dog gates on the market and stands 41" inches tall. In addition, it expands between 29 to 36.5 inches wide which will fit most doorways. The unique pressure mount design is easy and quick to set up and doesn't damage your walls. It's adjustable and easy to fit into the bedroom or office doorway.
This tall dog gate is made of steel and features a multiple safety lock system that keeps the gate secure and safe. This durable gate is an excellent option for pet parents who also have young children who want to separate them from their dogs. Your dog won't be able to go through the gate because it is made of steel and they won't be able to jump over the gate because it is 41 inches tall.
This uniquely designed dog gate is free standing and features interconnecting panels that are designed to block off specific areas of your home. The panels can also be connected together to create an enclosed playpen area for your pet. This is the widest dog gates for jumpers as it expands out to 80 inches which can cover virtually all entryways. It also stands 31.5 inches tall which can prevent most dogs from jumping over it.
This pet gate is made of sturdy wood and is easy to clean with mild detergent and a soft cloth. It features a hinged door gate that unlatches for easy entry and exit. 
The stabilizing support feet keep the gate balanced and in an upright position even if your dog tries to knock it down. Moreover, the flexible connections allow panels to be arranged in multiple configurations so you can customize it to fit anywhere in your house. The downside of this gate for dogs that jump is that it isn't pressured mounted or screwed into a wall. if your dog tries hard enough, they will be able to knock this pet gate over.
This extra wide and tall dog gate stands 36" tall and expands between 29 inches to 36.5 inches wide. It's ideal for use in doorways and stairways. The pressure mount design is easy and quick to set up. It's one of the dog gates on our list that doesn't require any tools to correctly install. The mount is gentle on your walls and doesn't cause any damage when installed properly. 
The pet door measures 8 inches x 8 inches and allows your pet to pass through while at the same time keeping everyone else out. There is also a larger door that you can open to let yourself through. This dog gate features a locking system, a 4-foot wide extension kit, non-toxic finishes, and wall mounts for extra security. The steel design has a high-end finish that suits any home décor themes. 
This trustworthy gate is ideal for both babies and dogs. It's easy to use and shuts firmly with one simple push. This dog and baby gate is easy to install and doesn't require any tools or additional hardware. It's 36 inches tall and fits between 28.2 inch to 46.8 inch doorways. Since this is one of the tallest dog gates on our list, we are confident that most dogs would not be able to jump over this gate.
This stylish gate looks great anywhere in the house and features a neutral color that complements any home décor color theme. It is also made of heavy-duty steel metal that is long-lasting and durable. 
It features a triple locking system for added safety that gives you peace of mind that your dog won't be able to go through the pet gate. The gate has a hold-open feature that holds in place to prevent the gate from closing when not in use. 
This dog gate works great in doorways and staircases. We consider this the best dog gate for large dogs because of the 36-inch height.
This multi-use gate measures 28.5" to 48" wide and stands 36" tall. It's easy to install but requires tools to mount the hardware. The ideal place to use this gate is in doorways and stairways to separate your dog from the rest of the house.
It has an auto-close feature that is hand-free for your convenience. The door gently closes behind you so if you forget to close the gate or your hands are tied, it will still lock. If you want the door to remain open, just hold it for a few seconds and it will stay in place. 
This stylish metal gate features a bronze finish that looks great in every home. It's one of the best dog gates for jumpers because it is 36 inches tall. In addition, your dog won't be able to push through the gate to escape to the other side.
This convenient and sturdy gate measures 36 inches tall and 29.5 inches to 48.8 inches wide. This is one of the best dog gates for big dogs. It's ideal for use in hallways, doorways, and stairways. In addition, it features a double lock system to prevent your dog from escaping. 
The stylish design looks great with any home décor theme and the black color adds an accent to every room. The pet gate automatically closes when opened less than 90 degrees. However, if the dog gate is opened more than a 90-degree angle it will hold open for your convenience. 
This gate is easy to install and doesn't require any drilling. The pressure mount design is also gentle on the walls and won't cause any cosmetic damage when installed correctly. It's also portable and easy to store in small areas. 
The durable steel construction design withstands up to 210-pounds of impact which is beneficial if you have a large dog. Your dog shouldn't be able to break through the gate or jump over it.
How to Choose a Dog Gate for Jumping
The fact that your dog has the ability to jump over a gate is impressive. Some dogs climb gates while others simply hop over the top with little to no effort. Choosing a gate that prevents your dog from jumping and escaping is essential to keeping your dog safe and the rest of your house safe.
Jumping Ability
Consider your dog's jumping ability and not just the size of your dog. Some pet parents choose dog gates based on the size of their dog but it often backfires because a tiny small breed dog such as a Chihuahua might be able to jump clear over the gate without any problems. If you aren't sure how high your dog jumps but you know they are already escaping from their current gate, make sure the new gate is higher. We recommend a dog gate that is at least 30 inches or taller.
An excellent way to find out how high your dog can jump or how they are managing to escape their current gate is to set up a hidden camera that records their movements while you are away from home. There are plenty of affordable camera options to choose from and you can even use a nanny cam to spy on your dog. 
Once you see the video of your dog jumping you will be able to determine how high they go and their technique for escaping. This valuable information gives you the upper hand when it comes to choosing the right pet gate for your dog.
Height of the Dog Gate
Most extra tall pet gates measure 36 inches or higher which is capable of preventing most small and large dogs from jumping over it. However, if your dog has an added technique of pushing the gate by using their body weight you need to choose a pet gate that is stabilized by drilling screws into the wall. A strong steel gate is recommended as well in case your dog thinks they can chew their way through.
If your dog only escapes by jumping over the gate the height is something you need to focus on when choosing a dog gate. Generally, most dogs can't jump over 36" high. 
Durability
You will notice that most dog gates on the list are made of steel and stand tall. They are durable, reliable, and easy to use. Most of them are easy to assemble while others require a drill and tools during the installation process. 
Design
Another important topic to consider is the look of the dog gate. You don't want the gate to take over and stand out among your furniture and home décor. You can have a beautifully decorated house and just one ugly dog gate can ruin the entire flow of the house. Sometimes gates stand out so much that it's all anyone remembers when visiting your house, especially if they are required to step over the gate during their visit. 
The gates on our list look amazing in every home and suit all home décor themes. Some of the gates have an arch and black steel that make it look especially nice in most homes.
Width of the Dog Gate
The placement of the gate is also important so make sure you take measurements of your hallways, doorways, and stairways before making your purchase. Many of the dog gates are cable of stretching across easily but if you have super spacious hallways and stairways you will need to get the additional extension to ensure the gate fits securely against the doorways. 
How to Choose: Baby Gate vs. Dog Gate
Do you have young children and a puppy or an adult dog? Many households do and having both is increasingly becoming popular as pet parents realize the joys of raising both puppy and baby together as siblings. Many dog breeds are extremely good with children and especially caring when raised side by side. So choosing a baby gate that also acts like a dog gate is a wise investment. 
If you have a baby or toddler and a puppy or dog, a tall gate is recommended no matter how tall they are because eventually, they will both grow. So, finding the right baby and dog gate is essential to both their safety. 
Baby gates and dog gates are very similar in design and purpose. They are both created to keep your baby or pet safe in a designated area. Both gates work the same and require the same assembly and installation process. 
The baby and pet gates mentioned on this list also have the parent's well being in mind too. Some of the models have a door and hold open feature. This means when the gate is not in use you don't need to take the entire gate down. You just simply open the door and hold it for a few seconds until it stays in place. This feature gives you the freedom to walk through your home without any obstacles while at the same time easily closing the door to secure your child and dog behind the gate. 
Since children grow rapidly and find new ways to escape the gate, all of the gates on the list are created for durable and long-lasting use. Many of the gates are capable of withstanding strong pressure and multiple attempts to escape while providing a safe barrier for little ones and pets. 
Are pet gates safe? 
The pet industry and manufacturers understand the demand for safe products in the household. Every manufacturer does its best to create safe gates but rare accidents do happen especially if the gate is not installed properly. 
For this reason, following the assembly instructions perfectly is essential to the safety of your pets and children. Also, consider the size of the gate and the design. If the gate has gaps in between the poles that your baby or pet can get their head stuck in between, choose a different design to prevent any issues from arising during use. 
Also, consider other dangerous possibilities when choosing a gate that only relates to your dog. For example, if your dog tends to scratch at the gate they currently have there's a good chance they will do the same thing to their new gate. If this sounds like your dog, choose a durable gate that is scratch resistant. 
Understanding the needs of your pet in combination with their unique personalities and escape techniques is essential to keeping them safe and choosing the right gate to suit their needs. 
It's difficult to prevent dogs from jumping. Some pet parents hire dog trainers to help prevent their pets from jumping. Most of the time professional dog trainers are successful when it comes to training but you also need to consider environmental reasons your dog might attempt to jump over the gate. 
If your dog doesn't seem to jump too much on a daily basis but goes wild and jumps higher than you have ever seen them jump before when there's a thunderstorm outside, you need to consider this when choosing the height and durability of a dog gate.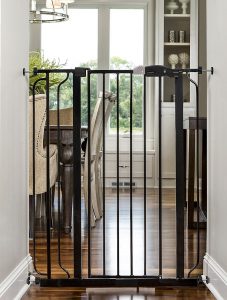 It's best to be prepared for all situations by purchasing the right gate from the beginning. It also saves you money. For example, if you have a general gate you use daily but a special one for thunderstorms, you are purchasing two different style gates and most likely more than one each to create a barrier in your home. If you purchase one type of gate that protects your dog from all scenarios such as thunderstorms, you will save money in the long run even if you purchase more than one. 
Remember, you can create a few different barriers in your home by installing a gate in every hallway and stairway. This might take numerous gates to achieve the safety measures you want in your home for your pet but it also can be functional for everyone in your household if you choose the models that have a door that remains in an open position when the gate is not in use. 
This convenient feature allows you to keep the gates installed while still moving around your home safely and without any obstacles in the way. Many baby and pet gates that are standard size don't offer the open gate option and require you to either lift your legs to go over the gates or remove them when they aren't in use. If you think back to how many times you had to crawl over the standard side gates you will realize the true benefit of the open gate feature. 
Your goal is to create a barrier that is safe for your pet and the entire family. Investing in the high-quality affordable dog gates on the list shown above allows you to meet your goal of keeping your pet in a designated area while preventing them from jumping over the structure. 
The gates on this list are too high for most dogs to jump over so even if your dog tries to jump they will only jump straight upwards instead of lunging towards the gate. If your dog manages to lunge against the gate, the strong steel will hold it secure and not fall over.
Conclusion for Best Dog Gate for Jumpers
You can stop your dog from jumping over their gate by investing in any of the options on the list shown above. Get started improving your dog's lifestyle today! Browse the gates on the list until you find the one that suits your pet and household needs the best! In general, we would strongly recommend a gate over 30 inches tall if your dog likes to jump. If you have a larger dog breed that jumps high, you should choose a pet gate over 36 inches.
Other articles you might like:
Garrett loves animals and is a huge advocate for all Doodle dog breeds. He owns his own Goldendoodle named Kona. In addition, he volunteers at the Humane Society of Silicon Valley, where he fosters dogs and helps animals. Garrett enjoys writing about Doodles and believes that dogs can teach humans more about how to live than humans can teach a dog.
Why Trust We Love Doodles?
At We Love Doodles, we're a team of writers, veterinarians, and puppy trainers that love dogs. Our team of qualified experts researches and provides reliable information on a wide range of dog topics. Our reviews are based on customer feedback, hands-on testing, and in-depth analysis. We are fully transparent and honest to our community of dog owners and future owners.