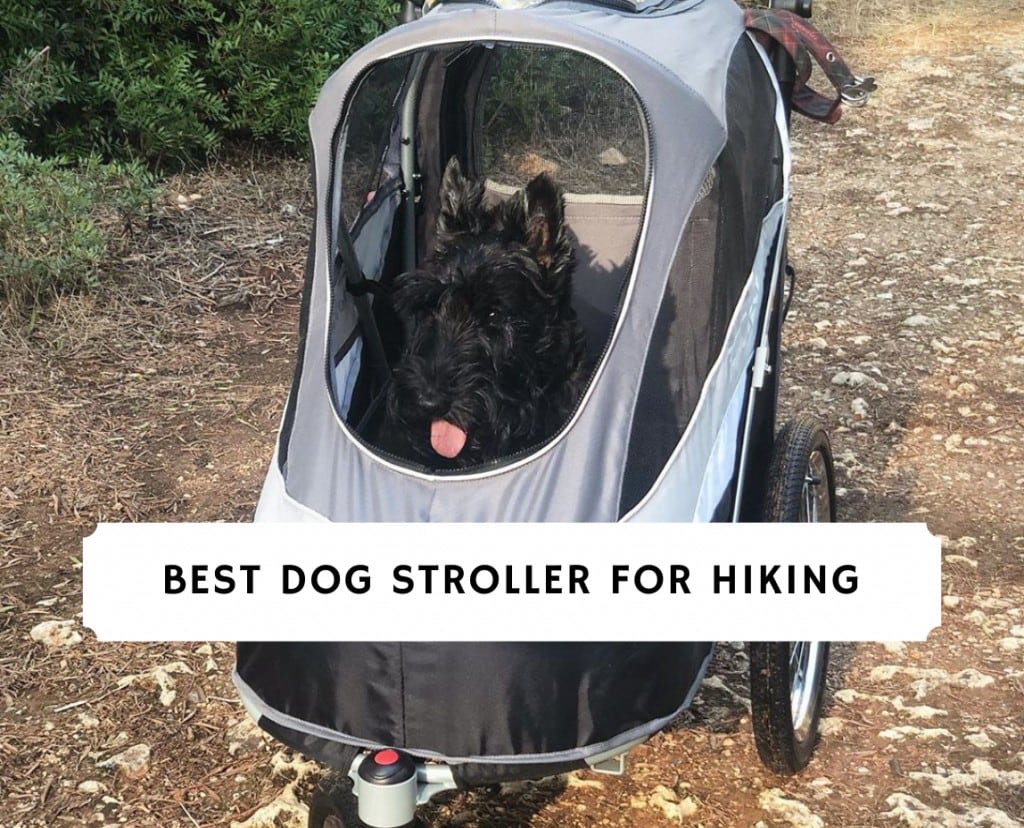 Are you looking for the perfect pet stroller for dogs? If so, you have come to the right place. Chances are you have searched online for hours or days looking for a trustworthy and affordable dog stroller so you can take your pet with you while jogging, walking, or hiking. 
The pet industry has designed pet strollers that are suitable for all dog sizes and weights. They even have large dog strollers for hiking with a big dog breed or more than one dog. 
The dog strollers mentioned below are durable, long-lasting, and feature strong tires that can navigate over a wide range of surfaces plus look great! Check out the best dog stroller for hiking below! 
In a rush? Here are our top picks!
Image
Best Overall
Image
Runner Up
Image
Budget Pick
Image
Image
Best Dog Strollers for Hiking Reviewed
The Pet Gear sturdy dog stroller features a no-zip entry and easy locking. The design is perfect for jogging, hiking, or walking with your dog. It's made of 600 denier water-resistant material and features front and top mesh windows that provide ventilation so your dog stays cool and comfortable during the hike.
The durable 12" quick-release tires ride smoothly and the ergonomic handle is comfortable to use even when you are jogging or hiking for long periods of time. This dog stroller is suitable for larger dogs that weigh up to 75 pounds. The interior measurements are 30" L x 13" W x 22" H. 
Petique is a dog stroller where comfort meets modern design. It features an EVA foam grip that is super comfortable and the handlebar is adjustable for perfect positioning when you're hiking.
It features a one-step dual braking system that works great and large bike tires that absorb the shock so your puppy has a smooth and comfortable ride whether you're walking or hiking.
This dog stroller has two large pockets that fit snacks, a water bottle, and a cell phone and it folds flat for easy travel. It's designed to support medium-sized dogs weighing up to 60 pounds and has removable fabric that is easy to clean. This dog stroller also comes with a complimentary tire pump to ensure the tires are always in good condition. 
Keep your dog safe while on the go with this awesome pet stroller by Best Choice. It features a fabric window that also prevents bugs from reaching your dog while you're exploring the outdoors. It also has a removable cushion that is easy to clean and keeps your dog comfortable for the entire duration of the hike. 
The easy brake system on this dog stroller has a built-in hand-lock brake system that keeps the trailer secure and in place so you never need to worry. This dog stroller for hiking can be hitched to a bike or used as a stroller. 
It's sturdy and designed for durability and long-lasting use. The steel frame is lightweight and water-resistant. The polyester material protects your dog from harsh weather elements such as the rain and sun. 
The reflectors and safety flag are added safety measures that allow the stroller to be seen in busy traffic and low-light conditions. This dog stroller holds dogs that weigh up to 66 pounds. It measures 24" L x 27" W x 22" H. 
Bring your dog along while you jog or walk and keep them in comfort with this heavy-duty pet stroller. This dog stroller is designed to hold large dogs up to 77 pounds and hold more than one dog. This is the perfect double dog stroller if you have two smaller dogs. The adjustable handle makes it easy to find the perfect position so it doesn't interfere with your hiking or jogging stride. 
It features two front swivel wheels that help you navigate over terrain without interrupting your jogging session. The brake system, front and back dual entry, and Velcro closures keep your pet safe every time! 
Your dog stays cool with the large mesh windows that provide optimal ventilation. The canopy folds four ways so your dog can enjoy the view or feel secure when taking a nap. 
This stylish dog stroller for hiking has superior aluminum oval tubing that creates a sturdy frame you can trust. The easy-fold mechanism makes it easy to travel with anywhere and fits into cars and SUVs perfectly. 
This unique dog stroller allows your pet to have a panoramic view of their surroundings as you hike, jog, run, or walk. It features water-resistant material and mesh windows for maximum ventilation. 
Your dog rides along in style and even has access to an elevated paw rest for added comfort. The front-wheel swivels 360 degrees for easy maneuverability and features quick-release tires for a smooth ride. 
The interior safety tether keeps your dog safe while the quick-lock rear foot brake adds extra security for your pet.
The convenient large storage basket is great to store your water bottle, wallet, keys, cell phone, and more! You will feel confident and comfortable when using this dog stroller. The ergonomic handle is soft on the hands to ensure you feel just as comfortable as your dog. 
This dog stroller features a unique 2-in-1 design that has a dual entry for loading your pet from the front or back. It holds dogs weighing up to 66 pounds. If you have two dogs the combined weight needs to be 66 pounds or less for safety reasons. 
The safety leash helps prevent your dog from jumping out of the stroller which helps you relax and focus on hiking, jogging, or walking instead of worrying about your dog. 
This pet stroller for dogs features mesh windows that provide optimal airflow to your pet as well as let them see outside. It's also easy to store because the trailer folds down flat when you aren't using the stroller. 
This dog stroller is built for mobility and ideal for joggers who like to take their pets along for the ride. It holds large dogs up to 75 pounds or fits two dogs safely inside as long as their combined weight is 75 pounds or less. 
The foam wheels never get a flat so you can feel confident taking the stroller into any type of terrain including hikes. The front-wheel swivels and adjusts nicely on smooth terrain but can also be locked into place to endure tuff surfaces. 
In addition, this dog stroller has a smart-reach handle that gives you a generous amount of space so you can jog or walk at any stride or pace without interruption or discomfort.
Your dog remains safe inside due to the zipper closure. It has two interior pet tethers that are adjustable and keep your pet safe. Additionally, this lightweight collapsible dog stroller features smart-fold technology that makes it easy to use with just a touch of a button. 
Your dog will ride in style with this fashionable pet stroller for dogs. It features an easy-locking no-zip entry that keeps your dog safely secure inside. You can also put up to two dogs in this stroller since it has an extra-wide carriage and two interior tethers to ensure safety and comfort. 
The 12" quick-release tires have a quick-locking rear foot brake that is convenient and easy to use. Moreover, this stroller comes with an air pump that makes it easy to maintain proper tire pressure and reduce the risk of flats. 
The interior of the stroller cabin measures 27" L x 20" W x 23" H. It features 600 denier material that is water-resistant and provides protection for your pets from harsh rain and other elements. This large dog stroller for hiking holds up to 90 pounds of total weight.
This vibrant colored dog stroller exudes a beautiful turquoise color that makes hiking, jogging, and walking with your pet fun. It features large EVA tires and double front wheels that make maneuvering easy and smooth. 
The modern design features air vented canopies so your dog stays nice and cool as well as sees outside. There are two pockets located in the back that are perfectly sized to fit a bottle of water, snacks, treats for your dog, and a cell phone. It also has a cup holder tray for your convenience. 
The hand folding mechanism is easy to use and can be folded from the standing position. The fabric is easy to remove and clean when needed. It supports pets weighing up to 30 pounds. 
How to Choose the Best Stroller for Hiking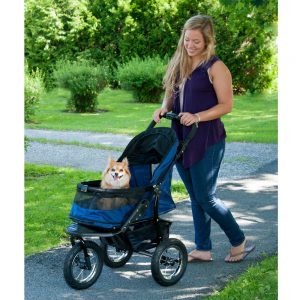 Choosing the right stroller for your dog can feel like an overwhelming task but it doesn't need to be. The innovative dog strollers on the list make it easy to choose the right option that is suitable for your needs.
Hiking, Jogging, or Walking?
The first thing you need to do is determine if you want the stroller for hiking, jogging, or walking. If you are only looking for a stroller for walking or jogging, all of the options on the list shown above will suit your needs and keep your dog safe and happy during use. 
However, if you are looking for a hiking stroller, you need to consider the features of each option to determine the right one for you. Pet parents that hike regularly often take their dogs with them to experience fresh air and enjoy bonding time together. However, many dogs become tired and worn out halfway through the hiking trail and need to stop and rest.
Large Tires and Brakes
Dogs that need to stop are often smaller breeds that have reached their physical exercise limits without completing the trail. This means many pet parents are carrying their dogs most of the way while hiking. All of the pet strollers on the list are excellent options for hiking. Most of them feature durable tires and a brake system to ensure the stroller doesn't roll while standing in place. 
Dog's Weight
Chances are you like all of the options shown above and can't make a decision. Using your pet's weight or the combined weight of two of your dogs that will share the stroller will help narrow down your options and help you choose the right one. Always consider your pet's weight when choosing a stroller. It's essential to their safety and yours! 
Color
The next item you can use to narrow down your options is the color of the stroller. Some pet parents enjoy using vibrant colors and modern designs to ensure their pet stroller is always seen for safety measures. A brightly colored dog stroller is also beneficial in low light situations such as a gloomy rainy day or hiking until sunset. 
Design
Some dog stroller designs offer cup holders and pockets for storage and convenience. If you need a place to put your water bottle and a few extra places for snacks and treats for your dog, check out the details of each stroller on the list until you find the one that suits all of your needs. 
What type of dog is good for a stroller? 
Dog strollers are suitable for all dog breeds and sizes. Unfortunately, if you own an extra-large dog breed such as a Great Dane, the pet industry has not designed a stroller to suit their size yet. However, it's wise to keep your eyes on the market because the pet industry and manufacturers are always designing new products and stroller designs. 
All other dog breeds are suitable for using a dog hiking stroller as long as they meet the weight requirements. While most pets will fit comfortably in a pet stroller you need to consider your dog's specific personality and temperament. 
Some dogs get nervous when they feel trapped inside of a kennel, room, or stroller. If your dog tends to attempt to escape their dog crate, there's a chance they will do the same while in a stroller. An anxious dog in a stroller can lead to stress and aggressive attempts to escape such as using their nails to damage the material. During this process, the nails can snag or become caught in the mesh screen causing injury to your dog. If your dog is nervous and doesn't like to be enclosed in small areas consider an alternative option to a stroller or discuss the issue with a veterinarian. 
However, most dogs feel comfortable and safe in an enclosed environment because canines are den animals and often seek the security of a den-like environment like a stroller. For example, a dog that has a fear of other dogs or people will highly benefit from a stroller because it provides a safe barrier. A dog stroller is an excellent way to get your dog outside and breathing fresh air without making them experience high-stress levels. 
Another benefit of a dog stroller is for elderly, sick, or injured dogs. As dogs become older their bodies slow down even if they were super energetic throughout their lifetime. Some dogs have arthritis or hip dysplasia when they reach their golden years but they still have the desire to go outside and hike alongside their owners. A dog stroller makes an elderly, sick, or injured dog's lifestyle remain the same as when they were younger but just involves a stroller now. 
As a pet parent, you know your dog best and if a stroller will benefit your pet or not. If you can't decide if a stroller is suitable for your dog, discuss the issue with a veterinarian to ensure you are making the right decision. 
Generally, dog strollers are beneficial for all types of dogs, breeds, sizes, and ages. 
Safety Features for a Dog Hiking Stroller
As a pet parent that takes your dog hiking you understand the dangers and the features a stroller will need to keep your dog safe. Here are safety features that every dog hiking stroller needs: 
Tires – Dog hiking strollers are specially designed with durable tires that swivel and provide a smooth safe ride. Some strollers are designed with shock absorbers to prevent your dog from experiencing a harsh ride while others come with a complimentary air pump to ensure the tire maintains proper pressure at all times. 
Ventilation – Hiking with your dog on a hot summer day might sound great but if they don't have enough ventilation it can lead to heat exhaustion or heat stroke. All of the dog stroller designs on the list provide mesh windows that create cross ventilation to ensure your dog always has plenty of fresh air. 
Safety harness – Most dog strollers are designed with safety harnesses inside where you can attach your dog's leash. This awesome feature helps prevent your dog from leaping out of the stroller and keeps them in place in case of an accident such as the stroller tipping to one side or another during a hike. 
Zipper enclosure – Dog strollers make it easy to secure your dog inside by providing zipper enclosures. Just zip up the exterior of the stroller and that's all you need to do. It's quick, easy, and keeps your dog safe. It also gives you easy access to your dog when you need to give them water or feed them treats. 
Brake system – Hiking trails are uneven, have tuff terrain in some areas and can lean or cause you to go uphill or downhill. Some dog strollers have lock systems that secure the front wheel into place and help you maneuver difficult or dangerous hiking trails. They also feature brake systems that allow you to lock the wheels so the stroller doesn't roll to either side. A lock or brake system is one of the most important features for a dog hiking stroller. 
Pockets and cup holders – Some dog strollers are specially designed with plenty of accommodations such as a cup holder for your water bottle and pockets that are large and easy to reach. The pockets allow you to take along toys, treats, and snacks. They are usually placed in an easy to reach area for your convenience. 
Handlebars – Ergonomic handlebar designs are excellent for frequent hikers. Most dog strollers are designed to allow plenty of space for you to stride comfortably while holding onto the handle. 
As a pet parent who wants to take your dog along on hikes without causing them physical exhaustion choosing a stroller that suits you both is essential to a smooth ride. Your dog needs to be safe and calm while at the same time have access to plenty of fresh air and on your side, you need to comfortably stride and hold onto the handle to prevent the stroller from becoming loose from your grip. 
When choosing a stroller for your pet make sure you consider your needs as well. You will both be using the stroller in different ways and the design of the stroller needs to meet your expectations. 
An excellent way to narrow down your decision of choosing the right dog stroller for you and your pet is to create a checklist. The checklist needs to include all the features the stroller needs to have to ensure your dog's safety and comfort as well as your own. 
All of the dog stroller models mentioned on the list shown above are made with high-quality materials that are durable and long-lasting. They all provide maximum ventilation and strong waterproof fabric. The tires are all suited to the design of each model and provide a smooth and safe experience. 
You can improve your dog's quality of life when you invest in a pet stroller. Suddenly, an indoor dog can experience the outdoors without coming into contact with wildlife or becoming exhausted from reaching past their physical abilities. Your dog's life can also improve if they suffer from anxiety, old age, arthritis, hip dysplasia, and other ailments that prevent them from enjoying walks or hikes. 
You can feel confident choosing any of the strollers on the list for your pet because they are known as the best of the best currently available in the market now! Start browsing the list and find the perfect dog stroller for your pet today!
Conclusion for Best Dog Stroller for Hiking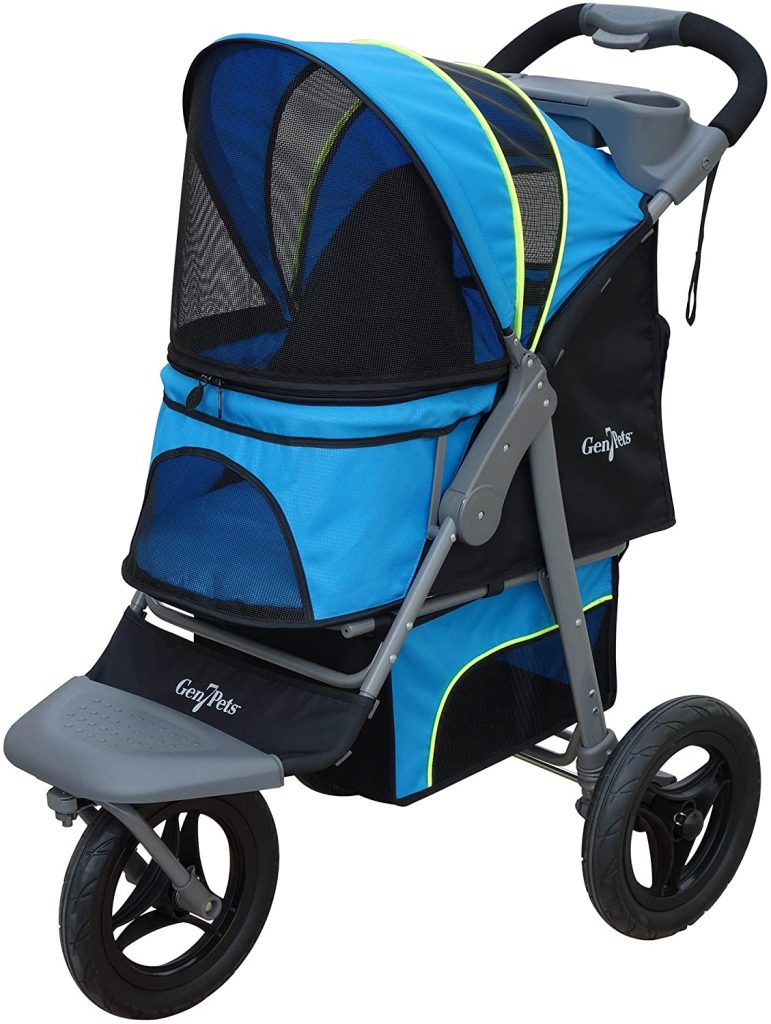 If you want to go on a hike with your dog, but don't want them to get dirty or they can't walk long distances then a dog stroller for hiking is the perfect solution. Hiking dog strollers typically have larger wheels to navigate rough terrain and then are more durable than your average dog stroller. We hope that you enjoyed our article on the best dog stroller for hiking!
Other articles you might like:
Garrett loves animals and is a huge advocate for all Doodle dog breeds. He owns his own Goldendoodle named Kona. In addition, he volunteers at the Humane Society of Silicon Valley, where he fosters dogs and helps animals. Garrett enjoys writing about Doodles and believes that dogs can teach humans more about how to live than humans can teach a dog.
Why Trust We Love Doodles?
At We Love Doodles, we're a team of writers, veterinarians, and puppy trainers that love dogs. Our team of qualified experts researches and provides reliable information on a wide range of dog topics. Our reviews are based on customer feedback, hands-on testing, and in-depth analysis. We are fully transparent and honest to our community of dog owners and future owners.