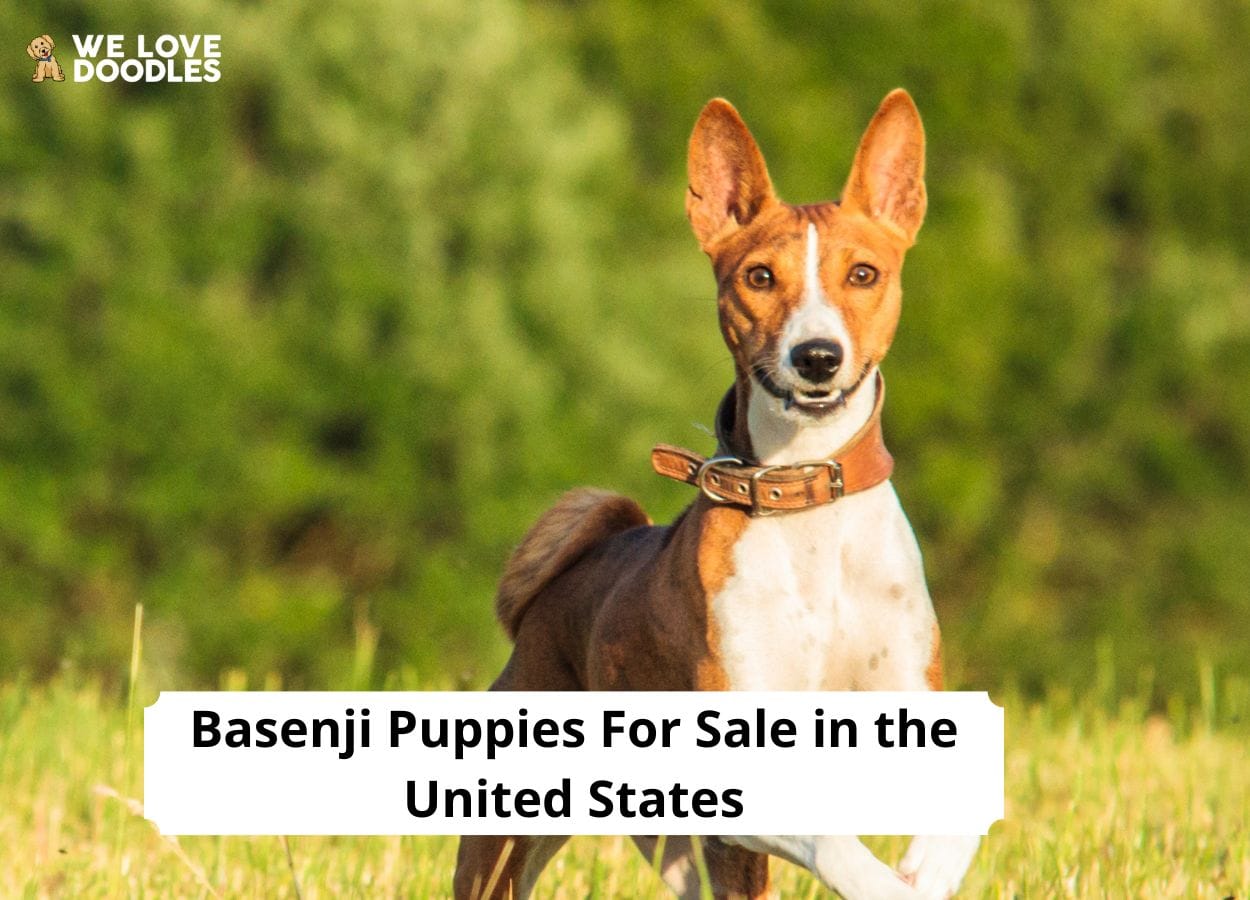 Here's what you should know if you're searching for the best breeders with Basenji puppies for sale in the United States. Many dog enthusiasts love Basenji dogs all over the United States, which is why there are numerous kennels where you can find Basenji puppies for sale.
However, shortlisting the breeders and choosing the best option can be hard. So, we have made a list of some of the most reputable breeders in the United States, with all the information you need to know to make the right decision.
The Basenji, also popularly known as the 'barkless dog,' is a sweet and compact dog with the intelligence and grace of a hunter. It is a unique breed best suited for people with active lifestyles. They are often described as catlike canines due to their quiet nature and habit of constantly licking and cleaning themselves.
Before you scroll further down this list of Basenji breeders in the United States, you can check out these other dog-related recommendations from our team at We Love Doodles: Best Barbet Breeders in the United States and Best Beauceron Breeders in the United States.
Best Basenji Breeders in the United States
So, if you have decided that the Basenji is the perfect pet for you, then look no further. Here is a list of all the breeders that offer Basenji puppies in the USA to help you start the search for the perfect pet.
Basenji Product Recommendations: Best Tug Toys For Dogs and Best Luxury Dog Houses.
1. Veramonte Kennels – Florida
Veramonte Kennels is an AKC-registered breeder located in Florida. They first started breeding Basenjis in 2012. However, they have been showing dogs at AKC confirmation shows since 2007.
The breeder produces top-quality Basenjis intending to maintain the breed standard, and its short-backed structure, without compromising on health and temperament. They don't have a details website, but you can follow them on their Facebook page to get updates and learn about their dogs.
You can find lots of information about their current dogs and their amazing accomplishments on the breeder's website. You can also contact the breeder or check their website to learn about upcoming litters.
Veramonte Kennels – Florida Details
2. Harmony Hounds – Georgia
Next on the list of Basenji breeders in the United States is Harmony Hounds. It is a great breeder for you to check out, especially if you live in Georgia. It is a family-owned and operated breeding facility based on an 87-acre facility. It gives the Basenjis lots of space to roam around and exercise, which is essential for them.
In addition, the breeder also offers some of the best Basset Hounds. The breeder prioritizes the puppies' health and temperament. So, every parent pair is thoroughly tested for health issues before being paired for breeding. Your new puppy will also be dewormed and vaccinated before you take it home. Another great thing is that the breeder starts socializing the puppies early.
All Harmony Hounds' pets are great not only with people but with children as well. The breeder also offers a one-year health guarantee, limited AKC registration, and puppies in four AKC-approved colors. These include black, brindle, chestnut red, and tricolor.
Harmony Hounds is currently taking applications for puppies that will be ready to go home in 2023. You can contact the breeder via text or email for more information regarding their available puppies and the adoption process. If your application is approved, you must deposit to reserve the puppy until it is ready to go home.
Harmony Hounds – Georgia Details
3. Meisterhaus Basenjis and Whippets – Kentucky
Mesiterhaus started their journey as Basenji breeders in the US in 1978. Now, they only specialize in breeding Whippets and Basenjis. The breeder is a part of the Basenji Club of America, the American Whippet Club, and the Louisville Kennel Club.
The breeder has over three decades of breeding dogs. It has given them a lot of time to perfect the breeding process. All parent dogs are tested for health and temperament issues before breeding. The breeder also takes extra care to ensure that they produce dogs with the finest pedigree.
Meisterhaus raise their dogs as a part of the family. The puppies receive lots of love and care and are socialized very early. All Basenji puppies are tested for Fanconi, hip dysplasia, eye issues, and other common diseases. The breeder aims to raise excellent companions and great show and performance dogs.
If interested in this breeder, you can call or email them to ask about their available Basenji puppies. Apart from that, you can also fill out and submit an adoption application available on their website.
Meisterhaus Basenjis and Whippets – Kentucky Details
4. Eldorado Basenjis – Massachusetts
Eldorado Basenjis is run by two sisters and was established in 1993. Since then, the breeder has helped numerous families find the perfect Basenji puppy in New England. They are a small-scale breeder producing top-quality Basenji puppies for sale that are amazing in the show ring, field, and home.
The breeder aims to maintain the breed standard and the core characteristics that set it apart from the rest. They ensure that the puppies meet the AKC standards and have excellent health and temperament. All puppies are socialized at an early stage and are tested for diseases common in Basenjis.
Basenjis in the Northern Hemisphere usually have a litter once a year during the winter. The breeder keeps the puppies with them for 9-10 weeks before sending them to their new home; however, some puppies may need to stay longer.
So, if you feel like this breeder is a good choice, you can visit their website to learn more about their available puppies or upcoming litters. In addition, the breeder also puts some of their adult Basenjis up for adoption. So, if you are interested in buying an adult Basenji and skipping the puppy stage, you can check them out.
Eldorado Basenjis – Massachusetts Details
5. Triforce Basenjis – California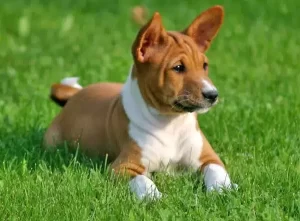 Triforce Basenjis' main goal is to protect and preserve the Basenji breed. It is a family-owned breeding program with over two decades of experience in breeding Basenjis.
The breeder cares for their Basenjis like a part of the family and ensures they offer you the best puppies you can find. All their dogs are health and temperament tested, have fine pedigrees, are structurally sound, and have shown in conformation events.
The puppies are lovingly raised by the breeder and receive lots of love and attention. They are socialized at an early stage and are raised according to the Puppy Culture Program.
This program includes a step-by-step guide about the critical developmental stages of puppies and how to deal with them. It includes Early Neurological Stimulation, aggression prevention, training, leash walking, and more. So, your puppy will be trained, well-tempered, and ready to start its new life with you.
Triforce Basenjis is currently taking applications for their newest litters. You can head to their website to learn more about the breeder and their upcoming litters. If you feel this is the right choice, you can fill out the adoption application and start the process. It is also necessary to email the breeder after submitting your application, so they do not miss it.
Triforce Basenjis – California Details
6. SkyHi Basenjis – Colorado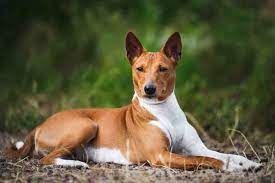 The breeders at SkyHi Basenjis have been working with the Basenji breed for almost two decades. Their number one priority is to offer dogs the best temperament possible.
The personalities and behavioral characteristics of both parent dogs are tested before breeding. Afterward, the puppies are temperament tested at seven weeks. It helps the breeder match the perfect puppy with the perfect family.
The breeder's second priority is to breed healthy puppies free of genetic ailments. All dogs are OFA tested and go through Fanconi DNA testing as well. And their last priority is to produce dogs for beauty and maintain the breed standard.
The breeder only has one litter a year, as Basenjis only have one litter yearly during the winter. However, applications are open all year long. You can also check their available adult Basenjis if they do not have a puppy available.
Learn more about SkyHi Basenjis' dams and sires by visiting their website. It will give you an idea about what kind of puppies to expect while applying for adoption. The breeder lists all their available puppies and adult dogs on their website. You can check both and apply if you find the pet you want.
SkyHi Basenjis – Colorado Details
7. Berimo Basenjis – Texas
Berimo Basenjis, a Basenji breeding business established in 1990, is considered a leading breeder in Texas. Pat Marshall has been breeding, showing, and owning Basenjis for 30 years and has developed a breeding program that reflects their passion for the breed.
The owner has shown Basenjis in obedience and confirmation shows since the 1980s. He also shows some of his dogs in UKC and International shows when they have finished with AKC titles, providing a reason to attend dog shows. Since the 1980s, Berimo Basenjis have earned many titles, including National Champion by Lure Coursers.
Berimo Baseji offers a wide range of services to ensure the well-being of their puppies and provides training and showing advice to new owners. Their breeding program strives for good health and great temperaments, and all dogs are health tested for genetic diseases.
They do not sell their dogs for breeding unless it is to another reputable breeder. Puppy buyers are screened, and all pet-quality puppies will be spayed or neutered. Get in touch with the breeder to get the adoption process started.
Berimo Basenjis – Texas Details
8. Nocturnal Kennels – North Carolina
Nocturnal Kennels is located in North Carolina and have been offering Basenji puppies in the USA since the 1980s. In addition, they also breed Dachshunds on and off. Their breeding facility is located on 23 acres of land and is regularly inspected by the AKC.
The breeder prefers quality over quantity and only breeds a couple of litters yearly so that each litter can get undivided attention. At Nocturnal Kennels, all dogs are raised as beloved parts of the family.
They live in indoor and outdoor heated kennels and spend most of their time inside the breeder's home. The puppies and dogs also get lots of exercise playing and romping around the large area.
You can visit the Basenji puppies at Nocturnal Farms whenever you want. All you have to do is call and ask the breeder for availability. You can also meet the puppies' parents while visiting the farm.
If you do not have time to visit the farm, you can check the breeder's website for available puppies. If you find one you like, you can contact the breeder by calling them. The breeder will get to know you and your preferences and help you select the perfect puppy.
The breeder offers a health guarantee against life-threatening genetic diseases. All puppies are vaccinated and dewormed before going to their new home. They are also tested for genetic health issues.
In addition, the breeder will give you a pack of puppy vitamins to help you get started. You can also get more information about the puppy, such as the choice of dog food from the breeder.
Nocturnal Kennels – North Carolina Details
9. Bantu Basenjis – Oregon
Last on the list of breeders offering Basenji puppies for sale is Bantu Basenjis. They are an AKC Breeder of Merit in Oregon and have been dealing with Basenjis since 2004. They offer limited litters and actively participate in show rings, confirmation shows, and dog sports.
The breeder offers limited litter, so they do not have a kennel facility. All puppies are born and raised at the breeder's home and receive lots of care and attention. The puppies are health tested, socialized, and receive early mental stimulation for proper development.
The breeder has an initial screening process that helps them determine if you are the right match for each other. They do not take a deposit until they can confirm that they have an available puppy that matches your needs.
While adopting the puppy, you will also get a contract that includes the puppy's microchip number, health records, pedigree, and other essential details. Apart from that, the breeder offers excellent customer support and can answer any queries.
Bantu Basenjis – Oregon Details
Conclusion For "Basenji Puppies For Sale in the United States"
The Basenji is a popular breed among canine lovers. These dogs are well-known for their catlike habits and the absence of normal barking. These dogs are quite intelligent and were initially used as hunters in Africa.
However, they also make excellent family pets, given that they have an owner who can fulfill their needs. Several breeders specialize in breeding Basenjis and offer quality Basenji puppies for sale in the United States.
But picking the right breeder and avoiding scams is crucial for getting a healthy and happy puppy. So, you can refer to our list of breeders we have created after much research just for you. However, we always suggest you check out each option thoroughly and choose a breeder that suits you best.
For more guides similar to this list of breeders with Basenji puppies for sale in the United States, you can check out these other dog-related lists from our team at We Love Doodles: 
Before you bring home a Basenji companion from a breeder in the United States, you can learn more about raising them by watching the "Basenji: The Pros and Cons of Owning One" down below: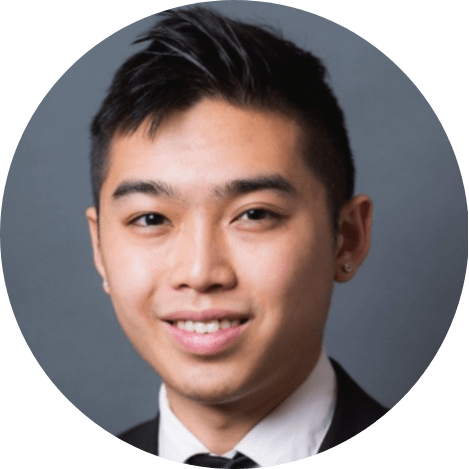 Andy is a full-time animal rescuer and owner of a toy doodle. When he's not saving dogs, Andy is one of our core writers and editors. He has been writing about dogs for over a decade. Andy joined our team because he believes that words are powerful tools that can change a dog's life for the better.
Why Trust We Love Doodles?
At We Love Doodles, we're a team of writers, veterinarians, and puppy trainers that love dogs. Our team of qualified experts researches and provides reliable information on a wide range of dog topics. Our reviews are based on customer feedback, hands-on testing, and in-depth analysis. We are fully transparent and honest to our community of dog owners and future owners.