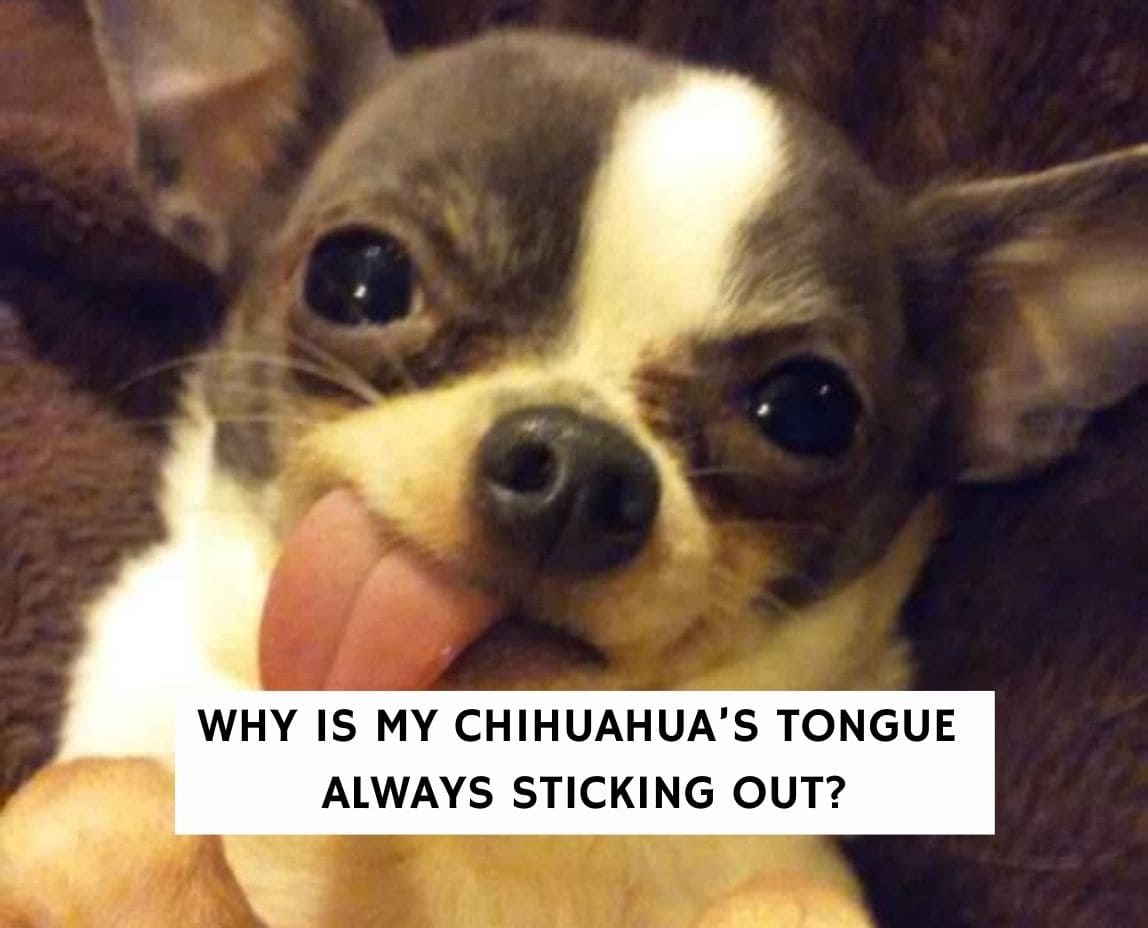 Why is my Chihuahua's tongue sticking out, and what does this mean? If you noticed this behavior in your Chihuahua companion, here's what you should know. All dogs seem to have certain quirks and habits that be quite endearing. For example, some dogs may tilt their heads when you ask them a question or talk to them.
Others might close their eyes every time you pet them, indicating a peaceful and relaxed state. Still, other dogs may lick your toes as a sign of affection and care. Another interesting quirk that seemingly can be found in many dogs is the sticking out of the tongue.
While humans often associate this body language with teasing or dislike, a dog's reasoning for sticking its tongue out is much more direct. Some breeds may stick their tongues out more than others. Chihuahuas, in particular, are known for often being found with their tongue hanging out of their mouth.
Yet like most dogs, Chihuahuas rarely have one sole reason why they may be sticking their tongue out for the world to see. Instead, this often adorable habit may be rooted in various explanations. Some of these reasons are harmless and should not raise concerns. Other times, it may indicate an underlying health issue you want to resolve immediately.
Before you scroll further down this Chihuahua guide, "Why is My Chihuahua's Tongue Always Sticking Out," you can check out these other Chihuahua-related articles from our team at We Love Doodles: What is a Brindle Chihuahua and Maltipoo and Chihuahua Mix Guide.
Why Is My Chihuahua's Tongue Always Sticking Out?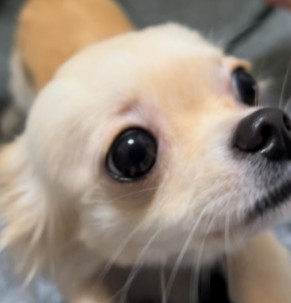 As a current, future, or just interested Chihuahua owner, you want to do what is best to help support your dog's health and wellness. Here we share some reasons why your dog may be sticking their tongue out and what you can do to help meet its needs.
Related: Chihuahua Cockapoo Dog Mix Guide.
1. Your Chihuahua is Trying to Cool Its Tongue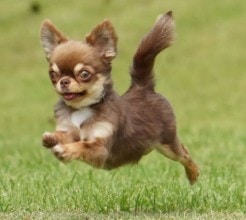 You've probably seen how a dog uses the process of panting to help them cool down. Since dogs can't sweat like humans, they use panting to cool themselves down after exercise or in a hot environment. As a dog pants, the moisture in their breath evaporates, cooling down the tongue and furthering their body.
They may leave their tongue outside their mouth between panting to continue the cooling process. This panting can occur whether they are recovering from a burst of exercise. It may also result from being in a very warm environment. Be sure to notice if they are panting excessively, which may indicate an overheated or suffering from another concern.
When they feel cooled down or are moving on to something else, they can easily pull their tongue back into their mouth like normal. They'll probably also want a drink of water to recover their moisture, so be sure they have access to that.
Related: What Temperature is Too Cold For Dogs Inside and What Should I Do If My Dog's Ears Are Cold?
2. Your Chihuahua Could Be Feeling Dehydrated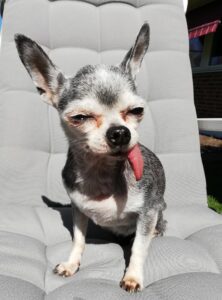 Remember that sticking their tongue out due to cooling down can sometimes be mistaken for dehydration. Their panting can easily transition into dehydration when they can't recover the moisture and water they're losing.
They may stick their tongue out to gather more moisture from the air. Particularly if your Chihuahua is very active and is in a warm environment, dehydration can develop quickly.
While slight dehydration can be easily fixed, it can spiral down quickly. Be sure to catch their dehydration before noticing other symptoms such as a loss of appetite or a dry nose. They may also be much more tired than normal and not act like themselves.
3. Your Chihuahua's Tongue Sticking Out Helps It Feel Relaxed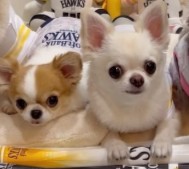 Sometimes, Chihuahuas stick their tongue out when they are in a very relaxed state or sleeping. Without their need to control their body functions, like where to put their tongue, they may choose to have it hanging out of their mouth.
Like their cooling down process, they'll also be able to easily pull their tongue back into their mouth when they wake up or get up and move around. If your Chihuahua does this often, be sure that their tongue doesn't get too dried out that it becomes uncomfortable for them.
Related: Rat Terrier Chihuahua Mix Guide.
4. Your Chihuahua's Tongue is Sticking Out Because It's Excited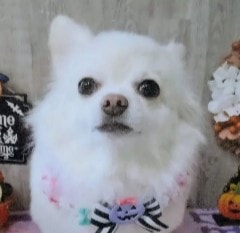 Another natural reason a Chihuahua sticks their tongue out is because of excitement. Typically, this reason for sticking out their tongue will be accompanied by a rapid wagging of the tail or other indications of joy. They may be ready for a walk or just eager to be petted by you.
Related: When Do Chihuahua's Ears Stand Up?
5. It Could Be Chihuahua's Hanging Tongue Syndrome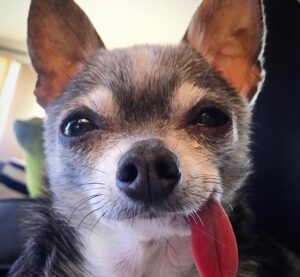 While this condition does not typically bring other negative side effects, it's a reason a dog may stick their tongue out that's not part of a natural process. In this, their tongues are just too large for their mouth. Typically, genetics is the root cause of hanging tongue syndrome.
Small dogs, like Chihuahuas, are also more susceptible to this condition than other dogs. While dogs can live healthy lives without developing any other negative side effects of this hanging tongue syndrome, they may be more susceptible to developing a dried-out tongue.
It may also have the potential to become painful over time. They can't pull their tongue back into their mouth, so they can't bring moisture to their tongue. A dried-out tongue can become infected or frostbite if you're not careful. It can also come with other negative symptoms, such as bad breath and swelling.
Monitoring this condition and ensuring that nothing else troublesome develops on the tongue is an important part of keeping your dog healthy and well. Be sure to connect with your veterinarian to discuss any other treatment options to consider to help support your Chihuahua's overall oral health.
Related: Best Shampoos For a Chihuahua.
6. Your Chihuahua Could Have Rotten Teeth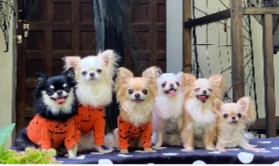 Associated with the hanging tongue syndrome are other dental issues involving teeth rotting. When these teeth have to be surgically removed, there is less support for the tongue in the mouth. Therefore, what results may be a tongue hanging out, unsupported. Typically, dogs cannot pull their tongue back fully into their mouth unless assisted.
7. Your Chihuahua Might Have Gum Disease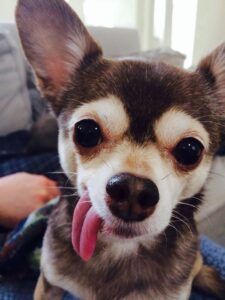 Related to rotting teeth, a Chihuahua may also be unable to support its tongue due to gum disease. This may also cause the removal of teeth, leaving the tongue unsupported.
Additional symptoms of gum disease may include things like bad breath, pain when eating food, or bleeding in the gums or other areas of the mouth. If you notice any of these symptoms, it's important to connect with your veterinarian right away.
Related: Guide to Periodontal Disease Stages.
8. Your Chihuahua Might Have a Longer Tongue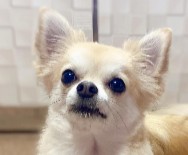 Another reason a Chihuahua may be sticking their tongue out is because they have an extra long tongue. As the smallest breed, Chihuahuas have fairly small mouths. Therefore, if they are born with a tongue that's much longer than typical, they may have difficulty fitting it in their mouth.
It may be uncomfortable to stuff their long tongue in their mouth. In this case, there's not much you can do to help them. Just be sure they are regularly moisturized and have access to water.
9. Your Chihuahua Could Have an Under-Bite or Overbite
Another dental-related issue that can cause the sticking out of the tongue is an overbite or under-bite. When their mouth is off balance or doesn't support the tongue as it should, the tongue may not be sure where to go. Therefore, they may have it sticking out due to the imbalance. Typically, an under-bite is more commonly found in Chihuahuas and can have the potential to lead to other dental issues.
Related: Long-Haired Deer Head Chihuahua Guide.
10. It's Possible That It Could Be From the Medication that Your Chihuahua Took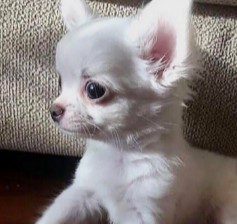 If your Chihuahua has another medical issue that you've recently started them on medication for, they may respond by sticking their tongue out. They may not be used to the active ingredients in whatever medication they are now taking. If this symptom appears, it's important to connect with your veterinarian to ensure no other steps should be taken.
Related: Best Chihuahua Dog Insurances.
Care For Your Chihuahua's Mouth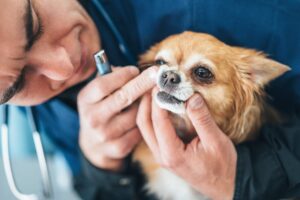 While most often, your Chihuahua sticking out their tongue is nothing to worry about, there are some things you can do to support their health further. If sticking out of their tongue results from a dental issue, you can ensure that the tongue remains hydrated and healthy.
Hydrate, Hydrate, Hydrate
Especially if your dog cannot pull its tongue back into its mouth, it must find other ways to replenish the moisture on its tongue that gets dried up. Always be sure that your dog has access to a bowl of water. By staying hydrated, they can recover a dried tongue. Additionally, drinking appropriate amounts of water can improve all other areas of their health and mouth.
Brush Chihuahua's Teeth
To support their overall oral health, be sure you're brushing their teeth regularly. This can help prevent rotting teeth and gum diseases that can lead to teeth removal. Use a special dog toothbrush that's designed to get around their chompers.
You can also give them chewable containing special ingredients to support their dental health. While brushing your dog's teeth may take some practice, and your puppy may need some time to get used to it, it's an important practice in caring for your dog's health.
Related: Best Male Chihuahua Names For Your Puppy.
Conclusion For "Why is My Chihuahua's Tongue Sticking Out"
There are many reasons why your Chihuahua's tongue is sticking out. If you notice that this is unusual behavior, you should bring your Chihuahua to a veterinarian to get it checked.
If you find this guide, "Why is My Chihuahua's Tongue Sticking Out," helpful, you can check out these other dog-related content from our team:
You can learn more about why your Chihuahua's tongue is sticking out by watching "Why Does My Dog Stick The Tip of His Tongue Out" down below: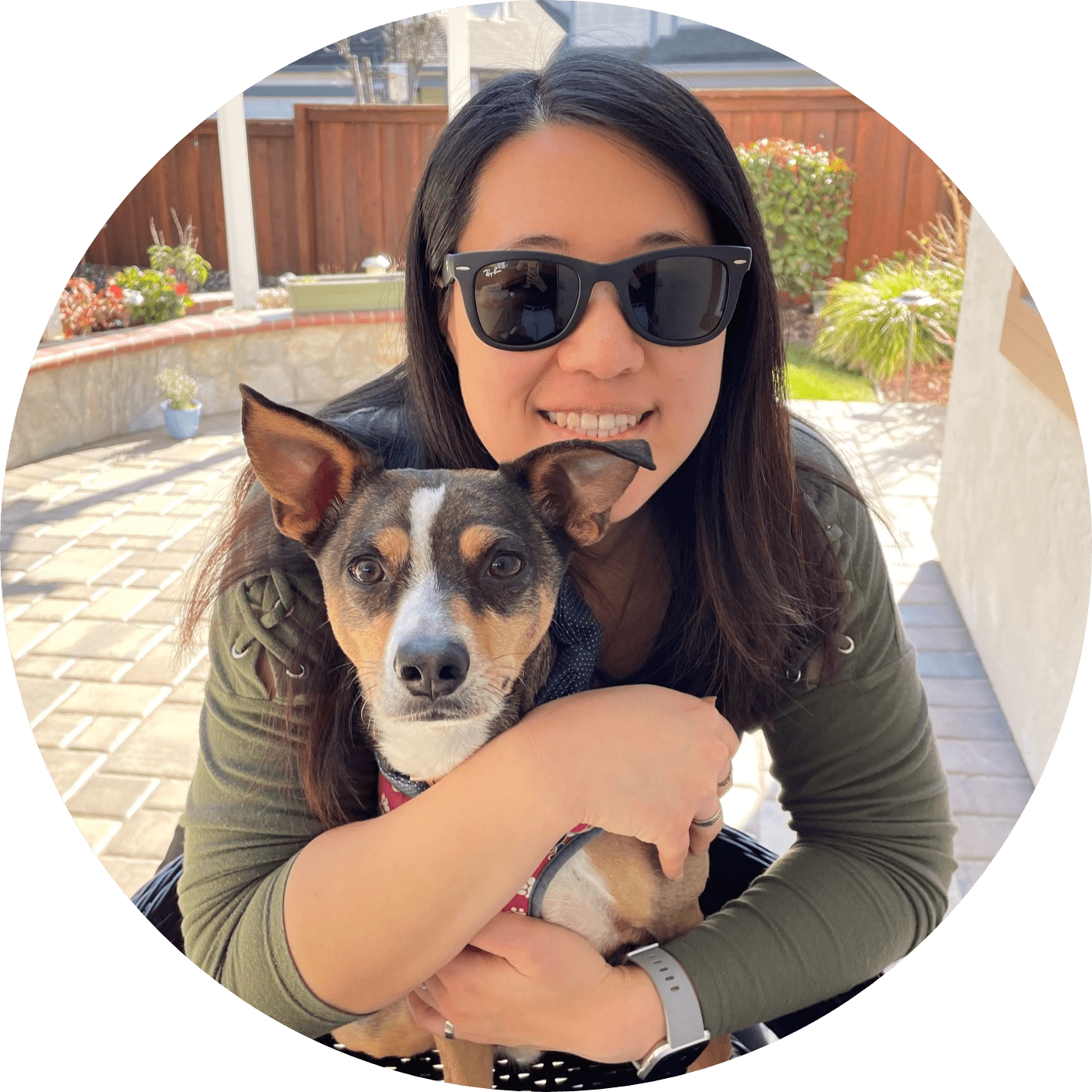 Dr. Sabrina Kong graduated from the Royal Veterinary College in England in 2016 and has been working at a small animal clinic in Northern California since then. She grew up in the Bay Area and got her bachelor's degree from Cal Poly San Luis Obispo. She also became a Certified Canine Rehabilitation Practitioner through a program at the University of Tennessee.
When she isn't in the clinic taking care of her four-legged patients, she enjoys traveling and trying new foods with her friends and her three-legged dog, Apollo. She adopted Apollo from her clinic when he was a puppy with numerous health issues. Dr. Kong truly cares about taking care of animals.