If you're looking to adopt, Oregon is the perfect place to find a Chihuahua at one of the many rescues. This pint-sized pup has become an international sensation in recent years. It's no wonder so many dedicated organizations are devoted to rescuing these pups around the state.
These incredible organizations work hard to find forever homes for these gorgeous dogs, giving them the love and care they deserve. What's more, each dog gets behavior management training as well as socialization services prior to adoption so that their transition into a loving home is smooth.
To make sure you get the most loving and well-cared-for pup, we carefully researched the top Chihuahua rescues in Oregon. As an added bonus, many of these rescue centers also take care of other small breeds. Find our favorites below.
Before you scroll down this list of Chihuahua rescues in Oregon, check out: 5 Best Border Collie Rescues in Oregon! (2023) and 5 Best Pitbull Rescues in Oregon! (2023).
1. Sadie's Safe House Chihuahua Rescue
Sadie's Safe House Chihuahua Rescue, a 501(c)(3) non-profit based in Aloha, Oregon, is devoted to rescuing homeless Chihuahuas and their mixes since 2013. With the aid of passionate volunteers, this remarkable charity has provided countless dogs with loving homes — transforming lives for the better.
Sadie's Safe House provides a protective environment for abandoned and surrendered Chihuahuas and their mixes. They are resolute in finding these wonderful creatures suitable homes where they can live comfortably while being provided with lots of love.
Furthermore, Sadie's Safe House actively works to educate the public on proper pet care as well as spay/neuter awareness, helping spread knowledge that could save many animals' lives.
Sadie's Safe House is committed to giving every pup the opportunity for a second chance. They take in dogs from nearby shelters and those surrendered by their owners due to various reasons, including economic difficulty.
Sadie's makes sure all dogs receive medical attention — including vaccinations, spay/neuter surgery, heartworm testing, flea/tick prevention treatments, deworming, as well as microchipping — prior to being welcomed into loving homes.
At Sadie's Safe House, adopters receive ongoing support even after adoption day. The team provides helpful resources such as advice on training and behavior, and they can provide referrals to nearby veterinarians.
If you ever have questions, their staff is always happy to help.
Sadie's Safe House Chihuahua Rescue Details:
2. Oregon Dog Rescue
For more than a decade, Oregon Dog Rescue has selflessly dedicated itself to providing shelter and care for abandoned animals.
Founded in 2007 by two extraordinary women, this non-profit in Tualatin is one of the most influential no-kill shelters around. With their unwavering commitment to animal welfare, ODR continues to provide loving homes for furry friends all over the region.
Oregon Dog Rescue is committed to finding a forever home for each and every one of its adoptable animals. They provide one-hour appointments so that potential families can view up to two available dogs, as well as medical services such as spaying/neutering, vaccinations, and microchipping.
The shelter's mission is to guarantee all furry friends have a loving family they can call their own. To ensure these animals go to a safe and loving home, they have an extensive adoption process which includes background checks and house visits.
If you're searching for a dog or would like to give back to Oregon Dog Rescue, there are numerous ways. You could contribute your time at the rescue center or donate items such as toys and food. Additionally, you can raise awareness of this marvelous organization through social media networks.
If you're seeking the perfect companion or are looking to make a significant difference, Oregon Dog Rescue is your one-stop destination. This incredible organization continues to save animals and bring joy into their lives. Join them in supporting this meaningful cause by adopting an animal in need today.
Oregon Dog Rescue Details:
3. The Pixie Project
Oregon is home to the remarkable non-profit animal adoption and rescue center: The Pixie Project. Located in Portland, this rescue is passionate about aiding animals to find forever homes while providing low-cost veterinary aid for those who require it most.
At The Pixie Project, the priority is creating a positive experience for those looking to rescue or adopt an animal. They recognize that adopting isn't just deciding on what kind of pet you want. Rather, it's committing yourself to provide them with all the love and attention they need.
This is why their staff offers personalized care for each pet. Your new family member has access to everything needed for a safe transition into its forever home.
The Pixie Project is devoted to providing pets with loving homes and also offers affordable veterinary services for pet owners who may not have the means to access traditional vet care.
Whether it's a simple check-up or an urgent surgery, they are committed to keeping your furry friends healthy and happy all their lives.
If you're in the market for a dog or want to help an incredible organization, The Pixie Project is worth your time. With their dedication to aiding animals and providing cost-effective veterinary care, there's no doubt that when you lend them support, it will make a meaningful impact.
The Pixie Project Details:
4. Lancaster Four Dog Rescue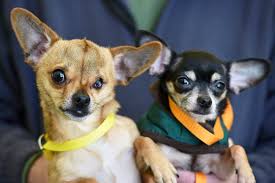 Founded by Rebecca Clark, Lancaster Four Dog Rescue in Gresham, Oregon, is devoted to rescuing and adopting dogs and cats.
This project was motivated by a desperate plea from an animal abuse case that persists today — to save four Pitbull puppies that were severely underweight. With compassion at its core, this organization has since grown into a beautiful haven for rescue animals.
Lancaster Four, a volunteer-led organization devoted to delivering exemplary care for animals in need, works endlessly to find loving homes and provide spay/neuter services for pets with local owners.
As homage to four puppies who were saved from an unethical breeder in Lancaster, California, this group was christened "Lancaster Four."
The organization has achieved the monumental feat of rehoming over 700 animals since its formation and has also aided 40 local pet owners in spaying or neutering their pets. It also has a presence on Facebook, Instagram, and Petfinder for more visibility.
Come join in the incredible mission of Lancaster Four Dog Rescue and make a real difference for animals throughout Gresham, Oregon, and beyond! With your help, this amazing organization can create positive change — visit their website to discover how you can get involved today.
Lancaster Four Dog Rescue Details:
5. Displaced Pets Rescue, Inc.
Displaced Pets Rescue, Inc., based in Vernonia, Oregon, is an extraordinary non-profit 501(c)(3) organization making a tremendous difference in the lives of animals by rescuing Pomeranians and other tiny breeds within Northwest Oregon and Southwest Washington.
Despite having few resources, the impact they make on these furry companions' lives is truly remarkable. Additionally, Displaced Pets Rescue collaborates with shelters and other agencies to provide aid for impounded creatures, adoptable pets, as well as critters displaced or evacuated due to natural disasters.
Timer's heartwarming journey from a shelter to his forever home is one for the books! His story, printed in the May/June 2012 issue of the Humane Society of New Braunfels Area newsletter, epitomizes why animal rescue organizations are so important.
Now Timer enjoys playing fetch with his new family and exploring nature by going on hikes around town — a testament that no matter how difficult our circumstances may seem, there can still be hope and happiness at the end of it all.
Whether you're looking for a furry companion or want to help make a difference in an animal's life, this organization is perfect for everyone who loves creatures big and small alike.
Displaced Pets Rescue, Inc. Details:
Frequently Asked Questions
Why are there so many Chihuahuas in rescues?
Many Chihuahuas end up in shelters due to misconceptions about what it takes to raise them. While they may seem easy due to their small stature and cute looks, Chihuahuas can be difficult to train. While owners surrender their dogs for different reasons, poor behavior is a common one.
Are Chihuahuas aggressive?
Despite their looks, Chihuahuas can be aggressive, particularly toward strangers and larger dogs.
How long do Chihuahuas normally live?
The life expectancy of a Chihuahua is 14 to 16 years.
Conclusion for "Best Chihuahua Rescues in Oregon"
If you're seeking a special furry companion while also doing something remarkable, that's where Chihuahua rescues in Oregon come into play.
Nonprofit organizations such as Displaced Pets Rescue, Inc. and Lancaster Four Dog Rescue are rescuing injured animals and providing them with homes to live the remainder of their lives peacefully and contentedly.
Through these selfless efforts, countless creatures have been granted second chances at joyous existences — so why not join this heartwarming cause? Find your perfect Chihuahua and adopt today!
For guides similar to this list of Chihuahua rescues in Oregon, check out:
Before you adopt a Chihuahua in Oregon, learn more by watching "How to Take Care of Chihuahua Dogs" down below:
Garrett loves animals and is a huge advocate for all Doodle dog breeds. He owns his own Goldendoodle named Kona. In addition, he volunteers at the Humane Society of Silicon Valley, where he fosters dogs and helps animals. Garrett enjoys writing about Doodles and believes that dogs can teach humans more about how to live than humans can teach a dog.
Why Trust We Love Doodles?
At We Love Doodles, we're a team of writers, veterinarians, and puppy trainers that love dogs. Our team of qualified experts researches and provides reliable information on a wide range of dog topics. Our reviews are based on customer feedback, hands-on testing, and in-depth analysis. We are fully transparent and honest to our community of dog owners and future owners.