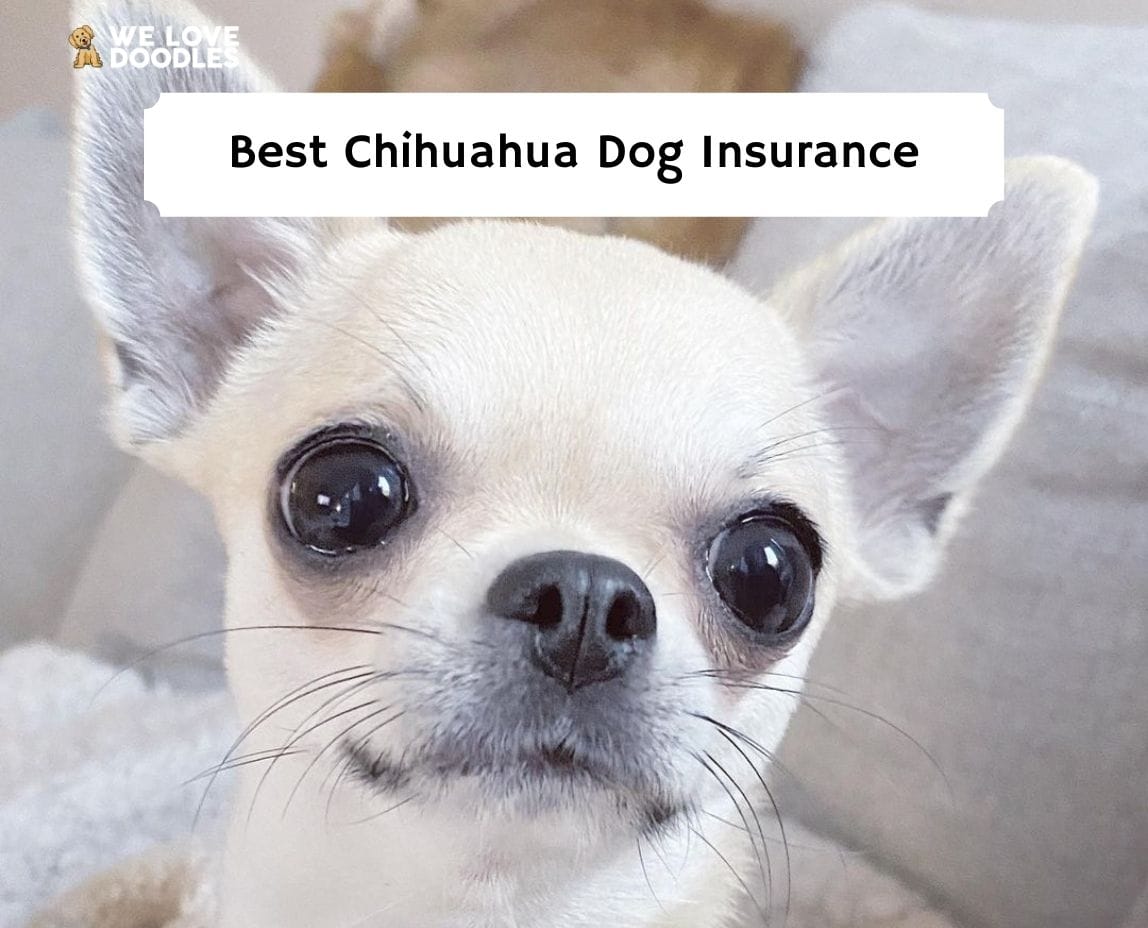 Finding the best Chihuahua dog insurance policy in 2022 can be daunting. There's no breed like the feisty and loyal Chihuahua. Still, this larger-than-life dog breed comes with a unique set of health needs, including collapsed tracheas, heart problems, hypoglycemia, luxating patellas, and even major dental issues. This breed has a life expectancy of 14-16 years.
That's why we've put together this comprehensive guide to the best Chihuahua dog insurance policies on the market today. So we'll help you find the right coverage for your furry friend, and you can rest easy knowing they're taken care of.
So, if you're a Chihuahua pet parent, what are the benefits of choosing a pet insurance policy? Well, besides helping to soften the financial blow of caring for your pup, it offers you peace of mind knowing that your dog will never have to suffer because their medical needs aren't being met.
Vet bills can be costly – especially when your puppy suffers from an accident or illness – but pet insurance can help ease this financial burden. 
And even though the price tag may seem high at first, it's often much less expensive than paying for all those visits and surgeries yourself. In addition, some companies allow new customers to get a free quote, which means you can explore your options without obligation.
So, if you're a Chihuahua owner, don't wait – get pet insurance today! We'll start by looking at what factors you should consider when choosing Chihuahua dog insurance. Then we'll review some of the top policies on the market and tell you what to watch out for. 
Finally, we'll give you some tips on how to keep your Chihuahua healthy and insured for life.
Factors to Consider When Choosing Chihuahua Dog Insurance
There are so many options available, and each one seems to have its own set of benefits and drawbacks. However, by taking the time to research your options and compare policies, you can find the perfect coverage for your Chihuahua. Before purchasing insurance, you should also understand your breed's predispositions to specific health conditions. 
Try to target those health predispositions and get them included in your pet insurance plan in case your Chihuahua is affected later on in life. If that's done, you'll be covered with no exclusions. That's why it's so important to ensure your dog during puppyhood so that you'll always ensure that your dog gets the best veterinary care throughout his life. 
You won't have to make choices, and you'll also be able to prevent health issues by providing your dog with regular top-notch vet care even when on a pet vacay! Having pet insurance is the only decent thing to do if you're a pet parent because you can never tell what will happen in the future, even if your pup is healthy today. 
Regardless of which company or discount plan you choose, understanding that emergency veterinary expenses may not be generally manageable without pet insurance is key to responsible pet parenting.
Top Pet Insurance Plans for Chihuahuas
 
Lemonade
(Best Overall)
Fetch
Pets Best
Packages
A&I, Preventative, Preventative+, Add ons: vet fees, physiotherapy
A&I package
A&I, Puppy and Wellness (basic & advanced package)
Coverage %
70% to 90%
70-90%
70-90%
Coverage amount
$5k-$100k
$5k-unlimited
$5k or Unlimited
Deductible
$100, $250, $500
$250, $300, $500
$50, $100, $200, $250, $500, $1,000
Waiting Period
2 days (injury), 14 days (illness)
15 days (injury or illness)
3 days (accident), 14 days (illness), 6mo (cruciate ligament)
Min/max ages
8 weeks – 12 years
From 6 weeks – no upper age limit
From 7 weeks-no upper age limit
Price
Affordable
Medium Priced
Higher Priced
States
36 states
Nationwide
Nationwide
Quote
Get a Quote
Get a Quote
Get a Quote
This is our top pick for pet insurance. Lemonade Pet Insurance does not use the traditional insurance model but creates a structure to share profits with charities chosen by its customers. The only downside is that you won't get the 24/7 vet helpline.
Lemonade does not feature dental care at the moment, but you can opt for routine dental cleaning as part of the preventative care plan. There's a 14-day wait period for illnesses.
The company is relatively new but has an A+ rating from the Better Business Bureau, and they also have a 4.9/5 rating on Trust Pilot.
With Lemonade, Chihuahua insurance claims are processed in minutes, thanks to the company's AI-driven claims resolution. This company has been around since 2016 and offers a variety of pet insurance plans. There are a few options to customize your policy: a base accident and illness coverage, Preventative care, Prevetative+, Preventative care for puppies and kittens, and other optional add-ons.
Each pet, though, needs its own insurance policy. So if you're a multi-pet household, this may be an issue; however, Lemonade offers a 5% multi-pet discount. After reviewing dozens of pet plans, Lemonade Pet Insurance plans are second to none on transparency and simplicity, by far the friendliest insurance company for pets that we have reviewed.
Features
Affordable for all pet parents
Waiting period for accident coverage is only two days. option to add coverage for vet visit fees & preventative care

Several coverage limits to choose from $5,000-$100,000

Can visit any licensed vet in the US in all 36 states

Option to change policy within first 14-days

Claims approved in minutes
Fetch (previously PetPlan) was founded in 2007 by pet parents whose sick cat had an unexpected $5,000 veterinarian bill. They created a plan that offered accident and illness coverage to other pet owners to cover illnesses.
Today, Fetch still sells this plan in both the U.S. and Canada. You can ensure your pet from as young as six weeks of age.
The takeaway with Fetch is that it's super easy to figure out, and coverage is good. There's a super flexible deductible, reimbursement percentage, and annual maximum coverage limits, which can feature an unlimited coverage limit. Here's what it covers the following:
Chronic and hereditary conditions

 Boarding fees

Holistic care 

 Comprehensive dental

 Virtual vet visits (televet)
Fetch also covers all the below:
Accidental injuries & illnesses

Diagnostic tests

Veterinary exam fees

Prescription medications

Imaging & ultrasound

Cancer treatments

Non-routine dental treatments 

Surgery & rehabilitation

Holistic therapies

Referral & specialist treatment & more
Features
Exam fees included

Dental coverage includes injury & disease

Breed-specific conditions include

Plans average around $35 a month for dogs.

Option of choosing annual deductible which varies from $100 to $1000

Affordable

24/7 reliable customer service

Pups & cats can be insured from 6 weeks' plus

Good annual reimbursement options that can go to unlimited
One of the best pet insurance companies on the market today is Pets Best. This company offers a wide range of coverage options for your Chihuahua, and you can choose a policy that fits your needs and budget. 
Pets Best also has several discounts available, including a multi-pet deal, and you can save up to 20% on your premiums by signing up for annual coverage.
Pets Best's policies also cover hereditary and congenital conditions and alternative therapies. And if your Chihuahua requires surgery, Pets Best will cover the cost of the surgery, as well as hospitalization and medication costs.
Features
Offers unlimited annual plans like accident-only coverage, accident and illness, and wellness benefits. 

Routine care coverage, exam fee coverage, with fast claims processing.

Direct veterinarian reimbursement

5% discount for signing up online, enrolling multiple pets, and for being part of the military

$24 annual savings if you pay yearly premiums upfront in one lump sum

Offers accident only & wellness plans

Affordable rates that everyone can afford

No upper age limits

Veterinarian founded

Top customer rated with good reviews.
Nationwide is outstanding pet insurance because it features pet insurance either through employers or individually. Nationwide also features investment, homeowners, renters, and life insurance options. In addition, this pet health insurance company ranks as one of the best pet insurance companies in the U.S. 
They've been around since 2009 after purchasing the Veterinary Pet Insurance Company founded in 1982. This is a good policy for pet parents looking for coverage only for major health issues. They, too, offer a significant pet health plan that has a cap on each benefit for each health condition. 
Features
Affordable with 5 % multi-pet discount

Features 24/7 pet televet

Pet RX Express allows for cheap pet pharmaceuticals

Crafted with a Wellness Plan

You can also opt for an exotic or bird insurance plan

Pet Wellness Basic or Pet Wellness Plus plans include routine vaccinations, nail trimming, and fecal tests.

You can visit any licensed veterinarian in the world 

Pet should be enrolled before age ten so that you can get lifelong coverage.

Plans start at $35

Mobile claims for fast payouts
Chihuahua Health Issues
Chihuahuas are one of the most popular dog breeds globally, and for a good reason – they are just terrific to have at home, easy to travel with. These little furballs are full of personality and love, and they make great pets for people of all ages. 
However, owning a Chihuahua also involves some responsibilities, like ensuring your pup is insured. Yes, that's right – Chihuahua dog insurance is a thing, and it's something you should seriously consider if you're the proud owner of one of these furry friends. 
So it's also best to start with pet insurance from puppyhood so that you're not faced with a preexisting condition exclusion.
Chihuahuas require routine care, vaccinations, and occasional surgeries like all dogs. And if your pup happens to get sick or injured, vet bills can quickly add up. So that's where pet insurance comes in – it can help you pay for your dog's healthcare costs, so you don't have to worry about how you're going to afford to make them better.
The Chihuahua is an alert and sensitive small dog breed prone to several health issues. Some of this breed's most common health concerns include patellar luxation, slipped stifle, and heart disease. The American Kennel Club (AKC) adds that " You should choose your dog from a breeder who routinely does genetic health screenings on all breeding stock to ensure that the puppies they produce are as genetically sound as possible. Some of the issues that can affect the Chihuahua include potential heart problems (patent ductus arteriosus, mitral valve disease), eye disease, and patellar luxation (loose kneecaps). Idiopathic epilepsy is also known to occur in the breed."
Many different companies offer pet insurance policies, so it's essential to research before deciding on one. Ensure you find a policy covering critical things to you and your pup, like routine care, accidents, injuries, and illnesses. However, there may be some exclusions, so read the terms and conditions carefully.
In addition, it's important to note that Chihuahuas are prone to specific health issues, like heart problems. So, it's crucial to find a policy that covers this type of care if your pup needs medical attention. 
And, finally, remember that Chihuahuas have a relatively long lifespan – so make sure you find a policy that covers your pet for their entire lifetime. Just as humans need health insurance, so do our canine companions.
Chihuahua Dog Insurance Options
Make sure that your policy covers these health issues specifically, especially if you're taking out coverage for a senior Chihuahua that has developed some chronic medical problems or even a young puppy that has not developed any issues, so that you're not faced with preexisting health exclusions. So here's the takeaway on how pet insurance coverage works.
The coverage for pet health insurance plans is usually divided into the following main categories.
Accidents typically refer to an unintended or unexpected event that causes injury.

Illnesses – an illness that does not come about from an injury.

Vet Exam Fees – Numerous pet insurance companies don't cover the exam fee for diagnosing a health issue but will cover the cost of treatment.

Alternative Therapies include holistic, rehabilitative therapy, physical therapy, chiropractic care, and acupuncture.

Emergency Care – Plans will usually cover emergency treatments at emergency clinics and traditional veterinary offices for accidents and necessary surgeries, x-rays, cat scans, and so forth when it relates to an unexpected event that has caused harm to your pet.

Surgery/Hospitalization – Plans will usually cover all surgeries necessary to diagnose or treat accidents, covered in the plan, together with illnesses and hospitalizations.

Pet Medications – This is generally covered when the program covers the diagnosis. Prescription pet food for things like kidney disease and pancreatitis may not be covered – It's always a good idea to reach out and call if there are specifics in print that you do not understand.

Hereditary and Congenital Conditions – This is one of the critical issues to look out for when choosing your pet insurance. 
Tips for Keeping Your Chihuahua Healthy and Insured for Life
Now that you have a better understanding of Chihuahua dog insurance, here are some tips on how to keep your pup healthy and insured for life.
Make sure your Chihuahua stays at a healthy weight
Overweight dogs are more prone to developing health conditions, so it's essential to keep an eye on their diet. Feed them a balanced diet and make sure they get plenty of exercises.
Get regular checkups
Routine checkups can help identify any health problems early on when they're easier to treat.
Vaccinate your Chihuahua against common diseases
Vaccinations can help protect your pup from potentially deadly diseases. Make sure your Chihuahua is up-to-date on all of his shots.
Purchase pet insurance
This will help you financially if your Chihuahua does develop a health condition.
When choosing a policy, it's essential to ensure that the company you go with covers hereditary and chronic conditions and routine care like vaccinations and checkups. However, selecting the best Chihuahua insurance plan can be difficult, with many options available to pet owners today.
That said, it's essential to do your research before purchasing a pet health insurance policy and make sure you understand what their policies include and don't include before signing up. 
How to Choose a Chihuahua Dog Insurance
One of the first things you'll want to consider when looking for Chihuahua dog insurance is the company's reputation. So do your research and read reviews from other customers to get an idea of their experience with the insurer.
You should also be sure to ask the insurer questions about their policies and coverage so that you can be sure it's a good fit for both you and your Chihuahua.
Premiums
Another essential thing to keep in mind when choosing Chihuahua dog insurance is the cost of premiums. Be sure to compare rates from different companies and find one that fits your budget.
Additionally, you may want to consider adding on additional coverage for things like routine care, accidents, and illness. This can help ensure that your pup is protected if something unexpected happens.
Individual needs & preferences
Ultimately, finding the best Chihuahua dog insurance policy in 2021 depends on your individual needs and preferences. By taking the time to research your options and compare policies, you can find the perfect coverage for your furry friend.
Frequently Asked Questions
What is the average price of a Chihuahua dog insurance policy?
The average price for a Chihuahua dog insurance policy varies depending on the company you choose and the level of coverage you select. However, most policies fall within the $20 to $50 range per month.
How much does Chihuahua dog insurance cover?
A: Generally, Chihuahua dog insurance policies cover routine care, accidents, injuries, and illnesses. However, there may be some exclusions, so read the terms and conditions carefully.
What is the best way to find Chihuahua dog insurance?
The best way to find Chihuahua dog insurance is by doing your research. Read reviews online and talk with different companies to learn more about their policies and how much they will cost you. It's essential to find a plan that fits within your budget and covers the things that matter most to you and your pup.
What are the most common health issues that Chihuahuas face?
Some of the most common health issues that Chihuahuas face include eye problems, heart issues, dental problems, and respiratory problems. It's essential to find a policy that covers these types of issues in case your pup needs medical care.
What is the average lifespan of a Chihuahua?
The average lifespan is around 12-15 years. However, some Chihuahuas may live up to 20 years or more. This is why it's essential to find a policy covering your pet for its entire lifetime.
Are Chihuahua prone to heart issues?
Yes, Chihuahuas are prone to heart issues, and it's essential to find a policy that covers this type of medical care. Heart disease is the leading cause of death in Chihuahuas.
What is the average cost for routine vet care for a Chihuahua?
The average cost for routine vet care for a Chihuahua can vary depending on where you live, the age of your dog, and the services you require. However, most people spend between $300 and $500 per year on routine vet care for their pup.
What should I do if my Chihuahua has a health emergency?
If your Chihuahua has a health emergency, you should contact your veterinarian or the nearest animal hospital as soon as possible. Be sure to have your insurance card on hand so that you can get treatment for your pup quickly and easily.
Why do you need Chihuahua dog insurance? 
Simply put, because accidents happen. And when they do, you'll be glad you have coverage for your pup.
What is the average cost for surgery if my Chihuahua needs it?
The average cost for surgery if your Chihuahua needs it can vary depending on the type of surgery and the location. However, most people spend between $1,000 and $3,000 per surgery.
Conclusion for The Best Chihuahua Dog Insurance
One of the most important considerations is to find an affordable plan that offers coverage for Chihuahua dog diseases, accidents, injuries, routine care, surgeries, vaccinations, and much more. You want this to be a long-term life choice you know you can afford throughout your pup's lifespan.
Many companies are offering this type of insurance for Chihuahuas today. So be sure to take time to do your research to make sure you get the best coverage at an affordable price that's right for you and your pup. 
As mentioned earlier, one of the most significant benefits of having pet insurance is that it can help you pay for your dog's healthcare costs. This includes things like routine care, accidents, injuries, and illnesses. In addition, many policies also cover things like prescription medications, lab tests, and hospital stays.
It's important to note that not all policies are created equal, so make sure you find one that covers essential things to you and your pup. For example, some policies may not cover preexisting conditions, while others may not.
Other articles you might like:

Claudia Bensimoun is a writer who specializes in dog content and veterinary topics! Aside from writing for We Love Doodles, Claudia also writes for other major dog blogs like Fido Friendly, Animal Wellness Magazine, and the United States Dog Agility Association (USDAA). She has a ghostwritten over 50 different dog e-books. Her passions include animal welfare, veterinary research, and wildlife conservation.
Why Trust We Love Doodles?
At We Love Doodles, we're a team of writers, veterinarians, and puppy trainers that love dogs. Our team of qualified experts researches and provides reliable information on a wide range of dog topics. Our reviews are based on customer feedback, hands-on testing, and in-depth analysis. We are fully transparent and honest to our community of dog owners and future owners.