Here's what you need to know before we get started on this Rottweiler Chihuahua mix guide. What makes the Crossbreed dogs special and adorable is that they carry the genes of two different purebreds.
The combination of the Rottweiler Chihuahua mix dog breed is very distinctive, making it a unique breed. This is due to the sharp contrast between the two parent breeds, the Rottweiler and the Chihuahua.
Understanding your pets' makeup makes it easy for you to know how to go about taking good care of them. This article is a comprehensive guide on the Rottweiler Chihuahua mix dog breed.
Before scrolling down this Rottweiler Chihuahua mix guide, feel free to check out these other dog breed guides: Australian Shepherd Chihuahua Mix Guide and Border Collie Chihuahua Mix Guide.
Genetic Makeup For Rottweiler Chihuahua Mix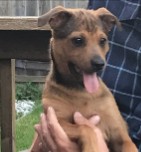 Understanding a crossbreed means understanding the parent breed and their characteristics; crossbreeds inherit many of their parents' characteristics, especially the one with the dominant gene. Below is a brief description of the two parent breeds.
Chihuahua
Among the breeds of dogs you can think of, the Chihuahua is about the smallest of all. They are two varieties, the smooth-haired or smooth coat and the long-haired or long coat. According to AKC standard, Chihuahua's height is between 5 to 8 inches and weight not exceeding 6 lbs.
They're so cute and portable that they can easily be carried about in bags. AKC describes them as Charming, graceful and sassy; oh, what a description you will say. They have expressive eyes, erect ear, and their coats are in different colors and patterns.
As small as the Chihuahua is, they are very smart and willful; they want to have their way. The above description is a pointer to what one's pet will look like if the Chihuahua gene gets the upper hand during the mix.
Related: Long-Haired Deer Head Chihuahua Guide and Best Chihuahua Breeders in the United States.
Rottweiler
The Rottweiler, in contrast to the Chihuahua, is very big, strong, and energetic. A male Rottweiler weighs between 95-135 pounds and can be as tall as 24-27 inches.
On the other hand, the female is not as big as the male; they weigh between 80-100 pounds and can be between 22-25 inches tall.
Despite their terrifying look, they can be peaceful and confident. UKC describes them to be brave, powerful, faithful, and good guard dogs, they are also very devoted and obedient. You can count on them to be loyal members of the family if you have one for a pet.
Compare to the Chihuahua; their life expectancy is between 9 to 10 years while that of the Chihuahua is between 14 to 16years. They are very protective, making them great guide dogs for the blind.
They are also fearless that they are used as herding dogs for cattle on the move. Their black coat is usually short with rust marking on them. When properly trained, be sure to have gained a loyal, calm pet and playmate.
Related: How to Take Care of a Baby Rottweiler and Best Rottie Breeders in the United States.
Rottweiler Chihuahua Mix Dog Breed Overview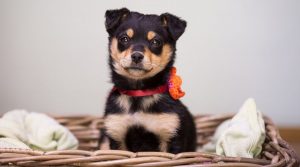 As the name implies, the Rottweiler Chihuahua mix dog breed is crossing the two breeds described above. The combination of these breeds with contrasting looks and characteristics finds expression in one crossbreed. What an interesting outcome one will expect to get.
Be sure that this mix's outcome in terms of outlook, temperament, coat, etc., will largely depend on the dominant gene of the two. When the Chihuahua gets the upper hand, then your pet might take more of its features. Your pet can also take after the muscular features of the Rottweiler when the gene is dominant.
There can be a blend of the two where you have a pet not too big and not too small. This means you can have a medium-sized dog, but in fact, crossbreeds take after one parent breed more. The same goes for their coats; the mix can have the Rottweiler black with the rust, but the coat of a mix that takes after the Chihuahua is unpredictable.
Related: Rottweiler Poodle Mix Guide.
Can The Temperament of My Rottweiler Chihuahua Mix Be Predicted?
Your pet's temperament and personality throughout its lifetime depend on the genes of the parent breed. In other words, knowing which of the dominant parent gene is the first step in understanding your pet's temperament.
With the sharp contract in the parent breed's temperament and personality, that of the mixed breed can be unpredictable. Interestingly the mixed dog can be in between both parents' personalities. You can have a medium-size dog taking after the Chihuahua with its erect ears and ferocious look.
And you can have a friendly and obedient miniature Rottweiler for a pet. With proper training and grooming, one can have the desired personality and temperament. Whichever way it goes, be sure that you have a great mix dog breed in your care.
Related: Friendliest Dog Breeds with Images.
How Do I Care For My Rottweiler Chihuahua Mix Dog Breed?
The differences in the parent breed's genetic makeup should make you prepare to take good care of your pet. Below are some common ways you can take good care of your Rottweiler Chihuahua mix dog breed.
Food
As mentioned earlier, everything that has to do with a mixed dog can be traced back to the parent breed. The food and diet are not an exception as watching your pet's food and calorie consumption is necessary. Some dogs are prone to getting overweight when their diet does not properly plan.
A proper plan of your pets' food and treats is highly recommended not to feed them wrongly. Depending on their age and sizes, a high-quality home or commercially made dog food is recommended. Also, you can sort advice from your vet about human food that is healthy for your pets.
Food rich in protein is recommended as it helps in building and repairing the body tissues and muscles. To avoid being overweight in your pet, food or treat with much fat should not always be given. You can also visit the vet to know the best appropriate diet for your Rottweiler Chihuahua dog mix.
Grooming
Due to the combination of the Rottweiler Chihuahua mix, grooming your mix pet needs to be taken with caution.
Occasional Bathing: irrespective of the coat, either long or short regular, occasional bathing of your pet makes them healthy and adorable. It leaves them with little or no dog smell.
Brushing: regular brushing of the dog coat is important, especially for the long-haired. This prevents shedding and removes any dirt in their coat.
Cleaning its Teeth: Regular cleaning of their teeth and trimming their nails is not an exception in caring for your pet.
Related: How Long Does Dog Grooming Take?
Exercise
Your Rottweiler Chihuahua mix dog pet's regular exercise keeps them fit and in good shape and curb obesity. When the Rottweiler gene is dominant, the muscular arms and limbs need to be flexed and exercised. Going hiking or on a long walk with them and involving them in different dog sports can help exercise their muscles.
Related: Best Playpen For Hardwood Floors.
Training
Training your pet early enough is very good as you will be able to inculcate the basic manners into them. It is of interest to know that your mixed breed pet will learn quickly and adapt to the house's rules.
This is because the parent breeds are very intelligent and a fast learners, like father like son, they say. A good place to start, irrespective of the size of your pet, is with leash training.
Training your pet early, as stated early, is important as puppies keep to commands easily. Praising and rewarding your pet for being successful in carrying out a task like using the potty is recommended.
Related: How to Train a Dog with a Shock Collar.
What Are The Health Concerns Of a Rottweiler Chihuahua Mix Dog Breed?
How healthy your mixed dog breed pets are is one of great concern. This is because they are crossbreeds and carry the gene of two different breeds. Hence the reason it is advised that your mixed dog pet be checked early for any health issues.
The above statement is of utmost importance to know as early detection can save you unnecessary visits to the vet. When healthy parent breeds are crossed, then it is expected that a healthy crossbreed is gotten.
Except in exceptional cases, the crossbreed health status can also be traced to the parent breeds' history. The Rottweiler and Chihuahuas can be prone to eye and cardiac conditions.
Also, Chihuahua is associated with overweight when they are given the wrong diet. The Rottweiler, on the other hand, is associated with hip dysplasia because of their sizes.
The probability of Rottweiler Chihuahua mix pet like any other crossbreed having health challenges later on in life is not uncommon. A regular visit to the vet for screening is encouraged. This will help in detecting and curbing any health issues that might want to arise.
Conclusion For "Rottweiler Chihuahua Mix Dog Breed Guide"
Having in mind the combination of your mixed dog pet makes you better equipped to care for your breed. Adequate time is needed if you are looking at taking a Rottweiler Chihuahua mix as a pet.
This is because everything about them needs to be well planned, from their diet to exercise to grooming. Above all, the Rottweiler Chihuahua dog mix gives you a combination of two separate and unique dogs in one.
If you find this guide, "Rottweiler Chihuahua Mix Dog Breed Guide," helpful, you can check out:
You can learn more about Rottweiler mix breeds by watching "10 Rottweiler Mix Breeds" down below: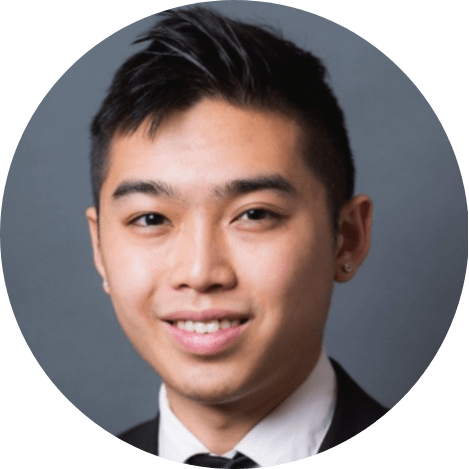 Andy is a full-time animal rescuer and owner of a toy doodle. When he's not saving dogs, Andy is one of our core writers and editors. He has been writing about dogs for over a decade. Andy joined our team because he believes that words are powerful tools that can change a dog's life for the better.
Why Trust We Love Doodles?
At We Love Doodles, we're a team of writers, veterinarians, and puppy trainers that love dogs. Our team of qualified experts researches and provides reliable information on a wide range of dog topics. Our reviews are based on customer feedback, hands-on testing, and in-depth analysis. We are fully transparent and honest to our community of dog owners and future owners.