Ever wonder why a dog would have a purple tongue? Dogs require constant attention. Even the best-trained dogs have accidents, get into things they shouldn't, and suffer health scares. Dog owners are trained to spot the slightest change and worry about what it could mean.
If you've noticed your dog's tongue is purple, you might wonder whether that's normal or a sign of ill health. The answer is a bit more complicated. Here is your guide to purple dog tongues.
Before reading this article, "Why Does My Dog Have a Purple Tongue," check out: Why Is My Dog's Tongue Dark Pink? (2023) and Why Is My Chihuahua's Tongue Sticking Out? 10 Reasons! (2023).
Why Does My Dog Have a Purple Tongue?
If your pup has been panting extra lately and you've noticed a little bit of a blue or purple tinge to his tongue, you might be wondering whether you should be concerned. There are several reasons a dog's tongue could be purple, and it's crucial to know which one needs immediate medical attention.
However, several dog breeds naturally have darker or purple-spotted tongues. If you see dark spots on your dog's tongue, it could be an extension of his natural coloration — especially if he already has a speckled or merled coat. However, a gradual or sudden change in color is never good.
Blue-Tongue Dog Breeds
The first question to ask yourself is, has my dog's tongue always been purple? Some dogs naturally have darker tongues, which means they are healthy. If your dog is one of the following breeds, there's nothing to worry about, and their tongue is perfectly normal with some blue or purple splotches:
Chow-Chow
Shar Pei
Akita
Rottweiler
German Shepherd
Border Collie
Tibetan Mastiff
Jindo
Pomeranian
However, if you are used to seeing your dog's pink tongue, and it's turning purple, it's probably best to head to the vet immediately. There are instances where a purple tongue isn't harmful, but many reasons are dangerous for the dog.
What Does It Mean When Your Dog's Tongue Turns Purple?
If your dog was born with a purple tongue, that's perfectly fine. A darker coloring on the tongue is a hallmark in some breeds and a rarity in others, but it is still natural. However, a dog that has suddenly gained a purple tongue could be in danger of its life. It's crucial to get medical help.
Loss of Oxygen
Cyanosis is the most common cause of a dog's purple tongue. A sudden loss of oxygen will cut off the blood supply to the tongue and mouth, leaving the gums and tongue a bluish-purple tint. A dog in this condition should receive medical care immediately and will likely require a hospital stay.
Cyanosis can happen because of an obstruction, strangulation, drowning, or lack of oxygen. Mild cases of cyanosis might occur when a dog has been swimming in cold water or playing in the snow. Their gums and tongue might look a little blue but return to normal after resting and warming up.
However, cyanosis can have much more severe cases. If your dog is panting excessively or struggling to breathe, you might have to perform CPR in your home.
Unless your vet is close by, there might not be enough time to take him there. Call your local pet emergency services, and they will walk you through the necessary steps.
Cancer or Diabetes
While less common, a purple tongue could be a sign of more significant underlying health issues. Cancer and diabetes can result in conditions that leave a dog's gums and tongue darker and sticky.
Check out the purple tongue even if your dog isn't showing any other symptoms.
GI Bloat
Another urgent issue that could result in a blue or purple tongue is GI bloat.
Bloat is a life-threatening condition that has multiple symptoms. A purple tongue could be one of them if it begins to cut off access to oxygen. If your dog is struggling to walk, in clear pain, and looks bloated, see a vet immediately.
If your dog has bloat, it is only a matter of time before he is beyond saving. It's crucial to get him to a hospital immediately. GI bloat is one of the most overlooked causes of death in dogs, but it is preventable if spotted and treated immediately.
Pneumothorax
If your dog has recently been in an accident and his tongue is turning purple, seek medical treatment immediately.
It could be a symptom of pneumothorax when extra oxygen is trapped in the thorax. It can cause trauma, loss of oxygen, and death if not treated soon. This is almost exclusively caused by blunt force trauma.
Pleural Effusion
A purple tongue is one of the symptoms of canine pleural effusion. Pleural effusion is an extremely rare condition largely caused by trauma, accidents, tumors, or pneumonia. It causes fluid or blood to get trapped in the chest. Pleural effusion is more common in humans than in dogs, but it does occur.
Poisoning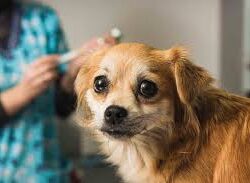 Some poisons and toxins will color a dog's tongue. If your dog has eaten something strange and its tongue is turning blue, it's always better to take them to the veterinarian. Even if they've been vomiting or having extra stool, you don't want to let toxins stay in their systems.
In some cases, it takes a stomach pump for a dog to be fully safe from poison. Of course, keep your toxic substances and cleaning supplies in a spot away from dogs and children.
Lingual Strangulation
Although it's scarce, a dog's tongue could turn purple due to lingual strangulation. This occurs when a dog tries to swallow something long and thin (like a string), and it gets wrapped around the base of the tongue. This isn't deadly, but it can permanently damage the tongue tissue.
Dogs love to chew on ropes but shouldn't swallow them. Even if the rope makes it past the base of the tongue, there is a large chance that it could cause gastrointestinal trouble or even bloat.
Bacteria
Some dogs have too much bacteria in their mouth, leading to a "black hairy tongue." If your dog's tongue looks dark and takes on a hairy appearance, it is likely he has too much bacteria in his mouth.
This is a relatively harmless condition and can occur in humans as well. It doesn't require treatment, but you can brush the purple dog tongue with a toothbrush to help the bacteria loosen up quickly.
Blueberries
Of course, your dog could have a purple tongue because he's been eating blueberries or other purple food off the counter. Although it's essential to take a dog with a purple tongue to the vet as soon as possible, check his mouth for food remnants first.
If he's gotten into some blueberries, his tongue might be slightly stained. However, it should fade within a few days. Also, your dog shouldn't be experiencing any other symptoms, such as excessive panting or difficulty breathing. If those occur, get medical care immediately.
Frequently Asked Questions
Here are some frequently asked questions about purple tongues in dogs. Hopefully, they answer yours and help you get the best care for your pup!
What breed of dog has a purple tongue?
Chow Chows are most famous for their purple tongue, which is part of the breed standard. However, several other breeds, such as Shar Peis, German Shepherds, and Border Collies, can have purple tongues or purple spots on their tongues.
Why is my dog's tongue turning purple?
If your dog's tongue is turning purple, he will likely need medical attention. The dog could be losing oxygen or have suffered blunt force trauma. Either way, it's vital to get him to a vet as soon as possible.
Is it bad if my dog's tongue is purple?
Your dog's tongue should never be purple unless you have a blue or purple-tongue dog breed. However, if your dog's tongue turns purple without warning, it is almost always a sign of a severe medical issue.
What does a dog's tongue color mean?
The color of a dog's tongue can reflect the health levels of the dog. If your dog's tongue color starts to lighten, it could mean that the dog is dehydrated or anemic. However, if it darkens, the dog doesn't have enough oxygen and could be in danger of death.
What color should a dog's tongue be?
Depending on the breed of dog, your dog's tongue should be light pink or purple. If your dog's tongue starts to change color, it is usually a sign of a health issue. However, with some exceptions depending on the breed, a healthy dog will have a soft pink tongue.
Conclusion for "Why Does My Dog Have a Purple Tongue"
Although it could be as simple as eating blueberries, it's always better to play it safe when your dog's tongue changes color.
Whether it's a lack of oxygen, bacteria, or something deadly, you can do your best to care for your dog. Consult with your veterinarian and ensure your pup gets the right medical care.
If this guide, "Why Does My Dog Have a Purple Tongue" helped, check out:
Learn more by watching "¿WHAT Does the COLOR of My Dog's TONGUE Mean?" down below:
Garrett loves animals and is a huge advocate for all Doodle dog breeds. He owns his own Goldendoodle named Kona. In addition, he volunteers at the Humane Society of Silicon Valley, where he fosters dogs and helps animals. Garrett enjoys writing about Doodles and believes that dogs can teach humans more about how to live than humans can teach a dog.
Why Trust We Love Doodles?
At We Love Doodles, we're a team of writers, veterinarians, and puppy trainers that love dogs. Our team of qualified experts researches and provides reliable information on a wide range of dog topics. Our reviews are based on customer feedback, hands-on testing, and in-depth analysis. We are fully transparent and honest to our community of dog owners and future owners.