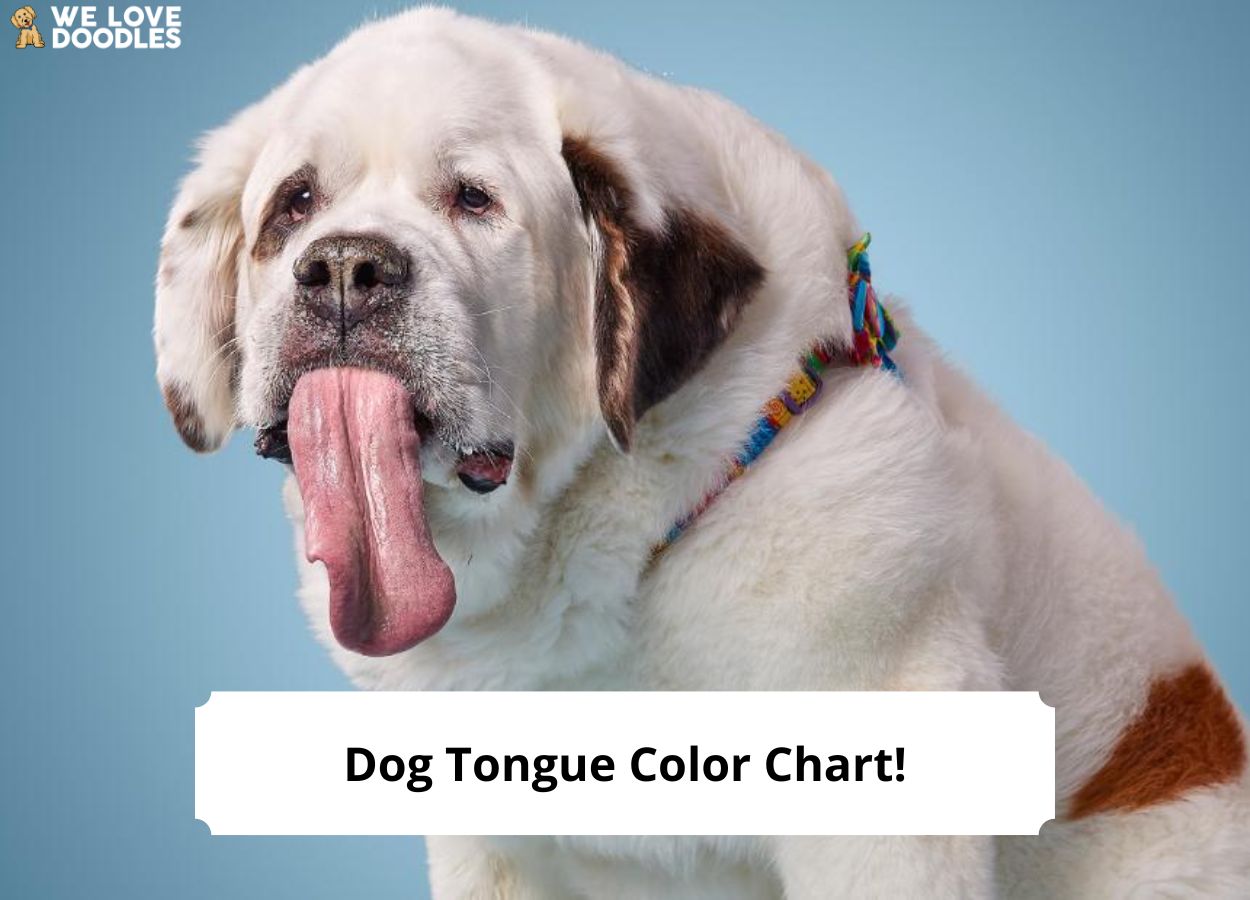 It can be challenging to tell whether a dog's tongue color is normal or a sign of a health issue, so a dog tongue color chart can provide valuable information. Gums, teeth, and tongues are excellent markers of dogs' general health, particularly if their tongues, which are typically pink, have gone purple or blue.
For the majority of breeds, a pink tongue denotes a healthy body, while a tongue that is purple, red, yellow, black, or pale suggests an underlying or hidden health problem.
Dogs' tongue discoloration can be brought on by a variety of medical disorders, including glossitis, stomatitis, cancer, and oral lacerations.
Before you read this guide, "Dog Tongue Color Chart," check out: Why Is My Dog's Tongue Dark Pink? (2023) and Why Is My Chihuahua's Tongue Sticking Out? (2023).
A Healthy Dog's Tongue Color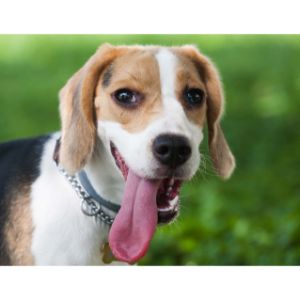 Healthy dogs typically have dark pink tongues. Compared to older dogs, puppies' tongues are more pinkish. The tongue may also appear red if the dog has just exercised or if the temperature is extremely high. Hence, if you want to check your dog's tongue for color, wait until he is at rest.
The health of your dog must constantly be taken into consideration, and this includes dental care. Regular dental and oral hygiene maintenance is necessary for dogs to prevent infections and other health issues.
What Does Your Dog's Tongue Color Mean?
There are just two possibilities when your dog's tongue changes color: either it consumed an unusual food item or it has an underlying health issue. In either case, it is advised that you are aware of what these tongue colors might mean.
This section will cover all the details every pet owner must know about their dog's tongue colors and what changes them.
But before sending your dog to the vet's office, it's important to check to see whether it ate anything that produces a certain color. Several foods have colors or other ingredients that might stain a dog's tongue.
1. Dark or Light Pink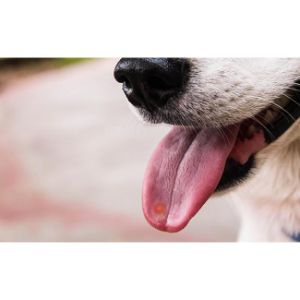 As noted earlier, pink tongues are a sign of health in our canines. As the most prevalent color, it typically denotes that they have a healthy diet and a strong immune system.
There is no cause for concern, despite the fact that seeing a dog's pink tongue marked with black or blue spots may be unsettling. In mixed-breed dogs like the Pit Chow or Chow Pei, this is a common genetic condition.
However, you should make an appointment with your veterinarian right away if these spots suddenly develop on your dog's tongue and your dog exhibits signs of pain.
2. Blue or Purple Tongue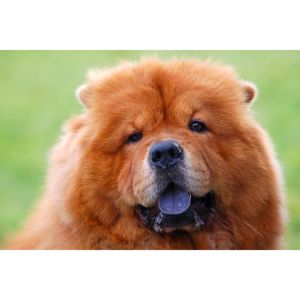 There are a number of reasons why your dog's tongue could turn unexpectedly blue or purple. Let's examine the potential causes of this tongue discoloration before you start to worry.
Initially, it can mean that your pet's oxygen saturation is dropping. This typically occurs when a dog has a respiratory or cardiac condition. It may have trouble breathing in addition to having a purple tongue.
Second, if your dog's tongue suddenly turns blue, he or she may have eaten certain toxic foods. He is likely to experience additional symptoms like vomiting, diarrhea, and discomfort in the abdomen.
Aside from the issues listed above, your pet could be suffering from any of the following:
Blunt force injuries
Attack by a foreign body
Organ stress
Cold water exposure leading to hypothermia
As soon as you detect the signs we've listed, take your dog to the vet for confirmation. But if your dog is a blue-tongue breed, this is very natural.
3. Yellow Tongue
A dog's yellow tongue may indicate that the animal is suffering from pancreatitis, liver disease, or gallbladder issues. Whatever the case, dog owners should be aware of the typical signs of these health issues, which include jaundice or a yellowing of the skin and tongue, a lack of appetite, and nausea.
All of these ailments are also critical and require prompt veterinary care.
4. A Pale or White Tongue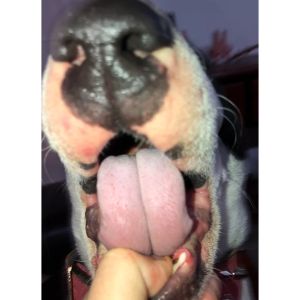 A lack of enough hydration is the most common reason for a pale or white tongue. In addition, you may find that your dog is peeing excessively. As a good pet owner, you should make sure that your dog has daily access to a sufficient amount of clean water.
Yet, there's a chance that your pet could be dealing with unnoticed health issues. Your dog may be anemic if you notice that its mucous membranes and gums have also started to turn pale. This indicates that the dog's body is possibly lacking a sufficient number of red blood cells.
Moreover, dogs with pale tongues may exhibit symptoms of internal bleeding, leukemia, or Lyme disease, which is transmitted by ticks. In any of these cases, seek immediate veterinary care for your pet.
5. Red Tongue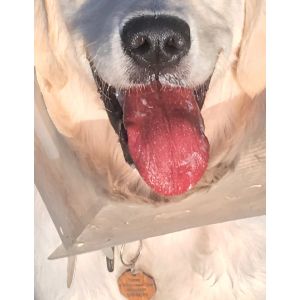 When the color of a dog's tongue changes to a bright red, it may be a sign the dog is suffering from an allergic reaction or a bacterial infection. These conditions are typically accompanied by additional symptoms, which can include a high body temperature and coughing.
Also, pet parents may notice their dog's tongues appear swollen or inflamed, which is another indication that something is wrong. The redness of the tongue will typically go away on its own.
Nonetheless, you should call a veterinarian right away if your dog is having trouble drinking or eating due to inflammation. A red tongue could also indicate that your dog has kidney issues, melanoma, or that it ate something poisonous, although this is uncommon.
6. Black Tongue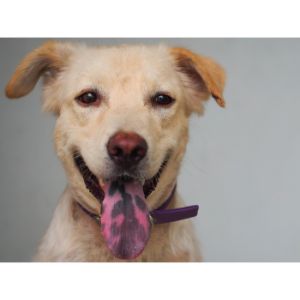 Although some dog breeds naturally have a black or purple tongue, it can also indicate that a dog has eaten something poisonous. This happens when your dog ingests hazardous things unintentionally. As a result, your dog's tongue cells start to die and turn black. If you believe this to be the problem, take your dog to the vet as soon as you can.
A black tongue may also indicate that your dog is experiencing heat stroke. Lethargy, excessive drooling, and convulsions are a few other possible symptoms.
Dog Breeds with Black and Purple Tongues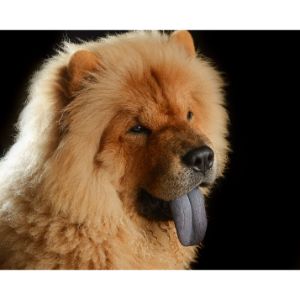 Some of the most well-liked dog breeds, including the Chinese Shar-Pei and Chow Chow, are born with tongues that are naturally blue-black or purple in color. You may be curious about the origin of this color variation. Genetics has the answer! These two breeds produce more melanin than most other dogs because they have an abundance of cells that produce pigment.
Your puppy's likelihood of displaying a dark or purple tongue increases in proportion to the amount of melanin it has in its system. Likewise, its mucous membranes and gums will also be a darker color.
In spite of this, people who own these types of dogs should not worry. These canines will nevertheless be able to appreciate the flavors of food just like dogs with typical pink tongues.
There are a few more dog breeds with unusual tongues:
Siberian Husky
Pug
Tibetan Mastiff
Akita
Newfoundland
Pomeranian
Dalmatian
Rottweiler
Shiba Inu
Maltese
Doberman
Australian Cattle Dog
Australian Shepherd
Belgian Malinois
Rhodesian Ridgeback
The American Kennel Club states that the tongues of Chow Chows and Shar-Peis should be a solid shade of blue or purple. While the aforementioned breeds may be born with black patches or additional pigmentation, this is not the case with the other breeds.
Health Issues That May Influence the Tongue Color of Your Dog
Monitoring your dog's oral health will allow you to identify any problems before they worsen. To make it simpler for you, we'll provide you with a list of ailments that might be affecting your dog's tongue.
There are still additional potential issues for you to think about, even though we have already discussed some of these health-related topics.
Now, let's take a look at some of the more prevalent health issues that can have an effect on a dog's tongue.
Asphyxiation
Suffocation, also known as asphyxiation, is a condition that occurs when a dog's airway is obstructed, denying it access to sufficient amounts of oxygen and outside air. Your pet may be suffering from asphyxiation if it develops a purple tongue, becomes restless, and starts gasping for air all of a sudden.
Stomatitis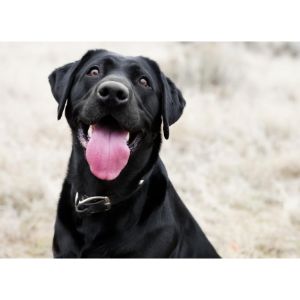 Another medical condition that affects a dog's tongue is stomatitis. Inflammation and ulceration of the taste buds and mucosal membranes characterize this illness. The pink tongue of the dog will typically turn red and enlarge.
Hypothermia
If your dog is spending excessive time in a lake or another chilly environment, it may become hypothermic. A dark or purple tongue, low body temperature, and severe shaking are the hallmarks of this illness.
Gingivitis
Gingivitis, an infection or inflammation of the gums and teeth, can develop in dogs whose oral health has been neglected. Moreover, it might make a dog's tongue red and irritated. If unaddressed, this may ultimately lead to periodontal disease or tooth loss.
Oral Papillomatosis
This condition results in wart-like growths developing on the tongue of your canine friend. They appear in various sizes and might be white, gray, yellowish, or brown. As a result, your dog may find it challenging to normally eat or drink due to this unexpectedly abrasive surface.
Soft Tissue Trauma
Your dog might have experienced soft tissue trauma if its tongue is bruised or purple. For example, if a foreign object gets lodged in your dog's mouth, it may harm its tongue and the sensitive tissues around it.
Dry Mouth
Dogs with less water intake have less drool coming out of their mouths. Thus, this can result in a dry mouth and a pale tongue.
Jaundice
In dogs, jaundice refers to a deposit of yellow pigment that makes the dog's tongue, gums, and eyes seem yellow. Bilirubin, a pigment contained in bile and created by red blood cells, is what gives jaundice its yellow appearance.
Glossitis
It is an inflammation of the tongue brought on by burns, ulcers, lacerations, insect stings, autoimmune disorders, and other conditions, including Bartonella.
As you can see, a canine's tongue color can change to signify a number of health issues. It's important to note, though, that the majority of these ailments are treatable with the appropriate course of action.
When Is It Time to Take Your Dog to the Vet?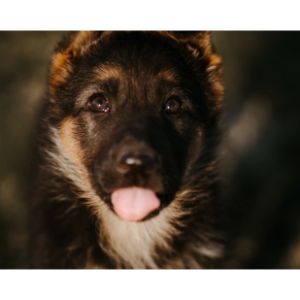 If you're a dog lover, you could get worried if you notice a sudden change in your dog's tongue color. You might wish to see the veterinary clinic right away. On the other hand, there are some instances in which a change in color may only be transient and in no way harmful.
While you keep an eye on your dog's health, keep an eye out for the following additional warning signals in addition to the emergence of a purple or blue tongue.
Blood in Saliva
If your dog starts to bleed from its mouth, there may be a major health issue. See a veterinarian right away because it can be related to internal bleeding brought on by an illness or injury.
Loss of Appetite
When your dog stops eating, this is another sign of disease. Lethargy and a yellow or blue tongue are other signs that should be addressed by your veterinarian.
Odor from Mouth
You should regularly clean a dog's mouth if you want it to stay fresh. But, if a powerful stench persists despite frequent brushing, it may be necessary to consult a veterinarian.
Vomiting and Apparent Disorientation
It is advised to bring your dog to the veterinarian right away if a purple tongue is present, along with vomiting and obvious disorientation.
You can tell if your pet requires immediate medical assistance by looking at the other symptoms that come along with a sudden change in tongue color.
Taking Care of Your Dog's Tongue
Ultimately, your primary objective should be to maintain your dog's oral health. After all, if left untreated, a mouthful of bacteria can result in serious dental issues.
As a first step, get a good, quality toothbrush with soft bristles. It should be compact enough to fit easily within your dog's mouth. Despite misconceptions, human toothpaste for dogs contains dangerous chemicals. So, it is best to purchase one that is made for them.
Make sure to clean your dog's tongue at least twice a day after you've got the proper tools. A dog with a healthy mouth is more confident when it comes to giving you slobbery kisses.
Frequently Asked Questions
What color is an unhealthy dog's tongue?
A pale white or red, purple, or yellow tongue can indicate a health issue in your dog.
What does a dehydrated dog tongue look like?
Pale gums or a pale tongue can be a sign that your dog is dehydrated.
How do I know if my dog has kidney failure?
Weight loss, vomiting, instability, and pale gums can be signs of kidney failure in a dog.
Conclusion for "Dog Tongue Color Chart"
In conclusion, a dog's tongue can reveal a wealth of information about its general health. You can quickly determine whether your pet has a medical ailment using our dog tongue color chart as guidance.
But before you rush your pet to the doctor because its tongue has suddenly turned purple, check to see whether it's also exhibiting the other dangerous signs we've covered above.
Keep in mind that some meals can also stain your dog's tongue, but these changes are just momentary and have no impact on your dog's health.
If you find this guide, "Dog Tongue Color Chart," helpful, check out:
Learn more by watching "Complete Information About Dog Tongue" down below:
Garrett loves animals and is a huge advocate for all Doodle dog breeds. He owns his own Goldendoodle named Kona. In addition, he volunteers at the Humane Society of Silicon Valley, where he fosters dogs and helps animals. Garrett enjoys writing about Doodles and believes that dogs can teach humans more about how to live than humans can teach a dog.
Why Trust We Love Doodles?
At We Love Doodles, we're a team of writers, veterinarians, and puppy trainers that love dogs. Our team of qualified experts researches and provides reliable information on a wide range of dog topics. Our reviews are based on customer feedback, hands-on testing, and in-depth analysis. We are fully transparent and honest to our community of dog owners and future owners.