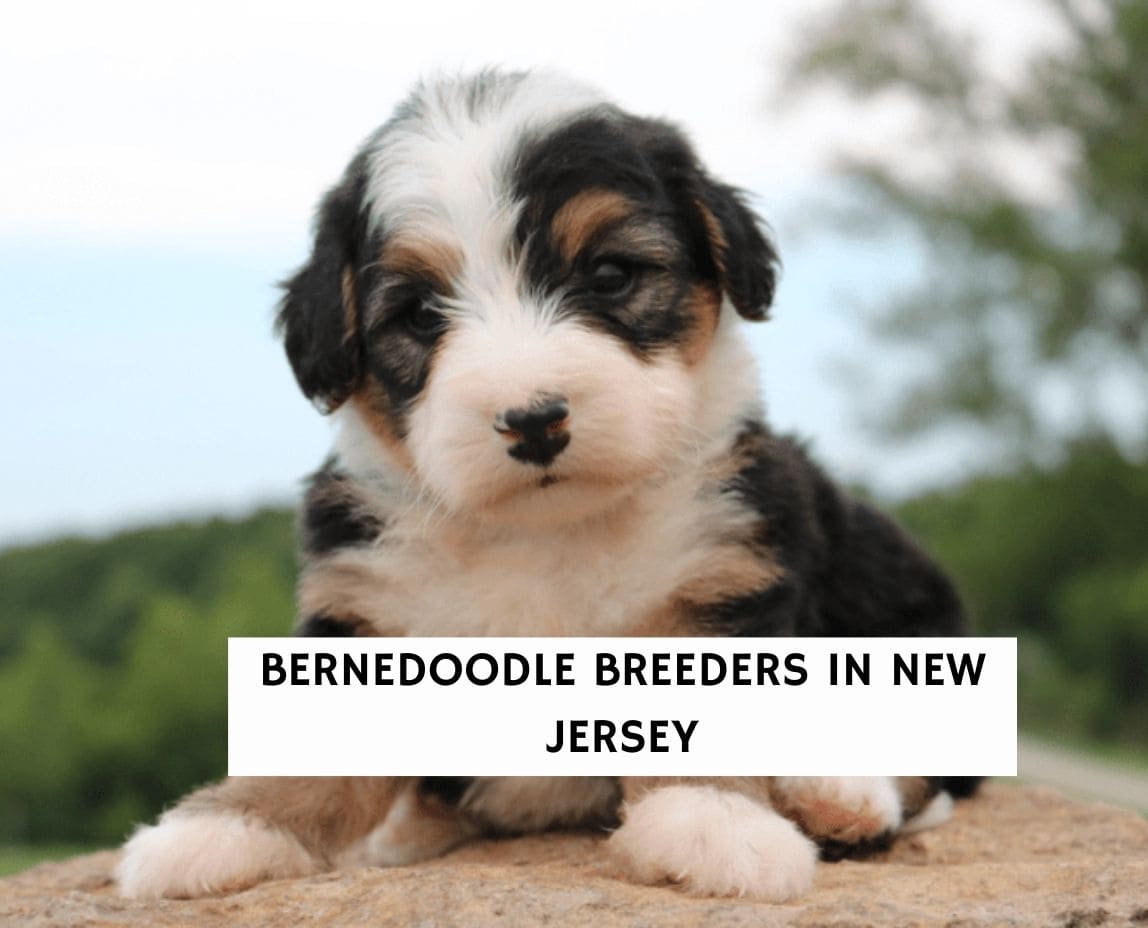 In this guide, we compiled a list of the best Bernedoodle breeders in New Jersey. First, here's what you need to know about Bernedoodles. Bernedoodles possess the best traits of their Poodle and Bernese Mountain Dog parents. They are gentle, goofy, intelligent, and loyal, which is why they make great family pets. However, this designer dog is best suited for owners with an active lifestyle. Bernedoodles are playful and energetic. If this is the right dog for you, then you'll need a breeder. It's wise to choose one that you can trust. That's why we have curated a list of the best breeders you will come across in New Jersey.
Before scrolling down this list of Bernedoodle breeders in New Jersey, check out these similar recommendations: Best Poodle Breeders in New Jersey and Best Labradoodle Breeders in New Jersey.
Bernedoodle Puppies For Sale in New Jersey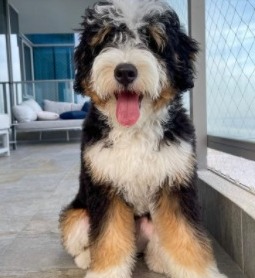 The Bernedoodle mix is also known as the Bernese Mountain Poo. Many people love them, and if you are one of them, here are some of the top Bernedoodle breeders in New Jersey.
Bernedoodle Product Recommendations: Best Dog Food for a Bernedoodle and Best Dog Vibration Collar.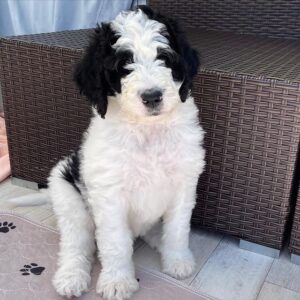 Premier Pups is a well-known marketplace for adopting small breed puppies in the United States like Bernedoodles. They are one of the biggest online marketplaces that connect the top miniature Bernedoodle breeders with people seeking puppies. They are also extremely affordable.
You can purchase high-quality puppies from carefully selected breeders. All their Bernedoodle breeders who are USDA-compliant and share their dedication to breeding are the ones who are accepted into their network.
At Premier Pups, each breeder is responsible for ensuring that their puppies are up-to-date on all immunizations and deworming treatments. Consequently, you only get healthy puppies as well as a 10-year health warranty.
Moreover, their Bernedoodles breeders are state-registered and inspected which means that the mini Bernedoodle puppies are raised in a loving and caring environment. This step is crucial for developing the right temperament and attitude of the puppies so that they have no problem settling down in their new home.
Before delivery, each puppy passes a rigorous nose-to-tail health test by a licensed vet. This includes examinations of the ears, eyes, mouth, teeth, gums, and respiratory system. If you're looking for an affordable mini Bernedoodle puppy in New Jersey, we highly suggest that you check out Premier Pups.
Update: Premier Pups is giving our readers $250 off a miniature Bernedoodle puppy with code WLD250.
Bernedoodle Breeder Details
Finding the right Bernedoodle from a reputable breeder can be stressful, frustrating, and a daunting task especially if you don't know the pitfalls that lie ahead.  With PuppySpot, the process from selecting your future Bernedoodle to getting your puppy home is so much more straightforward. PuppySpot is a service dedicated to helping reputable breeders in placing their puppies with loving families and individuals across the United States.
The service is rooted in the conviction that all dogs should be cherished and that future dog owners like you should experience confidence, trust, and transparency when looking for their new companions. To ensure this; PuppySpot has created a network of ethical and reputable breeders that have been thoroughly screened and vetted by some of the best dog experts and health professionals in the United States. The screening is so vigorous that less than 10% of breeders who go through the vetting process are invited to join the exclusive network.
Getting started with PuppySpot:
Select the breed you would like – a Bernedoodle in this case.
Fill out the contact form on the website to get a call back from the PuppySpot's team or call them directly using their phone number.
Speak to the PuppySpot team who will take you through the entire process of owning a Bernedoodle and answer all the questions you may have.
Once you're satisfied, fill in all the required forms and make payment.
Wait for your Bernedoodle to arrive home.
PuppySpot offers an industry-leading 10-year health guarantee for all their Bernedoodles. If you're not satisfied with the Bernedoodle you get or can't take care of them anymore – you can speak to the PuppySpot team who will either replace the Bernedoodle, take them back or give you a refund. We bought one of our doodles from PuppySpot and had a great experience. It saves you time screening breeders, you can't find the exact Bernedoodle you're looking for, and you don't have to wait on a puppy wait list.
PuppySpot Details
3. HC Bernedoodle Breeder
Third on the list of the best Bernedoodle breeders in New Jersey is "HC Bernedoodle Breeder." If you live in New Jersey or its environs, HC Bernedoodle might be the best place to get a healthy furry pal. Although this breeder has not been around for so long, they know what they are doing. HC Bernedoodle is home to some of the healthiest and happiest puppies Missouri has to offer. The breeder has an excellent breeding program that enables them to produce high-quality designer dogs. In addition, they do not raise their dogs in cages.
All puppies at HC Bernedoodle grow up inside their home, as they are considered part of the family. That's why it is easy for them to adapt to their new homes. In addition, these puppies get more than enough attention, love, and care. HC Bernedoodle offers all the sizes of Doodles such as Mini, Standard, and Tiny Bernedoodle puppies. You can always contact them to adopt your new Bernedoodle puppy. They are always excited and ready to talk about their fur babies. In addition, HC Bernedoodle has a beautiful website filled with pictures, litter dates, and information about their dogs and whether or not they are available.
HC Bernedoodle Breeder Details
4. B&B Bernedoodles
One of the best things about this breeder is that they offer an excellent buying experience to their potential puppy owners. Located in Rutherford, New Jersey, B&B Bernedoodles is a great place to adopt a healthy and happy furry friend. They breed high-quality mini and micro mini Bernedoodle puppies. As a result, all their dogs get enough time to run around the yard and exercise, which is good for their health and development. In addition, all the Bernedoodle puppies at B&B Bernedoodles go on to become excellent companion dogs.
They are intelligent and very loyal to their owners. B&B Bernedoodle puppies enjoy hugging the people in their world. If you have kids in your home, you don't have to worry, as these Bernedoodles can get along pretty well with your little ones. Many people in the army love the company of these Bernedoodles because they are good at service. If this breeder is perfect for you, then go ahead and contact them. It will please you to know that they take reservations and allow you pre-pick the gender or color of puppy you want to adopt. The breeders at B&B Bernedoodles enjoy talking about their fur babies.
They will provide answers to your questions and information to help your puppy adoption process. This breeder will also give you insights into what you should expect in terms of your new puppy's character. They do that by providing information about the puppy's parents so that you know what you're bringing into your home. B&B Bernedoodles only selects the best parent dogs in terms of health and other factors. So, be rest assured that any puppy you adopt from them will be sound.
B&B Bernedoodles Details
5. Bella Pups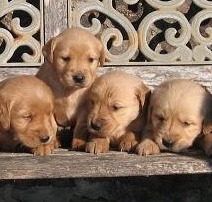 At Bella Pups, high maintenance and quality are their top priority. They have a well-equipped home where they breed their Bernedoodle puppies in Pennington, New Jersey. All the dogs here are happy. They enjoy playing with the breeders, cuddling, and playing in the snow. The breeders here provide more than enough attention and love for their Bernedoodles. They devote most of their time to breeding their dogs to become the best companions for many families. If you are looking for a family dog with an excellent temperament, you can visit this breeder.
Bella Pups comprise a team of professionals who do their best to provide their customers with the best puppy adoption experience. Feel free to browse their website for more information about their adorable Bernedoodle puppies. They provide details that will help you understand what to expect from your new family member. Plus, if you have any questions, they are ready to answer them and make your puppy adoption as smooth as possible. Bella Pups are among the friendliest Bernedoodle puppy breeders you will come across in the state of New Jersey. So, if you have decided to get your new puppy from them, you are making the right decision.
Bella Pups Details
6. Grand Puppies 101 Bernedoodle
Grand Puppies 101 Bernedoodle is one of the best places to get a quality Bernedoodle puppy in New Jersey. They are very popular because they offer high-quality dogs and kind service. It's no surprise, given that they have many years of experience in breeding and giving therapy to Bernedoodles. In addition, this breeder raises their puppies in a way that allows them to adapt when they come into your home quickly. Grand Puppies 101 raises their puppies as family members, providing them with lots of love, attention, and highly professional training.
When breeding, they aim to produce puppies that are healthy enough to live a long life. They want you to have a companion that will stick around for as long as possible. You will get a puppy with good orthopedics, and they can have him delivered to your doorstep. This breeder has an awe-inspiring training program for their puppies. Breeding is a family affair for them, and they are passionate about it. If you want to adopt a healthy and well-trained Bernedoodle in New Jersey, Grand Puppies 101 might be the best place to start.
Grand Puppies 101 Bernedoodle Details
7. Divine Bernedoodles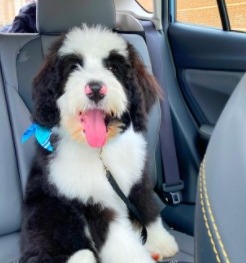 Last on the list of the best Bernedoodle breeders in New Jersey is "Divine Bernedoodles." Located in Downtown Jersey City, Divine Bernedoodles offer many different colors of Bernedoodles such as Black, golden, black and brown, or tri-color. If you are looking for a breeder that offers controlled crossbreeding, you are in the right place. All their puppies are well-behaved and have a perfect temperament. You won't have to worry about your little ones, as they get along beautifully with children.
At Divine Bernedoodles, you will get highly professional service. The breeder has many years of breeding experience and knows how to deal with their customers. In addition, they are registered with the international designer canine registry. Before you can go home with a puppy from this breeder, they will require you to fill an application form. This way, they ensure that their fur baby is going to a new safe home to get all the care he needs.
Divine Bernedoodles offer beautiful Mini and Standard Bernedoodles and is one of the best places to adopt a puppy in New Jersey. If you consider bringing home a well-behaved furry family member, this breeder might be perfect for you. You can contact Divine Bernedoodles to kick off your puppy adoption journey. They will respond as soon as possible with information to make the process easy and enjoyable.
Divine Bernedoodles Details
How to Choose a Bernedoodle Breeder in New Jersey
The number of backyard breeders and puppy mills in New Jersey has increased over the years. This is because the breed has become very popular in the United States. Therefore, before you choose a Bernedoodle breeder, here are some things you should know:
Do Your Research: You will be amazed by the sheer number of unethical breeders out there. So, before you decide on a breeder to get your new puppy, do your research. It would help if you already knew what you want beforehand, as that will make falling into the hands of bad breeders more difficult.
Medical History: Before you finalize your puppy adoption, always check the puppy's medical history. Most reputable Bernedoodle breeders will provide you with a health guarantee.
Contacting Breeders: Feel free to contact different Bernedoodle breeders and ask a lot of questions. Good breeders are always ready to talk about their puppies and can answer whatever questions you have. Some breeders will even allow you to meet the puppy's mother, depending on the age of your chosen puppy.
More Bernedoodle Breeders: Best Mini Bernedoodle Breeders in the United States and Best Bernedoodle Breeders in California.
Conclusion For The "Best Bernedoodle Breeders in New Jersey"
Bernedoodle puppies are adorable and make excellent additions to homes that need a kid-friendly pet. It's best to go through a good breeder when adopting a new puppy. That's why we have provided a list of some top Bernedoodle breeders for people in New Jersey. You can choose the one closest to you, and rest assured that you will get a great furry pal.
For more Bernedoodle guides, you can check out:
To learn more about Bernedoodles, you can watch "Bernedoodle Pros and Cons" from Dog Solid down below: