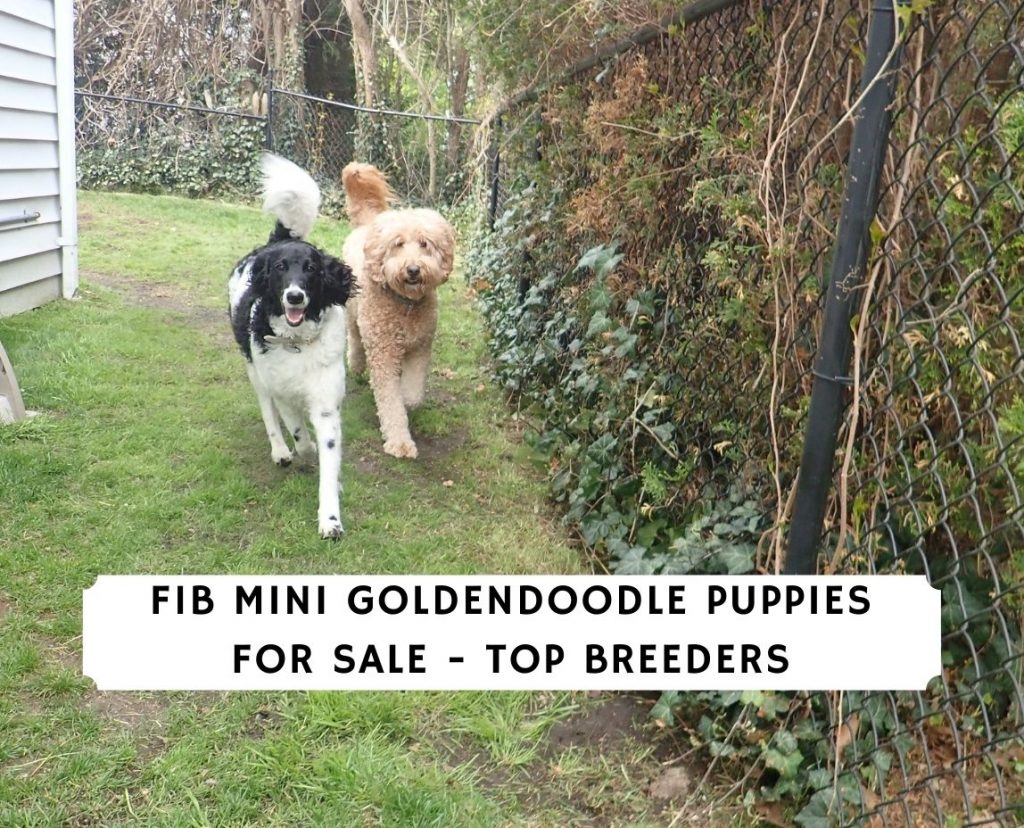 Are you looking for the best F1B Mini Goldendoodle puppies for sale? With many different Goldendoodle generations, F1B mini Goldendoodles are one of the most popular puppy types in terms of size and generation. Many people describe them with the appearance of a toy teddy bear because of the Goldendoodle's curly coat. They're great for people with allergies and great for kids and adults. To help you avoid puppy mills, this guide will help you find the best mini Goldendoodle puppies for sale.
Other articles you would like: How Much Does a Goldendoodle Cost? and How Long Do Goldendoodles Live?
First on the list of F1B mini Goldendoodle breeders is ABC Puppy Zs. We specifically put them first on the list because they genetic test all parent dogs, offer a 5-year health warranty, socialize their puppies, and hand deliver their F1B miniature puppies throughout the United States.
ABCs Puppy Zs has been breeding mini Goldendoodles for over 15 years. Prior to breeding, all their parent dogs are genetically tested by the OFA to ensure they won't be passing down any harmful genetic diseases to their puppies. Additionally, once the F1B mini puppies are born, they are exposed to an Early Neurological Stimulation (ENS) and Puppy Culture program, which exposes a puppy to various sounds. This will help socialize your Goldendoodle puppy and prepare them for the real world.
When you go to pick up your mini Goldendoodle puppy, they will provide you with a health certificate that ensures that the puppy is up to date on vaccines and vet visits. In addition, the puppy will come with a 5-year health guarantee against all genetic diseases. If you're not located in Texas, they can also hand deliver your puppy to you. ABCs Puppy Zs breeds F1B Mini, F1 Mini, Toy, Teacup, and Micro Goldendoodles, so you can choose between which size you truly want. We highly recommend that you check them out or schedule a call to learn more about their breeding program.
F1B Mini Goldendoodle Breeder Details
2. Shining Star Doodles
Shining Star Doodles is a small breeder in Colorado Springs, Colorado. The owner grew up in a home that was serious about its breeding program. They were raised in a family of West Highland White Terrier breeders and did own a grand champion at one point in the program. They made the shift to Goldendoodles after purchasing their first family dog, a Goldendoodle named Lexi. Lexi started their breeding program and after four beautiful litters, she retired.
Shining Star has now expanded its program by adding new moms and dads. One of the male Standard Poodles is on loan from another breeder to diversify their lines. They typically breed their F1 Goldendoodles to a Standard Poodle to get F1B Goldendoodle puppies.
Even with the program growing, they are still a small breeding operation. They have a few F1B Goldendoodle litters a year, and they vary in sizes. One of the sizes they offer is the Mini Goldendoodles. Because they are committed to giving their breeding dogs the best life they can, Shining Star utilizes the guardian program.
They place the pick-of-the-litter puppies with qualified guardian homes so they can live as loved family pets that get plenty of attention and care. To purchase a mini F1B Goldendoodle puppy for sale from Shining Star, prospective owners will need to fill out a puppy application first. It is a detailed and specific application that verifies you will be able to care for a puppy.
The breeder will approve or deny the application based on this information. They simply want to make sure the puppies are placed with the best possible families. You'll need to discuss pricing and transportation with the breeder before a deposit is placed.
F1B Mini Goldendoodle Breeder Details
3. Pikes Peak Doodles
Pikes Peak Doodles is a breeding program that has been in operation since 2008. They are known for high-quality puppies that are healthy and have a wonderful temperament. Pike's Peak breeds F1 and F1B medium and mini Goldendoodle puppies. There isn't a lot of information on their website about their history or the owners. However, they have a very active Facebook page with very updated information. There is a very informative FAQ section under the puppy information and application tab. Once the application is filled out and approved they do require a $250 deposit for one of their Goldendoodle puppies.
Their Mini F1B Goldendoodles puppies for sale are $2400 total including the deposit. Buyers will need to include the Colorado state sales tax in the price as well. We would consider Pike's Peak Doodles a midsized breeding operation. They have multiple females and only two males currently in their breeding program. To get the scoop and the most current information on upcoming litters make sure to check their Facebook page regularly.
F1B Mini Goldendoodle Breeder Details
4. Abounding Grace Doodles
Abounding Grace Doodles is a breeder in the Atlanta, Georgia area. They keep their breeding operation small so they can give the adults and puppies all of the care and attention they need.
For interested parties, there is a puppy application on the website. This is a thorough application since the breeder is dedicated to matching their Goldendoodle puppies with the perfect families. The application must be approved before a deposit is placed.
The deposit for all of their F1B Goldendoodle puppies is $300 and is non-refundable. The deposit must also be in check form rather than cash or Paypal. All approved people who have sent the deposit will be placed on the master waiting list. When it is time to pick the puppies, the breeder will contact those on the waiting list in order of their deposit. The breeder does say that the best way to get a hold of her is via text message. There is an email address, but she does not check that as often.
F1B Mini Goldendoodle Breeder Details
5. Happy Top Doodles
Happy Top Doodles has quickly branched out to the multiple Doodle breeds. They started on this Doodle journey with Aussiedoodles. The breeders just loved their striking colors and personalities.
Once they started their breeding program they decided to add more doodle breeds. The Goldendoodles came next, then the Bernedoodles followed by their most recent addition the Sheepadoodle. Happy Top Doodles does have a full schedule of litters due in 2021.
This can be found on their Good Dog page. The link is at the bottom of the landing page of their website. This is also where all of the pricing information can be found. Transportation information will need to be discussed with the breeder directly.
F1B Mini Goldendoodle Breeder Details
6. Winding Creek Ranch
Winding Creek Ranch has a great origin story. They exclusively breed Mini Goldendoodles after starting their breeding journey with Golden Retrievers. The owner met her first Mini Goldendoodle when she was running her grooming business and knew the path to take. Today, they are committed to the health and well-being of their breeding adults and their puppies. This is proven with their guardian program. They have plenty of space for their Goldendoodles to get exercise and roam, but they want the dogs to be a part of a family and given one on one attention.
Because they are smaller mini Goldendoodles breeders, they don't always place puppies in guardian homes. However, they like to have guardians ready to go in case they spot the perfect puppy to add to their program. The purchase price of the F1B Mini Goldendoodle puppies varies but there is a $500 deposit. The breeder recommends keeping an eye on upcoming litters, choosing a litter, and placing a deposit early.
F1B Mini Goldendoodle Breeder Details
7. Acadia Goldendoodles
Acadia Goldendoodles is located on the coast of Maine and are fully dedicated to their breeding adults and puppies. It isn't much about how they started on the website, but they do have a unique philosophy when it comes to placing their F1B Goldendoodle puppies. The way they match puppies with the new owners is designed to make sure the puppies are with the best families for them. Prospective owners will not have the opportunity to select their own puppy. The breeder goes through an extensive matching process based on the client's needs and lifestyle as well as the temperament of each puppy in each litter.
New owners are notified when the Goldendoodle puppies are seven weeks of age which one is theirs. This seems to be a successful way to match for this breeder. The price of each mini F1B Goldendoodle puppy is around $4,000 and there is a deposit required to be placed on the waiting list. There is also a separate list of those interested in a puppy but not yet ready to fill out an application and place a deposit. This is a rather large breeding program so there are litters available several times a year.
F1B Mini Goldendoodle Breeder Details
8. MRF Goldendoodles
Marriottsville Ridge Farm (MRF) is not just a Mini Goldendoodle breeder. Many things are happening at MRF, but the Mini Goldendoodle program is a star among all of the other services. The website doesn't give much information about the program but they do encourage anyone interested in one of their Mini Goldendoodle puppies to contact them directly.
Their main priority is that the puppies go home to families who are fully prepared to welcome a new puppy into their home. They have some resources listed on their website that they encourage interested parties to read before bringing a puppy home. If you want information about pricing and the application process call or email MRF Goldendoodles.
F1B Mini Goldendoodle Breeder Details
9. Euro Goldendoodles
Euro Goldendoodles is a self-proclaimed professional hobby breeder of F1B Mini Goldendoodles. They have a rather large program with many males and females. There are many litters a year of different sizes of Goldendoodles. One of the most popular is the Mini Goldendoodle. Even with a large number of breeding adults, they don't mention a guardian program. One thing they do offer is a full training program for their puppies. Each Goldendoodle puppy goes home with 300 hours of training to get them off on the right foot.
The owners spend a long time with each puppy to make sure they are ready for their new owners. They will contact you within 24 hours of submission with more information. Feel free to ask these breeders any questions.
F1B Mini Goldendoodle Breeder Details
Conclusion For The Best F1B Mini Goldendoodle Puppies For Sale
While being loyal, Goldendoodles are one of the kindest and smartest companions you'll ever have. Since they're mixed between the Golden Retriever and the Poodle, it's worth knowing that they inherited the intelligence from one of the smartest dog breeds (Poodle). This guide should help you find the best F1B Mini Goldendoodle puppies for sale, so you won't have to deal with potential puppy mills. Many people like mini F1B Goldendoodle puppies because they are mostly hypoallergenic and nonshedding since they are 75% Poodle and 25% Golden Retriever.
For more Goldendoodle breeder recommendations, check out:
If you're still considering bringing home these F1B Mini Goldendoodle puppies for sale, perhaps this video might change your mind:
Garrett loves animals and is a huge advocate for all Doodle dog breeds. He owns his own Goldendoodle named Kona. In addition, he volunteers at the Humane Society of Silicon Valley, where he fosters dogs and helps animals. Garrett enjoys writing about Doodles and believes that dogs can teach humans more about how to live than humans can teach a dog.
Why Trust We Love Doodles?
At We Love Doodles, we're a team of writers, veterinarians, and puppy trainers that love dogs. Our team of qualified experts researches and provides reliable information on a wide range of dog topics. Our reviews are based on customer feedback, hands-on testing, and in-depth analysis. We are fully transparent and honest to our community of dog owners and future owners.