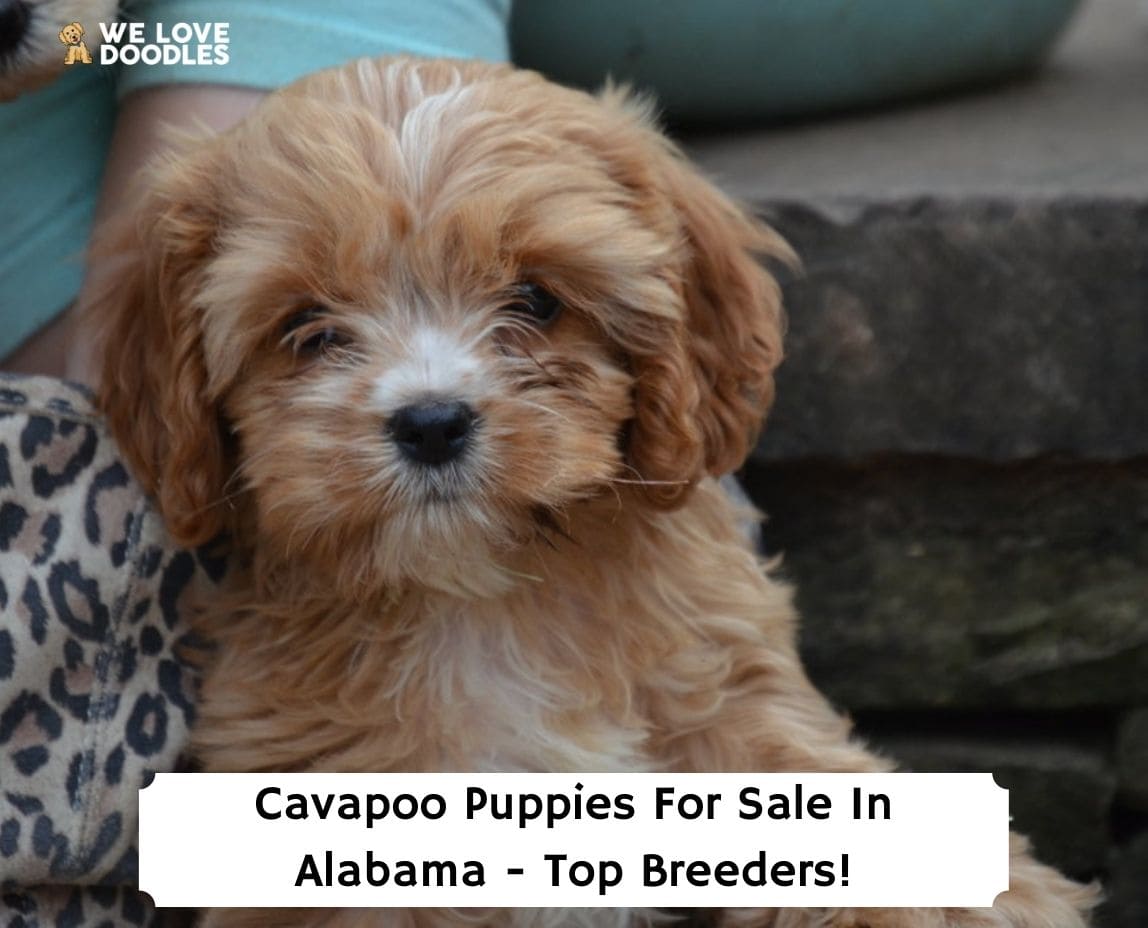 Here's what you need to know if you're searching for breeders with Cavapoo puppies for sale in Alabama. Cavapoos are a prevalent dog breed. Many people love them because of their adorable faces and lovely fur. Cavapoos are a cross between Poodles and Cavalier King Charles Spaniel.
Finding Cavapoo puppies in Alabama might seem simple enough, but that is not always the case. Because of the popularity of this breed, many people are breeding it. However, finding a reputable breeder can be a daunting task most of the time.
Before scrolling down this list of breeders with Cavapoo puppies for sale in Alabama, check out these other recommendations from our team at We Love Doodles: Best Golden Retriever Breeders in Alabama and Best Goldendoodle Breeders in Alabama.
Cavapoo Breeders in Alabama
The importance of buying a puppy from a trusted and reliable breeder cannot be overemphasized. You wouldn't want to end up with a puppy with several health problems or support puppy mills. 
To help you secure a healthy and happy puppy, we have listed the top breeders that produce quality Cavapoo puppies in Alabama. Read on to see our top recommendations.
Cavapoo Product Recommendations: Best Dog Shampoo For Long Hair and Best Dog Steps For Cars.
1. PuppySpot's Cavapoos For Alabama
Since you're searching for breeders with Cavapoo puppies for sale in Alabama, we recommend checking out PuppySpot. PuppySpot is a marketplace where you can browse for available Cavapoo puppies from the comfort of your home in Alabama.
All Cavapoo breeders have to go through a strict screening process, so you can rest assured that your Cavapoo will be safely shipped to your home in Alabama. Before you continue searching for a Cavapoo puppy for sale in Alabama, check out the link to the marketplace below.
PuppySpot Details
2. Cavapoo Puppy Love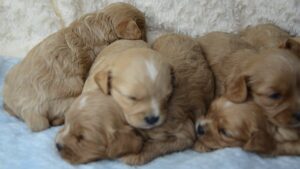 Cavapoo Puppy Love is one of the most successful breeders in Alabama. This breeder is focused on breeding only Cavapoo puppies. They have been in the business for quite some time now, and they know how best to produce happy and healthy puppies.
CPL is a family business consisting of a husband, wife, and four kids. They all work together to breed and raise these puppies. In addition to producing healthy puppies, this breeder ensures the dogs are well-socialized. They make the puppies feel welcomed and part of their family.
This family does not only raise these puppies for the money; they derive so much happiness and joy in raising them. They genetically tested all their adult dogs to ensure they provided you with puppies without any underlying health issues. A licensed vet also checks all their puppies thoroughly.
They run these checks right after birth and until they are sold. This breeder raises F1 and F1b Cavapoos. The First Generation puppies (F1) are a crossing of a purebred toy Poodle or mini Poodle with a purebred Cavalier King Charles Spaniel. The F1 puppies are 50 percent Poodle and 50 percent Cavalier.
The First Generation Backcross (F1b) is a crossing of a toy Poodle or mini Poodle and First Generation (F1) Cavapoo. That variety is 75 percent Poodle and 25 percent Cavalier King Charles Spaniel. F1b Cavapoos are best for those with allergies.
They have many puppies in these categories waiting to be adopted. CPL has one of the best puppy adoption rates. Their prices range from $2,500 to $2,800. This breeder starts crate training and house training before giving out their puppies.
All the puppies also come with a one-year health warranty, assuring you that you have nothing to worry about when you buy a puppy from them. The adoption fee includes deworming, vet check, puppy starter kit, nail trim, sanitary trim, age-appropriate shots, blanket, and food sample.
Cavapoo Puppy Love Details
3. Brown's Babies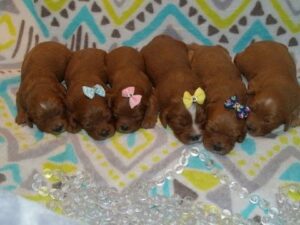 With more than 17 years of experience, Brown's Babies is one of the most reputable breeders in Alabama. Brown's Babies is located in Henagar, Alabama, about one hour from Chattanooga and Huntsville and two hours from Atlanta and Birmingham. This company breeds different dogs, including Cavapoos, Poodles, Shihpoos, and Maltipoos.
One of the unique traits of this breeder is that they offer delivery services in the state. They can travel up to 200 miles to deliver these cuties to your home for a competitive fee. Their services do not include shipping puppies to other states. However, you can fly in from any state, rent a car, and fly back with your new canine friend in the cabin.
The puppies get the best and professional care they need. They have an in-house licensed vet that thoroughly examines their puppies. The puppies also receive deworming, age-appropriate shots, and preventatives. Furthermore, these cuties come with a one-year genetic health guarantee.
Another unique thing about this breeder is that its puppies come with a free 30-day Trupanion Pet Insurance. You might not even need the insurance, as they produce very healthy and happy puppies. The response rate of this breeder is also impressive.
They will get back to you almost immediately when you contact them. However, you might have to join their puppy-waiting queue, as the demand for their puppies is very high. These puppies receive antibodies from their vaccinated mothers at birth. They also receive all the medically necessary and appropriate vaccines and preventions they need to live healthy lives.
By browsing their website, you will fall in love with puppies they have for sale. The base price for Cavapoo puppies is $2,800, and a $200 deposit is needed to reserve a puppy. They also have different payment channels, including PayPal, Apple Pay, Venmo, and Zelle.
Brown's Babies Details
4. Crockett Doodles
Crockett Doodles is one of the top breeders in Alabama that produce different dog breeds. This breeder has many adorable puppies in very high demand. The demand for their puppies is high because they breed very cutie and intelligent puppies.
In addition to being very cute, the puppies from this breeder are very healthy. Crockett Doodles prioritizes the health of its puppies and their parents. They raise all their puppies in families, allowing them to be true family pets. This breeder also devotes many resources to vetting its puppy applicants, working through health tests, and more.
This company breeds both Cavapoos and mini Cavapoos. These family-based Cavapoo puppies are trained to be social, and they are great with kids, visitors, and other animals. Their adoption price ranges from $1,100 to $3,100, depending on the color you want.
One of the selling points of the Crockett Doodles' Cavapoo puppies is their temperament. This breed has different colors, including red, red/white, apricot, Blenheim, and tricolor. They have a relaxed and calm nature, making them friendly. The puppies are also easy to train, so you will not have issues with puppy training.
Crockett Doodles Details
5. Toys and Teacups
If you are looking for an adorable canine friend, this is one of the best options. "Toys and Teacups" is located in Beautiful North Alabama. Health, beauty, and temperament have always been the top priority of this breeder, and they breed some of the most beautiful puppies in the state.
Toys and Teacups have a very high standard for the happiness and health of their puppies, and they take their breeding responsibilities seriously. Toys and Teacups consist of 13 families/kennels, and they raise their puppies in homes/kennels.
These puppies are also well-socialized, as they grew up in families. In addition to raising their puppies in homes, this breeder provides them with basic dog training, including potty training. They show the puppies a lot of love, affection, and care from the day they were born.
This breeder has more than 15 years of experience in this industry, so rest assured you will get quality puppies from them. They breed and raise different breeds, including Cavapoos, Toy Aussiedoodles, Yorkshire Terriers, Poodles, etc.
Toys and Teacups Details
6. Southeast Cavapoos
Last on the list of breeders with Cavapoo puppies for sale in Alabama is "Southeast Cavapoos." Southeast Cavapoos is located in Dothan, Alabama. This breeder produces some of the best Cavapoo puppies in Alabama. They are committed to producing healthy, active, and happy puppies. This breeder genetically tests the adults for hereditary diseases before breeding.
Southeast Cavapoos give these puppies thorough health examinations from the day of birth. They test their puppies for different health conditions and provide them with age-appropriate, up-to-date vaccinations. With close attention to pay to these pets, rest assured you will not buy a sick puppy or start supporting puppy mills.
This breeder also has a simple adoption process. To purchase its puppies, you have to call them, and they will walk you through the procedure. You can also send them a message on Facebook; they respond quickly. All the puppies are raised in a home and are hypoallergenic. They also come with a one-year warranty, giving you all the assurance you need to proceed with your purchase plan.
Southeast Cavapoos Details
Conclusion For "Cavapoo Puppies For Sale in Alabama"
There are many Cavapoo puppies in Alabama for sale. However, not all these puppies are bred equally. Some breeders take their breeding responsibilities seriously and use the best industry practices, while others are in the business just for the money.
A puppy from a bad breeder can be detrimental, as they might have some underlying health issues. You can rely on the breeders reviewed in this article, as they have years of experience and have won the trust of many dog lovers, including ours.
For more guides similar to this list of breeders with Cavapoo puppies for sale in Alabama, you can check out:
Before you bring home a Cavapoo puppy from a breeder in Alabama, you can learn more about the breed by watching "Cavapoo Dog Breed Guide" down below: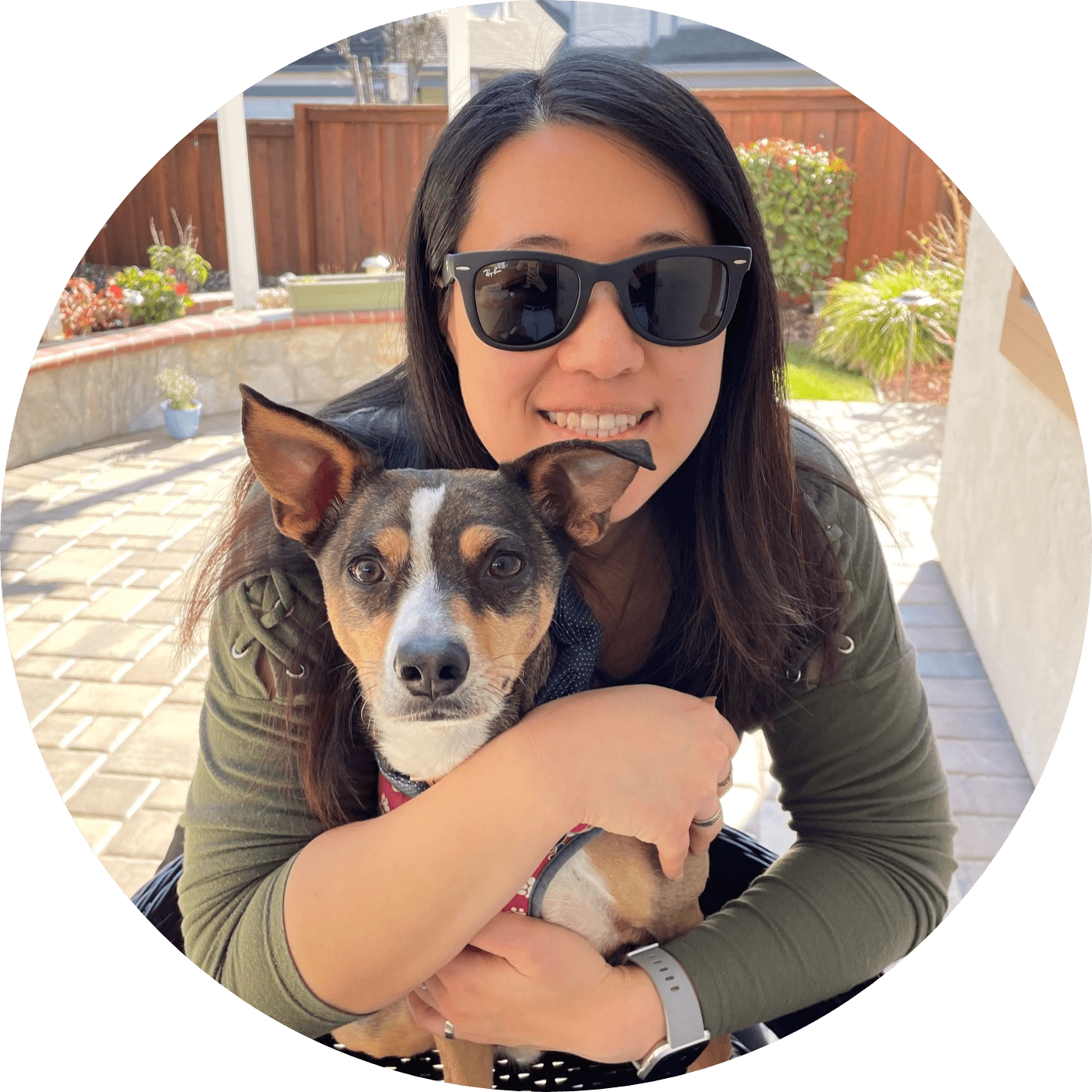 Dr. Sabrina Kong graduated from the Royal Veterinary College in England in 2016 and has been working at a small animal clinic in Northern California since then. She grew up in the Bay Area and got her bachelor's degree from Cal Poly San Luis Obispo. She also became a Certified Canine Rehabilitation Practitioner through a program at the University of Tennessee.
When she isn't in the clinic taking care of her four-legged patients, she enjoys traveling and trying new foods with her friends and her three-legged dog, Apollo. She adopted Apollo from her clinic when he was a puppy with numerous health issues. Dr. Kong truly cares about taking care of animals.