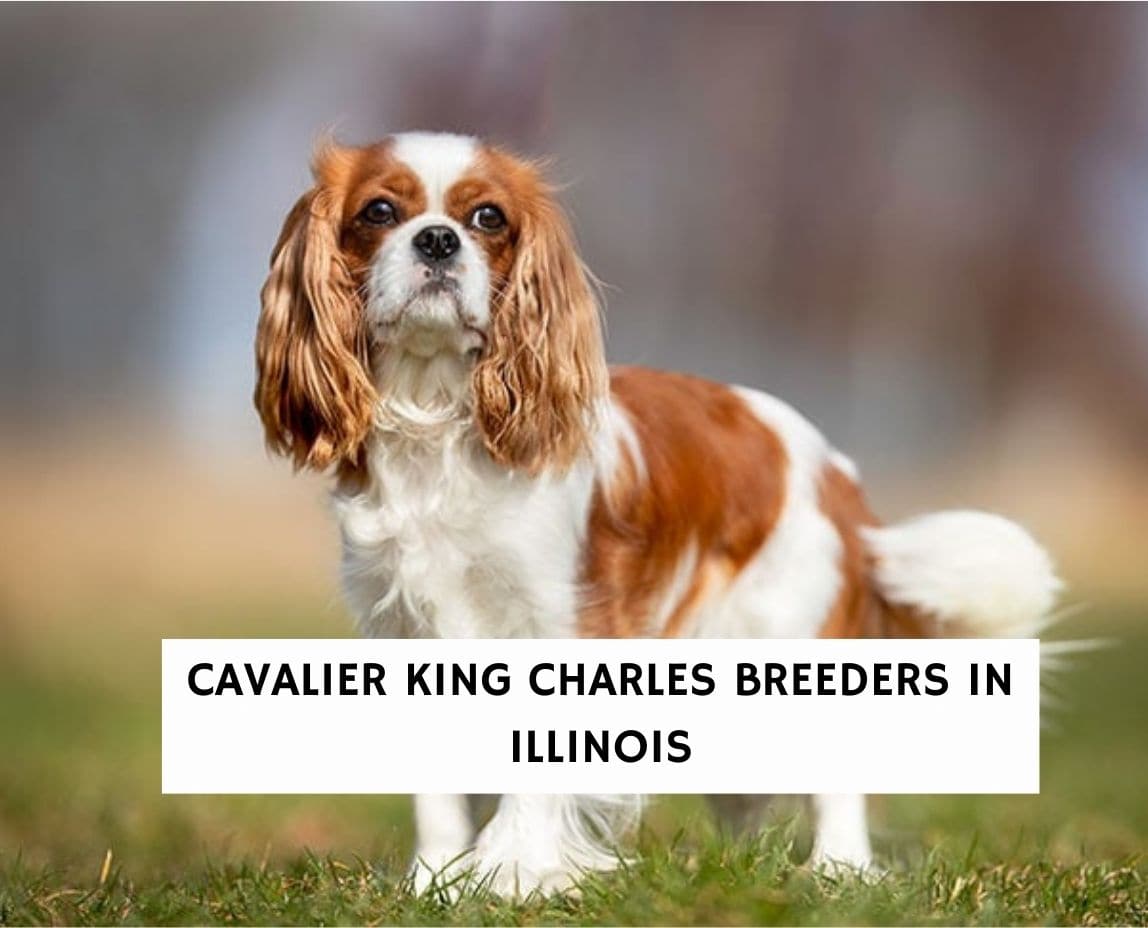 Adding a new puppy to the family can be exciting and challenging. What breed of dog is best for you and your family? How do you know that you will adopt a healthy and happy puppy? Finding the right puppy and the right breeder can be a challenge but learning more about different dog breeds and how to find a reputable breeder can help. Here we offer a closer look at the Cavalier King Charles, tips on finding a reputable breeder, and a list of some top Cavalier King Charles breeders in Illinois.
Before scrolling down, check out these recommendations for your dog: 11 Best Cavalier King Charles Spaniel Breeders in the USA!
Meet the Cavalier King Charles Puppy
The Cavalier King Charles Spaniel is an old breed that dates back to the 1700s. The breed comes from a mix between popular small spaniels and either the Japanese Chin or Tibetan Spaniel. This breed received its name as it was a favorite of King Charles II. These dogs have a history of being comfort dogs and still are to this day. They are perfect little lap warmers, and they're happy to spend the day cuddled up with their human family members, as their goal is to please.
Considered a toy breed, the Cavalier King Charles Spaniel stands around a foot tall and weighs under 20 pounds. Typical patterns include black and tan, bicolor, and tricolor and can include various different coat colors including black, brown/chocolate/liver, red, and white.
Why a Reputable Cavalier King Charles Breeder is Important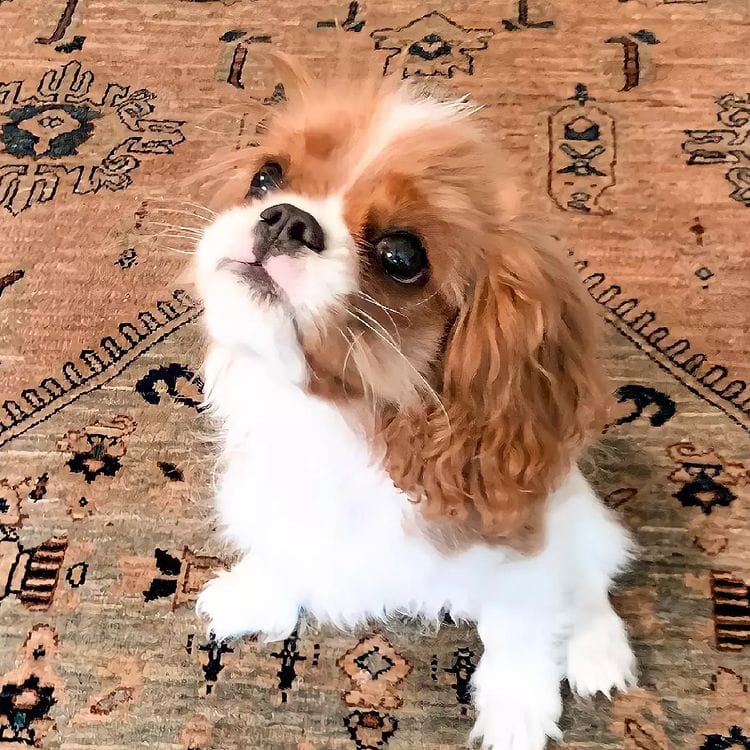 When you decide it is time to add a new furry family member, finding the right breeder is essential. Unfortunately, puppy mills are gaining in popularity, with many breeding dogs just to make a quick buck. These puppy mills do not consider the health of their breeding dogs, often resulting in puppies that develop genetic conditions as they grow. A reputable breeder makes the health of their dogs their first priority, with most breeders DNA testing their breeding dogs in order to help ensure their puppies are born with minimal risk of potential genetic conditions. Some to things to look for when choosing a breeder include:
The breeder is willing to answer your questions about the breed
Breeding dogs undergo DNA testing, and the breeder can provide you with test results
The breeding facility is clean and odor-free
Breeder offers a health guarantee, as well as proof of health checks and vaccinations
Top 6 Cavalier King Charles Breeders in Illinois
Once you decide that the Cavalier King Charles Spaniel is the breed for you, the search for the perfect breeder begins. Here we have created a list of some of the top Cavalier King Charles breeders in Illinois to help you with your search for the perfect puppy.
If you are unable to find the perfect Cavalier King Charles breeder from your search, that doesn't have to mean you need to start over. PuppySpot offers you another solution. PuppySpot takes over the search for a reputable breeder, leaving you to simply search for the perfect puppy. PuppySpot screens potential Cavalier King Charles breeders, only allowing ones in that meet their strict criteria.
Once a breeder is accepted, they can list their available puppies in the marketplace where you can search photos and puppy information. Once you find the puppy that fits you, PuppySpot works with you to arrange for puppy transport. And, because PuppySpot makes health a priority, they offer a 10-year genetic health guarantee. We got one of our puppies from PuppySpot and we highly recommend that you check them out.
Cavalier King Charles Breeder Information:
Location: Nationwide
Phone: (866) 269-1056
2. Westgate Cavaliers Illinois
Westgate Cavaliers is a small breeder located in Arlington Heights, Illinois. The owner, Piera Brown, has worked in the veterinary field and knows the importance of healthy breeding parents and the effort to minimize genetic health issues in order to produce healthy puppies. All breeding dogs undergo DNA testing for Episodic Falling and Curly Coat Dry Eye Syndrome, as well as MRI testing to check for hydrocephalus, COMS, and Syrinx. Before any planned breeding, all females undergo health checks and bloodwork to ensure they are in the best health possible before breeding. The owner is a past president of the Cavalier King Charles Club of Greater Chicago.
Cavalier King Charles Breeder Information:
3. Toyland Cavaliers IL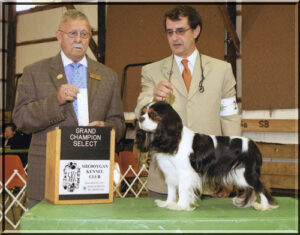 Toyland Cavaliers, owned and operated by Barb and Alyss Kulm, is an AKC Breeder of Merit and a member of the American Cavalier King Charles Spaniel Club. All their breeding dogs are tested and are clear of any genetic heart or eye conditions common with the breed. They are located in Round Lake, Illinois, and take pride in raising their Cavalier King Charles puppies in Illinois. Their website isn't always current, so we suggest that you try to email them.
Cavalier King Charles Breeder Information:
4. Huntcrest Cavalier Puppies
Located in Grayslake, Illinois, Huntcrest is owned and operated by Leslee Weiner-Pope. Here they specialize in Labrador Retrievers and Cavalier King Charles Spaniels. Breeding healthy puppies is their top priority and all their breeding Cavaliers have health clearances for heart, hips, eyes, and patellae. In addition to puppies, they occasionally have older dogs for adoption. They are also an AKC Breeder of Merit and members of the American Cavalier King Charles Spaniel Club and the Cavalier King Charles Spaniel Club of Greater Chicago.
Cavalier King Charles Breeder Information:
5. WoodHaven Cavaliers
Located in McHenry, Illinois, and owned and operated by Sondra and Doug Liston, WoodHaven Cavaliers is a small breeder that aspires to further improve the Cavalier breed in both health and conformation. All their breeding dogs undergo DNA and MRI testing to rule out potential genetic conditions.
All their dogs live indoors as part of the family, and they do everything they can to make sure their puppies go to loving families as well. They are very open to answering all your questions and will always be there when you have questions as your puppy grows. They are members of the American Cavalier King Charles Spaniel Club and the Cavalier King Charles Spaniel Club of Greater Chicago.
Cavalier King Charles Breeder Information:
6. Windkiss Cavalier King Charles Spaniels
Windkiss Cavalier King Charles Spaniels has been breeding Cavaliers since 2008, but owner Janina Patkowski has been showing and breeding dogs since 1982. All dogs and puppies are raised in the home and considered members of the family. Breeding dogs undergo yearly heart and eye checks, and their knees and hips are certified by OFA. In addition, all dogs are DNA tested and cleared for dry eye, curly coat, and episodic falling syndromes as well as MRI tested for Syringomyelia.
Each dog is registered with the AKC and CKCSC USA. Patkowski is a member of the CKCSC USA, Cavaliers of the Midwest, and CKCSC of Greater Chicago. She is also on the CKCS Club of Greater Chicago Board of Directors and Health Committee. This breeder sells some of the prettiest Cavalier King Charles puppies in Illinois!
Cavalier King Charles Breeder Information:
Frequently Asked Questions
Is the Cavalier King Charles Spaniel high maintenance?
Yes, the pups will require more attention to grooming and other care than some other dog breeds. For instance, their coats are prone to matting and tangles, so you'll want to brush your pup's fur every day to every other day. This is particularly true if your dog spends a lot of time outdoors.
We strongly recommend that you, before bringing a new animal home, do your research to learn all you can about the breed's dietary, exercise, and grooming requirements. This will help ensure a happy and healthy dog for the duration of his lifespan.
What is the average lifespan of a Cavalier?
When properly cared for, your Cavalier King Charles Spaniel can be expected to live between 12 and 15 years. Bring your dog to the vet for regular checkups to help mitigate the onset of diseases, and for guidance on how to keep your dog otherwise healthy.
Are Cavaliers healthy dogs?
The Cavalier King Charles Spaniel is more likely to get one of several diseases than some other breeds. These include:
gastritis
conjunctivitis
mitral valve disease
ear infections
syringomyelia
Regular veterinary checkups can help keep your dog healthy through preventative care.
Conclusion for Cavalier King Charles Breeders
If you're looking for Cavalier King Charles puppies in Illinois, it's important that you find a breeder that you can trust. Make sure to ask them questions, check for a health warranty, and see if they DNA test their dogs. If you're worried about finding a reputable breeder, we highly suggest that you check out PuppySpot as they do all the screening for you.
You will also like:
Garrett loves animals and is a huge advocate for all Doodle dog breeds. He owns his own Goldendoodle named Kona. In addition, he volunteers at the Humane Society of Silicon Valley, where he fosters dogs and helps animals. Garrett enjoys writing about Doodles and believes that dogs can teach humans more about how to live than humans can teach a dog.
Why Trust We Love Doodles?
At We Love Doodles, we're a team of writers, veterinarians, and puppy trainers that love dogs. Our team of qualified experts researches and provides reliable information on a wide range of dog topics. Our reviews are based on customer feedback, hands-on testing, and in-depth analysis. We are fully transparent and honest to our community of dog owners and future owners.