While the name "Great Dane" may lead you to believe that this breed originated in Denmark, this is actually not the case! Created over 400 years ago, the Great Dane is German in origin and descended from mastiff dogs that were bred by the German to protect large estates and hunt wild boar, among other animals. In 1880, the Germans banned the name "Great Dane" and called the breed "Deutsche Dogge," which means German mastiff. Today, we see these dogs used mostly as family/companion dogs. Despite their massive size, this breed is actually quite popular among city dwellers, as this breed is still very protective and makes a great guard dog against robbers, intruders, etc.
The Great Dane has consistently been one of the most popular breeds in America year after year, the following are a few traits that make them so desirable:
Very affectionate with family
Protective nature which makes for a great watchdog
High energy and playfulness
Easily adapts to change
Easily trained
Now that you are well versed and have decided to move forward with bringing a Great Dane puppy home, the next step is finding a reputable and responsible breeder to purchase your puppy from. This can be a stressful part of the journey, but luckily we've got you covered with our list of the best Great Dane breeders in Illinois.
Before scrolling down this list, check out these other recommendations: Best Great Dane Breeders in the U.S.
Top Great Dane Breeders in Illinois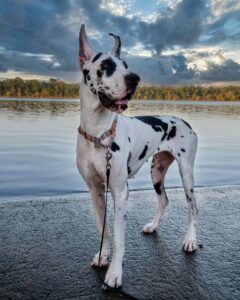 Below is a list of some of the best Great Dane breeders in Illinois. In general, you'll want to avoid a puppy mill that isn't health checking their dogs because Great Danes can suffer from several different types of hereditary diseases. Thus, it's important to not buy the cheapest Great Dane puppy as they likely aren't going to be cared as stringently as a reputable dog breeder.
1. EIO Danes – Waterloo, Illinois
EIO Danes was established in 1989, and these breeders strive to breed the best Great Danes in terms of health, temperament, soundness of mind and body, structure, and type. EIO Danes breed Black and Blue Danes exclusively, so you won't find any other coat colors here. Shirley, the owner of EIO Danes, is a member of the Great Dane Club of America, a member, and president of the Great Dane Club of Greater St. Louis, and delegate to the Great Dane Club of America. Each of their Great Dane puppies in Illinois is raised in the home with lots of love and each of the adult dogs used in breeding is health tested in order to breed the best Danes!
Great Dane Breeder Information:
2. Wil-Joi Great Danes – Kankakee, Illinois
The owners of WIl-Joi Great Danes truly care about the safest breeding possible for these animals! Carol Wilber, the owner of Wil-Joi, is a member of The Great Dane Club of America, a participant in the American Kennel Club's Breeder of Merit Program, and a member of the Orthopedic Foundation for Animals. Each of these organizations is dedicated to the healthiest breeding standards, so you can rest assured that getting a puppy from this breeder is a safe and responsible choice. The Great Dane breeders at Wil-Joi believe that these puppies are their babies, and raise them in the home as such and provide ample time and dedication to raising happy, healthy Great Dane puppies.
Great Dane Breeder Information:
3. Wild Blue Danes – Sheridan, Illinois
Wild Blue Danes is a small, growing organization that is located in Northern Illinois on 5 acres of land. Since Wild Blue Danes do not mass produce their puppies, they are very careful and selective when it comes to breeding with the goal to produce a better, stronger, complement in the offspring. Wild Blue Danes strive for excellence in their breeding practices when it comes to temperament, balance, quality, structure, and health. These Great Danes in Illinois are bred, whelped, and raised in the home with owner, Tai Sheehan, as she believes they are part of the family. We highly recommend reaching out to Tai if you are interested in a beautiful and healthy Great Dane puppy!
Great Dane Breeder Information:
Website: https://wildbluedanes.com/
Owner: Tai Sheehan
Phone: 618-534-4114
Email: Sheehan_99@hotmail.com
Location: Sheridan, Illinois
4. Breken Danes – Golconda, Illinois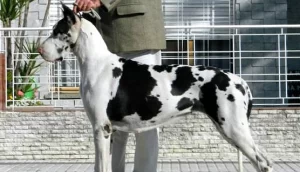 Daysha Broadway, the owner of Breken Danes, lives on 10 acres of land and loves her Great Danes like family! She has been breeding Danes for almost 20 years and is dedicated to healthy practices. Daysha claims that she will not breed a dog unless they have passed all necessary health tests, as she believes this is exceptionally important to bettering the breed. As a lover of the breed, Daysha makes an effort to keep in touch and hear about each one of her puppies as they grow into adulthood, she also states in her breeding contract that if for any reason the owner is unable to keep their dog, it be returned to Breken Danes in order to avoid ending up in a shelter. All their Great Dane puppies for sale in Illinois will come with a current record of shots, deworming, microchip insertion, along with their collar, a two-day supply of food, a copy of their pedigree, and information about Great Danes, including a list of online resources. As you can tell, Breken Danes is a great place to consider getting an adorable puppy from!
Great Dane Breeder Information:
More Information About Great Dane Puppies For Sale in Illinois
Great Danes are considered among the "working dog" group, which means they were bred to complete a job – in this case guarding, which the Great Dane is still happy to do! With this, comes a very strong dog. The best way to psychically describe a Great Dane is a "powerful giant." Standing at about 32 inches, these puppies are hard to miss in a crowd. They easily tower over most dogs and can be taller than most humans if standing on their hind legs. Their weight falls anywhere between 110 to 175 pounds, and they have a life expectancy of 7-10 years. The Great Dane's coat can come in a variety of colors, such as Black, Fawn, Silver, Brindle, Merle, and Mantle. Although they shed frequently, this breed has a fairly low maintenance coat and only requires grooming about once a month.
The Great Dane is a relatively healthy breed, but there are a few conditions that can seriously affect these dogs – which is why responsible breeding is so important.  Bloat, or gastric dilatation-volvulus (GDV), is the number-one killer of Great Danes. Many breeders and owners consider a surgery called a prophylactic gastropexy that can help prevent some of the more serious aspects of GDV. We recommend asking your breeder about this before making a decision to bring your puppy home. Other health issues that can affect the breed include eye and cardiac diseases, hypothyroidism and autoimmune thyroiditis, and hip dysplasia.
Conclusion for Great Dane Puppies in Illinois
As with any dog breed in the United States, it is easy for breeders to use poor or unsafe breeding practices in order to simply make a profit with no care for the animal itself. We recommend doing your own research and speaking with each one of these breeders individually to find out which one is best for you and your family's needs before making a final decision. We understand that searching for a reputable breeder can be a daunting task, which is why we created this list. In conclusion, we hope that our list of the top Great Dane breeders in the Illinois area can be helpful during the journey of your puppy search!
You will also like:
Garrett loves animals and is a huge advocate for all Doodle dog breeds. He owns his own Goldendoodle named Kona. In addition, he volunteers at the Humane Society of Silicon Valley, where he fosters dogs and helps animals. Garrett enjoys writing about Doodles and believes that dogs can teach humans more about how to live than humans can teach a dog.
Why Trust We Love Doodles?
At We Love Doodles, we're a team of writers, veterinarians, and puppy trainers that love dogs. Our team of qualified experts researches and provides reliable information on a wide range of dog topics. Our reviews are based on customer feedback, hands-on testing, and in-depth analysis. We are fully transparent and honest to our community of dog owners and future owners.