Like every other combination of breeds, Great Dane Doodles are sets of fascinating and spectacular mixes of Poodles and Great Danes! True to their name, Dane Doodles are indeed a great companion to be around compared to numerous other breeds. Anyone owning a crossbreed dog knows that they get to experience two different worlds in one.
If you're planning to bring home a Dane Doodle as a companion or you're still deciding, this guide will help you with everything you need to you about the breed.
Check out our collection of covered Poodle mixes similar to the Dane Doodle dog breed: Doodle Breeds and Best Poodle Mixes.
What Do Dane Doodles Look Like?
To better understand the Dane Doodle breed, we need to understand its parent breeds. Without understanding what the parent breeds look like, we won't know the potential concerns and how the Dane Doodle is. Without this information, the Dane Doodle might be challenging to comprehend. We'll get started with the Poodle breed before moving to the Great Dane.
Poodle
Poodles are special and unique because there are countless combinations of mixed breeds that have their root from them. Poodles generally have curly, dense, and harsh coats that can be corded or clipped. Their coats come in many different colors ranging from gray, cream, black, red, silver, beige, apricot, etc.
Many Poodle owners have a medium-sized Poodle, but there are various sizes such as Toy, Miniature, and Standard Poodles. The Standard Poodle's height is over 15 inches and weighs between 60 to 70 pounds by the time they're full-grown adults. The life expectancy of a Poodle is between 10 to 18 years old.
The Poodle's distinctive appearance says a lot about them; their squarely built body cannot go unnoticeable. The long, dropping, and densely feathered ears to the dock, high, and erected tail adds to their beauty. Poodles are active, intelligent, and proud dogs. In case you didn't know, the Poodle is ranked as the second most intelligent breed.
One would agree that the Poodles must be a one of it kind as many combinations have their root from them. They have a typically curly, dense, and harsh coat that can be corded or clipped. Their coats come in different colors ranging from gray, cream, white, black, red, silver, beige, apricot, etc.
Great Dane
Great Danes are high-spirited guardian dogs; they have been nicknamed the Apollo of dogs because of their elegance and dignity. They are large and square-bodied dogs with short and smooth coats, with the females somewhat larger than the males. Their short, smooth coats come in diverse colors like fawn, brindle, merle, mantle, blue, black, harlequin, etc.
The Height of a male Great Dane is between 30 to 32 inches and 28 to 30 inches for the females. While the males weigh 140-175 pounds, the females weigh between 110-140 pounds. The Great Danes' life expectancy is between 7 to 10 years old.
Great Danes are very dependable to keep the home front safe, and they do exceptionally well with children. The Great Dane's friendliness makes them have their way among the family members. Their square body, highly set medium-sized ears, and their tail naturally extending from the spine give them their elegant look.
Characteristics of a Dane Doodle
Breed: Dane Doodle
Temperament: Intelligent, Affectionate, Loyal
Typical Standard Height (Approx.): 28 to 30 inches
Typical Standard Weight (Approx.): 40 to 50 pounds
Life Expectancy:  8 to 13 years
Other Names: Great Danoodle
With the combination of the Poodle and the Great Dane, it's easy to expect how incredible this mix will turn out. Dane Doodles are surprisingly smart and intelligent, which portrays the parent breeds. They're extremely friendly and sociable companions. If you're planning to raise a Dane Doodle, you can expect a loyal guardian and lovely addition to the family.
While it's true of hybrids to take after the parent breed with a stronger genetic makeup, the same can be said to Dane Doodles since they're 28 to 30 inches tall, weighing between 40 to 50 pounds. For Dane Doodles, their life expectancy is between 8 to 13 years old.
Depending on the parent breed with the stronger gene, the Dane doodle's coat could take on either parent's characteristics. If Poodle takes the upper hand, then the coat will be dense and curly. If it's the Great Dane, then it could be short, wiry, and thick.
It's interesting to note that the coat is a low allergen and doesn't shed as much due to its curly or waviness. You can easily groom your companion's coat by brushing and trimming to prevent it from getting too long, especially between its paws. The Dane Doodle's coat comes in a diversity of colors depending on the gene. They come in colors like black, blue, white, gray, apricot, silver, cream, brown, etc.
Dane Doodles are great companions that do well with children and other family pets. Similar to their parent breeds, Dane Doodles are sociable, affectionate, and friendly.
Health Concerns
Hybrids quickly inherit any underlying health challenges that are common to the parent breeds. It's highly recommended to get your companion from a trusted breeder with a strong reputation. This will curb the chances of you ending up with an unhealthy Dane Doodle as there is no assurance of what dog health will be like as they become older.
The parent breeds are vulnerable to health conditions like dysplasia, epilepsy, bloating, Cushing's disease, Von Willebrand's disease, Addison's disease, etc. A trip to the vet to get your companion screened at a very early stage is a smart decision. This will help early detections in case of any health concerns; a stitch in time saves nine, they say.
Caring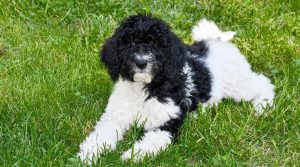 It's important how you raise and care for your Dane Doodle puppy. It's not to be taken lightly because you're responsible for shaping what your dog becomes. As we care for our children and babies, our pets cannot be ignored and live a life full of neglect. You can find ways on how to care for your Dane Doodle in the following several sections.
Caring for this cute and adorable breed is one that you should take seriously. As we care for our babies, our pets cannot be ignored and left to themselves, especially hybrids. Below are some simple ways of caring for the Great Dane Doodles.
Grooming
Grooming the Dane Doodle depends on what features they have. For instance, waviness has fewer grooming responsibilities while curly coat has more grooming responsibilities. In contrast, the ones with the Great Dane's short coat need minimal brushing.
Trimming of the Dane Doodle's coat that takes after the Poodle is necessary to prevent any tangles and mats. It's recommended to bathe your companion once in a while to keep it bright and clean. Clipping your Dane Doodle's nail and brushing its teeth is also important. You should teach your Dane Doodle when it's still at a young age because it doesn't have any habits developed yet. If you wait until it's older, grooming will be much more difficult because they've already developed bad habits.
Try to take your Dane Doodle companion to a professional groomer once every several months. You'll never know which spots you missed during grooming. With a professional groomer, you'll have a better idea of what to do when you groom it alone.
Grooming guides for your Dane Doodle:
Food
Every Dane Doodle needs a healthy and balanced diet to keep them well and active. You can purchase high-quality dog food or get advice from your veterinarian or breeder regarding the right human food for dogs. Food rich in protein is highly recommended.
When you feed your Dane Doodle high protein food, it helps build and repair tissues and muscles. Occasional treats should be okay for your companion. Another piece of advice is not to overfeed your Dane Doodle.
Food guides for your Dane Doodle:
Exercise and Training
A well-trained dog is a well-behaved dog, which helps make them react better to certain situations. Training your dog at a very early stage gives better results as it curbs some behaviors in them. Some people struggle to train a dog, and if you find yourself in this situation, you can hire professional training. Professional dog trainers can help your companion home train and build their character since some dogs can be territorial.
When it comes to exercising your Dane Doodle, this shouldn't be an option. You should always take your Dane Doodle out for exercise because it'll help them relax and keep them more alert around their surroundings. You can take your companion out for a walk or go hiking. There are many activities you can do such as running or even swimming.
Exercising your pet is not optional but necessary as it helps relax their muscles and keep them alert. You can engage them in different dog sports recommended by dog experts. You can also take them for a walk or go hiking with them, taking them for swimming or cycling are great ways of exercising them too.
Another article you might like related to this section: Best Training Collar for Stubborn Dogs
Conclusion for the "Best Dane Doodle Guide"
Like any other hybrid dog, the Dane Doodle is an adorable and lovely dog. However, they're not recommended for anyone dealing with a busy schedule such as school or work. Since they're social dogs, they can suffer from separation anxiety when not given the proper care. Dane Doodles are amazing dogs. They're perfect for families and the ideal guardian for your household.
To learn more about the Dane Doodle dog breed, watch "Great Danoodle Dog Breed" from My Dog down below: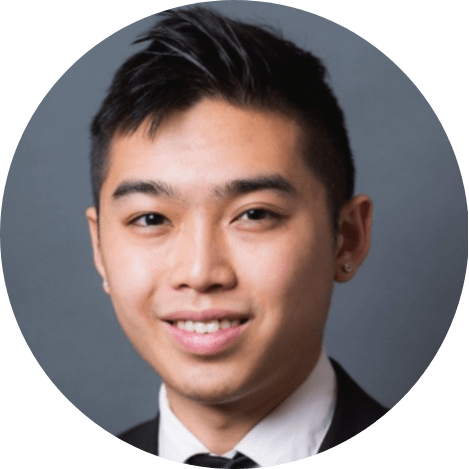 Andy is a full-time animal rescuer and owner of a toy doodle. When he's not saving dogs, Andy is one of our core writers and editors. He has been writing about dogs for over a decade. Andy joined our team because he believes that words are powerful tools that can change a dog's life for the better.
Why Trust We Love Doodles?
At We Love Doodles, we're a team of writers, veterinarians, and puppy trainers that love dogs. Our team of qualified experts researches and provides reliable information on a wide range of dog topics. Our reviews are based on customer feedback, hands-on testing, and in-depth analysis. We are fully transparent and honest to our community of dog owners and future owners.