Here's what you need to know if you're searching for indoor dog parks in Chicago. One of the best treats you can give your dog is to find a place where they can run, play, and exercise. Dogs are not ideal pets, as they love to play and jump around. Frequent running and playing also help strengthen their hips and joints. However, the weather might not always be friendly for such activities, which is where indoor parks come in.
Thanks to indoor parks, there is no stopping you and your dog from catching fun, whether it is rainy, snowy, or sunny. When looking for the best indoor dog parks in Chicago, one of the most important things to consider is the amenities offered by the park. Another vital thing to consider is the rule set, as every park has rules that pet parents are expected to adhere to.
You want to ensure the rules are favorable for you and your dog. This great city has many dog-friendly areas and indoor dog parks you can visit when the outdoor weather is unfriendly. To help streamline your decision-making process, we have reviewed and listed some of the best indoor dog parks in Chicago. Keep reading to find a park close to you.
Before you scroll down this list of indoor dog parks in Chicago, you can check out these other dog-related recommendations from our team at We Love Doodles: Best Pet Stores in Chicago and Best Dog Sitters in Chicago.
Find an Indoor Dog Park Near Me in Chicago
Here's a list of indoor dog parks in Chicago for you to check out.
Dog Product Recommendations: Best E-Collars For Large Dogs and Best Tug Toys For Dogs.
1. Zoomies Chicago
Zoomies is Chicago's premier indoor dog park. It reached the top of our list because of its great features and offerings. Dogs need exercise every day regardless of the weather. Many pet owners are stuck with their dogs indoors because the outdoor weather is unfavorable.
Zoomies Chicago has taken weather out of the equation, so you and your best friend have the best time of your life regardless of the weather. While your local dog park closes after dark, Zoomies Chicago does not. The park is open 24 hours a day, seven days a week, and 365 days a year.
You can walk into this part whenever you want, making it a great option for pet owners with busy schedules. Zoomies Chicago boasts a puppy-friendly turf with no rubber pellets, odor-free and non-toxic. This park provides many services that cater to both the dogs and their owners.
They have a free parking space, eliminating the hassle of looking for where to park your car and paying for it. With a climate-controlled environment, you and your dog will remain comfortable all day and all year round. Do you want to surf the web or quickly respond to an email while your dog is having fun? Worry not, as Zoomies offers free WiFi for all its workers.
You can play or work while your pet is socializing and exercising. After a long day of having fun in the park, there is a dog wash area for your dogs to freshen up before heading home. In addition, there are local roasters on rotation for your morning buzz. So you can catch a nice breakfast if you visit the park in the morning.
Afternoon visitors can also enjoy some self-serve beer and wine. You can enjoy some amazing meals while watching your dog have fun. The facility is 20,000 square feet large, with indoor and outdoor spaces. They also have different sections for large and small dog breeds. Hence, you are welcome in this park regardless of your dog's breed or size.
Zoomies Chicago Details
2. K9U Chicago Dog Park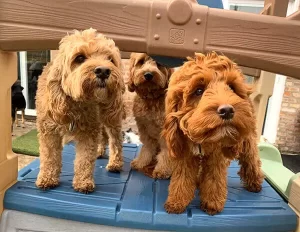 K9U Chicago Dog Park created a comfortable and climate-controlled space for pet parents to have fun with their dogs. They have a climate-controlled 3,500 square feet padded indoor space with many amenities and fun-filled activities for you and your best friend.
Weather permitting, they also have a 10,500 square feet space to exercise, run, and jug with your dog. The play area is sanitized daily to ensure it is clean and safe for you and your dog. Other than this, K9U offers both small and large dog play areas.
There is a separate section for timid and small dogs. If you are looking for a great way to enhance your dog's socializing skills, K9U offers the perfect spot. To participate in this park's "Open Play" events, your dog must be neutered or spayed. It is also mandatory to vaccinate your dog before coming to the park.
The required vaccines for any K9U service include:
Rabies
Parvo
Distemper
H3N2
Bordatella
They have highly experienced staff to ensure safe play. In addition, pet parents can come to learn about interactions between dogs and how to create a better bond with their dogs.
The park organizes several games that dogs love, including:
Chasing
Face biting
Tug of war
The staff organizes these games and teaches your dog new tricks. In addition to having fun, your dog will learn new things before going home. They offer other services, including dog daycare, training, boarding, grooming, and more.
K9U Chicago Dog Park Details
3. Bosly's Backyard
Bosly's Backyard is a private play space where you can have an amazing time with your dog. They designed the space to enhance cognitive and physical development. Spending time in this facility will also help strengthen the bond between you and your dog through several shared one-on-one experiences.
They have enrichment & interactive toys, agility equipment, exercise amenities, and plenty of space to burn all that energy. The size of the indoor park is 2,400 square feet, which is more than enough room for your dog to jump, play, and run around. In this facility, you must book a play session to have fun with your dog.
You can choose between 30, 45, and 60 minutes to play. Pet owners can bring multiple dogs, but you must purchase buddy passes. You can join their size-appropriate small group socials or sign up for dog training classes. They have a simple and quick online system; even a non-tech-savvy can book a play session on the site.
Bosly's Backyard allows pet owners to bring their dog's favorite treats and toys to the play area. In addition, they send users an email containing tips and tricks on ways to use the facility and introduce their dogs to agility. At Bosly's Backyard, your puppy can play off-leash without interference from the outside world or other dogs.
Bosly's Backyard Details
4. Doggy Paddle
Founded by Cherie and Greg, Doggy Paddle is an indoor space for your dog to have fun in the pool. If you have a water-loving dog, this is one of the best places to bring them. Doggy Paddle offers many amazing services for dogs and their owners.
Some of the swimming services they offer include:
A fitness center for dogs
Wellness and fitness swim to ensure dogs of all breeds, shapes, and sizes are taken care of
Learn-to-swim classes.
Whether it is your dog's first time in the water or they have experience with water, Doggy Paddle will ensure your dogs have an amazing time in the facility. They also run a premium daycare service to provide your puppy with a mentally and physically stimulating experience like no other.
They offer various packages, mainly determined by time. Their three-hour service includes two hours in the park and one hour in the pool. They also offer free transportation to and from their center to the park. Safety is one of the top priorities of this company.
They use professionally engineered salt-water and UV aquatics systems to sanitize the water while keeping your dog coat safe and soft. The park is open from Monday to Friday from 8 AM to 9 PM, and the operating hours on Saturdays and Sundays are from 9 AM to 4 PM.
Doggy Paddle Details
Conclusion For The "Best Indoor Dog Parks in Chicago"
Those are some of the best indoor dog parks and activities in Chicago for you and your best friend. These parks offer many fun activities to keep you and your dog engaged for hours. In addition to having fun, the activities in these parks will help improve the bond between you and your puppy. Do not forget to check their rules before subscribing to the membership plans.
For more guides similar to this list of indoor dog parks in Chicago, you can check out these other recommendations from our team:
Before you bring your dog to an indoor dog park in Chicago, you can see what it's like by watching "Indoor Dog Park" down below: