This guide will teach you the differences between the Portuguese Water Dog vs. Poodle dog breeds. Have you found yourself researching the correct breed to bring into your family regarding a puppy?
As a possible new pet owner or just someone interested in different breeds of dogs, you have probably wondered about the unique traits, characteristics, personalities, and maybe even the history of a certain breed of dog.
Researching the best dog to bring into your family can be daunting. Luckily, we are here to compare two exceptionally popular breeds nationwide. In this article, we will explore Portuguese Water Dog vs. Poodle. Let's get started on this doggy adventure.
Before you scroll down this guide, "Portuguese Water Dog vs. Poodle," you can check out these other dog breed comparison guides from our team at We Love Doodles: Poodle vs. Goldendoodle Dog Breed Comparison and Cockapoo vs. Poodle Dog Breed Comparison.
Poodle
First, let's start with the history of the Poodle and how we came to know and love this popular puppy. The Poodle is the national dog of France, and the French sure do love their Poodles. Still, this breed is also increasingly popular in the United States as well, especially with the introduction of minis, toys, and hybrid breeding. Despite the Poodle's being the national dog of France, the breed originated as a duck hunter in Germany.
The word "pudelin" refers to splashing in the water, which evolved into the term "Poodle" over time. This explains why they are great water retrievers. You probably connected the Poodle's love for the water with the Portuguese Water Dog, don't worry – we'll get into their similarities as we continue our puppy exploration adventure.
Related: Important Facts About The Moyen Poodle and Best Poodle Rescues For Adoption in the United States.
Size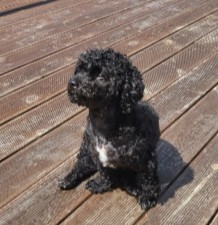 As we mentioned, Poodles have become more popular by introducing various sizes. Poodles come in three size varieties: Standards should be more than 15 inches tall at the shoulder; Miniatures are 15 inches or under; Toys stand no more than 10 inches.
A Standard Poodle is generally the best athlete of the varieties due to its size, averaging about 50-70 pounds. Regardless of a Poodle's size, it will be energetic, playful, loyal, and smart. Additionally, all varieties of Poodles will have a curly, low-allergen coat that comes in various colors such as white, black, and apricot.
Related: When is a Toy Poodle Full Grown and Black Toy Poodle Guide.
Grooming
Speaking of their coat, let's talk about the grooming needs of a Poodle. When you think of a Poodle, you may envision their elegant and well-kept coat. Surprisingly, the elaborate coat styling that this breed is known for once had a practical purpose: trimmed areas lightened the weight of the puppy's coat.
They prevented snagging on underwater debris, while the long hair around the joints and vital organs protected the dog from the cold water. Grooming is a large responsibility for the potential owner of a poodle. Most Poodle owners take their dogs to the groomers every three to six weeks, with daily brushing between those visits.
If you do not brush and comb a full-coated Poodle completely to the skin, the hair will mat near the roots and have to be shaved off to start with new growth. Owners tend to prevent this by keeping their coats short to prevent tangling and matting.
If you want to cut down on grooming costs, you can learn how to give your Poodle their trims, but this task must be done with a lot of care and precision, so it's best to leave it to the professionals. If dedicating time or energy to grooming your dog is not something you're interested in, it may be time to reconsider a Poodle.
Related: Poodle Teddy Bear Cut Information, Facts, and Images and Best Dog Clippers For a Poodle.
Temperament
Poodles are known to be great dogs for a few reasons.
Here are just some of their best traits:
Trainability
Great with Family and Kids
Make excellent guard dogs
Affectionate
Playful
Regarding trainability, it is important to note that if you consider bringing a Poodle into your family, you heavily consider training them or opting for professional training classes the time to dedicate to their dynamic nature. As we mentioned, Poodles are highly intelligent and eager to please their owners. Poodles are regarded as one of the most intelligent breeds in the world.
In training, you will see that they are agile, elegant, and enjoy and excel in all canine sports, including agility, obedience, and tracking. Due to their duck hunting ancestors from Germany, they also make great retrievers. As mentioned, Poodles love to stay active, whether retrieving sticks or toys, going on long walks, or even swimming.
If hanging out on the couch or being away for long portions of the day is part of your schedule, a Poodle may not be the right breed for you. As with most active breeds, bored Poodles can get destructive if they aren't physically and mentally stimulated. A Poodle will fit perfectly in your family if you love to walk, run, hike, and stay active.
Health
In exploring the Poodle, it is also a good idea to cover this breed's health trends and concerns so that you, as a potential owner, can be aware of these conditions. Fortunately, Poodles overall are known to be a healthy breed with very few health complications.
Most of them live happy and healthy lives, with a life expectancy of 10-18 years – which is quite high in terms of a canine, giving you plenty of time to enjoy with your new companion. As with all breeds, however, some health issues can occur, including hip dysplasia and several eye disorders.
It is important to schedule a visit with a veterinarian upon bringing home a new puppy so that they can give further details on these conditions and what symptoms to look out for as your dog grows up.
Related: Best Poodle Insurances.
Portuguese Water Dog
Let's switch paws into our next breed, the Portuguese Water Dog. Starting with its history and origin, if you guessed that this breed originated in Portugal and liked water, you'd be a good guesser. ​
The Portuguese Water Dog once lived all along Portugal's coast and was used to herd fish into nets, retrieve lost tackles, and act as a messenger between ships and shore. Fishermen counted on the strong and muscular dogs to be hardworking and seaworthy.
Other names for this puppy are Cao de Agua (dog of the water), Portuguese fishing dog, or Portie for short. You also may know this dog from the Obama family, as Bo was the First Dog for some time.
Related: Best Portuguese Water Dog Breeders in the United States.
Size
The Portie is a medium-sized dog in the "working" group. Their height ranges from 20-23 inches for a male and 17-21 inches for a female. At the same time, their weight can come anywhere from 35-60 pounds. The Portie is generally smaller than the Standard Poodle and only comes in one size variety unless you find a hybrid breed.
The robust, medium-sized body is covered by a coat of tight, low-shedding curls. You can find these cute curls in three colors: Black, Brown, and White. PWDs are eager and athletic companions built for water work.
Grooming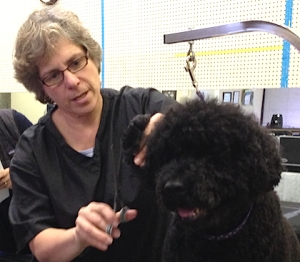 Since the Portie's coat is similar to that of a Poodle, they will have similar grooming procedures. The Portuguese Water Dog's dense, profuse coat is hypoallergenic, just like the Poodles. This requires regular and extensive grooming. Unlike the Poodle, though, their coat ranges in appearance from tight and curly to loose and wavy.
Typically, there are two styles of grooming that you will see on a Portuguese Water Dog. First is the lion clip, where the coat on the hindquarters and muzzle is clipped to the skin. Second is the retriever clip, where the entire coat is clipped to one inch in length and follows the dog's outline.
Beyond regular weekly grooming, an occasional bath and daily brushing will keep the Portie clean and in tip-top shape. Grooming is an important responsibility when owning this dog, as neglect could lead to matting or infection.
Related: How Long Does Dog Grooming Take?
Temperament
The Portuguese Water Dog is a fun-loving and friendly breed. They are adventurous and active and require a family that reflects those values. For example, one with a swimming pool, nearby beach, or boat can be an excellent choice.
PWDs have the following amazing traits:
Affectionate with family members
Get along with children
Adaptability
Easily trained
Training is an important part of owning a dog, especially a Portuguese Water Dog. This breed requires a high level of mental stimulation, so training classes are a great way to wear them out and learn tips and tricks to help your puppy grow into a well-behaved adult dog.
Health
Like our friend the Poodle, the Portuguese Water Dog is also generally healthy. Their life expectancy is not quite as long as the Poodle's, sitting at 11 to 13 years, but still long enough for you to enjoy a long, happy life with your puppy.
Like the Poodle, some health issues can occur, including hip dysplasia and several eye disorders. With any breed, we recommend a visit with a veterinarian upon bringing home a new puppy so that they can give further details on conditions and symptoms to look out for as your dog grows up to prevent any major complications.
Conclusion For "Portuguese Water Dog vs. Poodle"
As you have learned from this article, there are some clear differences when comparing Poodles and Portuguese Water Dogs. Whether it's their size, coat, or personality, each breed has unique qualities that make them lovable and a perfect addition to the right family. Regardless of which breed you decide is right for you, it is important to note that owning a dog is a large responsibility.
This animal relies on you for food, shelter, attention, and love, so it is important to understand your duties to create a wonderful life for them. If necessary care is taken, we're positive that each of these dogs will return the favor by creating a wonderful life and companionship with you.
If you find this dog breed comparison guide, "Portuguese Water Dog vs. Poodle," helpful, you can check out these other dog breed comparisons from our team at We Love Doodles:
You can learn more about the differences between a Portuguese Water Dog and a Poodle by watching "Portuguese Water Dog vs. Standard Poodle – What Breed is Best For You" down below: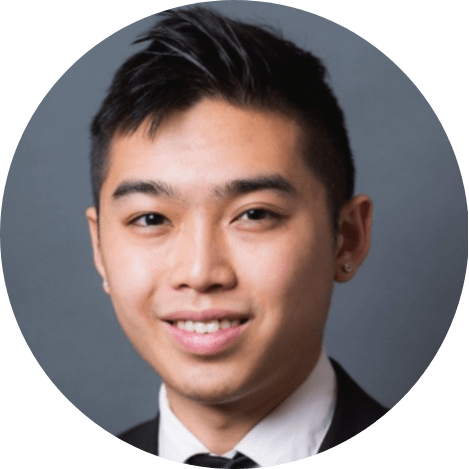 Andy is a full-time animal rescuer and owner of a toy doodle. When he's not saving dogs, Andy is one of our core writers and editors. He has been writing about dogs for over a decade. Andy joined our team because he believes that words are powerful tools that can change a dog's life for the better.
Why Trust We Love Doodles?
At We Love Doodles, we're a team of writers, veterinarians, and puppy trainers that love dogs. Our team of qualified experts researches and provides reliable information on a wide range of dog topics. Our reviews are based on customer feedback, hands-on testing, and in-depth analysis. We are fully transparent and honest to our community of dog owners and future owners.