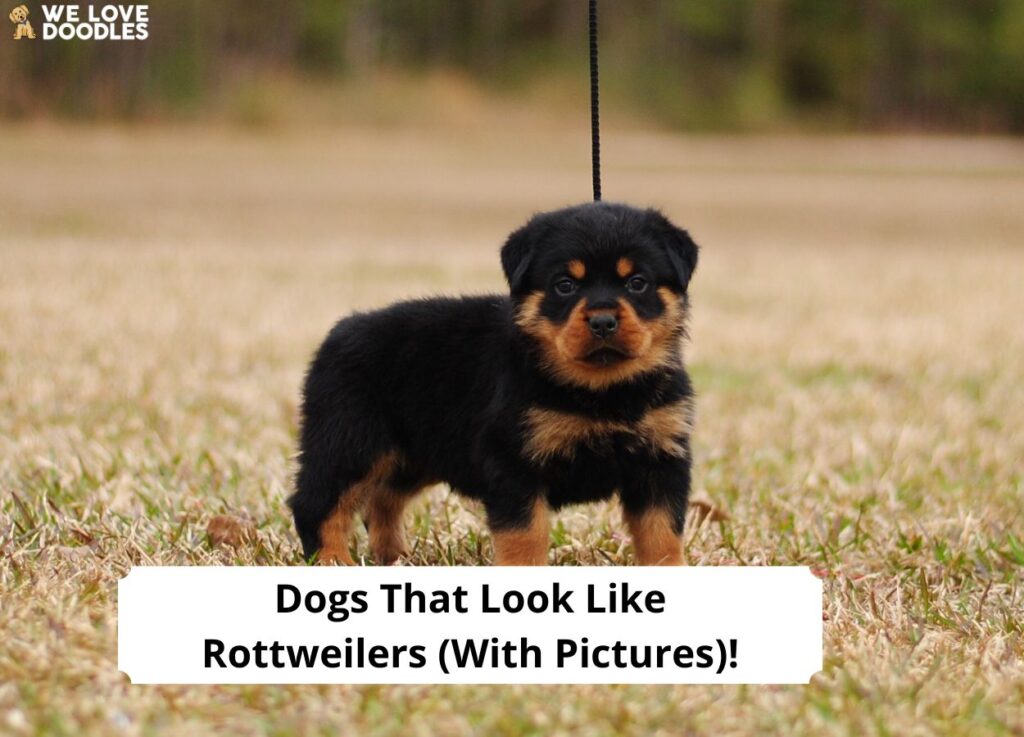 Rottweilers are easily recognizable with their stocky head and muscular build. Many prospective dog owners like these dogs because of their appearance, but a Rottweiler isn't always the best fit, especially for inexperienced owners.
What dogs look like Rottweilers? Read on to learn more about other breeds that share some of Rottweiler's characteristics.
Before scrolling down this list of dogs that look like Rottweilers, you can check out these other guides: Dog Breeds That Look Like Ewoks and Dog Breeds That Look Like a Fox.
Top 19 Breeds That Look Like a Rottweiler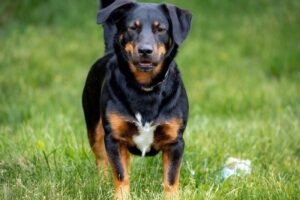 Several breeds share a similar appearance to Rottweilers. If you're looking for a dog that shares similar traits with these gentle giants, consider one of these options from our list.
1. American Staffordshire Terrier
A popular Pitbull breed, the American Staffordshire Terrier shares a similar muzzle shape and stocky build with the Rottweiler. However, the Staffie is smaller at 19" and has different coloring. These dogs also have different temperaments. While Rottweilers tend to be affectionate dogs, the Staffordshire Terrier can be more independent. Both breeds can be excellent family or guard dogs with the right training.
2. American Mastiff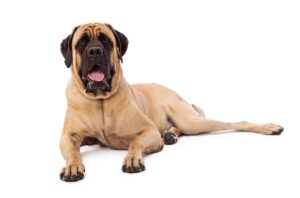 The American Mastiff is an option worth considering if you're looking to adopt a giant breed. These imposing animals can weigh up to 230 lbs.
The American Mastiff is larger than the Rottweiler, but you'll find some similarities in their athletic builds and head shapes, especially around the ears and the forehead. However, the American Mastiff has heavier facial features that tend to cause the lips and eyes to droop.
Their patient and loyal disposition make these giant canines similar to Rottweilers. Both breeds can be very protective of their family and dislike strangers.
3. Saint Bernard
The Saint Bernard might not be the first Rottweiler look alike that comes to mind, but the two breeds share some similarities.
Saint Bernard has a highly-recognizable appearance with its long upper lips, but the forehead, muzzle, and ears aren't so different. The coat is a major difference. The
Saint Bernard has distinctive markings, and the long-haired variety requires more grooming than the Rottweiler's short coat.
4. Newfoundland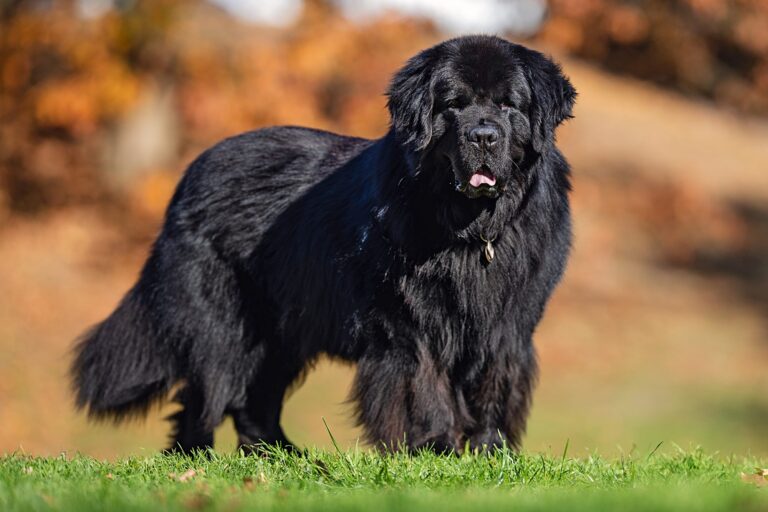 If dogs that look like Rottweilers with hair sound like the ideal pet for you, look no further than the Newfoundland.
These dogs are larger and heavier than a typical Rottweiler at 28" and 260 lbs., but underneath all that hair, the body shape isn't so different from a Rottweiler. The Newfoundland is an outgoing and curious dog that enjoys the water. This breed can be more laidback than the Rottweiler, but both can be excellent family dogs.
5. Boxer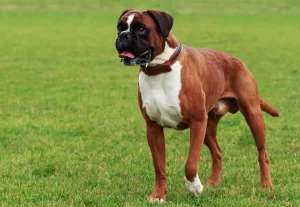 Boxers look skinnier and shorter compared to a Rottweiler. However, you'll notice some similarities in the body and head shape if you look closely. Boxers have a square head with a blunt muzzle. but the ears and forehead are somewhat similar to a Rottweiler. The broad shoulders are another trait these two breeds have in common.
Boxers are playful and energetic dogs. Some owners compare this fun breed to a perpetual puppy. They require a lot of activity and attention and can make better pets for children than Rottweilers due to their playful nature.
6. Manchester Terrier
The Manchester Terrier's sleek silhouette is a skinny version of the Rottweiler. These intelligent dogs are fun to train and will amaze you with their running skills.
What kind of dog looks like a Rottweiler but smaller? The Manchester Terrier is a good candidate at 22 lbs. Even though these dogs are smaller and skinnier, they have similar black and tan markings that make them look like Rottweilers. However, the elongated muzzle shape and candle flame ears set these dogs apart.
7. Beauceron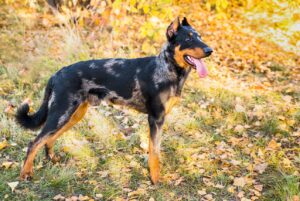 Among the list of dogs that look like Rottweilers but aren't, you'll find the Beauceron. This cattle dog is not common outside of France, but there is a remarkable resemblance with the Rottweiler.
These dogs have the same black and tan markings and similar body shapes. They also have a comparable height. There is a slight difference since the skull is narrower, and the coat is typically longer than a Rottweiler's coat. Owners often opt to crop their Beauceron's ears, but the natural ear shape resembles a Rottweiler.
8. American Bully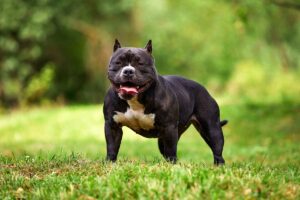 An American Bully could be an excellent pet if you're looking for dogs that look like Rottweilers because you like this breed's stocky build.
The American Bully is shorter. Males typically don't exceed 20", and females are smaller. These dogs have broad shoulders and a muscular build. They also share some temperament traits with the Rottweiler since both breeds are loyal and affectionate.
This bulldog-type breed can be difficult to train and might not be a good option for novice owners. However, with the right training and an active lifestyle, these dogs will thrive and become playful and loyal companions.
9. Great Swiss Mountain Dog
The Great Swiss Mountain Dog has similar coloring with black and tan hair. However, these dogs have a distinctive white patch on their chest, and their long coat sets them apart from the Rottweiler.
This breed is close to a small Rottweiler in size, and you will notice some similarities if you compare the ear shapes, muzzle, and forehead.
However, Great Swiss Mountain Dogs have different personalities. The Swissy can be a fun and alert companion, but owners sometimes have to deal with stubbornness. Both breeds can be good guard dogs with proper training.
10. Bernese Mountain Dog
The Bernese Mountain Dog isn't far from the Great Swiss Mountain Dog in appearance. These working dogs have a long coats that sets them apart from Rottweilers, but they are similar in size. They also have a comparable head shape.
These dogs are typically very affectionate and social. They don't share the Rottweiler's wariness of strangers and will thrive in an environment with young children and other pets. However, these dogs have long hair and shed a lot. It's an essential consideration since taking care of a Rottweiler's short coat is much easier.
11. Great Pyrenees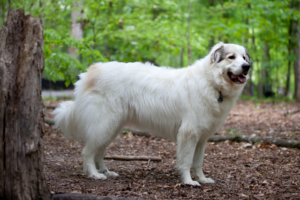 The Great Pyrenees has a very difficult appearance from the Rottweiler with its characteristic white coat and long hair. However, these gentle giants have a very similar head shapes and athletic build.
These strong working dogs make excellent guard dogs. Their independent nature can make them challenging to train, but they will become a loyal companion if you work on developing your bond with them.
12. Cane Corso
Confident and athletic, the Cane Corso is another breed on the list of dogs that look like Rottweilers.
These intelligent dogs have a stocky build and need an active lifestyle. Their facial features are different since they have heavier upper lips, but the eyes and forehead aren't so different from a Rottweiler.
Like the Rottweiler, the Cane Corso is a loyal dog eager to please. However, these dogs can be more independent and stubborn than a Rottweiler.
13. Bullmastiff
This massive guard dog shares the Rottweiler's stocky body type. While the Bullmastiff typically has a fawn color, this loyal dog is similar in height and weight to the Rottweiler. The strong shoulders and broad necks also make the Bullmastiff a convincing Rottweiler look alike.
These strong guard dogs are alert and intelligent but require adequate training and early socialization.
14. Boerboel
The Boerboel can be a good option if you're looking for dogs like Rottweiler. The breed rose to prominence in the 16th century when Dutch settlers moved to South Africa. Initially, a working dog, Boerboels make excellent guard dogs.
This breed is uncommon, but it's one of the closest matches if you're looking for a Rottweiler alternative.
The coat is usually tan or fawn, but these dogs look like Rottweilers with deep chests and square heads. The temperament is also similar since the Boerboel is calm, intelligent, and loyal. Both breeds typically have strong guarding instincts.
15. Tibetan Mastiff
What 2 dog breeds make a Rottweiler? The Rottweiler evolved over the course of centuries, and it's unfortunately not possible to breed two dogs to obtain a Rottweiler. However, breeding a Tibetan Mastiff with a smaller dog would likely result in offspring close to the Rottweiler in appearance.
The Tibetan Mastiff is a giant breed that can reach 150 lbs. This fierce guard dog is a popular breed in China, where these pets have become a status symbol. Owners are willing to spend up to $2 million for a purebred puppy.
There are some similarities with the Rottweiler despite the long coat. The Tibetan Mastiff has a similar color scheme, and both breeds share the same square head shape. And even though the dense coat of the Tibetan Mastiff hides their body, these dogs are surprisingly agile and athletic.
Other Dogs With Black and Tan Markings
Rottweilers are easy to recognize, thanks to their markings. These dogs typically have tan markings over the eyes, muzzle, chest, legs, and tail. If you're looking for dogs similar to Rottweiler, other breeds have similar markings.
16. Doberman
The Doberman Pinscher has a different body shape with its triangular shoulders and long neck, but these dogs share similar markings. These intelligent dogs can be challenging to train, but they make loyal companions.
17. Miniature Pinscher
If you like the color scheme of the Rottweiler but don't have enough room for one of these dogs, the Miniature Pinscher can be a good option. The Mini Pin is an intelligent and playful companion that will surprise you with its huge personality.
Note that the black and tan markings aren't the only color for the Miniature Pinscher. You can also find some dogs with brown coats that don't have anything in common with the Rottweiler.
18. Hovawart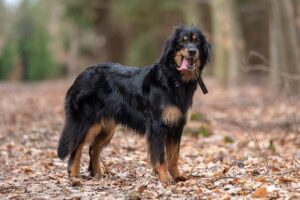 The Hovawart is a working dog breed from Germany. Despite its long hair, this dog shares some similarities with the Rottweiler thanks to the distinctive markings the two breeds share. And just like Rottweilers, Hovawarts can make excellent watchdogs. Remember that this breed is originally a cattle dog and will need plenty of exercise and stimulation.
19. Australian Kelpie
The Australian Kelpie is a cattle dog with a huge personality. These athletic dogs need an active lifestyle to thrive, and they will surprise you with their athleticism.
The candle flame ears set this breed apart from the Rottweiler, and these dogs are small and slender compared to a Rottweiler.  However, you can find Australian Kelpies with the same black and tan coloring as a Rottweiler.
If you don't mind a skinny version of a Rottweiler with a different ear shape, this affectionate cattle dog could be an excellent match for you. However, training can be a challenge due to the strong-willed nature of this breed.
Conclusion For "Dogs That Look Like Rottweilers"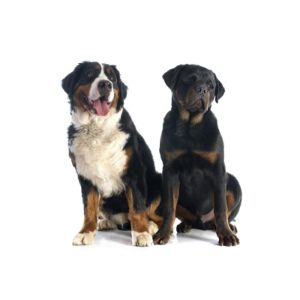 Dogs similar to Rottweilers can share this breed's athletic body shape or stocky head, but few dogs have the same personality and temperament. If you're looking for dogs that look like Rottweilers as an alternative to this breed, we recommend asking yourself what you like about Rottweilers.
This way, you can narrow your search and focus on finding a dog with a similar size, appearance, or personality.
For more guides similar to this list of dog breeds that look like Rottweilers, you can check out:
You can learn more about dogs that look like Rottweilers by watching "Top 9 Common Breeds of Dogs that Look Like Rottweilers" down below: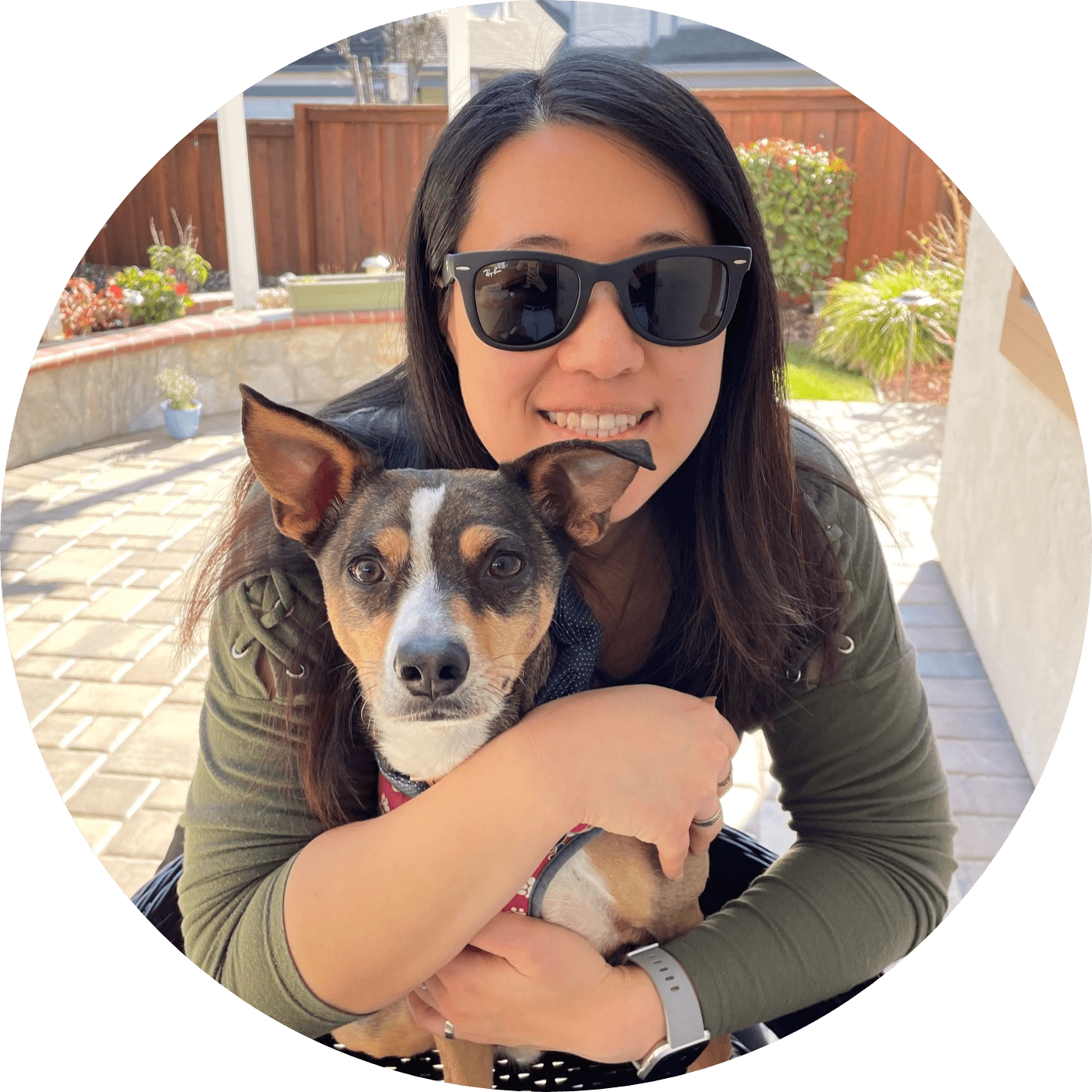 Dr. Sabrina Kong graduated from the Royal Veterinary College in England in 2016 and has been working at a small animal clinic in Northern California since then. She grew up in the Bay Area and got her bachelor's degree from Cal Poly San Luis Obispo. She also became a Certified Canine Rehabilitation Practitioner through a program at the University of Tennessee.
When she isn't in the clinic taking care of her four-legged patients, she enjoys traveling and trying new foods with her friends and her three-legged dog, Apollo. She adopted Apollo from her clinic when he was a puppy with numerous health issues. Dr. Kong truly cares about taking care of animals.