If you are looking for Rottweiler rescues in the UK, you've come to the right place!
Rottweilers are a loyal and loving breed. Unfortunately, they can end up in shelters because their owners could not properly look after them. Often, owners get Rottweilers on impulse due to the attractive coloring and imposing presence of the breeds.
Without adequate research into their needs or supplies required, finding the right balance between exercise and discipline can be difficult leading to frustration and eventual relinquishment.
The commitment required to properly care for a Rottweiler includes continuing training classes several times a year, daily walks and exercise as well as early and extensive socialization with other dogs and humans.
When potential problems arise from a lack of proper control or care, some owners may decide that giving up their pet for adoption is the best solution.
Here are all the places where you might be able to find a Rottweiler in need of a new, loving home.
Before you read this list of Rottweiler rescues in the UK, check out: Rottweiler Puppies for Sale Near Me Under $500! (2023) and 19 Dogs That Look Like Rottweilers (With Pictures)! (2023).
1. Rottweiler Welfare Association
First on our list of UK rescues, the Rottweiler Welfare Association is a charity that helps unwanted, neglected, and abandoned Rottweilers.
This organization became an official not-for-profit organization in 1981, the year it got registered with the UK government. However, this charity had been in business rescuing Rottweilers and putting them in good homes since 1971.
This Rottweiler rescue provides necessary medical care, nutrition, and rehabilitation for dogs they take in.
While the dogs are in their care, they help search out a suitable, loving home for them, regardless of the dog's age. But before this happens, the Rottweilers are assessed on their temperaments, personalities, and lifestyle needs.
The Rottweiler Welfare Association has kennels that are almost always at maximum capacity due to limited funds and the large number of dogs that need new homes. However, the group always makes sure their dogs are comfortable in the kennels, especially older dogs.
Younger dogs and puppies are usually not kept in kennels but in foster homes. This provides a home environment and socialization opportunities.
Despite their resources being almost at capacity, the Rottweiler Welfare Association maintains a policy that ensures they consider each request to rehome a Rottweiler regardless of the dog's age.
This rescue group is run solely by volunteers that all have experience in caring for and handling Rottweilers.
Adoption Process
The Rottweiler Welfare Association has a stringent adoption process that they follow to make sure the dogs get into good, safe, loving homes. If you want to adopt a Rottweiler, your name may be added to a waiting list while they try to match dogs with the most suitable new owner.
The wait time depends on your requirements and the type of dogs they have at that point. For instance, if you don't have any specific requirements as concern the age, sex, and traits of the dog and you're willing to travel some distance, you may not have to wait so long before you are matched with a suitable pooch.
Before the adoption process is complete, all new homes are checked. The Rottweiler Welfare Association has its main kennels located just outside Stoke, but they also have some approved kennels in different locations throughout the UK, including Wales.
They also have several foster homes in different parts of the country. Rottweilers come into the charity for several reasons. Some come as strays, and some are abandoned by their previous owners because they can't afford food or veterinary fees.
Some of the Rottweilers need new homes because their owner is terminally ill or recently deceased, their owners had a baby, a child developed dog allergies, and many more reasons.
Whatever the reason, the Rottweiler Welfare Association ensures the dogs are well taken care of and given a chance to begin a new life.
Before being rehomed, all their Rottweilers are first spayed or neutered, microchipped, and vaccinated. If the timing doesn't work out, their new owners will still have to desex them within six months of adoption.
Rottweiler Welfare Association Details:
2. Rottweilers In Need
Rottweilers In Need is a relatively small, volunteer-run Rottweiler rescue and rehabilitation organization in the UK.
All the dogs in this charity are unwanted Rottweilers from different situations including pet homes, local pounds, and other non-breed-specific rescue groups.
In most cases, the Rottweilers that are taken in by Rottweilers In Need are not just unwanted, but they also face the threat of euthanasia.
This charity works to make sure that stray or abandoned Rottweilers have a good, safe environment to live in while they await adoption. It has a rehabilitation facility where it keeps rescues.
Some dogs are housed in foster homes, usually by volunteer staff who will provide a loving, temporary home while the Rottie waits for their forever home.
Before being brought into the rehabilitation facility, the dogs are initially received into commercial kennels where they are regularly visited by members of staff until a space at the facility becomes available.
Assessment and Rehabilitation
While in the commercial kennels, the dogs undergo an initial assessment so that the team can get to know the dog. This assessment is important to pinpoint any potential problem areas that may need to be worked on during subsequent stages of rehabilitation.
When the dogs are moved to the rehabilitation facility owned by the charity itself, they are socialized with people, trained, and introduced to everyday situations. They interact with other dogs, both big and small, other pets, and livestock.
The Rottweilers are also exercised daily with walks, out-of-kennel runs, and swims. They are fed a nutritious, natural raw diet which sets them on the right path to good health and minimizes any health problems that they might have before going to their new homes.
The Rottweilers are also given jobs to do as part of their training to help improve their focus, and they are regularly trained in obedience.
The Rotties in foster homes are cared for by volunteers that are familiar with the breed and provided with tons of socialization and training.
Dogs that are not ready to be adopted are rehabilitated and regularly assessed until they are deemed suitable to go to new homes.
Rottweilers In Need Details:
3. Rottie Friends Rescue
Rottie Friends Rescue is a not-for-profit Rottweiler rescue and rehabilitation center and adoption service.
This small charity is based in Somerset, UK, and rescues Rottweilers and Rottie crosses from homes where they have been neglected, abandoned, or abused.
The group takes in Rotties from families that can no longer accommodate the dogs for one reason or another, like the loss of the owner, marriage breakups, financial burdens, or relocation.
These dogs are assessed as thoroughly as possible before they arrive and as much information about their history is obtained. For some dogs, it may not be possible to get a sufficiently detailed background history, which means it might take them longer to find new homes.
For example, a stray Rottie rescued from a high-kill pound might take longer to assess and rehabilitate should there be any behavioral problems present.
Rottie Friends Rescue is run by a team of volunteers and headed by a professional trainer with over 20 years of experience training Rottweilers.
Adoption Process
The organization has a set of rules and regulations which they follow strictly before letting any of their dogs get adopted by a new owner. If you are interested in adopting one of their Rotties, you'll have to undergo an initial screening to ensure that you are experienced with the breed and are fit to own one.
This is followed by a home visit by a volunteer to ensure your house is fit for the dog. If you pass the home check, you will receive an invitation to meet with dogs that they feel might be suitable for you.
If you have other dogs, you'll have to bring them to meet your potential new Rottie so that all the dogs can be assessed to determine suitability with each other.
Adopting a dog from Rottie Friends Rescue means you'll get lifetime support from the group which is invaluable, especially if you are experienced with dogs yet inexperienced with the breed.
Rottie Friends Rescue Details:
Frequently Asked Questions
How much should I pay for a Rottweiler puppy in the UK?
You can expect to pay anywhere from £600 to £1,500 for a Rottweiler puppy in the UK.
How long can Rottweilers be left alone?
Like other breeds, Rottweilers should not be left alone for more than four to five hours.
How many years can a Rottweiler live?
The average lifespan of a Rottweiler is nine to ten years.
Conclusion for "Best Rottweiler Rescues in the UK"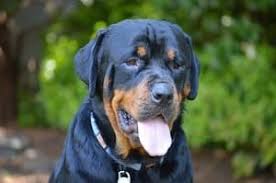 Rottweilers are not the dog for everyone, which is one of the reasons why unknowing Rottweiler owners often find themselves driven to give their dogs up to rescues in the UK.
They are known for their fierce loyalty and imposing size, but they require a lot of exercise to stay healthy and happy. They need an hour or two of exercise a day, romps in a fenced yard, and vigorous play sessions.
In addition, Rotties need strong leaders that are firm, dedicated, and consistent. Without these characteristics in their guardians, Rottweilers can become overly pushy or dominant quickly given their powerful build and strength.
In short, these loyal and dependable companions shouldn't be taken lightly, but if you feel that a Rottie is a dog for you, we hope this list has given you a head start in finding your new best friend!
For guides similar to this list of Rottweiler rescues in the UK, check out:
Learn more by watching "Rottweiler Facts" down below:
Garrett loves animals and is a huge advocate for all Doodle dog breeds. He owns his own Goldendoodle named Kona. In addition, he volunteers at the Humane Society of Silicon Valley, where he fosters dogs and helps animals. Garrett enjoys writing about Doodles and believes that dogs can teach humans more about how to live than humans can teach a dog.
Why Trust We Love Doodles?
At We Love Doodles, we're a team of writers, veterinarians, and puppy trainers that love dogs. Our team of qualified experts researches and provides reliable information on a wide range of dog topics. Our reviews are based on customer feedback, hands-on testing, and in-depth analysis. We are fully transparent and honest to our community of dog owners and future owners.