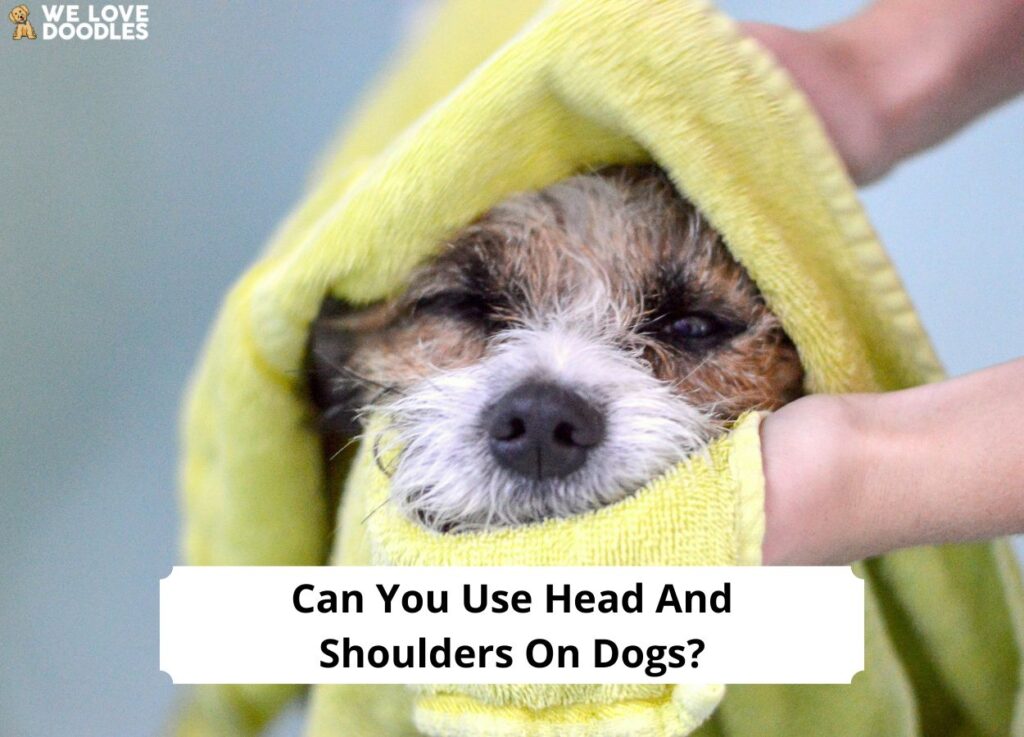 You should not replace your dog's natural and normal shampoo with Head and Shoulders. There is no evidence that this type of shampoo can be effective outside of specific treatment plans and in small doses. Small amounts may not harm your dog, but using Head and Shoulders for long periods of time could cause more harm than good.
It is natural for dogs' pH levels to be between 6.5 and 7.5. They need this pH level in order to stay hydrated and protect themselves. Human shampoo would have a pH level of around 5.5 because a human's pH level is lower.
Head and Shoulders can lead to skin conditions in otherwise healthy skin by throwing off the dog's natural level. You shouldn't use Head and Shoulders on your dog if he just needs a regular shampoo.
The other thing is the use of pyrithione zinc as an active ingredient. This is why it works so well for treating dandruff in humans. A dog's sensitive skin would be too sensitive for it, as it is strong enough to be effective on humans. As a result of this and the pH difference, the reaction is made worse.
Before reading this guide, "Can You Use Head and Shoulders on Dogs," check out: Can You Use Desitin On Dogs? (2023) and Can You Use a Shock Collar on a Wet Dog? (2023).
How Often Can I Use Head and Shoulders on My Dog?
With vet approval, you can use Head and Shoulders sparingly if your furbaby has doggy dandruff. You shouldn't, however, use shampoo every day on your dog. You should be cautious if your dog still has the same skin problem after using the shampoo, as it may require immediate medical attention.
Take your dog to the hospital right away if its skin remains oily or flaky after using the shampoo consistently, as this could mean something serious is wrong. Some problems include:
Seborrhea
Dogs commonly suffer from seborrhea as a result of a fatty skin condition. There is a lot of similarity between it and dandruff in humans. Symptoms include itching and flaking of the skin. Despite this, it also possesses some other characteristics. Firstly, it can cause redness and slightly reddened skin on your dog.
The flakes prevent the oil from coming out of your dog's coat, making it look greasy. An odor can also be dispersed by trapped oil in severe cases.
In addition to removing existing flakes, dog-specific shampoo can help relieve itching. There is a strong correlation between seborrhea and oily skin, while it is often associated with dry skin. Your puppy's skin will be well-hydrated with the shampoo's moisturizing ingredients.
Bacterial and Fungal Infections
Skin problems in dogs are often caused by bacteria and fungi. The antifungal and antibacterial properties of the shampoo make it an asset for treating infections.
It is crucial that you address active yeast in a timely manner in order to prevent harm to your dog's body. Foot problems, ear problems, and other body issues may develop as a result of the problem. Head and Shoulders could stop the spread of fungus and bacteria.
Fleas
You may be able to find relief for your dog's fleas with Head and Shoulders. This shampoo can kill small pests. The fleas can't move on your dog's skin after just five minutes, and once they are frozen, you can just rinse them away.
Head and Shoulders Dog Allergies
Not all dogs have negative reactions to Head and Shoulders, but it's worth stressing that some can develop skin problems or allergies as a result. Here are some common problems.
Poisoning by Zinc
A shampoo designed for humans with a pH balance that matches your dog's skin could actually aggravate it. Dogs' skin has a different pH level than human skin, so using a shampoo made specifically for humans would have the opposite effect.
Zinc Poisoning Can Cause the Following Symptoms
Throwing up
Fatigue
Runny stool
Pale gums
Discolored feces
Jaundice
Skin Problems
Itching
Hair Loss
Skin lacerations
Ulcers
Scaly skin
Yeast infection
Tumors
Bad smell
Eye redness
Viral infections
What Kind of Head and Shoulders for Dogs?
The original version or the sensitive skin version is the best Head and Shoulders to use on your dog. Don't use more than you need, and don't use it for long periods of time.
You must stop using the product immediately if your dog experiences any reaction. Immediately contact your veterinarian if your dog becomes ill following the use of the shampoo.
Selsun Blue vs. Head and Shoulders for Dogs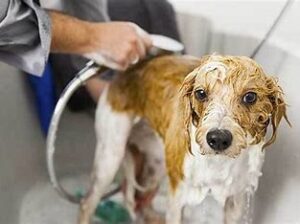 Even though Head and Shoulders is not great for your dog, Selsun Blue may be another option to consider.
Selsun Blue
12 to 20 percent of dogs suffer from allergies resulting in skin problems. This can be managed with Selsun Blue. There are a variety of applications for selenium sulfide, a chemical that is used in the manufacture of Selsun Blue for drying and degreasing.
Malassezia pachydermatis, a yeast infection commonly observed in dogs, is typically treated with shampoo. Also, the shampoo is non-toxic and does not enter the bloodstream. As long as you use Selsun Blue only when necessary and in moderation, you can technically wash your dog with Selsun Blue.
It is not a good idea to use any human shampoo on dogs because of their different skin types.
Selsun blue is not designed for use on dogs, so you should avoid using it on them. Due to the different pH levels of our skin, using human shampoo on dogs can cause other problems. Choosing a shampoo with a balanced pH level is safer than using one with an unbalanced pH level.
Viruses and bacteria are protected by the acid mantle on a dog's skin surface. Also, it reduces the rate at which the body loses water, so hydration is maintained.
By taking a bath, we remove the acid layer from our skin. Soaps provide moisturizing and protective chemicals to help ensure that the acid mantle regenerates every few days. In order for the acid mantle to function properly, acidity and alkalinity must be balanced appropriately. In this case, we are talking about pH balance.
It is generally believed that human skin has a pH range between 5.5 and 5.6, which is somewhat acidic. Dogs, however, have a pH level between 6.2 and 7.4. It is possible for human shampoos to destroy this layer of skin on their skin and leave them unprotected.
This makes it easier for bacteria to infiltrate. Human shampoo is not safe for your dog to use if you want to keep it germ- and parasite-free.
Head and Shoulders
You should prioritize using any other dog-specific treatment over Head and Shoulders to avoid potentially itchy skin and discomfort.
Different active ingredients contribute to the effectiveness of Head and Shoulders. Zinc Pyrithione (ZPT), however, is the shampoo's most valuable active ingredient. In excessive amounts, zinc can be toxic even though it is a necessary mineral for maintaining and growing a healthy body.
Zinc toxicity can affect dogs of any size and age. Lack of appetite and diarrhea are symptoms of zinc toxicity, but the good news is, it can be treated. Even better, this shampoo contains only 1% zinc pyrithione.
It is important to know what a drug or cosmetic contains, as well as how it can affect an animal. In order to do that, we need to dig deep, examine the ingredients individually, and determine their effects.
Common drugs that are safe for human consumption but extremely toxic for dogs include Ibuprofen and Aspirin. So, when choosing any medication for your lovable four-legged friend, it is important to be safe.
Frequently Asked Questions
Does Head and Shoulders work on dogs with fleas?
It's possible to use a shampoo like Head and Shoulders to neutralize fleas and rinse them off.
Can you use Dawn dish soap on a dog?
In small amounts, it can be okay to use Dawn dish soap on your dog. Excessive use of Dawn and similar products could dry out and irritate their skin, though.
How often should you bathe a dog?
Bath requirements vary based on breed and coat, but generally, a bath every two or three months will be sufficient. For medium and longer coats, we recommend a bath every four to six weeks.
Conclusion for "Can You Use Head and Shoulders on Dogs?"
It is generally not advisable to use Head or Shoulders or any human shampoo on dogs. Humans and dogs have different pH levels, and human-safe products weren't originally designed with dogs in mind. As such, they can cause dry or itchy skin.
Instead, seek out a dog-specific product or treatment plan from your veterinarian.
If you find this guide, "Can You Use Head and Shoulders on Dogs," helpful, check out:
For more information, you can watch "Is Head and Shoulders good for your dog? Bosco Bath Time" down below:
Garrett loves animals and is a huge advocate for all Doodle dog breeds. He owns his own Goldendoodle named Kona. In addition, he volunteers at the Humane Society of Silicon Valley, where he fosters dogs and helps animals. Garrett enjoys writing about Doodles and believes that dogs can teach humans more about how to live than humans can teach a dog.
Why Trust We Love Doodles?
At We Love Doodles, we're a team of writers, veterinarians, and puppy trainers that love dogs. Our team of qualified experts researches and provides reliable information on a wide range of dog topics. Our reviews are based on customer feedback, hands-on testing, and in-depth analysis. We are fully transparent and honest to our community of dog owners and future owners.