Can you use Desitin on dogs? While most popularly marketed for the treatment and prevention of diaper rash, Desitin has a variety of other uses, some of which may apply to your dog.
If you're thinking about using Desitin on your puppy, it's essential to know that while it is safe in most instances, Desitin should be used sparingly and with supervision. That being said, let's explore the uses of Desitin for dogs.
Before scrolling down this guide "Can You Use Desitin on Dogs," be sure to check out these other dog questions: Can You Be Allergic to Dogs and Not Cats and Can Two Dogs Share a Crate?
What is Desitin, and What is it Used For?
If you have or have had young children, you've likely come across Desitin during those diapering years. Desitin's primary purpose is the treatment and prevention of diaper rash.
It does this with a combination of ingredients that help to moisturize and block the skin from irritants and wetness while providing soothing and healing vitamins to repair damaged skin.
This means that it can work to prevent and soothe irritated skin on all areas of the body, not just the diapered part. With this in mind, Desitin can make a great first aid ointment for minor scrapes, burns, and itchy, dry skin.
It will provide a protective, oily layer to prevent water loss from the skin and keep irritants and bacteria out. Desitin can also reduce pain and inflammation while speeding up the healing process.
The main ingredients in Desitin include zinc oxide, which, combined with lanolin and petrolatum, creates the "seal" that keeps moisture in and bad things out. In addition, cod liver oil is the source of healing vitamins.
Dog Food Recommendations: Best Dog Food For Joint Health.
Is Desitin Safe for Use in Dogs?
Even though diaper rash isn't a problem in our canine companions, Desitin may still come in handy for any of those minor injuries.
The issue with using Desitin in dogs is that usually, those things that go on the skin also go in the mouth and stomach. So Desitin, mainly zinc oxide, can be toxic to dogs on a large scale.
While most of the time, zinc poisoning is the result of your puppy hoovering a penny or two, it can also happen if they get large amounts of zinc oxide-containing creams.
Ingesting smaller amounts of Desitin can lead to some stomach upset, including vomiting and diarrhea. However, these symptoms tend to be short-lived and often clear up on their own within a day or two.
If your dog gets more than a small amount of Desitin, which can include eating most of a tube or licking some from a wound over several days.
They may experience more severe symptoms such as yellowing of the skin and eyes, pale gums, and dehydration which can eventually turn into liver or kidney failure, severe anemia, and even death.
Similar Questions: Is Aquaphor Safe For Dogs and Is Cumin Safe For Dogs?
What to Do If Your Dog Ingests a Lot of Desitin
Again, zinc poisoning is more often caused by eating pennies, jewelry, zippers, or metal toys rather than Desitin and other zinc oxide-containing ointments, but that doesn't mean it can't happen.
If you think your dog ate an excessive amount of Desitin or is experiencing severe symptoms, see your veterinarian immediately. Most of the time, when your dog gets too much Desitin, they will have minor digestive issues.
This consists of diarrhea and vomiting that lasts a couple of days at the most. See your veterinarian if these things don't go away after 48 hours since dehydration is possible if this goes on for any time.
See your veterinarian if your puppy has more severe symptoms, such as abdominal pain, pale gums, depression, or yellowing of the skin or eyes.
Similar Questions: Are Smoked Bones Safe For Dogs and Are Bell Peppers Safe For Dogs?
How to Use Desitin on Dogs
Desitin is an excellent product to treat foot pad burns from hot concrete or asphalt. It can be put on hot spots, abrasions, sunburns, and skin irritations from allergies.
Your best bet to avoid accidental ingestion of Desitin in your dog is to only use it on areas that are hard for your puppy's tongue to reach.
There aren't too many of these such areas, so another safety precaution is to cover the wound or keep your dog from licking it while the Desitin absorbs. If your puppy is insistent, an E-collar may be in order.
Keep in mind that other critters in your house may try to lick the Desitin as well, so separation may be necessary while the ointment has time to get to work.
If stopping licking isn't a possibility, be sure to limit your use of Desitin. Don't use for more than a few days in a row to cut down on repeated ingestion. Also, Desitin isn't meant for puncture wounds or moderate lacerations.
Conclusion For "Can You Use Desitin on Dogs"
Diaper rash cream, like Desitin, can make a great first aid ointment for our canine companions to help treat minor scrapes and burns. However, ingestion can lead to vomiting and diarrhea, and even zinc poisoning on a larger scale.
Use Desitin sparingly and, if possible, only on parts of your dog that are not accessible by the tongue. Consult your veterinarian if you're at all concerned about your dog eating Desitin.
If you find this guide, "Can You Use Desitin on Dogs," helpful, be sure to check out:
For more information on this topic, you can watch "Vet Guide – What You Should Know About Over-The-Counter Products For Dogs" down below: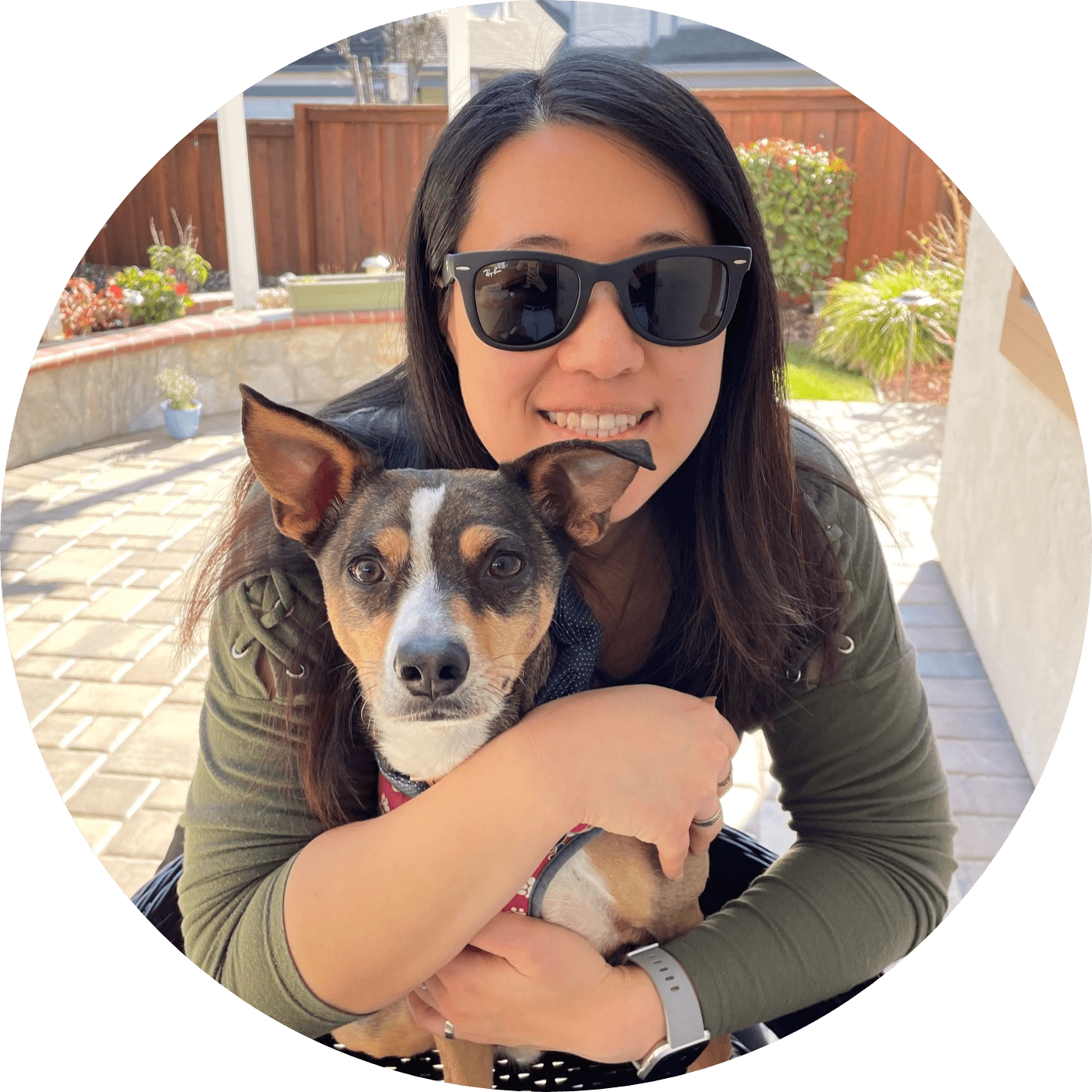 Dr. Sabrina Kong graduated from the Royal Veterinary College in England in 2016 and has been working at a small animal clinic in Northern California since then. She grew up in the Bay Area and got her bachelor's degree from Cal Poly San Luis Obispo. She also became a Certified Canine Rehabilitation Practitioner through a program at the University of Tennessee.
When she isn't in the clinic taking care of her four-legged patients, she enjoys traveling and trying new foods with her friends and her three-legged dog, Apollo. She adopted Apollo from her clinic when he was a puppy with numerous health issues. Dr. Kong truly cares about taking care of animals.