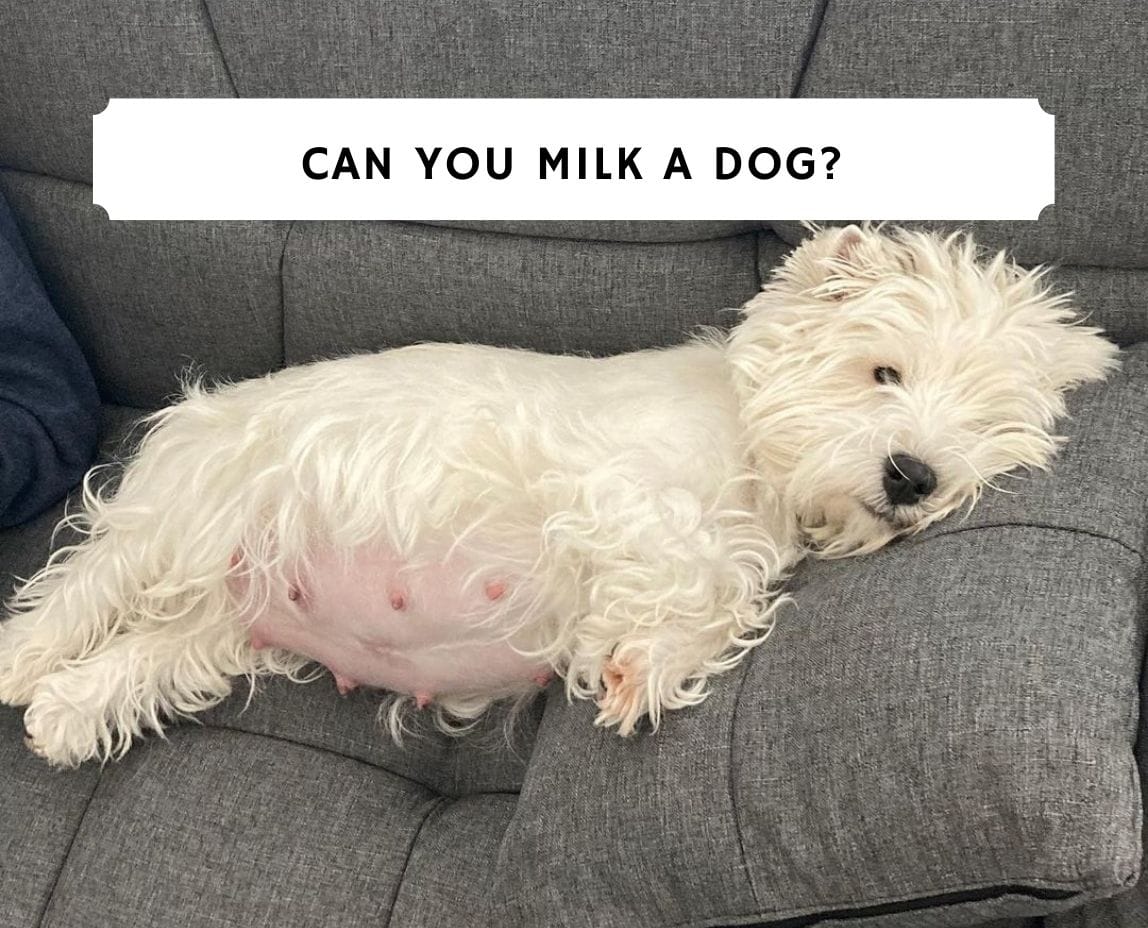 Dog owners will do anything to help their best friend in need. And sometimes, your dog needs assistance with its mammary glands. These glands produce milk during and after a female dog reproduces.
It may seem straightforward to help your dog this way, but can you milk a dog? In this article, we will discuss the circumstances where you may need to milk your dog and the safest way to do so. As with any pet care, it is best to consult with your veterinarian to receive professional advice to help your furry friend.
So, Can You Milk a Dog?
Yes! Pet owners can technically milk their dogs. Dogs are mammals, which means they give birth to live young who drink breast milk. Just like humans, puppies latch on to their mother's mammary glands to achieve essential nutrition. Ingredients in breast milk like colostrum provide the nutrients puppies need to thrive early on.
Puppies require frequent feedings in their first few weeks of life. After three or four weeks, the mom should get a break as puppies transition to semi-solid foods.
There are several circumstances in which you may need to milk your dog. Read on to learn more.
Why Would I Need to Milk a Dog?
If you are considering milking your dog, it may be for a few common reasons. As with any decision regarding your puppy, it is recommended to discuss your concerns with a veterinarian.
Mammary Gland Issues
Some female dogs experience different mammary gland issues that can cause inflammation or infection. Mastitis is a common bacterial or fungal infection of the mother dog's breast tissue. If puppies scratch their mom while nursing, an infection can invade and cause mastitis.
Mastitis blocks the milk ducts and engorges the glands of your dog. This is uncomfortable and results in reduced milk production. Expressing dog mammary glands by milking can provide relief to your mama dog.
Helping Puppies
Like human babies, some puppies struggle to latch on to a mammary gland. In addition, puppies are completely blind for the first two weeks of life, providing an additional challenge for nursing.
Strategically holding the puppy and nursing the mother by hand can provide the necessary support and guidance needed for the puppy.
Stimulating Milk Production
Your dog may have perfectly healthy glands but low milk production. This is especially common in younger pregnant dogs who need a lot of calories, even when not raising puppies.
By learning how to milk your dog, you will also learn strategies to increase your dog's milk production. A healthy diet combined with milking techniques helps your mama dog provide adequate breast milk for her puppies.
How to Milk a Dog
There are many perfectly normal reasons to milk a dog. So how can you milk a dog safely? Consider the following preparation steps and techniques to help your furry friend.
Preparation
Take time to establish a calm environment for your dog. Doing so will build trust and help ease the puppy in an unfamiliar situation. Consider placing a nest of warm towels or blankets on the floor. Spend some time petting your dog to get them in a relaxed mood.
Begin by cleansing the mammary glands with soap and warm water. It is vital to provide a clean and dry surface to help you work. Remove any dry skin or other items that may irritate your puppy's skin.
Milking Process
Once you have a dry, warm area to work, gather one of your dog's glands in your palm. Cup the teat with your other hand and extend the breast away from the dog's body. Squeeze the teat gently in a smooth movement.
This movement may take time to perfect, so be patient. Err on the side of gentleness as you start and gradually increase the pressure. Check on your dog frequently. If she starts feeling increased distress, it is prudent to consult a veterinarian on how to provide relief to your furry friend.
Once you have the hang of things, continue this movement in a steady rhythm. Deposit the milk into a container with an airtight lid.
Milk Storage
Dog breast milk stays viable in the refrigerator for 24 hours. If you wish to store this milk for longer than that, freeze the milk.
Many times storing the milk is not necessary. Feel free to express the milk directly into a towel if that is the case.
Frequently Asked Questions
Milking your dog is a normal occurrence for nursing females. Read on to explore the answers to more common questions about this procedure.
Can I use a human breast pump on my dog?
A human breast pump will not be successful when used on a dog. A human and dog breast tissue is structured differently and are different shapes.
Therefore, a human breast pump is ineffective but not necessarily harmful to dogs. Nursing dogs may experience irritation from a human breast pump.
Is it safe for my dog to drink milk?
Many dogs cannot digest lactose, the sugar in many animal milks. Cow milk and goat milk can prompt diarrhea or other issues in dogs. Even in small doses, animal milks are not recommended for dogs.
However, plant-based milks do not contain lactose. That means these milks provide no harmful side effects to dogs. Because of their high sugar and fat content, plant-based milks should be offered to dogs only in small quantities.
Do they make supplemental milk for dogs?
Big box pet stores, online retailers, and veterinarians sell artificial milk replacers to assist puppies in need. This liquid supplement can be administered every few hours. It is recommended to include a supplemental milk feeding routine for litters of five puppies or more.
Conclusion For Can You Milk a Dog?
If you decide to breed dogs or foster a pregnant female, milking your dog may be necessary. Review these simple steps and sanitary preparation tips for more at-home success. If do-it-yourself doesn't cut it, reach out to your veterinarian for help with mastitis, low milk production, or to help your new puppies.
Other articles you would like:
For more information on how to milk your dog, check out this video:
Garrett loves animals and is a huge advocate for all Doodle dog breeds. He owns his own Goldendoodle named Kona. In addition, he volunteers at the Humane Society of Silicon Valley, where he fosters dogs and helps animals. Garrett enjoys writing about Doodles and believes that dogs can teach humans more about how to live than humans can teach a dog.
Why Trust We Love Doodles?
At We Love Doodles, we're a team of writers, veterinarians, and puppy trainers that love dogs. Our team of qualified experts researches and provides reliable information on a wide range of dog topics. Our reviews are based on customer feedback, hands-on testing, and in-depth analysis. We are fully transparent and honest to our community of dog owners and future owners.