A
Ever since the Bernedoodle made its premiere in the early 2000s, this beautiful and sassy-minded doodle cross-breed has become incredibly popular. Aussiedoodles also share similar popularity, and their cross-breed offspring, the Swiss Doodle, is becoming just as popular as its feisty parents. But what exactly is a Swiss Doodle?
The Swiss Doodle is a cross between a tri-color Bernedoodle and a tri-color Aussiedoodle. As a second-generation hybrid, the Swiss Doodle inherits strong traits from both its parents and is known for its fierce loyalty towards its owners and lovable, yet mischievous demeanor.
Swiss Doodles have barely been around 10 years now, and you may be wondering about the breed and its characteristics. In this guide, we are going to do a full profile of this intelligent, exuberant, and easily trainable doodle breed. We will take a look at the Swiss Doodle's parental profiles and explain more about their behavior and how to best take care of them.
Other articles you would like: Aussiedoodle Dog Guide and Bernedoodle Dog Guide.
Swiss Doodles Explained
A full genetic profile of the Swiss Doodle can be found as a variable mixture between a Poodle, an Australian Shepherd, and the St. Bernese Mountain Dog. These are the three pure breeds that complete a Swiss Doodle's family tree.
Swiss Doodles take their name from their lineage to the St. Bernese, which is a breed that originated in Switzerland–hence "Swiss."
But the main genetic traits of the Swiss Doodle come from their immediate parents, the lovable and strong-willed Bernedoodle, and the energetic and boisterous Aussiedoodle.
Therefore, Swiss Doodles are wonderful companion dogs but do love to be energetic and constantly on the move. These are two sought-after traits for Doodle enthusiasts looking for a cross-breed of this temperament.
To get a better feel for how the Swiss Doodle behaves and looks, let's take a closer look at its two parents.
Tri-Color Mini Bernedoodle Traits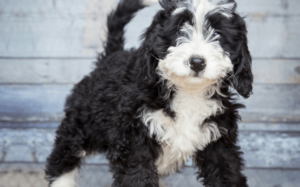 A Tri-Color Mini Bernedoodle simply means a Bernedoodle that has three distinct patches of color throughout its coat. The most common three colors are brown, black, and white.
This cross-breed is a miniature since its Poodle parent is also a miniature. You can typically expect a Tri-Color Mini Bernedoodle to have the black and white fur of the St. Bernese Mountain Dog, but with rust (sometimes reddish) markings around the mouth, above the eyes, and around the paws.
There is often some confusion with this Doodle due to its tri-color naming, but this is a standard Mini Bernedoodle that just so happens to have three distinct colors, hence the name.
A Tri-Color Mini Bernedoodle's main behavioral trait is their well-known energy levels. This cross-breed exerts a lot of energy, and is similar to a Jack Russell Terrier in this regard. Tri-Color Mini Bernedoodles need an hour or more of playtime/walks each and every day, and they also crave attention.
Although energetic, this cross-breed is lovable and well-tempered.
Tri-Color Aussiedoodle Traits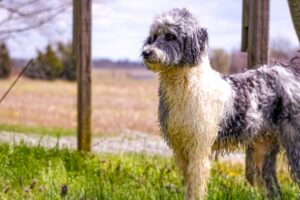 Similar to the Tri-Color Mini Bernedoodle, the Tri-Color Aussiedoodle is a standard Aussiedoodle that has three distinctive color markings throughout its coat. The three most common colors are red, black, and brown.
The Aussiedoodle is a cross between a Poodle and an Australian Shepherd Dog. The Aussiedoodle is the perfect Doodle cross-breed for those who want a dog with a more cuddly exterior and a rambunctious spirit. When combined with the intelligence of the Poodle and the loyalty of the Australian Shepherd, this makes the Aussiedoodle an irresistible cross-breed.
Aussiedoodles can appear in red and black merle colorings, as well as traces of black and white throughout their coat. The Aussiedoodle is playful, but not quite as energetic as the Bernedoodle.  An Aussiedoodle has strong herding traits, and this can occur with household items which they will grab and take to their bedding area.
The Aussiedoodle has a high amount of intelligence, and this is evident from the intelligence of both the Poodle and the Australian Shepherd. Aussiedoodles are also very easy to train and this is another feature coming from the Australian Shepherd.
Aussiedoodles are lovable, but curious.
Swiss Doodle Appearance and Behavior
A Swiss Doodle is unique in that they are bordering on a medium-sized dog. Much of this has to do with the traits inherited from the Australian Shepherd Dog. But since the Tri-Color Mini Bernedoodle is a miniature, this keeps the Swiss Doodle's size on the higher end of a small range.
Another important fact to keep in mind is that Swiss Doodles can come in a wide variety of different colors. The behavior of the Swiss Doodle is also unpredictable at times. Let's take a closer look at each of these traits.
What Does a Swiss Doodle Look Like?
A Swiss Doodle typically has a wavy coat, but there can also be straight-coated Swiss Doodles as well. In terms of color, the Swiss Doodle can come in three different colors if it inherits stronger traits from its Tri-Color Mini Bernedoodle parent, or even be solid black, or merle-colored, which is a popular color choice.
The Swiss Doodle is hypoallergenic, and if its coat is very wavy, its hypoallergenic traits will be much more pronounced. Swiss Doodles are known for their adorable eyes, as well as their big, floppy, and fluffy paws.
The Swiss Doodle typically weighs anywhere from 25 pounds on the low end, up to 50-55 pounds on the higher end of the spectrum.
What Is a Swiss Doodle's Behavior Like?
A Swiss Doodle's behavior is typically classified as high energy, but also playful and well-tempered as well. They need lots and lots of playtime, but as long as you can commit to this, your Swiss Doodle will remain happy, lovable, and well-behaved.
Swiss Doodles are very affectionate, and like to be near their owners—but not to an excessive degree. A popular trait with the Swiss Doodle is their high degree of socialization skills; they take to strangers well, and generally get along with other dogs, and even cats. They have a particular love of children and enjoy playtime with children as well.
The Swiss Doodle can be mildly mischievous at times, and most of this comes from their herding traits thanks to the Aussiedoodle. Swiss Doodles love to collect household items like socks, toys, towels, and small items.
How to Care for a Swiss Doodle
Grooming a Swiss Doodle is in line with grooming techniques for most any Doodle cross-breed. Their coat should be brushed at least three times a week at a minimum (daily is preferable).
Swiss Doodles are prone to vision problems and allergies. Make sure you take your Swiss Doodle to the vet at least once per year, and twice per year once they become seniors.
Apart from this, the rest is standard: feed them a healthy diet, ensure they get at least an hour of exercise daily, and provide them with fresh water and affection.
Conclusion for What Is a Swiss Doodle?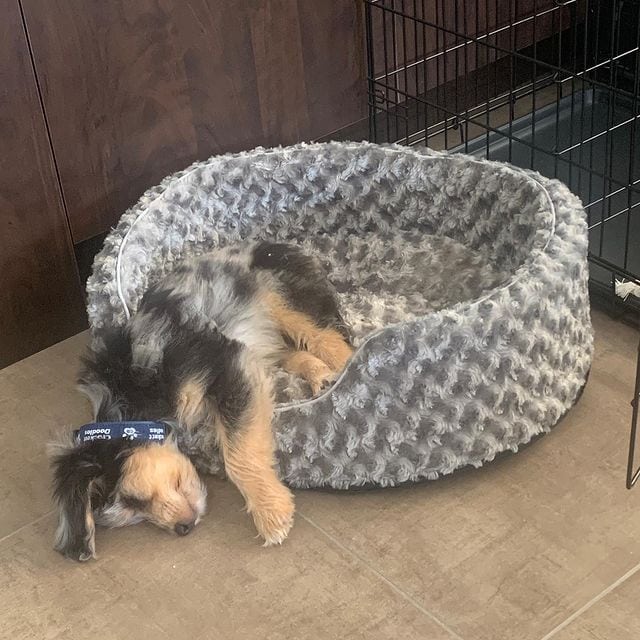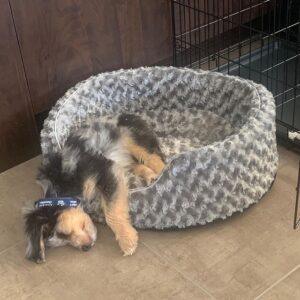 In summary, the Swiss Doodle is a beautiful, well-tempered, and energetic cross between a Tri-Color Bernedoodle and an Aussiedoodle. This cross-breed is very affectionate, loves to play, has a tendency to collect items and store them, and is an overall delightful variety of Doodle.
Swiss Doodles come in multiple colors, so make sure you find a reputable breeder.
Other articles you would like:
Garrett loves animals and is a huge advocate for all Doodle dog breeds. He owns his own Goldendoodle named Kona. In addition, he volunteers at the Humane Society of Silicon Valley, where he fosters dogs and helps animals. Garrett enjoys writing about Doodles and believes that dogs can teach humans more about how to live than humans can teach a dog.
Why Trust We Love Doodles?
At We Love Doodles, we're a team of writers, veterinarians, and puppy trainers that love dogs. Our team of qualified experts researches and provides reliable information on a wide range of dog topics. Our reviews are based on customer feedback, hands-on testing, and in-depth analysis. We are fully transparent and honest to our community of dog owners and future owners.