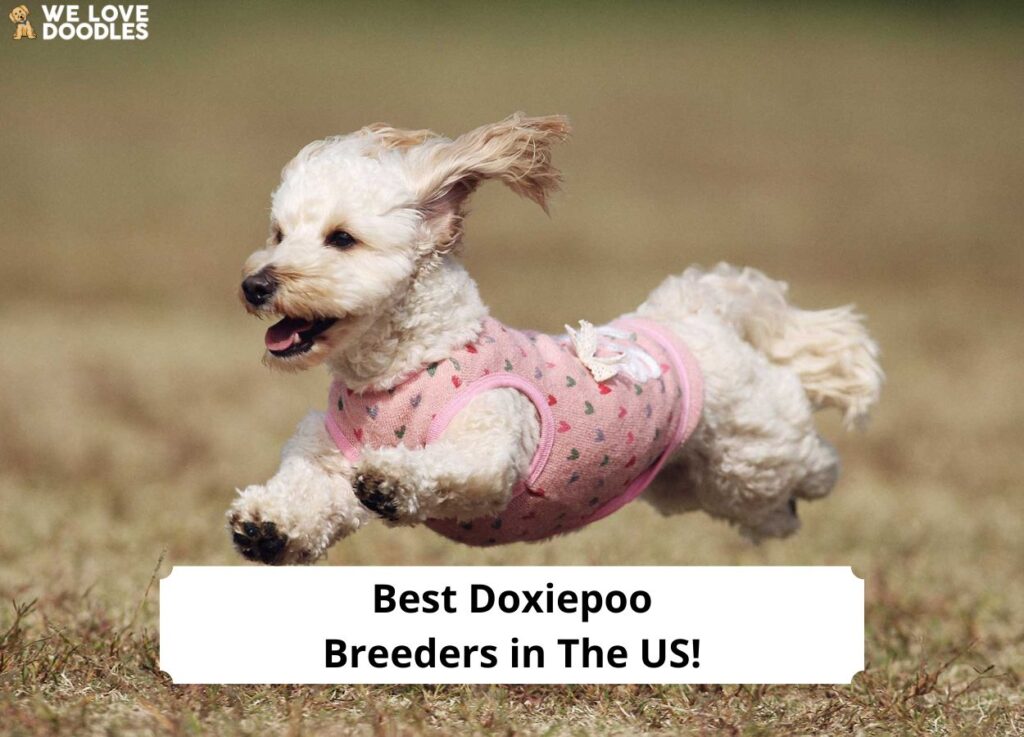 Looking for Doxiepoo breeders in the US? The Doxiepoo is a loving companion, but they're a high-energy breed. Before you purchase a Doxiepoo from one of the responsible breeders on our list, evaluate whether your lifestyle is compatible with an energetic breed that needs plenty of exercise. Dog parks, a backyard, or frequent walks are just a few ways you can help your Doxiepoo get the activity he or she needs.
The Doxiepoo is created by crossing a (usually) Toy Poodle with a Dachshund. They've only been deliberately bred since the beginning of this century, so it may be difficult to find a reputable breeder.
When you're ready to adopt your new puppy, check out the breeders on our list. These kennels are committed to raising Doxiepoos and other breeds to be healthy, happy buddies that will live to be loyal members of your family for anywhere from 10 to 18 years!
Before scrolling down this list of Doxiepoo breeders in the US, check out: What Is the Price of a Doxiepoo? (2023) and All About the Dachshund Poodle Mix (Doxiepoo)! (2023).
1. Shannon's Shamrock Kennels
Shannon's Shamrock Kennels specializes in breeding healthy Doxiepoos, Sheepadoodles, Irish Doodles, and Dachshunds. They're located in Elgin, South Carolina, and they don't ship dogs. You'll have to meet the breeder in South Carolina either at her home or at the airport of the breeder's choice.
On Shannon's Shamrock Kennels website, you can view pictures of the puppies and learn more information about their pedigree. This is a small-scale breeder, but quite a prolific one. If there are no Doxiepoos available when you visit the site, check back frequently for updates on upcoming litters.
Your Doxiepoo will cost $1,782, and half that cost is required as a deposit on your dog. When it's time to bring your puppy home the remainder will be due. Your puppy comes with a one-year guarantee, but the breeder is flexible should something arise before the one-year mark.
Dogs will be current on vaccinations, wormers, and vet checks, and your dog will be groomed and ready to make a seamless transition into your home. You must sign a spay or neuter agreement for your dog; breeding rights are not available.
Shannon's Shamrock Kennels Details:
2. Dapple Lane Doxiepoos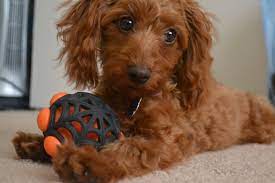 Dapple Lane Doxiepoos is a family-run business that specializes in the Doxiepoo breed. They're an Alabama-based breeder but they do ship puppies with the assistance of a flight nanny.
Available puppies are updated regularly on the Dapple Lane Doxiepoos site. You can take a look at the furry friends that are waiting for your love and attention! Once you find one you like, contact the breeder.
You can interview with them to determine whether you're a good fit, then discuss the amount of the deposit required to hold your dog. The price to purchase a puppy will vary based on characteristics, and you can expect to pay between $1,500 and $2,500.
Each available dog will have a brief biography, but all dogs will come with the same medical care. Your dog will be nose-to-tail vet-checked and brought current on vaccinations. He or she will be wormed as is age-appropriate, and each dog will come to your home with a goody bag filled with items that will make the transition comfortable.
Speak to the kennel directly if you'd like information on breeding rights. You may be required to sign a spay or neuter contract for your dog.
Dapple Lane Doxiepoos Details:
3. PawPaw's Lil' Rascals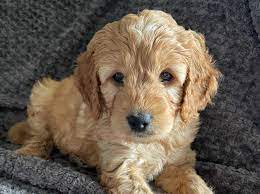 PawPaw's Lil' Rascals is a Texas-based breeder that specializes in Dachshunds, Cockapoos, and Mini Doxiepoos. You will need to contact the breeder for information about delivery or shipping if you don't live in Texas or in a state that's convenient for pickup.
This is a small-scale breeder and only a handful of dogs will typically be available. Contact the breeder for upcoming litters and for information on how to be placed on a waiting list.
Your puppy will come vet-checked and current on vaccines and worming treatments. Pups are well-socialized and raised as members of PawPaw's family, so dogs will be ready to join a family with children.
Speak to the breeder about your Doxiepoo's temperament, and whether he or she is suitable for a family with existing pets. Dogs are raised in a family with other animals present before joining you in your home.
PawPaw's Lil' Rascals offers a lifetime of support for you and your pup. Even years down the road, should you have questions about your dog you can simply contact the breeder and they will assist in any way possible. If you're local, the kennel team can also help direct you to resources that will help with the training and grooming of your dog.
PawPaw's Lil' Rascals Details:
4. High Desert Doxies
Next on our list of the top Doxiepoo breeders in the US is High Desert Doxies. This is a California-based kennel that specializes in the breed, but they're small-scale so only a few litters each year are available. You can check out the news regarding upcoming and current litters on the website, but pictures aren't available to those who aren't already on the waiting list.
The deposit for your dog may vary but is usually $300. Note that it is non-refundable and non-transferable. Your deposit holds a specific dog for you and can not be transferred to a future litter or a different pup. So, be sure to choose your puppy accordingly.
High Desert Doxies doesn't ordinarily ship puppies, but arrangements may be possible. In most cases, you'll be asked to pick up your puppy in southern California when he or she reaches nine weeks of age.
Your dog will have been vet-checked, vaccinated, and dewormed when it's time to join your family. Speak with the breeder about whether a spay or neuter agreement must be signed; most dogs will not come with breeding rights.
High Desert Doxies Details:
5. Canine Corral
Canine Corral itself is not a dog breeder. However, this family-owned pet shop connects with responsible breeders in the New York area, teaming up with them to provide healthy, socialized, and happy dogs for sale. Doxiepoos are just one of the breeds they sell. Check out the available dogs on the Canine Corral website to see all dogs that are ready for adoption.
Once you find a dog you love, click his or her picture and request more information about your dog. You'll be notified of the price of your dog and what, if any, deposit is required of you. Your dog will be vet-checked and current on vaccines and wormers when going home with you.
Most dogs are raised in a family environment, so your pup will be socialized and accustomed to the sights and sounds of everyday home life.
Unlike other breeders, Canine Corral offers financing for dogs. If the cost to adopt a dog is too much for your budget, or you'd simply like to spread out the payments over time, Canine Corral will connect you with a third-party lender.
Shipping is not available for dogs bought at Canine Corral. They're located in Huntington Station, New York and they have regular business hours seven days each week. Should you need assistance in selecting a Doxiepoo or in finding the right breed for you, give the shop a call.
Canine Corral Details:
6. Hidden Hollow Kennel
Hidden Hollow Kennel is next on our list of the top Doxiepoo breeders in the US. This kennel is located in Virginia but they do offer delivery options to families and individuals outside the state. Contact the breeder prior to placing a deposit to ensure that this delivery is an option for you.
Hidden Hollow Kennel specializes in Dachshunds, Poodles, Pugs, and designer breeds like Doxiepoos. The price of your dog will vary based on sex and other characteristics, so contact the kennel for more information once a litter is ready. Deposits are non-refundable and arrangements must be made in advance by calling Kay at Hidden Hollow.
You can check out the available dogs by taking a peek at the "Watch Us Grow" page of the kennel's website. Your puppy will be vet-checked, vaccinated, and microchipped before they go home with you. You'll receive registration papers if applicable, and your dog will come with all current vet records.
There is also a six-month health guarantee that comes with your dog, provided you adhere to the terms of the adoption agreement. Financing is available through third-party MyPetFunding.
Hidden Hollow Kennel Details:
7. Ridgewood Kennels
Ridgewood Kennels is last on our list of the top Doxiepoo breeders in the US. This is a large-scale breeder with two "stores" in Pennsylvania, but they're not a puppy mill. The kennel works with breeders in the area who provide safe, loving care for your dog while he or she is in its formative weeks.
Ridgewood does not specialize in Doxiepoos but they do offer the breed. You can view the puppies on the Ridgewood site, or call the kennel for information about upcoming litters.
Once you find the puppy you love, you'll place a deposit — usually $200 — then the remainder will be due upon pickup of your dog. If necessary, you can arrange for your dog to be delivered to you. The cost of this service will depend upon where in the United States you live.
Dogs are well-loved and pre-spoiled while they're in the care of Ridgewood. Your dog will be covered by a lifetime guarantee and will be current on all appropriate veterinary treatments on Gotcha Day. While you're shopping for your puppy, be sure to check out the pet supplies this kennel offers.
Ridgewood Kennels Details:
Frequently Asked Questions
What is the average price of a Doxiepoo?
You can expect to pay $1,500 to $2,500 for a healthy Doxiepoo puppy from a reputable breeder.
What is the lifespan of a Doxiepoo?
A healthy Doxiepoo can live for 10 to 18 years.
Is a Doxiepoo hypoallergenic?
While a Doxiepoo will inherit qualities from its hypoallergenic Poodle parent, there's still a potential for allergy issues due to dander.
Conclusion for "Best Doxiepoo Breeders in the US"
The Doxiepoo is a designer breed and they're a relatively new family pet. The growth in the breed's popularity over the past 20 years or so has made them a target for puppy mills. These mills are notorious for their unhealthy, unsafe, and inhumane conditions.
Before you adopt your Doxiepoo puppy, you'll want to ensure that your dog is coming from a responsible, loving source. We've compiled a list of breeders and kennels where you can find Doxiepoo puppies for sale in the US, no matter where you live!
For more guides similar to this list of Doxiepoo breeders in the US, check out:
Before getting a Doxiepoo puppy, learn more by watching "Doxiepoo Dog Breed Information – Do they have an endless combination of traits | Doxiepoo Dogs 101" down below: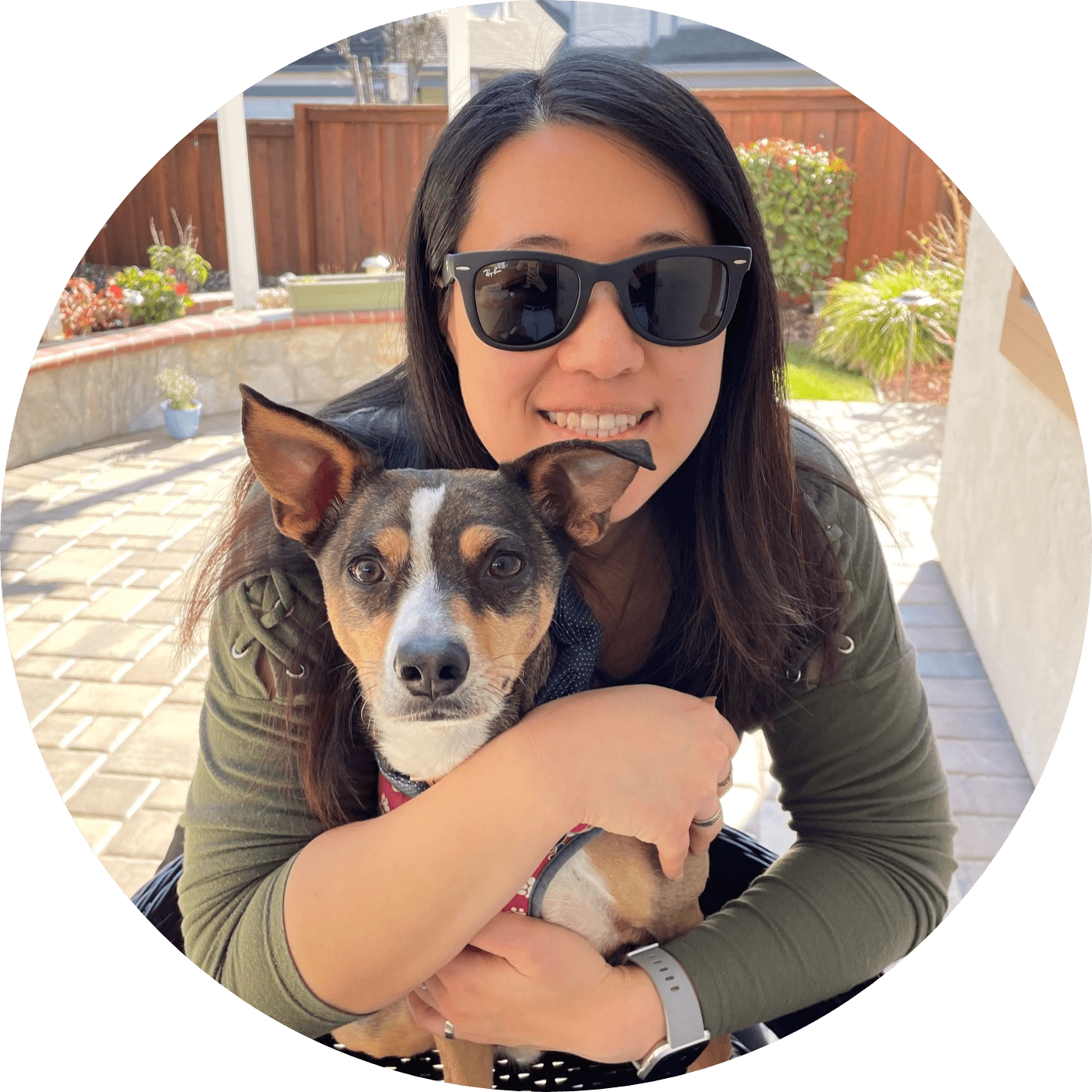 Dr. Sabrina Kong graduated from the Royal Veterinary College in England in 2016 and has been working at a small animal clinic in Northern California since then. She grew up in the Bay Area and got her bachelor's degree from Cal Poly San Luis Obispo. She also became a Certified Canine Rehabilitation Practitioner through a program at the University of Tennessee.
When she isn't in the clinic taking care of her four-legged patients, she enjoys traveling and trying new foods with her friends and her three-legged dog, Apollo. She adopted Apollo from her clinic when he was a puppy with numerous health issues. Dr. Kong truly cares about taking care of animals.