One of our recent favorites in the designer dog world is the Doxiepoo or Doxiedoodle. These adorable little dogs have stolen the hearts and imaginations of dog fanciers around the world. So, what is the price of a Doxiepoo? Here's everything you need to know.
Before scrolling down this guide "What Is The Price of a Doxiepoo," check out: What is the Price of a Pomapoo? and How Much Does a Cavapoo Cost?.
Doxiepoo's Popularity Is on the Rise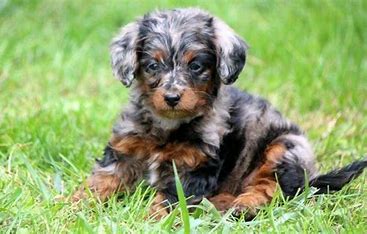 These dogs are in high demand and are considered somewhat rare. Doxiepoos are a cross between a Poodle and a Dachshund. Each of these breeds with a proven pedigree can cost several thousand dollars from a reputable breeder.
A Doxiedoodle is a valuable cross and the demand for them and scant availability drive the price even higher. Breeders have a stringent selection process and often have wait lists. If you are looking to purchase one of these adorable Doodles, you can expect to pay anywhere from $1,200 to $6,000 dollars.
These adorable designer pooches have become so popular that their cost has risen higher and higher. The general consensus among Doxiepoo fans is that they are absolutely worth the cost.
They are lively and engaging little dogs, and adding to their popularity, they may also inherit the curly, low-shedding, hypoallergenic fur from their Poodle parent. That is of great value to anyone who loves dogs and has a family member with allergies.
Devoted lovers of Doxiedoodles claim that crossing the Poodle with the Dachshund has actually improved the quality of the Dachshund breed, in spite of what purists claim. Adding a Poodle to the mix gives the dog a much heartier constitution, with fewer genetic and hereditary problems.
Doxiepoos also have a less fragile conformation with a stronger spine and hips than Dachshunds.
Influences on Doxiepoo Price
One of the other factors influencing Doxiepoo prices is the improvement in trainability and temperament this crossbreed shows. Dachshunds are known for being rather independent with a bit of a stubborn streak. Breed fanciers claim that those characteristics are just part of their Dachshund charm and their cuteness factor more than makes up for it.
The introduction of the Poodle temperament gives the Doxiepoo a higher level of trainability and eagerness to please. Doxiepoos are obviously still off the charts when it comes to cuteness, but this trainability and agreeable temperament makes them even more desirable.
However, there are never any guarantees, and you may just as easily get a Doxiepoo that takes his temperament from his Dachshund parent, which is a chance you must be willing to take when you purchase a crossbred dog.
It's recommended that you spend time with the breeder, visit the available Doxiepoo puppies, as well as take a good look at the breeding pair to get an idea of their personality.
Most breeders of high-value dogs will keep you updated on your chosen puppy's progress, and they do temperament testing at the appropriate ages so you will know what to expect. Even independent, stubborn puppies can change. You may just need to adjust your training strategy to fit the individual dog.
If you're going to pay the high Doxiepoo price, you should definitely protect your investment by taking your Doxiepoo to puppy classes and engaging a professional trainer to assist you from the beginning.
Investing in Your Doxiepoo's Life and Health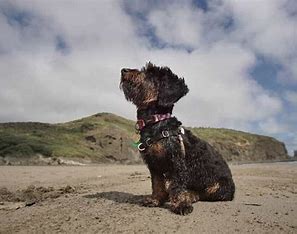 The price of a Doxiepoo doesn't end with the purchase of your puppy. You also need to think of what the cost will be over the course of your Doxiepoos lifetime. A Doxiepoo is a 10-to-15-year commitment.
There are feeding considerations, training costs, ongoing veterinary care, and emergency issues that may arise. Purchasing a pricey Doxiepoo is not a decision you should take lightly.
When you adopt a Doxiepoo puppy or adult, you're also committing to spending not only money but time. Doxiepoos are companion animals and as such require not only training and exercise but also regular interaction. The Doxiepoo is not a dog you can throw out into the yard or a crate and ignore. She needs to be with you as much as possible.
Doxiepoos make great family dogs and they will happily spend hours playing or simply being a part of the pack. Due to their small size, you will want to watch your Doxiepoo around young children. They cannot tolerate rough behavior and may be easily injured by boisterous play.
Your Doxiepoo will be happiest when she is in your lap, on a cushion next to you on the sofa, or in a dog bed at your feet. If you are willing to commit to these darling designer dogs, you are bound to have a fun-loving, interactive, and devoted companion for the next decade or more.
The unconditional love from your Doxiepoo will be more than a return on your investment.
How Much Does a Doxiepoo Cost?
You may be surprised by the large price range for Doxiepoos. The prices are driven by demand and the quality of the dog. Doxiepoos that are bred from breeding pairs with proven track records and quality bloodlines will naturally command high prices for their puppies.
Doxiepoos have been bred in Europe since the early 2000s, and in the U.S. they are still considered to be a rare designer cross. The harder to find, the higher the cost — and their popularity is only increasing.
Newer breeders may be offering their puppies at the lower end of the range. This doesn't mean you're purchasing a lesser quality Doxiepoo, only that the breeder and their breeding pair's bloodline is not yet proven.
Other factors that affect a Doxiepoo's cost are special qualities. Color anomalies, gender, unusual eye color, or unique markings can also command much higher prices.
Some breeders will also price breeding quality stock differently than non-breeding quality dogs. Bloodlines and favorable qualities are diluted in dogs as they are bred down through the generations, and specialty breeders trying to create a new designer dog such as the Doxiepoo want to maintain control of their dogs' bloodlines.
Many breeders sell all their dogs with a contract that will forbid breeding, due to the specialty of the dog. New owners are required to provide proof of spay and neutering. The exceptions to this rule are only made for the highest quality dogs that retain the best of both Poodle and Dachshund.
Frequently Asked Questions
How much is a Doxiepoo from a reputable breeder?
Expect to pay anywhere from $1,200 to $6,000 for a Doxiepoo puppy.
What is the lifespan of a Doxiepoo?
A healthy Doxiepoo will likely live for 10 to 15 years.
Do Doxiepoos shed a lot?
Thankfully, Doxiepoos are low-shedding dogs.
Conclusion for "What Is the Price of a Doxiepoo"
As you can see, Doxiepoo puppies' prices may vary greatly. It all comes down to what the market will bear, and as it stands today, Doxiepoos are very much in demand. If you have decided that you need a Doxiepoo in your life, you are in for quite a journey once you get over the sticker shock!
As Doxiepoo puppies' prices vary greatly, it's always a situation of "buyer beware." Do your due diligence in deciding on the breeder you want to buy from. Read reviews, talk to breeders, and meet the parents.
Many reputable breeders will make a lifetime commitment to their dogs and owners. Choose a breeder that raises their puppies with puppy culture or similar programs and will expose them to new experiences.
When it comes time to choose your puppy, take your breeder's advice, and trust your gut. Ask your breeder to keep you updated on all the growth and development of your puppy and if possible, get a health guarantee. This Doxiepoo is a big investment, so spend wisely and you won't be sorry.
If you find this guide, "What Is the Price of a Doxiepoo," helpful, check out:
Before you decide to purchase a Doxiepoo puppy, you can learn more by watching "Doxiepoo – TOP 10 Interesting Facts" down below:
Garrett loves animals and is a huge advocate for all Doodle dog breeds. He owns his own Goldendoodle named Kona. In addition, he volunteers at the Humane Society of Silicon Valley, where he fosters dogs and helps animals. Garrett enjoys writing about Doodles and believes that dogs can teach humans more about how to live than humans can teach a dog.
Why Trust We Love Doodles?
At We Love Doodles, we're a team of writers, veterinarians, and puppy trainers that love dogs. Our team of qualified experts researches and provides reliable information on a wide range of dog topics. Our reviews are based on customer feedback, hands-on testing, and in-depth analysis. We are fully transparent and honest to our community of dog owners and future owners.