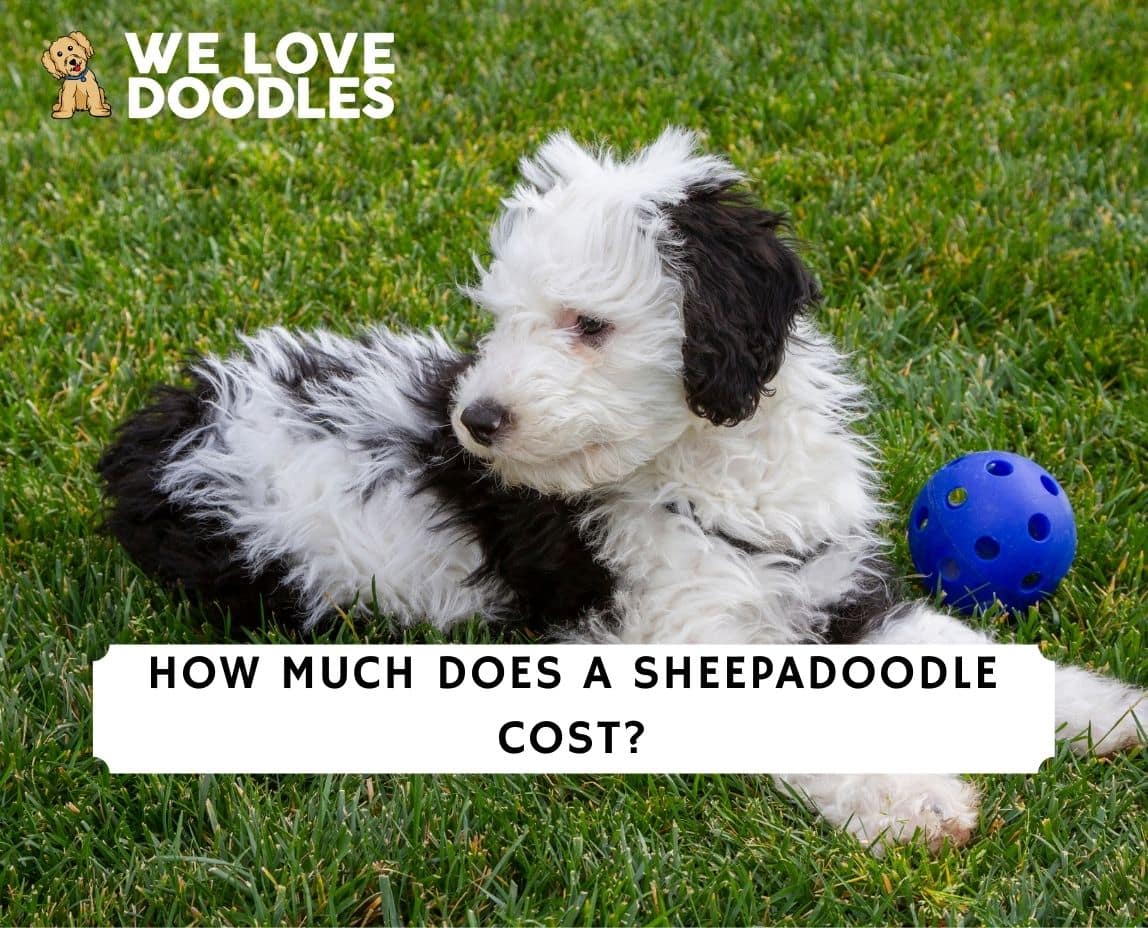 With their intelligent, playful, and loving personalities, Sheepadoodles make great companions and family pets. However, that does mean there's a demand for them, which is reflected in their cost.
So how much does a Sheepadoodle cost? How much do you need to set aside in your budget to ensure a happy and healthy Sheepadoodle? We'll look at the cost of Sheepadoodles and other important related information in this article.
Before scrolling down this guide "How Much Does a Sheepadoodle Cost," you can check out these other helpful Sheepadoodle guides: Do Sheepadoodles Shed and Types of Sheepadoodle Colors.
How Much Do Breeders Charge For Sheepadoodle Puppies?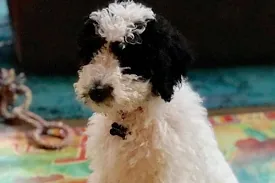 It depends on your location and the breeder. Still, a Sheepadoodle puppy will generally cost somewhere in the range of $1,000 to $3,500. Several factors go into the cost of a Sheepadoodle. One is the quality of care of the breeder.
Breeding Sheepadoodles, or any dogs for that matter, is a money and time-intensive undertaking, especially if done right. It's not always the case, but in general, you get what you pay for when it comes to buying a dog from a breeder.
It could be a red flag if you come across Sheepadoodles being sold for suspiciously low prices. It could mean that the breeder is cutting corners (although, of course, that's not always the case). Also worth noting is the location of the breeder.
In areas with a higher cost of living, a breeder naturally will have to charge higher prices for their puppies to match their living standards. So expect to pay more if you buy from a breeder in a higher cost of living area like California compared to a breeder in a more affordable place in the midwest, for example.
The other major factor in the cost of a Sheepadoodle depends on the puppy's color. The most common Sheepadoodle colors are black with white, which will likely cost less since there's a higher supply.
However, red/white and chocolate/white are rarer color combinations for Sheepadoodles and generally cost more. Since the rarer colors are available in smaller numbers, it drives up the price.
Annual Cost of Owning a Sheepadoodle Puppy
Sheepadoodle puppies are, of course, cute but expensive. Therefore, you need to be prepared financially before getting a puppy. Make sure you know what you're getting into before you get a Sheepadoodle puppy because it is a financial and time commitment that goes beyond just the initial cost of the dog.
Before buying a puppy, it's crucial to consider the associated costs of owning an actual dog. Potential dog owners often overlook the annual cost and long-term commitment of caring for a dog.
Make sure you include the price of dog supplies you'll need for your home, like food, crates, leashes, beds, bowls, bones, and toys. You may need to invest in dog training as well. It would help if you also considered the vet bills you're likely to incur.
That includes vaccinations, de-worming, flea treatments, spaying/neutering, grooming, dental care, x-rays, and any other vet bills that may come up. All of these things can add up, so plan accordingly. Estimates of dog ownership costs range from $650 to $2,115 a year.
Related: F1 vs. F1B Sheepadoodle.
Why Are Sheepadoodles on the Expensive Side?
Sheepadoodles are expensive because they're in high demand, among other reasons. For one, they're beautiful dogs with a lot of personalities. Sheepadoodles aren't as common as other breeds, adding to their price.
In addition, people perceive Sheepadoodles as designer dogs, which raises their perceived value, whether real or not. Additionally, Sheepadoodles come in different colors.
Specific color combinations are rarer than others, so breeders charge more for Sheepadoodle puppies with rarer colors. These rare-colored Sheepadoodles can be very expensive. Also worth noting is that it does take a lot of resources to breed puppies responsibly with care in a loving environment.
Good breeders demand more money for Sheepadoodle puppies, as there are a lot of costs associated with breeding and providing adequate care for dogs and puppies. While upwards of $3,500 may seem high, dog breeding isn't easy, and breeders need to charge enough to stay in business.
Related: Best Sheepadoodle Names.
About Mini Sheepadoodles
Smaller versions of Sheepadoodles aren't as common as the standard ones, but they are available. These dogs weigh about 25-35 lbs and are around 15-20 inches tall. Like Sheepadoodles, mini Sheepadoodles are very active and require a lot of exercise and attention. However, they are smaller, which can be a better fit if you live in an apartment or smaller house.
Just because they're small doesn't mean you'll get a discount in price; mini Sheepadoodles cost around the same as regular Sheepadoodles, which is somewhere in the range of $1,000 to $3,500. Mini Sheepadoodles are also similar to Sheepadoodles in the amount of grooming they'll need, which is relatively frequent. But, again, this is another cost that can add up.
Mini Sheepadoodles owners should groom their dog around every 4 to 6 weeks, which on average will probably be around $50, or approximately $600 total per year. With dog food, vet visits, and all the other expenses you're likely to incur, you're looking at around $2,000 a year to take care of a mini Sheepadoodle.
Mini Sheepadoodles have a lot of characteristics in common with regular Sheepadoodles. The slight difference is that they're a mix between an old English Sheepdog and a miniature Poodle. For reference, a regular Sheepadoodle is a mix between an old English Sheepdog and a Standard Poodle.
Like Sheepadoodles, mini Sheepadoodles are amiable dogs with vibrant personalities. They're very smart and love to play games. In addition, they're very active and energetic. Just like Sheepadoodles, they're friendly, love people, and are great companions. They also make great pets because they're generally well-behaved and easy to train. In addition, their coat is short and soft and comes in many colors.
As you can see, they have a lot in common. A Sheepadoodle may be a better option for you if you like big dogs (as they can get massive!) and if you have a lot of space with a big yard. On the other hand, mini Sheepadoodles can be better in smaller living quarters. They probably require a little less exercise, and you'll probably spend a bit less on dog food.
Related: Sheepadoodle Size Guide.
Things to Look for When Selecting a Sheepadoodle Breeder
Breeders should raise their puppies in loving environments and encourage visits to see them. Look for breeders who care about the welfare of their puppies. Puppies need a stable, loving environment and checkups by a veterinarian.
Be sure to look for a reputable registered Sheepadoodle breeder if you plan on buying a Sheepadoodle puppy. Unfortunately, finding a good breeder is no easy task. The practice of breeding dogs is regulated at the state and federal levels.
However, there's a wide range of what breeders do in actual compliance with those regulations. So, if you don't yet know of an excellent Sheepadoodle breeder in your area, here's an excellent place to start.
You have other options if you're open to a wider range of ages for a Sheepadoodle. It's also possible to adopt a Sheepadoodle in a shelter or a doodle-specific rescue. As with any dog breed, you should avoid buying Sheepadoodle puppies from exploitative puppy mills.
Related: Best Sheepadoodle Breeders in the Midwest and Best Sheepadoodle Breeders in New England.
Getting Ready for Your New Sheepadoodle Puppy
It would help if you started preparing for the arrival of your new Sheepadoodle puppy in advance, so you have everything necessary to take care of them.
It's best to have everything ready for your new puppy so that your puppy gets a friendly, warm welcome to their new home and environment. It's also nice to not feel stressed arranging things at the last minute.
Here are some things to buy and to keep in mind while you prepare for your new companion to arrive:
Puppy food
Puppy treats, which are suitable for positive reinforcement for potty training
Chew toys (so your new puppy doesn't chew up your whole house)
A comfortable doggy bed
A dog gate (these are great for if you need to leave and keep your dog in a part of your house with hardwood floors like a kitchen or bathroom, which are better than carpet for accidents and messes)
Related: Learning About a Sheepadoodle's Lifespan.
Conclusion For "How Much Does a Sheepadoodle Cost"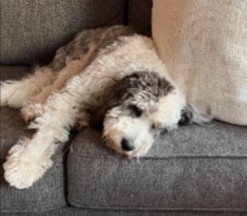 In general, Sheepadoodles currently cost around $1,000 to $3,500. The cost of a Sheepadoodle varies depending on several price factors. Some of these factors apply to any dog breed, while others are specific to Sheepadoodles.
One of the biggest things that will affect the cost is your location. If you live in an area with an expensive cost of living, the breeders around you will likely have higher pricing. On the other hand, if you live in an area with a low cost of living, that may work to your advantage.
For those who live in an expensive city, it can potentially be worth a drive to a breeder slightly out of your area to buy a Sheepadoodle if you're cost-sensitive. The other major factor you'll see when looking for a Sheepadoodle puppy is their fur color.
What may seem a minor distinction can result in wildly varying prices among Sheepadoodles. The most common Sheepadoodle colors are black and white, so those dogs are priced lower.
Sheepadoodles with white and red or white and chocolate colorings are more expensive because they're rarer. If you think a Sheepadoodle would be a good fit for you and your family, get the ball rolling with the nearest Sheepadoodle breeder near you.
If you find this guide, "How Much Does a Sheepadoodle Cost," helpful to you, check out these other articles:
For more information on the Sheepadoodle, you can learn more about it by watching "Sheepadoodle – Top 10 Pros and Cons of Owning a Sheepadoodle" down below: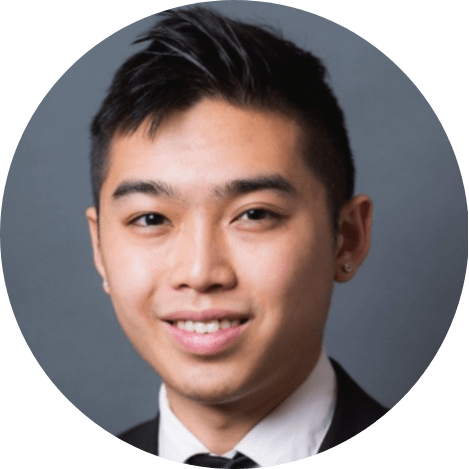 Andy is a full-time animal rescuer and owner of a toy doodle. When he's not saving dogs, Andy is one of our core writers and editors. He has been writing about dogs for over a decade. Andy joined our team because he believes that words are powerful tools that can change a dog's life for the better.
Why Trust We Love Doodles?
At We Love Doodles, we're a team of writers, veterinarians, and puppy trainers that love dogs. Our team of qualified experts researches and provides reliable information on a wide range of dog topics. Our reviews are based on customer feedback, hands-on testing, and in-depth analysis. We are fully transparent and honest to our community of dog owners and future owners.