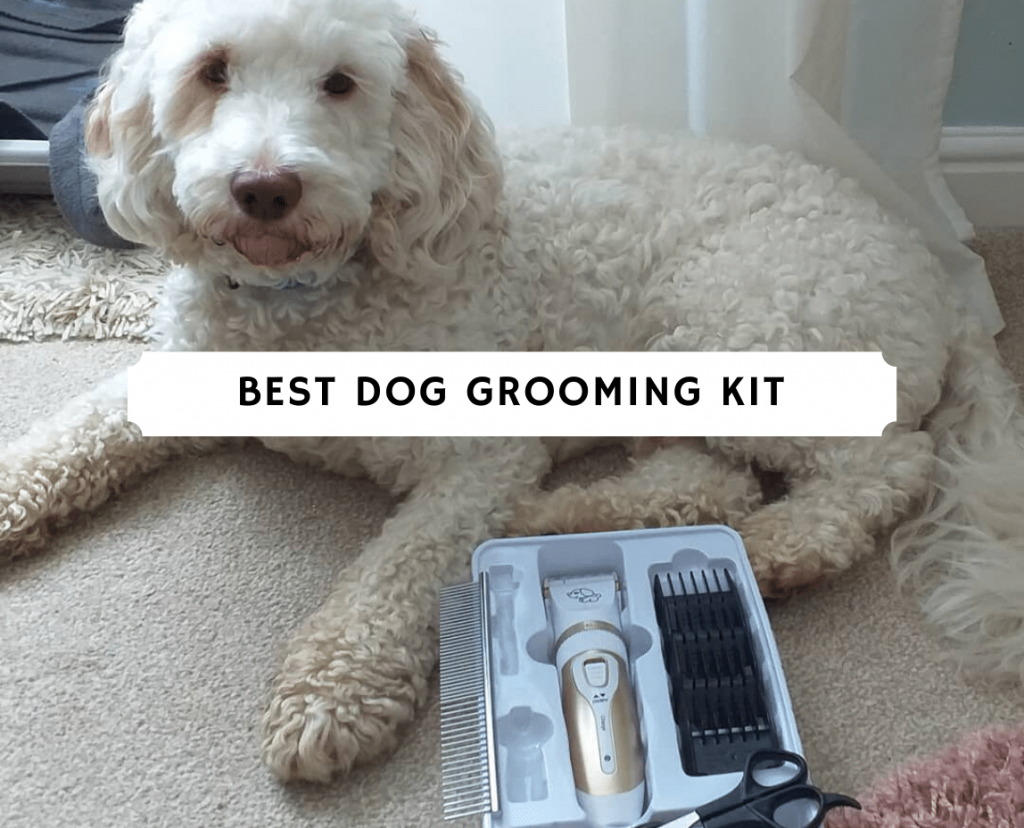 Unless you enjoy your fur baby looking like a walking rug or even a puppy version of the yeti, every so often you need to groom them. While some may choose to take their dog to a professional for grooming, others may choose to groom their fluff monster on their own. For those who choose to embark on this at-home experience, a reliable and efficient grooming kit is essential.
The convenience and ease of using a professional grooming kit has all the necessary tools that you will need for an at-home grooming session. It will even save you tons of money as frequent trips to the groomer costs a lot of money. If you groom your dog once at home, chances are that you already recouped the amount of money that it cost you to buy the dog grooming kit. In addition, for those who have dogs with anxiety, home grooming makes your dog more comfortable.
If you are thinking about starting to groom your dog on your own, you may feel intimidated by the task. Fear not! There are tons of videos and articles on the internet that will guide you through the process. I've even written many articles on how to groom your dog. After a few grooming sessions, you will find that you and your pet both find joy in the bonding experience.
When it comes to finding the right grooming kit for you, there are a number of factors to consider (we will go over these factors a bit later). However, the most important thing to consider is to find a high-quality grooming kit. It is better to spend a little extra money upfront than to purchase a cheaper kit that only serves to frustrate you because the blade isn't sharp enough.
There are a number of choices from which you can choose to select the best dog grooming kit. With our recommendations, you are sure to find a kit that works for you and your dog.
Product
Best Seller
Hansprou Dog Grooming Kit
Runner Up
Oneisall Professional Kit
Best Budget Pick
Wahl Grooming Kit
Oneisall Dog Grooming Kit
Image
Runner Up
Product
Oneisall Professional Kit
Image
The Best Dog Grooming Kits
Through careful selection, we have chosen what the best dog grooming kits available, These kits take into account the needs of the groomer, your dog, and ultimately the cost of the kit.
The Ceenwes dog grooming kit comes with nine tools to help you achieve the grooming look for your pet that you're going for. In addition to the Ceenwes clipper, the kit comes with four different blade attachments (3, 6, 9, and 12 mm), and a cleaning brush to remove excess hair from the blades. In addition, the kit includes stainless steel scissors, a stainless steel comb, a nail clipper kit, and a nail file.
The Ceenwes dog clippers are designed to be used as a cordless dog clipper with a rechargeable battery. In addition, you can also use these clippers while plugged in which is extremely convenient if you're worried about running out battery. With a charge time of 5 hrs, the clippers can run for a solid 70 mins. This is definitely enough time for you to groom one dog.
The precision motor ensures that the noise of the clippers does not exceed 60 dB, helping your dog stay at ease and allowing you to enjoy the grooming experience. In addition to running with a minimal amount of noise, the powerful motor ensures that the fur is cut efficiently and does not clamp and pull the fur. Many of the cheaper dog grooming kits have blades that can't cut through thicker hair.
The 4 comb attachments are easily interchangeable allowing you to smoothly transition from one size to the next without trouble. Furthermore, the length and shape of the combs will enable you to groom your pet to the specific length you desire while easily following the contours of your dog's body.
The Ceenwes clippers use titanium acute-angle blades with ceramic movable blades for an efficient and smooth grooming experience. A fine-tuning knob allows for the blades to be adjusted to 5 levels (0.8-2 mm) giving even more precision.
The stainless steel comb and scissors will help with precise trimming in areas where the clippers are not best suited. In addition, clipping and filing nails are an essential part of the grooming process. With the nail clipper kit and nail file, you are sure to give your dog a great grooming experience.
What's Included in this Ceenwes Kit:
Grooming Clipper
AC Power Adaptor
Cleaning Brush
Comb Attachments (3,6,9,12 mm)
Stainless Steel Scissors
Stainless Steel Comb
Nail Clipper Kit
Nail File
Manual
The Oneisall professional dog grooming kit is a one-stop-shop for all your basic needs when it comes to giving your pet a haircut. The two-speed clipper allows comes with six comb attachments as well as a cleaning brush to remove all the extraneous hairs from the blade. In addition, a stainless steel comb and scissors allow you to guide your trim to its ultimate precise end.
The inclusion of six guide comb attachments (3, 6, 9, 12, 15, and 18 mm), allows you to precisely trim the fur of your dog to your desired length. You can better blend in the hair from their legs to the body. In addition, you'll have smaller blades to trim around your dog's face.
The Oneisall grooming clippers are a 2-speed and cordless dog clipper which allows for uninhibited and precise grooming. The intelligent LCD display indicates the charge of the device so you won't run out of battery. Furthermore, the rechargeable lithium-ion battery sustains 5 hours of continuous use after charging for 3 hours. The inclusion of a stand allows you to charge your clippers in the stand or connect directly to the device itself.
The clippers ultra-quiet and low vibration design only emit a low 50 dB of sound when in use so it ensures that your pet feels safe and secure. In addition, the strong force of the motor makes the blades cut and not pull the fur.
A combination of stainless steel and ceramic blades provides an excellent and long-lasting cutting performance. Furthermore, with easy detachment, the blades can be easily cleaned and changed as needed. This prolongs the life of the blades and the device.
A convenient adjustment collar on the clippers allows you to finely adjust the blades. A simple twist to the side button allows you to shift from 0.8, 1.1, 1.4, 1.7, and 2.0 mm. For all the reasons mentioned above, this was our second best dog grooming kit that we tested.
What's Included in the Oneisall Kit:
2-speed Grooming Clipper
AC Power Adaptor and stand
Cleaning Brush
Comb Attachments (3,6,9,12,15,18 mm)
Stainless Steel Scissors
Stainless Steel Comb
Manual
The dog grooming kit by Hansprou seems rather sparse when compared with the other options on this list, but the dog clipper makes up for the lack of accessories. In addition, what the kit lacks in quantity, it makes up for in quality. With 4 grooming combs included, this set has the absolute basics but includes the best dog clipper. For those who don't need scissors or a comb, this is by the far the best grooming kit for dogs.
The Hansprou pet clippers come with a Lithium rechargeable battery that sustains up to 8 hours of use after 3 hours of charging. Furthermore, the large powerful motor ensures that the clippers can cut through any fur type without snagging or jamming. These were the sharpest and best blades that we tested.
Despite the large motor, the clippers are designed to limit noise and vibration, emitting a low 50 dB of noise. This low noise makes your dog feel comfortable with the grooming process and enjoy the overall experience.
The four basic guide combs (3, 6, 9, and 12 mm) included in the kit are accentuated by the adjustable blades in the clipper itself. The simple adjustable knob allows you to finely adjust the blade height with a simple twist. This adjustment allows you to navigate between 0.8, 1.1, 1.4, 1.7, and 2 mm settings.
The cutting surface is composed of a fixed titanium alloy blade and a movable ceramic cutting blade. These superior materials provide durability to the cutting surfaces as well as maintaining a sharp edge. Furthermore, the inherent characteristics of the material mean that they will not overheat and cause burns to your dog's skin after long use.
The blades are comprised of a unique 35 tooth surface that provides an increased cutting surface. This larger surface area means that each tooth needs to cut a smaller amount of hair ensuring a smooth cutting experience.
The unique R-shaped angle design of the cutting surface ensures that the blades are safe and do not cut your dog no matter the direction in which the clippers are used.
A nifty feature of these clippers allows the cutting head to be easily detached for easy cleaning and maintenance.
What's Included in this Hansprou grooming kit:
Grooming Clipper
Cleaning Brush
Comb Attachments (3,6,9,12 mm)
Manual
Another offering from Oneisall is this dog grooming kit that very similar to the professional grooming kit featured above. This kit like the other one includes the same accessories: 6 comb attachments as well as a cleaning brush, a stainless steel comb, and scissors.
The built-in Li-ion battery allows the clippers to be used for 80 mins with an 80 min recharge time. If this is not enough time the clippers are usable with the cord so you don't have to stop working and end up with a half-groomed pup.
The six guide comb attachments (3, 6, 9, 12, 15, and 18 mm), allow precise trimming following your pup's body while shaping the fur to your desired length. Moreover, the adjustable blade allows fixe additional cutting sizes ranging from 0.8 to 2.0 mm, all with a twist of the adjustable knob collar.
With a durable stainless steel blade and movable ceramic blade, the clippers provide long-lasting and precise grooming. Furthermore, easily detachable blades ensure that cleaning and maintaining the blades is easy.
The low noise motor ensures that your pet feels comfortable with low vibration levels of only 50 dB which shouldn't scare your dog.
What's included in this Oneisall kit:
Grooming Clipper
AC Power Adaptor
Cleaning Brush
Comb Attachments (3,6,9,12,15,18 mm)
Stainless Steel Scissors
Stainless Steel Comb
Manual
The Wahl grooming kit is an American made product that is designed to tackle thick and heavy dog coats. With a powerful yet surprisingly quiet motor, these clippers are perfect for pets that need a trim but look more like a sheep than a dog.
The Wahl Clipper Pet-Pro Dog Grooming Kit comes with all the essential accessories. Included in the kit are 4 guide combs (3, 6, 10, and 13 mm), a blade guard, cleaning brush, oil, plastic styling comb, and scissors.
A heavy-duty "PowerDrive" motor ensures that the blades keep moving through even the densest coats and tangles. Although the motor is powerful, it is designed to minimize sound and vibration levels.
Unlike the other offerings in this article, the Wahl clippers are corded which ensures their ability to continuously cut through thick and matted fur as long as you can. Wired dog clippers are useful because they deliver a constant amount of power which ensures the same level of torque and overall power. In addition, you won't have to stop midway through a grooming session to charge your dog clippers.
With self-sharpening high-carbon stainless steel blades, you don't have to worry about changing the blades very often or finding them too dull to cut through your dog's fur.
For those who are prone to making mistakes or just like to have their equipment clearly labeled, the color-coded detachable combs help you choose the correct length. The obvious color differences ensure that you will never give your puppy a closer shave than you intended. The combs range in sizes from 3 to 13 mm giving you a broad range within which to work.
The clippers themselves feature a tapered lever that allows you yo precisely adjust the height of the blades for easy blending and fading.
What's Included in this Wahl grooming kit:
Grooming Clipper
Blade Guard
Storage Case
Cleaning Brush
Oil
Comb Attachments (3,6,10,13 mm)
Scissors
Plastic Comb
Instructional DVD
This excellent grooming kit from Petic combines a powerful hair clipper with all of the accessories that you need for a quality grooming session. Not only is the clipper itself a well-constructed device, but the comb, scissors, and the rest of the accessories are made to last and not break after the first use.
A cordless model with a rechargeable lithium-ion battery ensures that with a charge time of 3 to 4 hours you will be able to groom consistently for 60 to 70 mins. A convenient USB charging cable means that you can take it with you and even charge it from your computer.
Although the motor is powerful, it is also silent, designed to muffle noise, and vibration sounds are below 58 dB. This low noise ensures that your puppy feels comfortable throughout the experience.
The combination of fixed titanium and movable ceramic blades ensures that the durability of the blades and a continuous sharpness for effortless trims. With minimal maintenance, these blades will last for many grooming sessions. Additionally, the simple detachable design means that maintenance and cleaning is simple and effortless.
The combination of four detachable and adjustable combs and the built-in 5 stage variable adjustments of the blade gives you the versatility you need to style your dog like a professional groomer. The addition of the thinning shears and scissors allow you to find that all-natural look and opens your options as wide as your imagination.
What's Included in the Petic grooming kit:
Grooming Clipper
Ceramic Blade
Storage Case
Cleaning Brush
Oil
4 Comb Attachments
Stainless-Steel Scissors
Stainless-Steel Comb
Thinning Scissors
Nail Clippers
Nail File
User Manual
What to Consider When Buying a Dog Grooming Kit

There are a number of considerations to take into account when looking for the right dog grooming kit. We have outlined a few points that we find to be most important.
Level of Grooming: The level of grooming you intend to perform on your dog is an important consideration. For those who just need to maintain their dog's fur, a basic kit may be adequate. However, if you intend to fully groom your dog every 6 to 12 weeks, you should invest in a nicer dog grooming kit.
Understand the Basics: A necessary first step when buying a dog grooming kit is to be familiar with the basics of grooming and to be familiar with the tools and their uses. You may need to consult a veterinarian or a groomer to find out specific needs for your breed and how to achieve the look you want. We also wrote a popular article on the best dog haircut styles.
Buy Only What You Need: You may be tempted to go all out and splurge on a large number of items that you don't necessarily need. Stick to the essentials and add items as you find a need for them. A dog grooming table may seem important, but it can cost a lot of money and may not be an essential item if you're just starting to learn to groom your dog.
Make Sure to Own the Essential Tools: Most dog grooming kits that you look at will most likely contain all the basic essentials you need to start grooming your dog. However, in order to have a successful grooming session, consider having these items handy:
Wire or Slicker Brush: An important part of the grooming process is a slicker brush. This brush will allow you to remove loose hair and detritus from the coat. Excellent for everyday use. For additional information, read our articles on the best slicker brush for long hair dogs.
Steel Comb: This tool is used for detangling fur and combing out mattes. It is also important when trimming fur as a guide. Make sure that it is not too sharp so it does not scratch the skin.
Thinning Shears: These shears are useful for blending your pup's fur after cutting with grooming scissors to give a natural and organic look.
Grooming Scissors: Make sure to use a ballpoint or blunt-ended scissors to ensure you do not injury your dog by accidentally cutting them. Invest in a quality pair as they will make grooming easier and last longer.
Dog Clippers: clippers make the process of grooming far easier. Invest in a quality pair as they will make grooming easier and last longer. You may need to take some time to get your pup to feel at ease at the sound so be sure to be gentle and comforting.
Shampoo and Conditioner: Be sure to select a brand that both moisturizes and cleans your dog. In addition, make sure that they are safe and do not cause skin irritation with harmful chemicals. High-quality shampoo should leave your dog with soft, clean, and healthy fur. We wrote a really in-depth article on the best shampoo for a Goldendoodle.
Nail Clippers: Clipping your dog's nails is important not only to prevent them from scratching you, but also to prevent them from scratching your floor. Long nails can get damaged, torn, or broken leading to injury and infection. Trimming their nails on a regular basis will ensure that they avoid these injuries.
Coat Types and Needs: Different breeds of dogs have their own unique characteristics in fur type as well as personality. It is important to select the right tools to efficiently work with your dog's specific grooming needs. Selecting the right shampoo is important, but so is selecting the right brush. Dog's with thicker coats that are prone to tangles and mats will need a sharper dog clipper. Dog's with short coats need different brushes than those with long coats, and those prone to matting or shedding need different brushes entirely.
Beyond the Fur: Apart from the fur and nails, it is important to consider your dog's dental care needs. This will include a doggy toothbrush (a fingertip doggy brush is easier to use and manipulate) as well as doggy toothpaste, Never use human toothpaste for your dog.
Know Your Limits: It is important to know your limits when grooming your dog. When using clippers it is important to have a supply of fresh blades as well as clipper coolant. If you are unsure of how to properly use a tool, you may need to consult a professional. All the fancy tools in the world will not help you achieve the look that you want if you don't know how to use them.
Additional Considerations: Certain breeds of dogs need additional considerations when grooming them. Certain breeds will need additional ear cleaning or the treatment of eye stains.
Conclusion for Best Dog Grooming Kit
Finding the right pet grooming kit is not as complicated as you might think. The first thing to decide on is the number of accessories you want. Then you need to understand the type of dog clipper you need based on the type of coat your pet has. A stronger and more powerful motor is needed for thicker coats but is overkill for thinner short coats.
As you can see from our list of the best dog grooming kits, there are numerous options to choose from. These specialized kits give you the best options to choose from when looking for a great dog grooming kit. You can't go wrong selecting a kit from our list.
Garrett loves animals and is a huge advocate for all Doodle dog breeds. He owns his own Goldendoodle named Kona. In addition, he volunteers at the Humane Society of Silicon Valley, where he fosters dogs and helps animals. Garrett enjoys writing about Doodles and believes that dogs can teach humans more about how to live than humans can teach a dog.
Why Trust We Love Doodles?
At We Love Doodles, we're a team of writers, veterinarians, and puppy trainers that love dogs. Our team of qualified experts researches and provides reliable information on a wide range of dog topics. Our reviews are based on customer feedback, hands-on testing, and in-depth analysis. We are fully transparent and honest to our community of dog owners and future owners.