Do you live in South Carolina and want to adopt a small, playful, and loving new puppy? If that is the case, then a Cavapoo is the perfect choice for you! There are many reputable Cavapoo breeders in and around South Carolina. They are just waiting to unite you with your ideal puppy companion. 
It is always essential to understand the type of dog you want before you start looking for a puppy. So, before we delve deeper into the Cavapoo breeders of South Carolina, let's have a look at what precisely a Cavapoo is. Cavapoos are a relatively new designer dog breed created by mixing a Cavalier King Charles Spaniel with a Poodle. These dogs are known for their outgoing and playful personalities, especially with young children. 
So, if a Cavapoo sounds like the right match for you, you have a few options. First, if you want to adopt an adult Cavapoo, you should start your search by checking out local shelters and rescues. These organizations are more likely to have adult dogs, whereas breeders focus on puppies. If you are specifically looking for a puppy, check out the breeders below. These breeders are experts on the Cavapoo breed, so they are happy to answer any questions you might have about bringing home your own little puppy. 
Other articles you will like: Cavapoo Sizes Guide: Teacup, Toy, Miniature, or Standard!
In-State Cavapoo Breeders
If you live in South Carolina, one breeder within the state is known for its high-quality Cavapoo puppies and one that will ship puppies to South Carolina. So, the limited quantity is made up for with this South Carolina breeder's high quality and notoriety.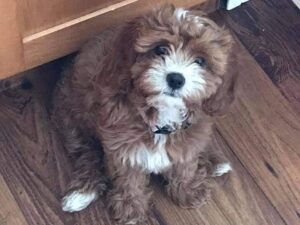 We highly recommend PuppySpot as the best Cavapoo breeder in South Carolina because you won't have to wait on a long puppy wait list. This is because PuppySpot only lists Cavapoos that are already born, and they have several puppies for sale today. PuppySpot is a network of reputable and ethical breeders all around the United States and they can safely ship their puppies to you in South Carolina.
PuppySpot screens all breeders with a 200-point inspection that surpasses USDA standards and is approved by the AKC. Thus, you won't be getting a Cavapoo puppy that is from a puppy mill or backyard breeder. Less than 10% of all Cavapoo breeders who apply will actually make the cut.
PuppySpot has sold over 220,000+ puppies to date and their customers rave about their support and how easy it was to get a puppy (us included!). We got one of our Goldendoodles from PuppySpot and highly recommend them because they will not only save you time, but you won't have to wait for a puppy. We suggest you check them out today before scrolling down to other breeders!
Cavapoo Breeder Information
Crockett Doodles is one of the best Doodle breeders around. At Crockett Doodles, they specialize in all kinds of Poodle mixes, including Cavapoos. Centered in South Carolina, Crockett Doodles has pickup locations across the United States, making them one of the most accessible dog breeders in the country. 
Besides their outstanding reputation countrywide, many things make Crockett Doodles stand out among the many Doodle breeders available. For example, their refundable deposit. Most Cavapoo breeders in South Carolina require a deposit when accepting customers for their waiting lists. However, these deposits are typically non-refundable. At Crockett Doodles, this deposit can be refunded with only a small processing fee taken. So, if you have any problems regarding a new puppy, you can always get your money back. This ensures all their Cavapoo puppies go to houses where they are wanted, not places that feel pressured to take them. 
Another distinguishing aspect of Crockett Doodles is their dedication to providing every customer with a home-raised puppy. Early exposure to people and other puppies is key to a well-socialized and family-friendly dog. So, every puppy at Crockett Doodles is born and raised in a family home. This requires many loving families who are part of Crockett Doodles' network of partner homes. These homes are where the Cavapoo puppies are raised with love until they are ready to go to their forever homes. 
So, if you want to adopt a beautiful Cavapoo puppy in South Carolina from Crockett Doodles, complete an online adoption application. The breeder reviews these applications to ensure all puppies are placed in homes that are a good fit. Once your application is approved, you are asked to make your deposit. Remember, this deposit is refundable, so if something happens and you are not ready for a puppy, you can get your money back. Once your deposit is received, you will be placed on the waiting list.
It is important to remember that Crockett Doodles is a huge organization that receives many applications. So, their waiting list may seem a little longer than other Cavapoo breeders in South Carolina. However, the wait is totally worth it to get one of these healthy and happy Cavapoo puppies from Crockett Doodles!
Cavapoo Breeder Information
Out-Of-State Cavapoo Breeders
As you can see, there are few breeders located directly in South Carolina, but that does not mean you are out of options. There are many reputable Cavapoo breeders in surrounding states that are a short distance from South Carolina. Additionally, some breeders are happy to ship puppies across the country. So, you are not stuck with only one option. Below you will find some of the most reputable Cavapoo breeders around South Carolina. 
Jones Farm, located in central North Carolina, is a great place to look if you want to adopt a beautiful Cavapoo puppy. They started in 2006, where it was primarily known for its chickens and goats. However, as time has passed, they have begun breeding puppies on their farm. Specifically, Jones Farm specializes in Goldendoodles, Cavapoos, and Great Pyrenees. 
Cavapoos are known for being allergy-friendly dogs, as Poodles do not shed. However, because Cavalier King Charles Spaniels do shed, Cavapoos that take after this parent dog more may be less hypoallergenic than desired. At Jones Farm, they try to minimize this possibility by breeding Cavapoos to Poodles making the puppies 75% Poodle and 25% Cavalier King Charles Spaniel. This is an excellent option for anyone who suffers from allergies. 
At Jones Farm, they ensure that all parent dogs used for breeding are healthy. These dogs undergo thorough health and genetic testing for over 250 different genetic diseases that could be passed down to puppies. Additionally, every puppy at Jones Farm is microchipped before going to their forever home. This is to ensure the safety of your new puppy. 
If you want a lovely Cavapoo puppy from Jones Farms, contact them today! The preferred method of contact is through their Facebook page. However, if you do not have Facebook, you can contact them by completing the form on their website. Once you have expressed your desire for a puppy, you will be put on a waiting list. The current wait times for Cavapoo puppies are 10-12 months. However, there are fast-track programs available for you to bring your new puppy home sooner!
Cavapoo Breeder Information
Absolutely Elegant Kennels is a small family-owned breeder located in Northeast Georgia. The puppies at Absolutely Elegant Kennels are born and raised on the 150-acre family farm.  This unique environment exposes these puppies to new experiences making them extremely well-rounded dogs. These pups learn to live and play with people making them well-socialized before they even go to their forever homes. 
The health and wellness of your puppy is their number one priority at Absolutely Elegant Kennels. Therefore, before going to their forever homes, each puppy is given a thorough veterinary examination. In addition to this, each puppy is up-to-date on vaccinations and dewormings. Your new pup's health is so vital at Absolutely Elegant Kennels that you will even receive a health certificate and health guarantee at adoption. Microchipping is also available if so desired. 
If you do not live in Georgia but still want to adopt a puppy from Absolutely Elegant Kennels, do not worry. They are willing to ship puppies to their new homes! However, the age of your puppy may differ when being shipped, as they sometimes keep these puppies longer to ensure they are strong enough to travel. So, contact them today to learn about the steps you must follow to get your very own Cavapoo puppy from Absolutely Elegant Kennels!
Cavapoo Breeder Information
How to Choose a Cavapoo Breeder in South Carolina 
As you can see, there are many options for Cavapoo breeders in and around South Carolina. You may be overwhelmed with the selection, but there are some simple questions to ask yourself that will help make your decision easier. 
First, what size Cavapoo would you like to adopt? Cavapoos come in two different sizes: miniature and toy. These sizes are greatly determined by the Poodle parent that is used inbreeding. If you want the smallest Cavapoo possible, you will want to opt for a toy Cavapoo. If you are ok with a more medium-sized dog, then the miniature Cavapoo is perfect for you. Knowing what size you want will help you select a breeder because you can check what size Poodles are used in their breeding program. 
Next, what color Cavapoo do you want? Cavapoos come in a wide variety of colors. This is because both Poodles and Cavalier King Charles Spaniels can be many different colors. Knowing what color Cavapoo you prefer will help you choose a breeder who has past puppies and expected litters in your preferred color. However, it is crucial to keep an open mind regarding your dog's color, as this is not always easy to predict, though breeders do try their best. 
Lastly, ask yourself how far you are willing to travel for your new puppy. Some breeders will deliver puppies while others will not. If you do not want to travel far for your puppy, you must choose a breeder close to you or who will deliver your puppy. Suppose you do not pick up your puppy at the designated time. In that case, many breeders will begin charging boarding fees or may even offer your puppy to the next person on the waiting list. So, ensure you have travel arrangements pre-set when choosing a breeder. 
You will also like: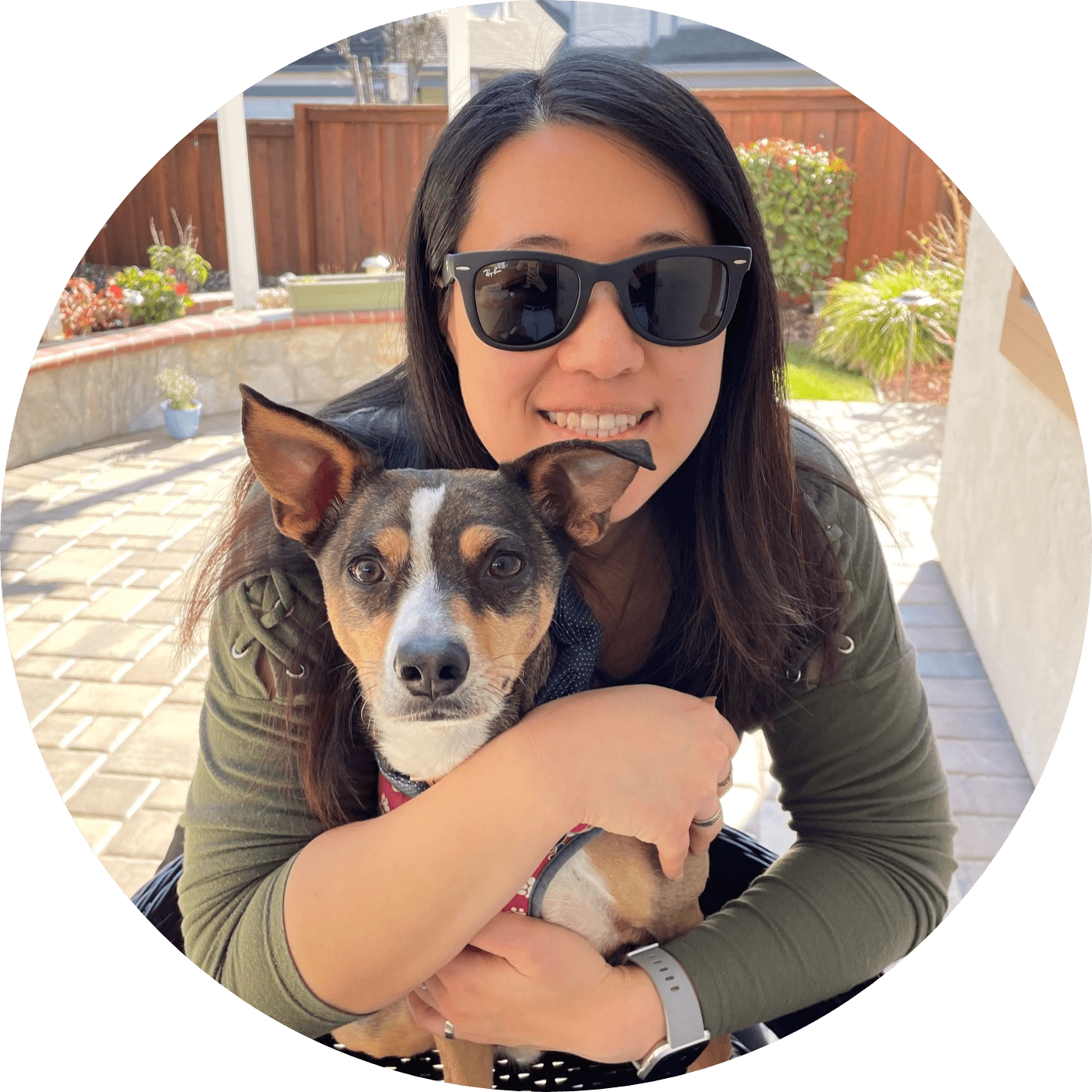 Dr. Sabrina Kong graduated from the Royal Veterinary College in England in 2016 and has been working at a small animal clinic in Northern California since then. She grew up in the Bay Area and got her bachelor's degree from Cal Poly San Luis Obispo. She also became a Certified Canine Rehabilitation Practitioner through a program at the University of Tennessee.
When she isn't in the clinic taking care of her four-legged patients, she enjoys traveling and trying new foods with her friends and her three-legged dog, Apollo. She adopted Apollo from her clinic when he was a puppy with numerous health issues. Dr. Kong truly cares about taking care of animals.