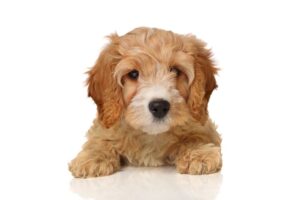 Cavapoos (or Cavoodles) are a popular designer hybrid breed crossed between a Poodle and a King Charles Cavalier Spaniel. These dogs are as adorable as you would imagine, and they make the perfect family companion. Cavapoos are friendly, affectionate, easy to train, and love all humans and animals.
Finding a Cavapoo puppy can be a nightmare. Due to their popularity, it's rare to find one of these dogs in a local rescue shelter. The best way to buy a Cavapoo is through a reputable breeder. However, people who cannot read the warning signs will often fall into the traps of puppy mills and backyard breeders, which must be avoided or you'll likely end up with an unhealthy puppy that may have genetic diseases.
For the health and happiness of the puppy, it is essential to buy from a legitimate and reputable breeder. Here are the top 5 Cavapoo breeders in Oklahoma and nearby states!
Other articles you might like: Goldendoodle Breeders in Oklahoma and Bernedoodle Breeders in Oklahoma.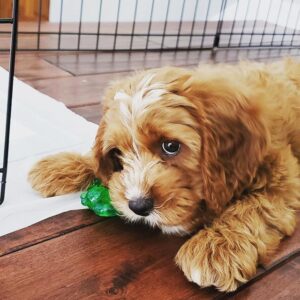 PuppySpot is an excellent breeding site that sources the most reputable breeders across the country and advertises their puppies. With a zero-tolerance for puppy mills, PuppySpot completes such extensive background checks that only less than 10% of breeder applicants get advertised on their site.
PuppySpot features virtually every breed of dog – including Cavapoo puppies – with minimal waiting times due to how many litters they are able to advertise. Simply search for the breed you want, adjust the settings accordingly, and you're sure to find the perfect companion! As well as the breeders, the parents of the litter and each puppy undergo extensive health checks to look for genetic diseases or potential future health problems.
PuppySpot is authorized by the American Kennel Club (AKC), which goes to prove that they are founded on the ethics of breeding for making lifelong companions, rather than for profitable purposes. We bought our Doodle from PuppySpot and had a really great experience. You can easily sort by coat color, size, gender, age, and price and get your Cavapoo in no time. You won't have to research tons of different breeders to find your perfect puppy.
Cavapoo Information:
Breeder Information:
A family-run breeding business in northeastern Oklahoma, Calla Lily Cavapoos specializes in breeding – you guessed it – Cavapoos. With 10+ acres of gorgeous woodland and farmland, each puppy is given the idyllic opportunity to explore, play, and socialize before they reach their forever home. They are one of the most premiere Cavapoo breeders in Oklahoma that you will find.
Calla Lily Cavapoos own their parent dogs and only breed from the dams 2-3 times in their lifetime to prevent dangerous overbreeding. This breeding business is all about the quality, not quantity, which is why the waiting times tend to range between 10 months to a year between each litter.
Calla Lily Cavapoos are all about providing a personal experience for every potential customer. Not only do applicants meet the litter, but they also meet the parents of the litter.
This is to provide the applicants with an idea of what the puppy might grow into (though each designer breed looks different) as well as a background medical check that might indicate future health problems or genetic diseases. When the parents have retired from breeding, they can then be fostered.
Cavapoo Information:
Variety: Depends on the parents of the specific litter (mostly F1 puppies)
Breeder Information:
Located in one of Oklahoma's neighboring states, Missouri, Hot Water Farm is a family-owned farm that specializes in breeding happy and healthy puppies. These puppies include Cavapoos, as well as Corgis and English Bulldogs.
Hot Water Farm is all about quantity over quality, ensuring that each parent is registered with the AKC and every dog is wormed, vaccinated, and microchipped.
Each puppy bred at Hot Water Farm is an F1 (first generation) hybrid, meaning that each puppy will look different from one another in a litter. Everything is very personal with this kennel, as they like to introduce the puppies to applicants within an hour from their farm to see how everyone gets along.
The waiting times can be sparse to prevent overbreeding. With over 21 years of experience, Hot Water Farms are experts at high-quality breeding. While they are located in Oklahoma, they are very close by.
Cavapoo Information:
Variety: F1 puppies, colors vary
Breeder Information:
While it's not quite Oklahoma, Puppyville Texas is a registered Doodle breeder that is the opposite of a puppy mill (despite how the name rhymes!). Each Cavapoo puppy comes with a vet-approved health certificate, birth certificate, gift bag filled with food and treats, and all the information needed to care for the puppy.
Health certificates of the parents are also available upon request, which can indicate future health problems and genetic diseases.
The waiting times can be sporadic depending on the Doodle breed. As they seem to sell a litter of Cavapoos once a year, it's important to show your interest as soon as possible. In the meantime, the puppies live on a 45-acre plot of land to explore and socialize – great exposure for raising them at a young age! Plus, Puppyville Texas is located in north Texas not too far from Oklahoma.
Cavapoo Information:
Variety: Depends on the parents
Breeder Information:
Address: 5294 CR 107, Gainesville, Texas 76240. A short drive form Oklahoma.
Phone number: (903) 436-1596
Email: arcuthorse@aol.com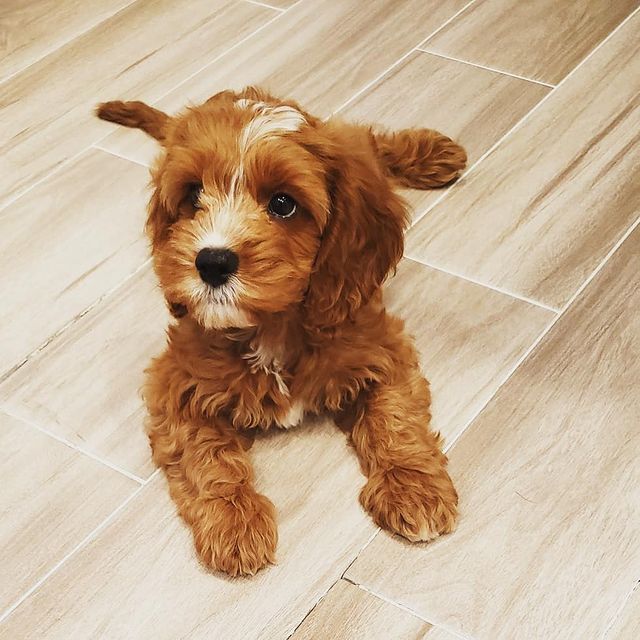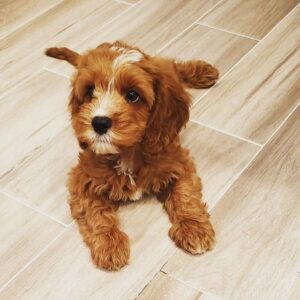 If you're looking for a happy and healthy Toy Cavapoo, Kings River Doodles is the breeder for you. Kings River Doodles is one of the best Cavapoo breeders in northern Arkansas and southern Missouri, located on a beautiful farm in Omaha.
This is a family-run business that specializes and prides itself on breeding healthy puppies from excellent bloodlines, without falling into the overbreeding habits of puppy mills.
Each puppy comes with a guarantee, health checks, vaccinations, microchips, and worming. Successful applicants can also see the parents of the puppy and their health background to look out for genetic diseases.
Most of their puppies are sold as pets, and on rare occasions, they will sell a puppy to local reputable breeders to continue the line of gorgeous Toy Cavapoos.
Kings River Doodles only breeds from one dam once a year, so with roughly 2-3 litters in her lifetime before she retires, they find another Toy Poodle to breed from (often a daughter). While waiting times can be long, this is to prevent overbreeding.
Cavapoo Information:
Variety: F1B Toy Cavapoos
Breeder Information:
Why Choose a Cavapoo Puppy in Oklahoma
Cavapoos are a designer hybrid between a Kings Charles Cavalier Spaniel and a Poodle. Due to the size of the King Charles Cavalier Spaniel, the Poodle parent must be a Miniature or Toy Poodle. This means that Cavapoos are one of the smallest Doodle breeds.
Cavapoos are notoriously friendly and good-natured dogs. They aren't prone to aggression, which makes them ideal around children. These dogs are incredibly intelligent and eager-to-please, making them very easy to train. Not only this, but they are adaptable dogs that can live comfortably in either an apartment or a house with a yard.
Due to their affectionate and easy-going nature, Cavapoos are the perfect breed for first-time owners and families.
Potential owners must be prepared to devote their time and attention to their Cavapoo dog as they can be prone to separation anxiety when left alone for long periods – which is why training them to be independent at a young age is essential. Cavapoos also need quite a lot of grooming due to how much hair they shed!
How to Choose a Cavapoo Breeder in Oklahoma
As you can see from our list, there aren't that many Cavapoo breeders in Oklahoma. This means that if you can't find a Cavapoo in a rescue shelter (they are a rarity due to how popular the breed is), odds are you're going to have to travel to nearby states to find your perfect companion.
The key to choosing a breeder is extensive research. So many first-time dog owners will fall into an excitable trap of buying a dog from a random breeder without considering licensing and health checks.
These breeders usually end up being backyard breeders or puppy mills, which don't care for the wellbeing or health of the dogs compared to the profit.
Reputable and legitimate breeders will give applicants medical checks and documents of all the dogs – including the parents – as well as proof of licensing, registered breeding, and proof of vaccinations, worming, and microchipping. Long waiting times between litters also prove that the breeders don't overbreed from their dams.
Conclusion For Cavapoo Breeders in Oklahoma
Cavapoos are a wonderfully lovable breed that deserves forever homes, so it only makes sense to purchase them from legitimate and reputable breeders. Hopefully, these breeders in Oklahoma and surrounding states will give you an idea of what to look for in Cavapoo breeders!
Other articles you might like:
Garrett loves animals and is a huge advocate for all Doodle dog breeds. He owns his own Goldendoodle named Kona. In addition, he volunteers at the Humane Society of Silicon Valley, where he fosters dogs and helps animals. Garrett enjoys writing about Doodles and believes that dogs can teach humans more about how to live than humans can teach a dog.
Why Trust We Love Doodles?
At We Love Doodles, we're a team of writers, veterinarians, and puppy trainers that love dogs. Our team of qualified experts researches and provides reliable information on a wide range of dog topics. Our reviews are based on customer feedback, hands-on testing, and in-depth analysis. We are fully transparent and honest to our community of dog owners and future owners.