Bernedoodles are one of the best companion dogs you can find. A hybrid between a Bernese Mountain Dog and a Poodle, Bernedoodles are loving, affectionate, intelligent, and friendly dogs that are certain to become a family's new best friend. The best way to introduce a dog or puppy into your home is through adoption, though with the growing popularity of Bernedoodles, it's sometimes near impossible to find one in a local rescue shelter.
This is why potential dog owners look for reputable Bernedoodle breeders in their area, though this comes with some risks. While a breeding site might look legitimate online, they could be hiding a puppy mill behind closed doors. Puppy mills will oftentimes take people's deposits or sell them an unhealthy puppy with genetic issues. To help you find the happiest and healthiest Bernedoodle puppy from a reputable breeder, thus avoiding the puppy mills and backyard breeders, here are the top 5 Bernedoodle breeders in Oklahoma!
Another article you might like: Goldendoodle Breeders in Oklahoma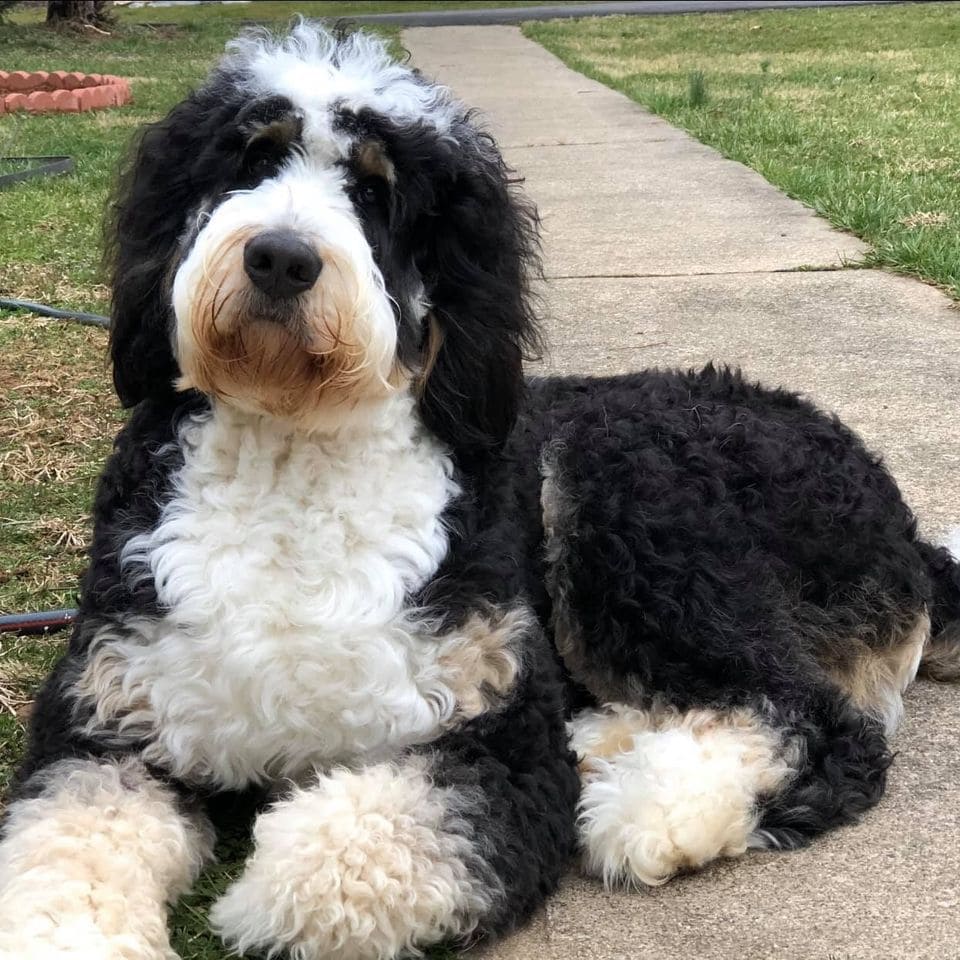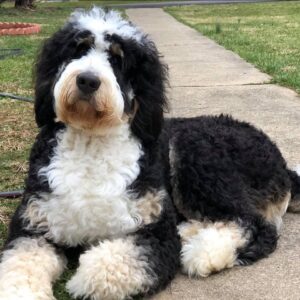 PuppySpot is one of the best breeders for a variety of puppy breeds – from Bernedoodles to purebred breeds. They specialize in sourcing the best Bernedoodle breeders across America, where breeders then undergo an extensive application process to ensure they are not a puppy mill or backyard breeder. As a result of this, less than 10% of breeder applicants are accepted by PuppySpot. Their zero tolerance for puppy mills is what makes them so reputable and trustworthy for all future dog owners.
The popularity of designer breeds means that the waiting times for Bernedoodle litters can be a lengthy process. PuppySpot, however, works tirelessly to source breeders across the country (and in local states) to advertise litters throughout the year. This means that the waiting time may only be a matter of months for a puppy to find its forever home! As a future puppy owner, it also saves you tons of time from researching, contacting, and applying for a Bernedoodle puppy.
All Bernedoodle puppies from PuppySpot undergo extensive health checks (including their parents) with proof from the vet to look out for genetic diseases and potential health problems. The dogs also come fully vaccinated, wormed, and microchipped. Additionally, you can filter between size, age, gender, and coat color to find the exact Bernedoodle puppy you're looking for. If they aren't located in Oklahoma, then PuppySpot will fly your Bernedoodle out to you.
Bernedoodle Information:
Variety: Range of ages, sizes, colors, and gender
Breeder Information: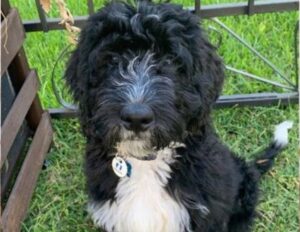 Based in northeastern Oklahoma, Oklahoma Doodles is a family-run business that specializes in breeding Bernedoodles. The facility is fully enclosed to allow the puppies to be bred and raised in a clean, warm, and safe environment. This is to ensure that all their Bernedoodle puppies for sale are given a sufficient amount of time with their parents, and space to socialize with other dogs and humans.
The family has three main female Poodles, but they only breed from one at a time before retiring them after 2-3 litters. This is a clear sign that Oklahoma Doodles is not a puppy mill, as they make sure to only devote their energy to one mother and litter at a time.
While this also means that litters won't be available year-round, owners are guaranteed healthy and happy puppies from a healthy mother.
The price of the puppies varies between $2,500-$3,000 depending on their coloring, which varies for each Bernedoodlepuppy. Oklahoma Doodles is very strict about visitors coming to see the puppies due to the risk of spreading parvovirus, even though the puppies are fully vaccinated and wormed.
An application and deposit are required to meet a puppy. If a family struggles with the dog during the first year, Oklahoma Doodles will rehome the dog.
Bernedoodle Information:
Variety: Depends on the stud. Only one litter is available in a year from one mother. All puppies have two-color markings.
Breeder Information:
Red Barn Doodles is a family-run breeding business in the northeast of El Reno, Oklahoma. The ranch was founded by the couple Michelle and Kevin who began as cattle ranchers before branching out to perfecting their high-quality dog breeding program.
With three Bernese Mountain Dogs, one Poodle, one Australian Shepherd, and two F1 Bernedoodles, this family sure knows how to treat their furry friends!
Red Barn Doodles are all about quality over quantity. Because of this, they only offer a small handful of litters per year to prevent the mothers from over-producing.
Each Bernedoodle puppy in Oklahoma costs $3,000, which covers their vaccinations, worming, microchips, and extensive health checks. Vet-approved health certificates are also available to show the medical history of the parents.
Potential owners are required to complete an application form and pay a $500 deposit to then be met with extensive background checks and meetings to see if you are the right fit for a puppy.
Bernedoodle Information:
Variety: Depending on the litter, the puppies range from F1, F1 mini, and F1B micro mini
Breeder Information:
Located just outside of Oklahoma City, Forest Glen Kennels boasts 5+ acres of woodland areas – a perfect environment for dogs and puppies to explore.
This is a family-run kennel that was founded over 25 years ago, so they have had enough time to perfect their breeding standards. They have since become experts in breeding Poodle mixes, including Bernedoodles. Forest Glen Kennels is devoted to legitimate and safe breeding that is beneficial for both the puppies and their parents.
This kennel currently has three dams that produce one litter a year each of Bernedoodles or Doodle crosses. All their Bernedoodle puppies in Oklahoma come vaccinated, wormed, microchipped, and with vet-approved medical checks.
Bernedoodle Information:
Variety: Depends on the parents. They will either be F1, F1B, or F2.
Breeder Information:
Based in northeast Oklahoma is the family-run business of Great Oaks Kennel. This kennel specializes in breeding happy and healthy dogs, including Bernedoodles, Golden Retrievers, and German Shepherds.
With two adults and six children, this is a friendly and sociable environment for all Bernedoodle puppies to grow up in – which is even more ideal if you're looking for a companion for your own kids!
Each puppy comes fully vaccinated, wormed, and microchipped before they go to their forever home. They also come with a medical history (and one of the parents if requested) and a 1-year health guarantee for peace of mind.
The experiences and testimonies of the puppies says it all, as people across the country have traveled to Oklahoma to bring their new Bernedoodle puppies home.
Bernedoodle Information:
Variety: 3 pairings of dams and studs means each litter will vary depending on the parents
Breeder Information:
Why Choose a Bernedoodle Puppy
A designer hybrid between a Bernese Mountain Dog and a Poodle, Bernedoodles are the ultimate companion dog. They exhibit all the wonderful qualities of their parents – from their intelligence to their gentle nature. These are hard-working dogs that are easy to train and eager to please, especially when they are raised as a puppy.
Bernedoodles are suitable for any household, but especially one with a yard as they are energetic and don't do well with boredom. They get on great with kids, especially older kids who want to play with the dog.
Their fur is also mostly hypoallergenic, which is ideal for those with allergies or asthma. Plus, Bernedoodles are super friendly with other humans and animals.
If you're prepared to commit to training, regular grooming, and a lot of attention, you have to consider a gorgeous Bernedoodle!
How to Choose a Bernedoodle Breeder in Oklahoma
It's no secret that adopting is the best way to get a new dog. However, as Bernedoodles are so popular, it's rare to find them in rescue shelters. The next best thing you can do is to buy one from a reputable breeder, which is harder than it sounds.
Distinguishing a reputable breeder from a puppy mill or backyard breeder can be tricky. A lot of research has to be done to ensure that the breeders are selling their puppies with good intentions rather than for money. If a breeder seems to produce multiple litters from the same mother throughout the year, this is a clear sign of a puppy mill.
Female dogs should only give birth 2-4 times in their lifetime, as overbreeding can be dangerous for her and the puppies. Plus, puppy mills are reluctant to give information about medical histories of the dogs and litters.
The key things to look out for in a Bernedoodle breeder are reviews and testimonials, background medical checks, vaccinations, and how often they sell litters. If in doubt, contact the breeder constantly with questions!
Conclusion For Bernedoodle Breeders in Oklahoma
So, there you have it! The five best breeders for Bernedoodles in Oklahoma. Hopefully, this article will have helped you on your journey to find the ideal breeder, and subsequently, your ideal puppy to join their forever family.
Other articles you would like:
Garrett loves animals and is a huge advocate for all Doodle dog breeds. He owns his own Goldendoodle named Kona. In addition, he volunteers at the Humane Society of Silicon Valley, where he fosters dogs and helps animals. Garrett enjoys writing about Doodles and believes that dogs can teach humans more about how to live than humans can teach a dog.
Why Trust We Love Doodles?
At We Love Doodles, we're a team of writers, veterinarians, and puppy trainers that love dogs. Our team of qualified experts researches and provides reliable information on a wide range of dog topics. Our reviews are based on customer feedback, hands-on testing, and in-depth analysis. We are fully transparent and honest to our community of dog owners and future owners.