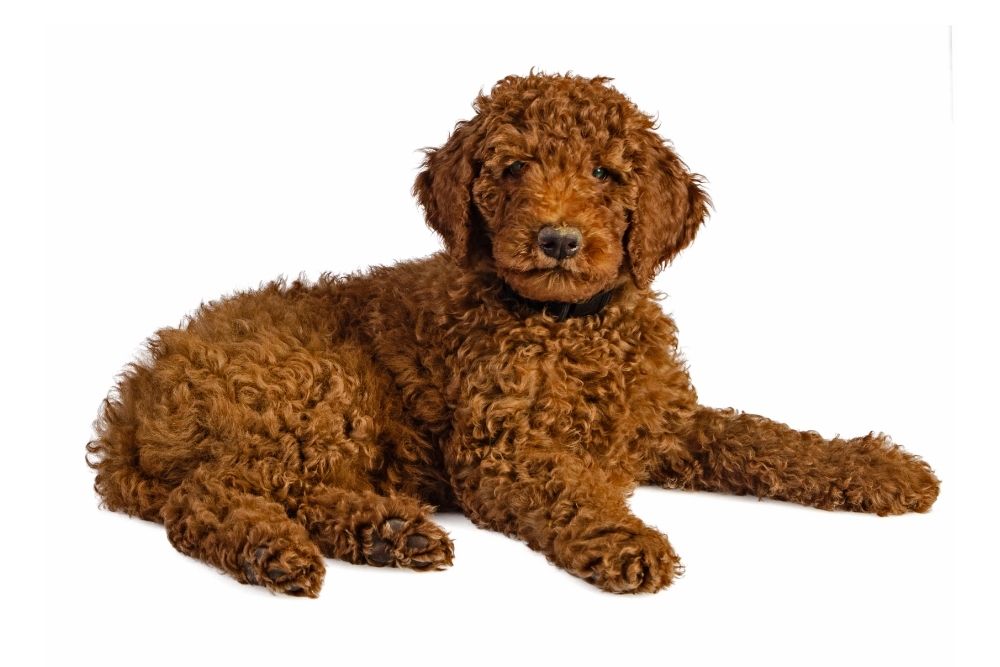 Finding a Labradoodle breeder in Oklahoma can seem like a monumental task, can't it? There are so many breeders claiming to be the best and offer the best puppies on the market that it can be hard to choose one.
But with so many Labradoodle puppy mills and backyard breeders emerging, it can be difficult to weed out the good from the bad and find your new breeder. No matter how much time you spend researching, you are still left stressed out and with no puppy.
Well, no more! Today we are here with the best Labradoodle breeders in Oklahoma to help you find your new puppy! We have considered the breeder's reputation, the generation of puppy being bred, and health checks to find you the right puppy today! Keep reading to find your new Labradoodle puppy in Oklahoma today!
Other articles you might like: Goldendoodle Breeders in Oklahoma and Cavapoo Breeders in Oklahoma!
Kicking off our list today is PuppySpot! With a range of generations, colors, and sizes available today, there is sure to be a Labradoodle puppy that suits your needs. We bought our 2nd doodle from PuppySpot and had a really great experience.
Currently, there are over a hundred Labradoodle puppies on PuppySpot's page, all ranging in age, with many ready to go home today! Why not head over and find yourself a new puppy?
PuppySpot allows you to find your perfect puppy and does the hard work for you. They screen all their Labradoodle breeders in partnership with American Humane and the USDA to ensure that all breeding dogs and puppies are healthy.
The breeders must meet PuppySpot's criteria, or they will be investigated and removed from the site if necessary – less than 10% of all breeders who apply are accepted. PuppySpot also provides a nose-to-tail health check and a health guarantee for your puppy, so you can rest easy knowing that it will arrive happy and healthy. Additionally, if the Labradoodle puppy you want isn't located in Oklahoma, they even take care of the travel and will deliver to your doorstep.
You can also refine your search by generation, size, and coat color of the Labradoodle, so you are sure to find the puppy of your dreams without any worries! With so many available now, you won't be stuck with long wait times. You can buy your Labradoodle puppy in Oklahoma today.
Labradoodle Puppy Information:
A range of F1, F1B, F2, and multi-generation Labradoodles are available
All sizes and colors are available
Labradoodle Breeders Details:
Up next is Turkeyhill Labradoodles, a fantastic breeder currently specializing in F1, F1B, and F2 Labradoodles, but soon we will see multigenerational doodles being bred too! With over ten years of Labradoodle experience, Turkeyhill in Edmond has a vast land on which these puppies and dogs can play and grow.
They keep a small amount of each litter back, based on their shedding and positive traits, to continue breeding Labradoodles that will make wonderful additions to your home.
You can view all the breeding dogs on their site, learning about their personalities and coats. There is a one-year health guarantee for all puppies so that you can rest easy!
Your puppy will be microchipped, vaccinated, and come with food, a leash, and a collar to get you started! You will also receive proof of their registration with the Continental Kennel Club.
These wonderful Labradoodles will make a fantastic addition to your home and come with the best traits and personalities.
They range in size, but you can request more information and state your preference easily. While there isn't much health information listed online, a quick email or call to Turkeyhill Labradoodles is sure to get you all the information you need.
Labradoodle Puppy Information:
F1, F1B, and F2 Labradoodles available
Multi-generational Labradoodles to be introduced over time
Labradoodle Breeders Details:
For those looking for an Australian Labradoodle, your search is over! Shadow Mountain Australian Labradoodles have a branch in Southeast Oklahoma and are a breeder you can support.
They are co-founders of SM's Raising the Breeder Bar education and training program and are members of the Australian Labradoodle Association of America (ALLA).
They meet this organization's testing and health check standards and work on breeding and raising Labradoodles suitable for work as therapy dogs. They invest a great deal of time into positive reinforcement and raising these puppies to be affectionate, kind, and loyal Labradoodles.
Currently, only one Labradoodle is available on their site, so you might need to wait for a puppy, but trust us, they are worth it! They breed multi-generational standard, miniature, and medium Labradoodles with online pictures and information about their breeding dogs.
You can also view their medical history when clicking on any of the breeding dogs! Talk about transparency! Their belief system is listed on the site, too, so you can be sure the puppy you receive has been loved and well cared for before you.
All Labradoodle puppies are microchipped and undergo an early spay or neutering to avoid overpopulation issues. If you are located in Southeast Oklahoma, these are fantastic breeders to use.
Labradoodle Puppy Information:
Labradoodle Breeders Details:
Are you looking for therapy or support for Labradoodles? Look no further than Deer Creek Labradoodles! With over 20 years of experience and fantastic testimonials, this family-run business offers F1B and multi-generational Australian Labradoodles that are sure to make a wonderful addition to your home.
These puppies are brought into the world and raised with support and comfort in mind. All puppies receive fantastic training and human iteration to ensure they are properly socialized before joining their forever homes.
The puppies undergo a 'school' where their loyal and loving traits are reinforced and even toilet training! You can read all about their puppy training on Deer Creek's website!
You can also view all the breeding dogs and their health test results for peace of mind! All dogs undergo genetic health testing and have the results published alongside them. You can also see what color coats they usually carry too!
The website is packed full of information about their breeding, training, and therapy dog academy too. These sure are breeders that know their stuff! There are even videos of the training in action, so be sure to give them a watch.
You get a whopping 3-year health guarantee when purchasing your puppy. To ensure you don't void the guarantee, your puppy will need to be spayed or neutered by six months.
These Labradoodles are cared for and trained well before coming home and will make a welcome addition to any home after a comforting and soothing presence.
Labradoodle Puppy Information:
F1B and multi-generational Labradoodles are available.
Range of sizes and colors
Labradoodle Breeders Details:
Completing our list today is Southern Oklahoma Australian Labradoodles, a breeder based in Maysville, specializing in multi-generational Australian Labradoodles. As members of the ALAA, you can put your faith in these breeders and know the puppy you receive will have been loved and well cared for.
You can find proof of the breeding dog's health information and pedigree status by the dogs, allowing you to check the risk of genetic conditions in your puppy. You can also view past puppies and litters, with timed stamped pictures of their growth to help you see what to expect.
Contacting the breeder is easy too, simply fill out the form on their site or drop them an email. The puppy application process is simple and well-explained on the site too. Whether you are a seasoned dog owner or a newbie, plenty of information and support are available to help you make an informed decision today!
Labradoodle Puppy Information:
Multi-generational Australian Labradoodles available
Medium-sized with chocolate brown coats.
Labradoodle Breeders Details:
Why Choose a Labradoodle Puppy in Oklahoma
Labradoodles are affectionate and friendly dogs that will make a welcome addition to most homes and families! They are fantastic with children, although they can be a little wary of strangers at times.
Thanks to their mixed breeding, these Labrador and Poodle cross tend to be hypoallergenic! Depending on the type of coat they have, they are low or no shedding dogs, making them wonderful puppies for those with allergies.
There is a slight difference between American Labradoodles and Australian Labradoodles, so keep an eye out for the two names when searching. Australian Labradoodles tend to be mixed with other dogs and usually retain their hypoallergenic status but are more likely multigenerational than American Labradoodles.
Labradoodles are playful, loving, and wonderful companion dogs that thrive in most states, especially Oklahoma!
How to Choose a Labradoodle Breeder in Oklahoma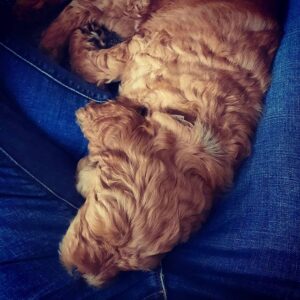 Finding a Labradoodle breeder in Oklahoma can be challenging, especially with so many on the market, but it doesn't need to be! The list we have included above offers the best breeders and sellers in the area, allowing you to choose your new puppy easily.
However, if you want to use a different breeder, use our two tips below to select the right Labradoodle breeder for you!
1. Do your research
When it comes to finding a Labradoodle puppy for sale in Oklahoma, thorough research is best. You want to find out as much as you can about the breeders to help rule out any potential puppy mills. The last thing you want to do is accidentally support a puppy mill!
Check what health checks and tests the breeder carries out on the breeding dogs and puppies too! Keep an eye out for any recommendations or memberships to associations or organizations too.
2. Contact the Labradoodle Breeder
Once you have found a breeder that you like the look of, speak to them directly. Ask lots of questions to learn as much as possible about the breeder, where the puppies are kept, and the parent dogs.
It's also worth asking for proof of health records and vaccinations so you can check the puppy is healthy. Knowing this information can help determine that the puppy is healthy and happy.
If possible, ask for photographs of the puppy's parents too; it helps you understand better what your puppy could look like. Any reputable breeder will be more than happy to answer your questions and provide you with lots of information, so don't feel bad for asking questions!
Conclusion for Labradoodle Breeders in Oklahoma
And just like that, we have reached the end of our breeding guide today! As you can see, there are some fantastic options for those after Labradoodle breeders in Oklahoma.
Any breeders on the list are outstanding choices, but we think PuppySpot has the edge. They take breeders seriously and hold them to incredibly high standards, so you know you are in safe hands!
No matter your choice, remember to complete your research beforehand, and you are sure to have a wonderful new puppy!
Another article you will like:
Garrett loves animals and is a huge advocate for all Doodle dog breeds. He owns his own Goldendoodle named Kona. In addition, he volunteers at the Humane Society of Silicon Valley, where he fosters dogs and helps animals. Garrett enjoys writing about Doodles and believes that dogs can teach humans more about how to live than humans can teach a dog.
Why Trust We Love Doodles?
At We Love Doodles, we're a team of writers, veterinarians, and puppy trainers that love dogs. Our team of qualified experts researches and provides reliable information on a wide range of dog topics. Our reviews are based on customer feedback, hands-on testing, and in-depth analysis. We are fully transparent and honest to our community of dog owners and future owners.