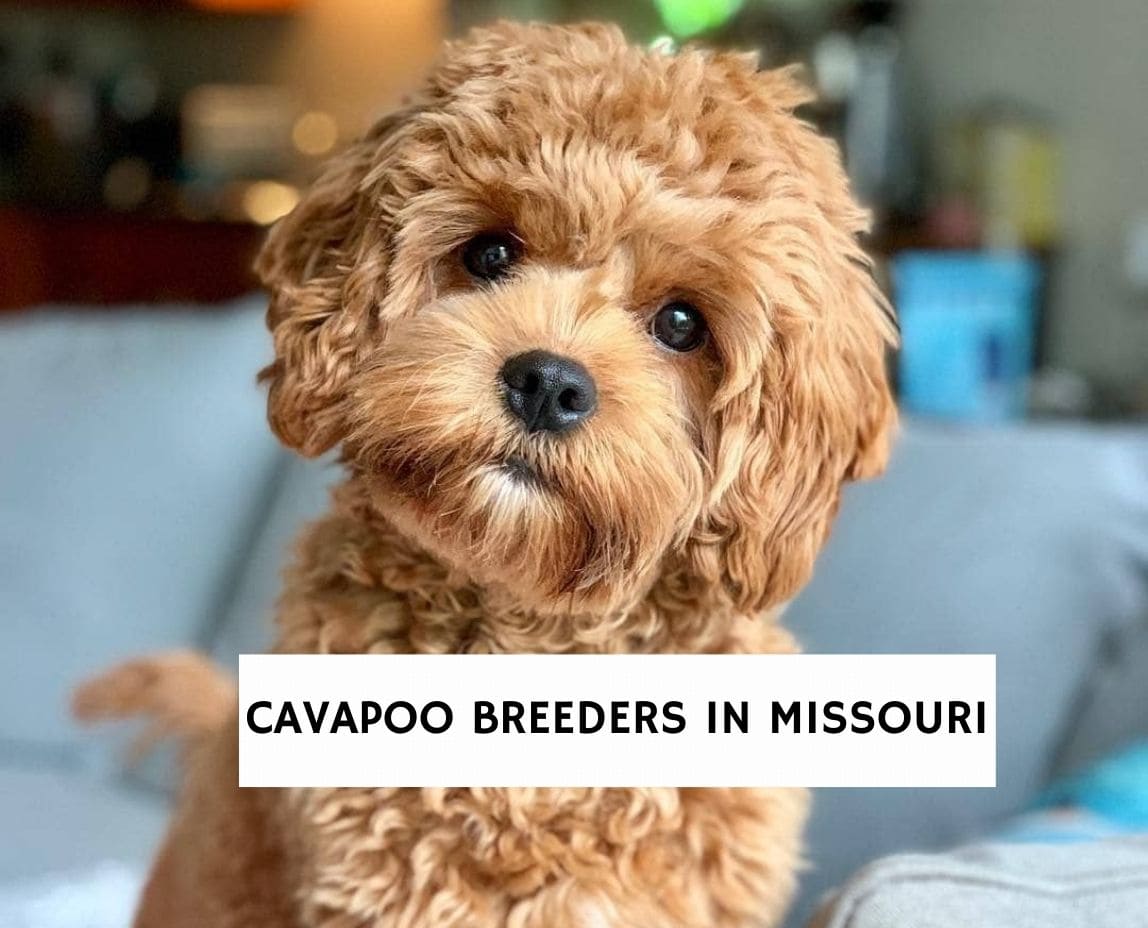 If you've been thinking about buying a Cavapoo as your home pet, then you are in luck. There are a lot of reasons why one would want a Cavapoo as a dog. For starters. Cavapoos are a hybrid dog breed comprised of Cavalier King Charles Spaniel and Poodle. Because of the hypoallergenic nature of Poodles, Cavapoos rarely shed or drool. In this guide, we'll provide you with a list of the best Cavapoo breeders in Missouri. These dogs are good-natured, affectionate, and playful–their adorable teddy bear look is just a bonus to these dogs' great temperament.
Before scrolling down this list of the best Cavapoo breeders in Missouri, check out similar breeds from the same area: Maltipoo Puppies in Missouri and Goldendoodle Puppies in Missouri.
Cavapoo Puppies For Sale in Missouri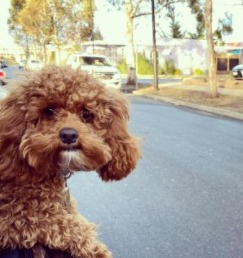 Here's your list of the best Cavapoo breeders in Missouri. Remember – if you're purchasing from an unknown Cavapoo breeder in Missouri, keep an eye out for any signs of red flags.
Cavapoo Product Recommendations: Best Brush For a Cavapoo and Best Dog Bed For Separation Anxiety.
1. Hot Water Farm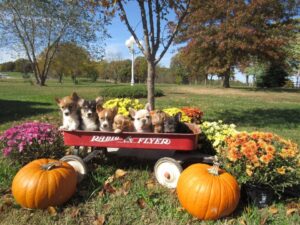 First on the list of the best Cavapoo breeders in Missouri is "Hot Water Farm." Located in beautiful Southwest Missouri, Hot Water Farm is a family-owned farm that breeds the most adorable little puppies. This breeder has focused on providing its customers with healthy Cavapoos, English Bulldogs, and Corgis for over 21 years. Parent dogs are American Kennel Club registered, so you know you are receiving a healthy little puppy. Each puppy at Hot Water Farm has been de-wormed, vaccinated, and vet checked for good health.
Additionally, each puppy comes with a one-year health guarantee to ensure that your new family member is as healthy as can be. If you browse the "Available Puppy" page of their website, you can view the available puppies and even the puppies that have been claimed. Looking here, you can see that these quality puppies at Hot Water Farm are adopted by families all across the United States. If you are interested in adopting a puppy from Hot Water Farm, you can complete a contact form on their website or call or email them for more information. These perfect little puppies get adopted quickly, so make sure to contact them today to get your name on the list for upcoming litters.
Hot Water Farm Details
2. Angel Wing Pets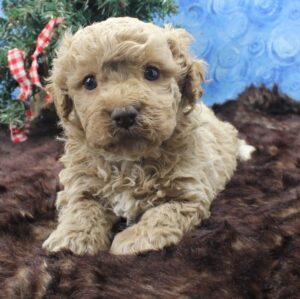 On a beautiful 10-acre farm in Southwest Missouri, Angel Wing Pets is a small home-breeder that provides its customers with healthy and loving Cavapoo puppies. It has parent dogs that are registered with the American Kennel Club or American Pet Registry. This ensures that you are receiving a puppy from top-quality parents. The parent dogs that are not registered are hybrids, meaning they cannot be registered simply because they are not purebred. The parent dogs that are currently expecting are listed on their website.
Additionally, you can find potential new litters and parent dog information for planned litters. This includes each parent dog's name and weight, which gives you a good idea of what size your new puppy will grow to. Each puppy at Angel Wing Pets will come with up-to-date vaccinations,  dew-claws removed, a microchip, a one-year health guarantee, and health certifications. These procedures will ensure that you receive the healthiest puppy possible. If you are interested in purchasing an angelic puppy from Angel Wing Pets, you must deposit it to hold your puppy for you. So, take the first step to receive your new family member by contacting them today.
Angel Wing Pets Details 
3. Indian Creek Ranch
If you search for a Cavapoo puppy in Northeastern Missouri, Indian Creek Ranch is a great place to look. Spread out across 44-acres of farmland, Indian Creek Ranch is a small, family-owned breeder. They take pride in their well-maintained facilities that have been professionally inspected and licensed. All parent dogs at Indian Creek Ranch are registered with the American Kennel Club to ensure health. These parent dogs, and subsequently their puppies, are treated as part of the family.
Given a large area to explore, these dogs can exercise and maintain their physical health. The puppies at Indian Creek Ranch are well-socialized with humans and other dogs. The litters are kept together with the parent dogs until adoption time. This allows these little puppies to become comfortable with other dogs. In addition to being well-socialized with other dogs, these puppies are exposed to humans of varying ages. This exposure ensures that you receive a well-socialized puppy from the beginning.
Taking care of the health of their puppies is a top priority at Indian Creek Ranch. Each puppy comes with a one-year health guarantee against congenital heart defects. Additionally, each puppy is de-wormed, vaccinated, microchipped, and vet-checked before adoption. You will receive all up-to-date health records for your puppy at the time of pickup. If you want to adopt a healthy and happy puppy from Indian Creek Ranch, contact them today so you can get on the waiting list for your future puppy.
Indian Creek Ranch Details
4. Riverside Puppies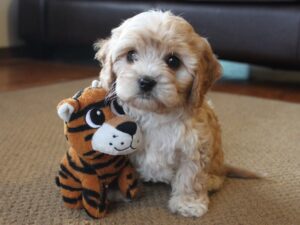 Last on the list of best Cavapoo breeders in Missouri is "Riverside Puppies." Located on 250-acres of the beautiful Ozark Hills of Missouri, Riverside Puppies is here to help you welcome a well-socialized and healthy puppy to your family. Specializing in Cavapoos and Maltipoos, Riverside Puppies is here to answer any of your Cavapoo inquiries. Every puppy at Riverside is born and raised in a family home. This early exposure to humans guarantees you receive a well-socialized puppy.
Puppies are housetrained at 5 weeks old and crate trained at 7 weeks old. This early training guarantees you an intelligent, well-behaved puppy from the day you take it home. Included with the price of your puppy is microchipping, neutering/spaying, de-worming, a professional vet exam, registration papers, vaccinations, and a health certificate. You will also receive a "puppy pack" to assist you with all the important information about your puppy.
All dams and sires at Riverside Puppies are in great health. You will receive four generations of pedigree information for each parent dog to assure you that they are of great bloodlines. Some of the parent dogs even come from championship pedigrees. If you want to adopt a puppy from Riverside Puppies, you can check out their prices on their website and be added to the waiting list for your new best friend.
Riverside Puppies Details 
Conclusion For The "Best Cavapoo Breeders in Missouri"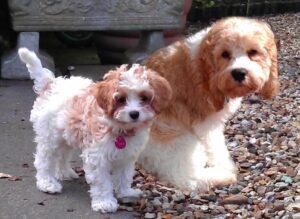 If you live in Missouri and have decided you want to adopt a Cavapoo, there are quite a few breeder options in your area, but there are some things to consider when choosing the right breeder for you. First, consider the location of the breeder. Located all across the state, you should ensure that you can easily access the breeder you choose. Some breeders ship puppies, but others are strictly against it. It is important to ask whether puppies are shipped before committing to a waiting list to ensure that you can get your puppy in person if need be.
Some breeders may also charge you for boarding if you do not pick up your puppy in time, so it is super important to make plans beforehand. Another thing to consider is what color Cavapoo you are interested in. Cavapoos can come in many different colors because of the varying colors of Cavalier King Charles Spaniels and Poodles.
Some breeders specialize in a certain color, while others may have varying colors based on the available parent dogs. Deciding what color you want is a great way to narrow down the right breeder. Size is also something to consider when adopting a Cavapoo. Poodles can come in all different sizes, so your puppy can be big or small, depending on the parent Poodle. Knowing what size you prefer can help narrow down what breeder and litter are the perfect fit for you.
If you live in Missouri and want a loving, good-natured, and loyal puppy to join your family, then look no further. The above breeders are professionals willing to answer any questions you may have about Cavapoos. Each breeder prides itself on providing you with the perfect puppy, so contact them today and get started on welcoming home your very own Cavapoo puppy.
For more articles with mentions of the Cavapoo dog breed, check out:
To learn more about the Cavapoo, watch "Cavapoo Dog Breed Guide" from Smart Dog Lover down below: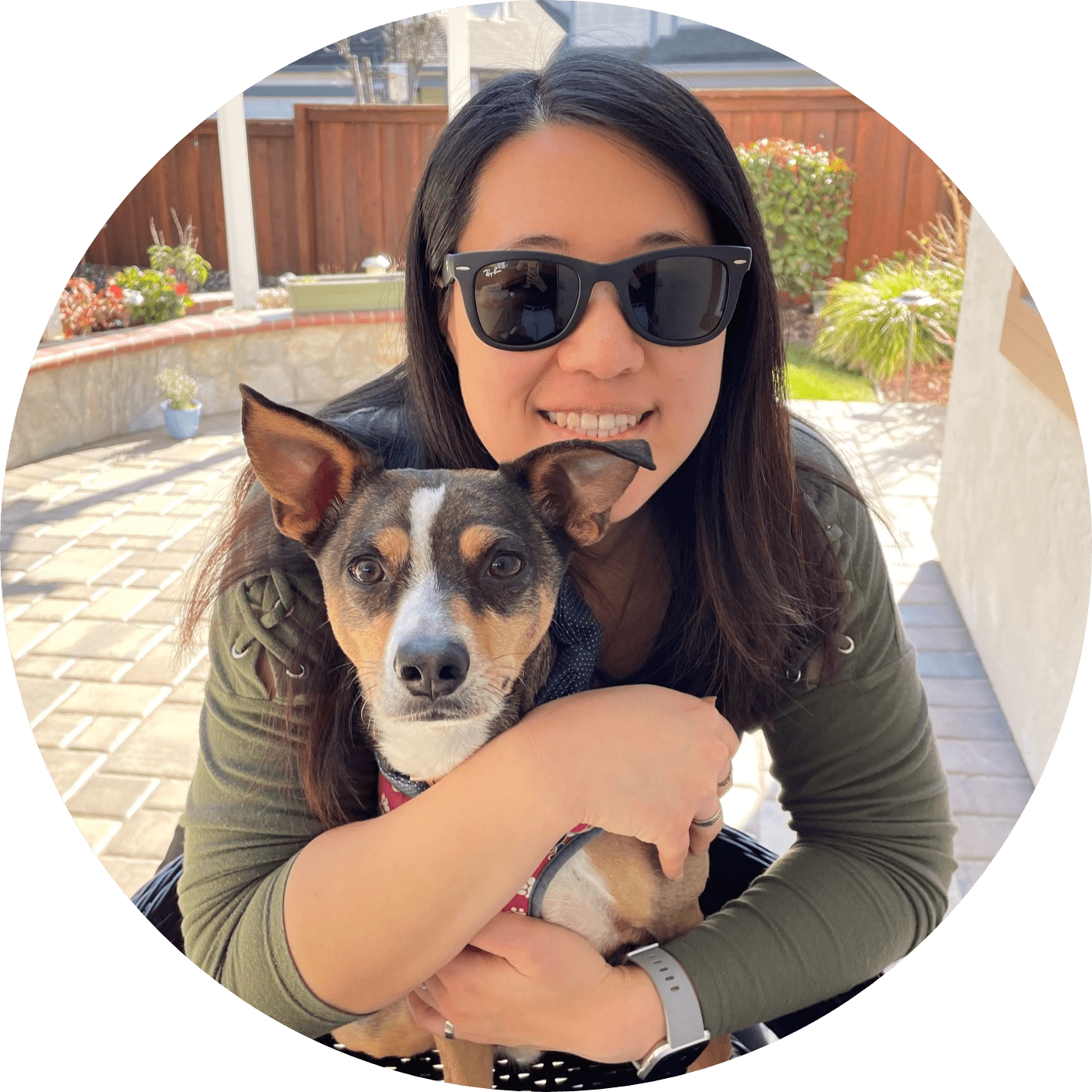 Dr. Sabrina Kong graduated from the Royal Veterinary College in England in 2016 and has been working at a small animal clinic in Northern California since then. She grew up in the Bay Area and got her bachelor's degree from Cal Poly San Luis Obispo. She also became a Certified Canine Rehabilitation Practitioner through a program at the University of Tennessee.
When she isn't in the clinic taking care of her four-legged patients, she enjoys traveling and trying new foods with her friends and her three-legged dog, Apollo. She adopted Apollo from her clinic when he was a puppy with numerous health issues. Dr. Kong truly cares about taking care of animals.