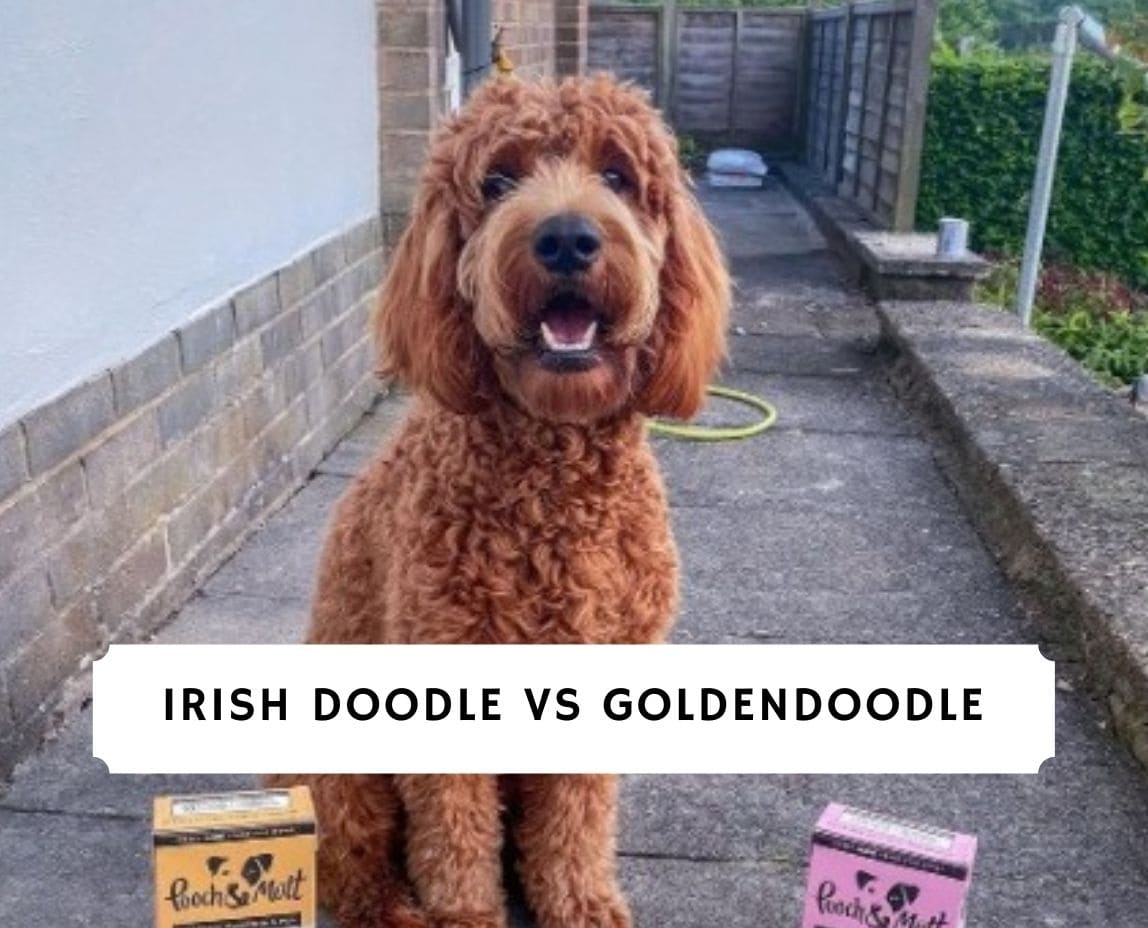 In this guide, we'll cover the differences between an Irish Doodle vs Goldendoodle. Among the many available hybrid breeds, perhaps the breeds involving the Poodle have become the most popular options for both breeders and families alike. Known for their high intelligence, friendly personality, and low-shedding coats, the Poodle has made a name for itself in the context of mixed breeds and families. On the other hand, the Goldendoodle has soared in popularity to become one of the most popular breeds for families and homes. Their friendly personality and easy-going behavior make them trustworthy companions for many.
However, there are undoubtedly many more Poodle hybrids to love and adore who may be the perfect fit for your family. The Irish Doodle, for example, is also a hybrid Poodle breed that is just as easy to love. To help you determine the right breed for you and your family, here we share all about the Irish Doodle and the Goldendoodle. Then, we'll compare these two breeds from their size, temperament, and overall healthy lifestyle and requirements. These comparisons may help you decide on which breed is right for you and your family.
Before scrolling down this article "Irish Doodle vs Goldendoodle," here are other similar comparisons for you to check out: Poodle vs Goldendoodle and Australian Labradoodle vs Goldendoodle.
Breed
Before comparing these two popular breeds' physical and personality characteristics, it's essential first to understand their origins. While both the Irish Doodle and the Goldendoodle share similar histories in lineage, some key differences affect how they look and act. The Goldendoodle is a mix between a Golden Retriever and a Poodle.
The Irish Doodle is a mix between the Irish Setter and Poodle. These different breeds may bring unique personality characteristics and other physical features that can help differentiate between these two popular breeds.
Related Guides: Best Giant Doodle Breeds.
Size
There can be a slight difference in size between the Goldendoodle and the Irish Doodle. This is often due to the size difference between the Golden Retriever and the Irish Setter. Golden Retrievers, for example, reach a height between 20 to 24 inches tall and a weight between 55 to 75 pounds. On the other hand, the Irish Setter reaches a size between 22 to 26 inches tall and a weight between 53 to 71 pounds. While the difference is slight, it may become more apparent with a mixed breed.
As a result of their Poodle parent and the Golden Retriever, a Goldendoodle can reach between 22 to 26 inches tall and a weight between 30 to 45 pounds for a standard size Goldendoodle. Miniature Goldendoodles are about 25 pounds and reach a height of about 16 inches tall. Even smaller, Toy Goldendoodles are about 20 pounds and reach a height of about 14 inches tall. Finally, the Medium Goldendoodle is about 30 to 40 pounds and reaches a height between 16 to 20 inches tall. Just like the Goldendoodle, the Irish Doodle can also come in different sizes. The Miniature Irish Doodle reaches a height between 15 to 22 inches tall and weighs between 12 to 20 pounds.
Standard Irish Doodles reach a height between 22 to 28 inches tall with a height of between 40 to 70 pounds. As each breed has a range for their size in both height and weight, it's important to remember that much of their size is dependent on the parent breeds involved in the process. If both parent breeds are larger, then the resulting puppy will be on the larger end of the spectrum. However, if the parents are smaller, the puppy may have a smaller size. Therefore, parents can be a crucial indicator of what you can expect for the size of either an Irish Doodle or a Goldendoodle.
Related Articles: Which Goldendoodle Size (Mini, Medium, Standard) and Mini Goldendoodle Size Guide.
Temperament
With their shared parent of a Poodle, both the Goldendoodle and Irish Doodle are intelligent and friendly. They are both very eager to please, which can make training either breed much easier. A unique thing about the Goldendoodle is that they don't enjoy being home alone for extended periods. As highly social dogs, they crave attention and affection from you and can feel uncomfortable or upset when they cannot interact with you for a long time. Irish Doodles similarly love to show affection and receive attention, but perhaps not to the same extent as Goldendoodles. They are very gentle and loyal to their families. Overall, both the Irish Doodle and Goldendoodle share a similar loveable and adorable personality and temperament that makes them great companions and family friends.
Related Article: Are Goldendoodles Good With Kids, Dogs, and Cats?
Appearance
One of the most entertaining components of a Doodle hybrid breed is its coat. Both the Irish Doodle and the Goldendoodle have wavy and playful coats that are easy to snuggle up in. Both breeds are also considered to have hypoallergenic qualities that make them very valuable for families with that concern. Goldendoodles tend to have wavy to curly hair that is often a vibrant gold color. However, they may also have other lighter colors, including red and cream. This depends on the color of the parent Poodle included in the breeding process. Irish Doodles are also considered hypoallergenic but can have fine hair and does not shed nearly as much as Goldendoodles.
Their coats can also come in several different colors, from dark to light. These colors include things like red, brown, tan, black, and white. They can even have silver, cream, or blue coats, but those colors are much rarer. Both Doodle varieties require intentional grooming practices to keep their coats healthy. This includes daily brushing and regular trims to keep their coats manageable. You'll also need to bathe them occasionally with dog shampoo to keep their coats smooth and soft.
Related Guides: Types of Goldendoodle Coats and Types of Goldendoodle Colors.
Exercise and Training
Like the Poodle, Golden Retriever, and Irish Setter all enjoy the activity. Therefore, you can expect that an Irish Doodle or a Goldendoodle will love staying active. However, it is essential to note that each breed may require different levels of activity and exercise. Typically, Irish Doodles require much more activity and exercise than Goldendoodles. Whether going for a run or engaging in some intense playtime in the backyard, an Irish Doodle will need dedicated time to run around and burn off all their energy. They have a lot of built-up energy and crave those times to run around and have fun.
On the other hand, Goldendoodles may require a lot of activity as well, but perhaps just not as intense as the Irish Doodle. A smooth walk that is more about being together than burning off energy can often be satisfactory for the Goldendoodle. They may not need to go for a run every day or play for hours on end. While puppies may require more exercise, older Goldendoodles may need less or move at a slower pace than what they once did. For both breeds, keeping them active ensures that they stay happy and healthy. It helps support their physical health as they remain healthy and strong and improve their mental and behavioral health.
Keep their activity intensity needs in mind as you determine which breed is the best fit for you, your family, and your lifestyle. Depending on the size, they may also need more room to run and explore. A backyard or larger areas of land may be more suitable for Medium Goldendoodles or Irish Doodles. However, smaller park areas or living rooms may be just fine for Toy Goldendoodles or Irish Doodles. When it comes to training, both breeds can be very agreeable and easy to train. This may often be due to their parent's personalities and temperaments of being intelligent and eager to please.
Both breeds require positive reinforcement and celebrating the times that they complete something correctly. Socialization is also a vital part of training and raising happy and healthy Irish Doodles and Goldendoodles. Socialization involves getting them into contexts where they become familiar with other people and other dogs or animals. This can help alleviate any stress or any other disturbance they may feel when uncomfortable situations surround them. This is a foundational part of training that needs to start as early as possible in a puppy's life for either the Irish Doodle or the Goldendoodle.
Related Guides: How To Train a Goldendoodle and How To Train an 8-Week-Old Goldendoodle Puppy.
Lifespan
While both dogs may share a similar size, their lifespan does differ slightly. Typically the lifespan of an Irish Doodle ranges between 10-13 years old, regardless of the size. However, Goldendoodles can have a higher lifespan that ranges between 10 to up to 15 years. Most often, the smaller the breed, the longer it may live. While the difference is minor, it may be something worth noting as you determine the best fit for your family.
Related Guides: How Long Do Goldendoodles Live and Mini Goldendoodle Lifespan.
Health Concerns
Their lifespan includes the different health issues that each breed may be more prone to than others. While both breeds are hybrids and are therefore considered to be at lower risk for genetic problems and other medical concerns, they can still develop issues over their lives. For example, Goldendoodles can be more prone to heart disease or other chest abnormalities that affect their overall health. On the other hand, Irish Doodles may be more at risk for things such as Cushing's disease or pancreatic diseases.
While there may be differences, the shared Poodle parent also brings on other potential concerns shared by both breeds. These conditions include things such as skin conditions, hip dysplasia, and other eye issues. In addition, for Poodles, these conditions are also consistent with other Doodle hybrid breeds. Be sure to stay consistent with the care and veterinarian visits you provide to either breed. Taking preventative and intentional steps to care for their health can make a big difference in the long run.
Related: Rare Dog Diseases Every Owner Should Know and Best Dog Foods For Joint Health.
Cost
As with most hybrid breeds, both the Irish Doodle and the Goldendoodle come at a cost. Typically, their price is about the same, ranging between $1,200 to $2,500. The cost can often depend on your location, the breeder, and other factors you may need to specify. In addition to the initial purchase, it's also important to remember that there are always ongoing fees and costs when raising a dog. From dog food to visits to the veterinarian to surprising them with a new toy, the costs of raising a dog can add up. Be sure you are ready and in a place where you are prepared to afford all of that before making a move to purchase either an Irish Doodle or Goldendoodle.
Related Guide: How Much Does a Goldendoodle Cost?
Conclusion For Irish Doodle vs Goldendoodle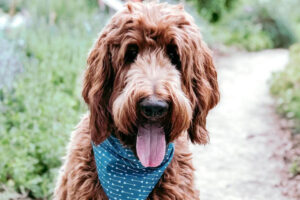 As with many Doodle varieties, both the Irish Doodle and the Goldendoodle are popular breed options for families and people of all kinds of lifestyles. These dogs are loyal and loveable and so easy to snuggle up with. While both of these breeds have many similarities in size and personality, some key differences are important to keep in mind as you choose what dog is right for you. Do your research into local breeders. A conversation with them can further help support your decision to move forward with adding a furry friendly member to your family.
For more similar articles, you can check out:
If you enjoyed Irish Doodle vs Goldendoodle, watch "15 Poodle Mix Breeds That Will Melt Your Heart" from Dog World to learn more about other mixes: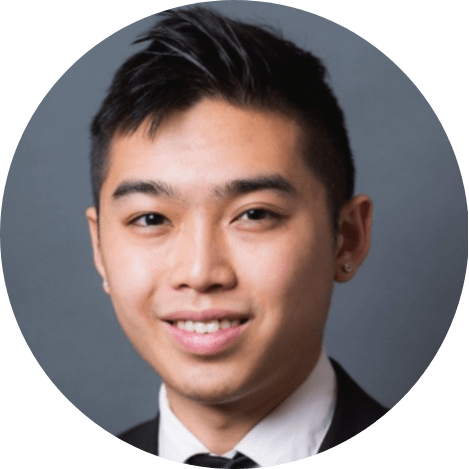 Andy is a full-time animal rescuer and owner of a toy doodle. When he's not saving dogs, Andy is one of our core writers and editors. He has been writing about dogs for over a decade. Andy joined our team because he believes that words are powerful tools that can change a dog's life for the better.
Why Trust We Love Doodles?
At We Love Doodles, we're a team of writers, veterinarians, and puppy trainers that love dogs. Our team of qualified experts researches and provides reliable information on a wide range of dog topics. Our reviews are based on customer feedback, hands-on testing, and in-depth analysis. We are fully transparent and honest to our community of dog owners and future owners.