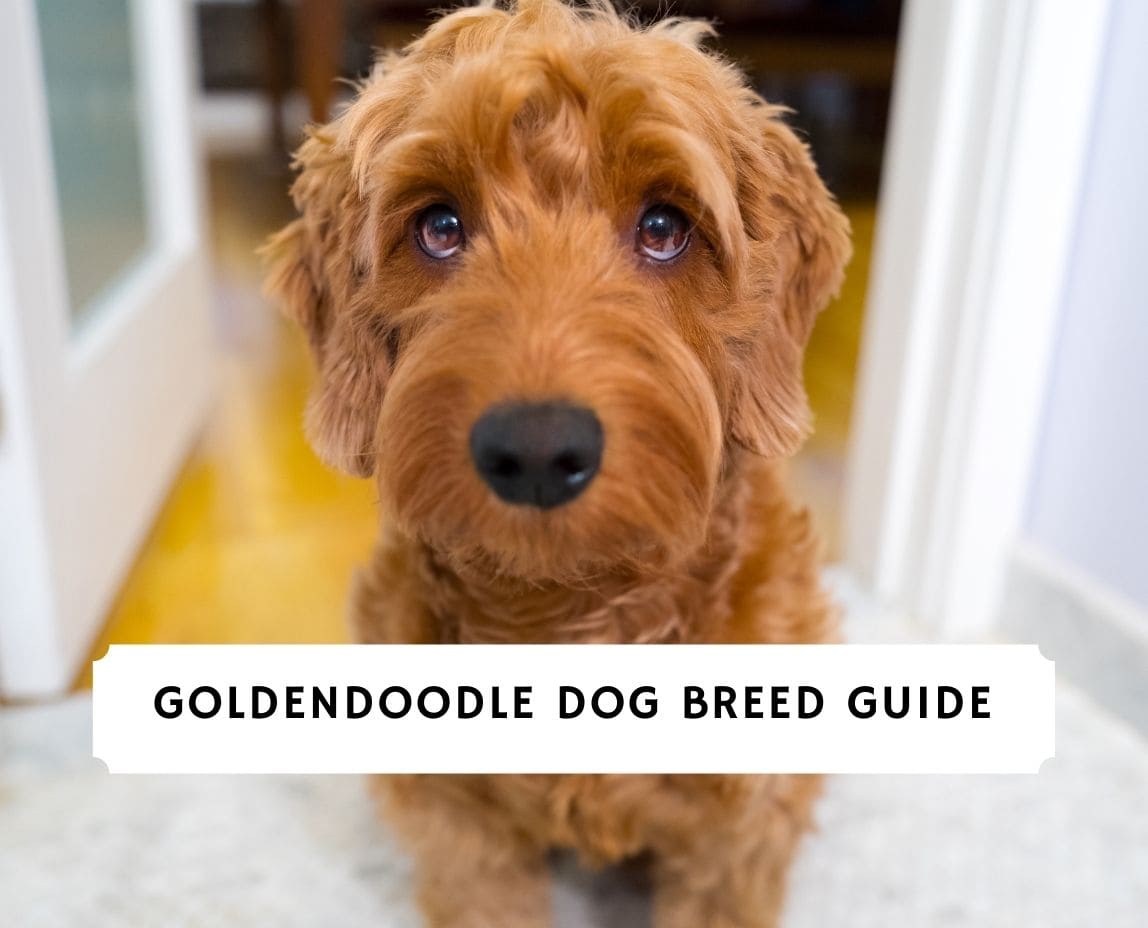 The Goldendoodle dog breed is a mix between the Poodle and Golden Retriever. Within the past several decades, the popularity of this Poodle mix increased and gained considerable interest worldwide. While the Goldendoodle has a teddy bear-like appearance, this mix's intelligence and loyalty make them even more extraordinary. For people dealing with constant allergies around dogs, one of the perks about the Goldendoodle is that their coat is non-shedding.
Due to their coat's curliness, the amount of hair loss is immensely less when compared to dogs with non-curly coats. Raising a Goldendoodle puppy is ideal for families because of their remarkable temperament. Goldendoodles are highly intelligent, extremely loyal, filled with positive energy, and are obedient dogs. Due to their behavior, this Doodle breed makes the perfect companion for families and service dogs. If you're planning to introduce an additional family member to your household, then the Goldendoodle breed is definitely on top of the list of Doodle breeds.
Characteristics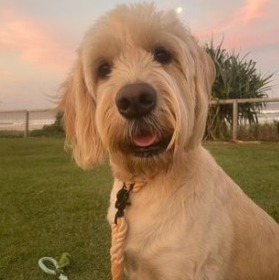 There are different types of Goldendoodle sizes. Each Goldendoodle size has different characteristics and with more or fewer responsibilities. These three sizes are Mini, Medium, and Standard. Regardless, these Goldendoodles carry the same temperament. The only differences are their weight and height. While Goldendoodles are popular, they're not listed as an official breed by the American Kennel Club (AKC) or the United Kennel Club (UKC). However, "The Goldendoodle Association of North America (GANA)" recognizes and keeps the information about this breed updated in their dog registry.
Goldendoodle Information
WLD Breed Popularity: Rank 1 of 27
Breed Mix: Golden Retriever & Poodle
Temperament: Loyal, Friendly, Affectionate, and Smart
Dog Category: Sporting, Display
Other Names: Groodles, Doodle, English Goldendoodle
Colors: Cream, Red, Black, Brown, Golden, White/Grey
Mini Goldendoodles
Typical Standard Weight (Approx.): 25 to 30 lbs
Typical Standard Height (Approx.): 16 inches
Life Expectancy: 12 to 16 years
Two categories fall under the Mini Goldendoodle breed: the Teacup Goldendoodle and the Toy Goldendoodle. These mixes are miniature with the same level of intelligence as the Medium Goldendoodle and Standard Goldendoodle. The Teacup Goldendoodle is the smallest in size. Falling under the Mini Goldendoodle section, this type of Doodle breed is perfect as lapdogs. The Teacup Goldendoodle can be a household companion for people who can't take on the responsibilities of raising a giant dog. The Toy Goldendoodle is slightly bigger than the Teacup Goldendoodle, but they're more similar than people think. The Teacup Goldendoodle is mixed between the Toy Poodle and Small Golden Retriever, while the Toy Goldendoodle is mixed between the Toy Goldendoodle and average-sized Golden Retriever.
Medium Goldendoodles
Typical Standard Weight (Approx.): 30 to 40 lbs
Typical Standard Height (Approx.): 16 to 20 inches
Life Expectancy: 10 to 15 years
For people who aren't fans of tiny or enormous dogs, then the Medium Goldendoodle will fit in their living environment perfectly. Between Mini, Medium, and Standard Goldendoodles, the Medium Goldendoodle is the most popular Doodle choice around dog communities. When you're searching for breeders, the Mini Goldendoodle is likely the easiest to find. Keep in mind that male and female Goldendoodles are different in size. If you're searching for a slightly bigger or more miniature Goldendoodle, the gender of this Doodle breed can play a role.
Standard Goldendoodles
Typical Standard Weight (Approx.): 40 to 60 lbs
Typical Standard Height (Approx.): around 22 inches
Life Expectancy: 10 to 15 years
The biggest Goldendoodle size is standard. The Standard Goldendoodle is perfect for fans of bigger dogs. While they can be challenging to maintain if not appropriately trained, they'll flood you with constant affection and positive energy. Unlike Mini and Medium Goldendoodles, the Standard Goldendoodle can be more challenging to maintain. From grooming, training, and managing its size – beginner owners might struggle to care for it if not trained properly when their Goldendoodle puppies are still young.
Related: Are Goldendoodles Smart Dogs?
Origins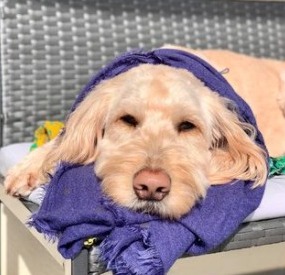 Mixing the Poodle breed with other dog breeds didn't become popular until the late 1990s. In 1989, Wally Conron brought up the concept and introduced the Labradoodle (Poodle mixed with Labrador Retriever). Initially, mixing the Poodle breed was to help people with problems affecting their everyday life was the primary goal. The Labradoodle helped people that are visually impaired or dealing with allergic reactions. This led to many more dog breeders mixing the Poodle with other dogs.
Eventually, the combination of the Golden Retriever and Poodle led to the creation of the Goldendoodle. Today, the Goldendoodle is widely popular with many interests worldwide due to its intelligence, kind nature, and gorgeous coat. Goldendoodles are described as the "perfect family dog" throughout the Doodle community with these temperaments and hypoallergenic characteristics.
Generation Information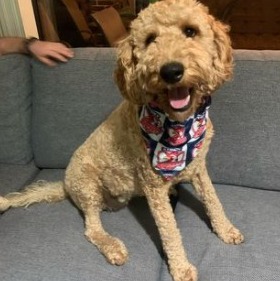 When it comes to the Goldendoodle's generations, people often get confused. Generally, a Doodle breed with more Poodle genes will likely shed less, have a curlier coat, and has a hypoallergenic characteristic. If the Golden Retriever's gene is more dominant, then the Goldendoodle will likely turn out to be more friendly, affectionate, active, and have a less curly coat (wavy coat or straight coat). Aside from the general description of the Goldendoodle's personalities, how they react to certain things or situations also depends on how their owners raise them. There are multiple Goldendoodle generations to keep in mind if you're searching for a specific dog or don't know the meaning behind it.
Before scrolling down the list of Goldendoodle Generations, here's what you need to know about the meaning of these numbers and letters.
F2B Goldendoodle: In F2B Goldendoodle, the F in F2B is short for Filial Hybrid. Filial Hybrid means that it's a hybrid or a combination between two different purebred dogs.
F2B Goldendoodle: The 2 in F2B Goldendoodle is the number of generation of the dog. For instance, F1B is 1st generation while F2B is the second generation.
F2B Goldendoodle: The B in F2B Goldendoodle is short for Backcross. For a more straightforward explanation, this means inbreeding a dog breed until it's back to a purebred generation. An example for Goldendoodles is be inbreeding them back to 100% Standard Poodle.
To understand these acronyms better, check out the chart and examples below.
Goldendoodle Generations
For Goldendoodle generations, we'll cover the most popular ones. The following Goldendoodle generation chart below should help new fans of this Doodle breed for a better perspective.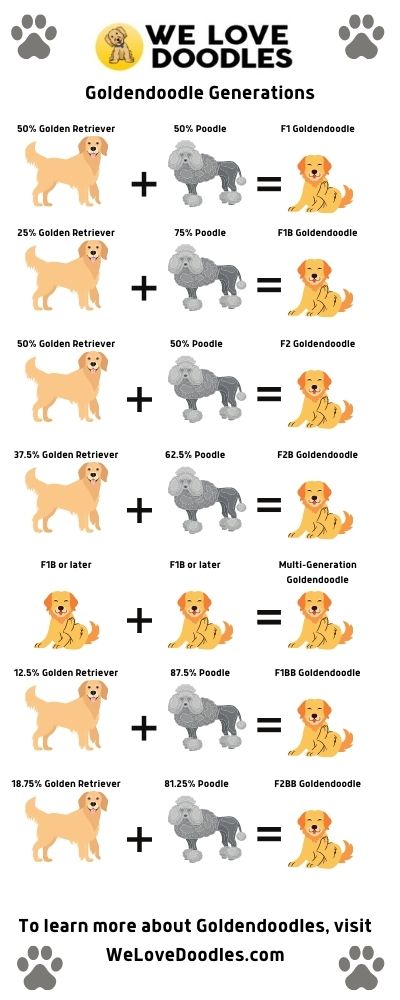 F1 Goldendoodle (50% Golden Retriever, 50% Poodle): Breeding a purebred Golden Retriever and a Standard Poodle will result in an F1 Goldendoodle. The Goldendoodle is now 50% Golden Retriever and 50% Standard Poodle. When it comes to health benefits, the F1 Goldendoodle has multiple health benefits for being a 'Hybrid Vigor.' A Hybrid Vigor results from two purebred dogs creating a mixed breed with better health than its parents.
F1B Goldendoodle (25% Golden Retriever, 75% Poodle): The F1B Goldendoodle is a cross between a Standard Poodle and an F1 Goldendoodle. Since the F1 Goldendoodle is already 50% of each of its parent breeds, breeding a Standard Poodle and an F1 Goldendoodle will result in a dog that's 25% Golden Retriever and 75% Poodle. The F1B Goldendoodle is generally described as the "Hypoallergenic Golden Retriever."
F2 Goldendoodle (50% Golden Retriever, 50% Poodle): F2 Goldendoodles are 50% Golden Retriever and 50% Poodle because it's a cross between two F1 Goldendoodles. However, depending on which genes will be more dominant, breeders avoid breeding two F2 Goldendoodles because the result is unpredictable.
F2B Goldendoodle (37.5% Golden Retriever, 62.5% Poodle): Crossed between an F1 Goldendoodle and an F1B Goldendoodle, this generation resembles a hypoallergenic Golden Retriever. While hypoallergenic Golden Retrievers are perfect for many people, the chances of creating them are lower than other generations.
Multi-Generation Goldendoodle: As for the Multi-Generation Goldendoodle, they're the result of multiple generations (Example: Goldendoodle to Goldendoodle breeding). Once they're bred enough times, it can lead back to a Poodle with hypoallergenic and non-shedding traits.
F1BB Goldendoodle (12.5% Golden Retriever and 87.5% Poodle): When breeding a Standard Poodle with an F1B Goldendoodle, it'll result in an F1BB Goldendoodle. Since an F1BB Goldendoodle is 87.5% Poodle, they're generally super hypoallergenic and non-shedding. For households with people suffering from allergies, the F1BB Goldendoodle is a highly recommended breed. After all, F1BB Goldendoodles help reduce allergies for dog lovers.
For a better and in-depth guide, check out: Best Goldendoodle Generations and F1 vs. F1B Goldendoodle.
Size Information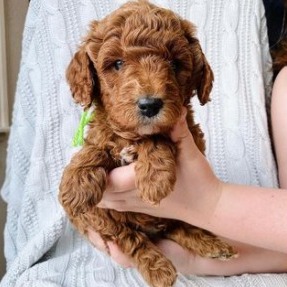 There are three main sizes for the Goldendoodle breed. For many potential Goldendoodle owners, the sizes can sometimes be confusing. There are small, mini, and standard Goldendoodles to keep in mind. Even if they're of different sizes, the traits and intelligence remain the same. Your Goldendoodle's behavior also depends on how you raise it.
Goldendoodle Sizes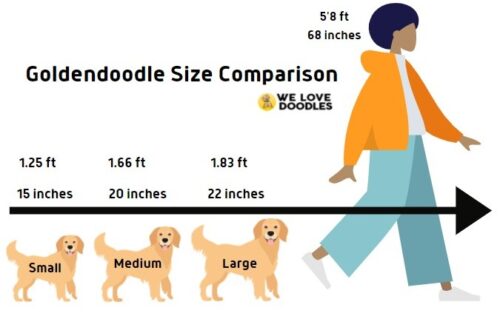 Petite and Toy Goldendoodles (Small): There are two types of sizes for small Goldendoodles. These are Teacup Goldendoodles (Petite Goldendoodles) and Toy Goldendoodles. For an adorable size Poodle mix, they can grow up to around 15 inches in height. Small Goldendoodles are great for potential dog owners living in smaller places, dealing with less maintenance, and fans of small dog breeds. By the time these small Goldendoodles reach adulthood, they'll weigh between 20 to 35 lbs.
Miniature Goldendoodles (Medium): Medium size Goldendoodles weigh between 35 to 45 lbs by reaching adulthood. As for their height, Mini Goldendoodles can grow between 16 to 20 inches high. Miniature or Medium size Goldendoodles are the most popular amongst the three sizes on this list.
Standard Goldendoodles (Large): Weighing between 45 to potentially over 70 lbs by the time they reach adulthood, Standard Goldendoodles are the three biggest. Standard Goldendoodles can grow up to 22 inches high. Unlike the small and medium Goldendoodles, the Standard Goldendoodle requires more care.
Related: When is a Goldendoodle Full-Grown and Mini Goldendoodle Size Guide.
Temperament & Personality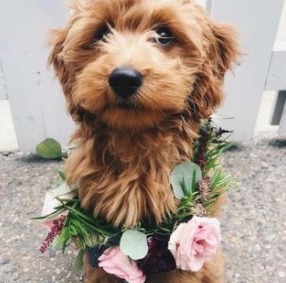 The perception of Goldendoodles is that they're the perfect family dog. Goldendoodles have the ideal temperament for living around families and loving homes. Whether you have guests over or other family pets at home, your Goldendoodle will quickly adapt and get along with its surroundings. The kindness and likable personalities of the Goldendoodle are inherited from the Golden Retriever. The constant curiosity, intelligence, and an easy-training dog breed are inherited from the Poodle. While the Goldendoodles have the ideal temperament, training is still necessary to build confidence around people and other household pets. Like all dog breeds, Goldendoodles need to develop trust around their peers before having the confidence to interact.
By the time Goldendoodles develop trust, they'll get along well with people they've never met before and children. Before deciding on bringing home a Goldendoodle puppy, create a checklist to see if you can handle raising them. Once they're with their new owners, Goldendoodles will develop a strong trust and attachment with its caretakers. Like many breeds, Goldendoodles love socializing and interacting with their surroundings. If you live with a large family, then Goldendoodles are perfect. If you live alone, your Goldendoodle will likely suffer from separation anxiety if you're constantly leaving the house. It can lead to higher stress levels and behavioral issues.
Goldendoodle owners can find creative ways to keep their companions entertained and busy. For example, providing a Goldendoodle with a horn to chew on or any other mental stimulation dog toys. Without any distractions or entertainment, you could come home to many unnecessary messes like scratched walls or doors, chewed up items, and potentially finding broken valuable items. If you're planning to adopt a Goldendoodle puppy without any training experiences, hiring a professional dog trainer can help shape its habits and who they become. It's important to let your companion interact at a young age because they haven't developed any habits yet, which means training and teaching them is much easier.
Related: Why is Your Goldendoodle Barking And How To Stop It?
Nutrition
Providing your Goldendoodle puppy with the proper diet is extremely important for your companion's future and health. A reminder that not all Goldendoodles are the same. When you're feeding your companion, what you feed it depends on its size and age. Depending on a Goldendoodle's activity level, they can burn between 1,200 to 1,600 calories daily. It would be best if you didn't overfeed your Goldendoodle either because it can cause overweight issues. During its puppy phase, your Goldendoodle companion should consume food created specifically for puppies.
Make sure that your Goldendoodle's food has the proper phosphorus to calcium proportion. When Goldendoodles lack their calcium needs, it could result in severe bone and orthopedic problems as they become older. You should feed your puppy at least three times daily for the first six months of its life. By the time your puppy reaches adulthood, you can start feeding it twice a day. Each feeding session should be between 1.5 to 2 cups of food. While there is a variety of dog food, most people feeding their Goldendoodles kibble to help remove any potential bacteria around their teeth.
It's crucial to feed Goldendoodles these things to ensure a healthy life:
Proteins
Carbohydrates
Fat
Fiber
Related: Best Puppy Food for a Goldendoodle.
Grooming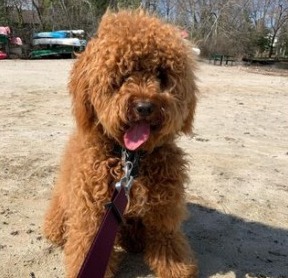 Grooming is essential and necessary for every dog. Grooming can be challenging depending on the size, breed, and coat type. For Goldendoodles, it depends on which type of generation you'll end up with. You can have a Goldendoodle with straight, curly, or even wavy hair.
Related: Goldendoodle Grooming Guide
Goldendoodle Coat Types
Curly Coat: Curly coat Goldendoodles are described as non-shedding and hypoallergenic. While there are benefits to their hair's curliness, there are other issues to keep in mind. Goldendoodles with curly coats are required to be brushed daily to prevent a tangled or matted coat. It's also important to bring your Goldendoodle to a professional dog groomer at least once every eight weeks.
Wavy Coat: Wavy coats are also described as shaggy coats. Goldendoodles with a wavy coat are the most popular and common. Unlike the curly coat Goldendoodle, wavy coat Goldendoodles are much easier to maintain. Wavy coat Goldendoodle owners must brush their companions at least once every week and schedule an appointment with a professional dog groomer once every 8 to 10 weeks.
Straight Coat: Straight coat or flat coat Goldendoodles will shed a lot. Be prepared for that. Fortunately, Goldendoodles with this type of coat don't require much brushing. The straight coat Goldendoodle is the least popular because they don't have the signature Goldendoodle appearance.
A rule of thumb when grooming your Goldendoodle is to avoid bathing it twice a month. Once per month is fine. When you wash your Goldendoodle too often, it can result in drier skin and itching. If your Goldendoodle gives off an odd smell, double-check for potential yeast infection. You can purchase dog shampoos specifically for yeast infections if you find any possible signs of this issue. The last two crucial things when grooming your Goldendoodle are to trim the hair around its eyes and clip its toenails. With these tips in mind, you'll have the perfect Goldendoodle with many types of haircuts to choose from.
Related: Best Comb for a Goldendoodle, Improper Coat Goldendoodle and Furnishings and Best Dog Brush for a Goldendoodle.
Exercise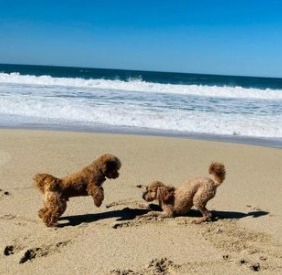 Exercising your Goldendoodle companion has an endless list of benefits. Whether you have a backyard or a dog park nearby, it's necessary to take your Goldendoodle out for its daily exercise. The amount of time a Goldendoodle puppy needs is usually less compared to an older Goldendoodle. There are various factors to determine how much exercise your companion needs. The factors are age, size, and sometimes personality. For an adult Goldendoodle, taking it out to exercise 15 to 30 minutes 3 times a day is recommended.
Goldendoodles are active, energetic, and have a good amount of stamina. You can be creative and find fun activities for you and your dog. These exercises can be fetching, hiking, running, walking, etc. There are an endless amount of activities you and your companion can do together. If you're taking your Goldendoodle out, make sure to keep an eye on it because they're curious dogs.
In a scenario where your Goldendoodle is lacking exercise, they're likely to become obese. Lack of exercise can result in excessive weight gain, which leads to other potential issues like high blood pressure, heart disease, or diabetes. Taking your Goldendoodle out for exercise will help you deal less with unwanted behaviors at home. Don't forget to exercise your Goldendoodle because not only does it benefit your dog, but it also benefits you.
Related: Best Dog Collars For Goldendoodles.
Training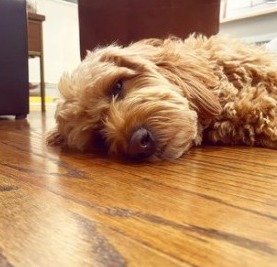 As mentioned earlier, Goldendoodles are much easier to train compared to other dog breeds. After all, the Goldendoodle dog breed inherited the intelligence of its Poodle parent. While they're easier to train, it can be challenging at times because owners need patience. Enough time and patience will eventually shape your companion into a disciplined dog. Below are several tips when training your Goldendoodle:
Train your Goldendoodle at a Young Age: Most Goldendoodle breeders don't allow their puppies to leave until they're between 6 to 8 weeks old. Once you bring home your Goldendoodle puppy, you should start training and teaching it commands. Remember — it's easier to shape your Goldendoodle's habits at a young age. If you wait until they're older, habits are already developed, and they'll be tougher to teach. You want to condition your companion to eat at a particular time and teaching them to go potty in the right spots.
Build Your Goldendoodle's Socialization Skills: You don't want your Goldendoodle to grow up scared and aggressive. You can change that by taking them out to dog parks or places to interact with other pets and people. This helps them break out of their comfort zone and increases their confidence as they grow. Teaching them how to interact with people around them will help them be less afraid and threatened.
Bring Your Goldendoodle to Puppy Classes: For people struggling with training their Goldendoodles, you can bring them to puppy training classes. You'll learn essential commands to teach your companion while they get to socialize with other dogs at the same time. There are many free puppy classes. You need to do your research to find the closest one to you. If it's not free, paying for a class can still benefit you greatly. After all, your Goldendoodle companion will be around for a vast portion of your life.
During your Goldendoodle training session, always use positive reinforcement. It's more effective training a Goldendoodle using positive reinforcement compared to punishing them for poor behaviors.
Related: How To Train a Goldendoodle and Goldendoodle Potty Training Tips.
Health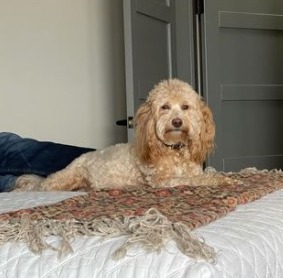 Every dog breed has its health issues. For designer dogs like Goldendoodles, they have different genetic traits known as Hybrid Vigor, Outbreeding Enhancement, or Heterosis. The meaning behind these terms is that the breed result has better genes than its parent breeds. For example, Goldendoodles have superior biological qualities compared to their parents. They're less likely to deal with problems upon birth. Most Goldendoodles will always be healthier than their Golden Retriever and Poodle parents.
Since Goldendoodles are designer dogs, they're likely to suffer the same health problems as the Poodle and Golden Retriever.
These potential health issues are:
Skin Disorders: Ichthyosis is a skin disorder that's common for the Goldendoodle. Your Goldendoodle can potentially suffer from roughness, dryness, and the scaling of its skin. At the moment, there isn't any available cure. However, there are treatments to reduce the irritation.
Eye Disorders: Goldendoodles can suffer from Progressive Retinal Atrophy (PRA). Progressive Retinal Atrophy is a bilateral degeneration when it comes to your Goldendoodle's retina. When your Goldendoodle suffers from this health issue, it'll be challenging for your companion to see due to poor vision. Unfortunately, this health issue is inherited, and there isn't any cure available.
Hip and Elbow Dysplasia: The Goldendoodle breed is energetic and active, which means they love running around and playing. If you come across a situation where your Goldendoodle is having trouble getting up or leaning towards one side of its body, there's a chance it's dealing with Hip and Elbow Dysplasia. This health issue happens when a Goldendoodle has an unusual development around the joints. Poor diets, rapid growth, or genetics can be the cause of this health issue.
Obesity: Don't overfeed your Goldendoodle. Overfeeding your companion can lead to obesity. You want to avoid this problem at all costs because it can shorten the lifespan of your Goldendoodle. There was a study on obesity in dogs, and statistics show that over 60% of Golden Retrievers are overweight. When it comes to obesity, your companion can have cancer, diabetes, liver disease, kidney disease, high blood pressure, and potentially damaged joints.
Von Willebrand's Disease: VWD, for short, is a bleeding disorder that's commonly inherited by the Goldendoodle breed. Vol Willebrand's Disease occurs when a specific protein is deficient. It's the type of protein that fixes broken blood vessels using clot blood cells.
Patellar Luxation: This problem in Goldendoodle happens when its kneecap or patella is dislocated from its thigh bone. Dislocation of the kneecap in Goldendoodles is a genetic malfunction or possibly because of trauma on their legs.
Related: How Long Do Goldendoodles Live?
Appearance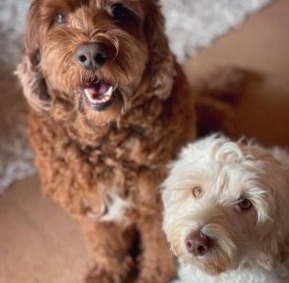 Goldendoodles come in all sorts of colors and hair types. For potential new Goldendoodle owners, there's a variety of Goldendoodles to choose from. Here are the type of appearances to expect when you're shopping for a Goldendoodle companion.
Coat
We mentioned this earlier. The Goldendoodle dog breed has three different coats: curly, wavy, and straight. Depending on which genes your Goldendoodle companion inherits from its parents will result in the type of coat they'll have. Since Goldendoodles are mixed between the Golden Retriever and the Poodle, the results of a Goldendoodle's coat depending on which gene is more dominant.
Curly: Requires Additional Grooming, Non-Shedding, Hypoallergenic
Wavy: Between Curly and Straight, Less Grooming Than Curly, More Grooming Than Straight
Straight: Sheds Often, Easy Grooming, Bad For People With Allergies
Color
There are a variety of Goldendoodle colors. They're mainly in different shades of brown. However, there are unique Goldendoodle colors as well. The color of a Goldendoodle comes from its genetic combinations. Goldendoodles' colors are highly dependent on one of its parent breeds, the Poodle.
Here's an example of how a Goldendoodle's color will turn out. If the Poodle is white, its Goldendoodle litter will turn out to be cream-colored. If mixed between a black Poodle and a red-colored Golden Retriever, it could result in many other colors. Goldendoodles come in a variety of colors, such as:
Brown Goldendoodle
Apricot Goldendoodle
Red Goldendoodle
Cream Goldendoodle
Black Goldendoodle
Parti Goldendoodle
Sable Goldendoodle
Merle Goldendoodle
Grey Goldendoodle
Phantom Goldendoodle
Tan Goldendoodle
Blue Goldendoodle
Silver Goldendoodle
Prices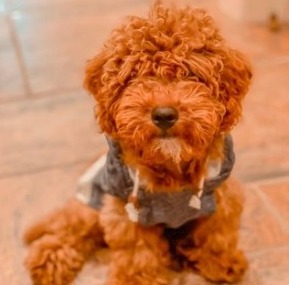 Depending on the rarity of a Goldendoodle's color, sizes, and generation – the price can be a huge difference. If you do your due diligence and research, you can find most Goldendoodles going anywhere between $1,500 to $3,500. To find information on reputable Goldendoodle breeders, you can check out the Goldendoodle Association of North America (GANA). GANA is reliable and beneficial in many ways because they have their Goldendoodle breeders go through stringent health testing requirements like elbow, eye, heart, and hip testing. GANA does this to make sure you're getting a healthy Goldendoodle companion.
We went over several top Goldendoodle breeders in the United States to give you an idea:
Breeder #1: Their medium-sized wavy or curly coat Goldendoodles go from $1,400 to $2,400.
Breeder #2: Their F1 Mini Goldendoodles with red coats go for $3,000.
Breeder #3: Their F1B Goldendoodles go for $2,800 while Multi-Gen Goldendoodles go for $3,000.
Related: How Much Does a Goldendoodle Cost?
Frequently Asked Questions
Do Goldendoodles bark a lot?
There are many considerations to take into account with any dog breed before choosing the best breed to fit into your family. While Goldendoodles are a gorgeous breed of dog, they might not be the best for everyone if they bark a lot.
However, this is not the case. Many owners are happily surprised by the fact that Goldendoodles don't bark much at all. The quiet personality of this breed makes them an excellent choice of pet for new owners.
Of course, this can vary from each Goldendoodle, so some might bark more than others. One might like to vocalize their opinions while another will be quiet and rarely use their voice.
The general consensus is that Goldendoodles will only bark when they have something to say instead of barking randomly and unnecessarily. It might be a whine, growl, or loud bark, depending on your dog's personality.
Training barking out of Goldendoodles should not be too difficult because of the fact that they don't bark much. You might even find that you don't need to train them at all thanks to the lack of vocalization they display.
Are Goldendoodles cuddlers?
Yes, Goldendoodles are a very affectionate and cuddly breed of dog, provided that they have been properly socialized from a young age. Goldendoodles fall under the teddy bear breed of dog, which means that they have been bred to look and act like teddy bears.
Teddy bear dogs were originally bred to work as therapy dogs for young children, that they could socialize, cuddle, and play with. With this in mind, it makes sense that Goldendoodles (while no longer commonly used for this purpose) make for cuddlers.
Anyone who has experienced a Goldendoodle will tell you how affectionate they are. They'll probably follow you around the house and love to sneak up onto the couch for extra petting sessions.
Goldendoodles also don't like to be left alone for long periods at a time and will always want extra cuddles as soon as you walk back through the door.
Bear in mind that Goldendoodles will only act this way if they have been socialized properly for their entire lives. Make sure you're using a trusted breeder to ensure that this is the case. Dogs that have grown up in less than optimal conditions might not be as affectionate and cuddly as their breed suggests.
Can Goldendoodles be left alone?
Goldendoodles do enjoy human company and they are very sociable dogs, but this does not mean that you can never leave the house without them again. With the proper training and preparation, you can successfully leave your Goldendoodle home alone for several hours.
When they're still puppies, it's best that you don't leave them alone for longer than two hours. Think of this as practice sessions for leaving them for longer. They'll get quite lonely and might even have an accident due to their small bladders if left alone for too long.
However, as your dog gets older you can begin to leave them alone for longer periods, as long as there are enough toys around, fresh water, and somewhere for them to go to the bathroom.
Most dog owners with full-time jobs will leave their dogs alone for up to 10 hours a day. You can do this with a Goldendoodle as long as you have trained them correctly. As Goldendoodles are an affectionate breed, be prepared to give them lots of love and cuddles as soon as you walk in!
Do Goldendoodles like the beach?
Many Goldendoodles love the beach, but it will depend on your dog's personality as to whether they enjoy this outing or not. However, as a general rule of thumb, there are plenty of enjoyable activities for your dog to do at the beach which they will love.
For example, rolling around in the sand, chasing the ocean waves, sunbathing, and much more! You can play fetch for hours and there will often be other dogs that you can socialize with and potentially play with.
However, there are a few considerations that you need to remember when taking your Goldendoodle to the beach. For starters, these dogs have thick and curly coats which can make them quickly overheat in the sun.
Make sure that you always have enough water with you and look out for signs of heat exhaustion. These include panting, difficulty walking, vomiting and diarrhea, and more. It might also be a good idea to bring a source of shade with you so that they have somewhere to rest out of the sun.
Not all dogs like the ocean, so don't rely on a quick dip to cool them down. Another factor to consider is that their coats are likely to gather and collect sand, which will get everywhere. You'll be finding sand around your home for months to come if you don't get them to a groomer, so book an appointment in advance.
Do Goldendoodles like to sleep with you?
Again, the answer to this question depends on your dog and their personal preference. Many dogs like to sleep with their owners if this behavior has been allowed since they were young. However, if you have not allowed this they will probably prefer their own bed or somewhere more spacious.
As all Goldendoodles have their own personalities, it's unclear as to whether the breed generally enjoys sleeping with their owners or not.
However, Goldendoodles tend to sleep on their backs with their legs in the air, which can be slightly uncomfortable for bed sharing and you might find yourself being pushed right to the edge of the mattress.
Goldendoodles sleep like this to completely relax their muscles and enjoy a deeper sleep. It also helps them to regulate their body temperature while sleeping, preventing them from overheating during the nighttime.
While fun and amusing to witness, this doesn't always make for the best sleeping companion. So, while your dog might want to share your bed with you, you might have to put your foot down and teach them not to.
Conclusion For "Goldendoodle Breed Information, Facts, Images"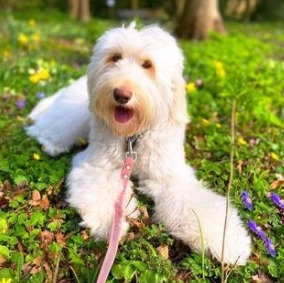 Owning a Goldendoodle can be difficult when you're raising them as puppies. Fortunately, you have the abilities to shape your companion who they become. If you raised other dog breeds before (besides Border Collies), then you'll notice how intelligent they are and how much easier it is training your Goldendoodle.
Filled with love and affection, Goldendoodles are the perfect family house dog around children and other pets. When you're searching for your companion, we advise you to do thorough research before making any buying decisions. There are countless puppy mills out there that you should avoid at all costs because of unethical practices.
Once you find a compatible companion, it'll be the spark of a journey that you'll cherish for the rest of your life. Your Goldendoodle will be your partner and sidekick. You'll have a protector to your home and a caretaker to you and your family.
If you're ready to flip the page into a new chapter of your life, check out our recommendations of reputable breeders:
For more Goldendoodle guides and information, check out:
If this article isn't enough for you, watch "Goldendoodle Dog Breed Guide" from Smart Dog Lover down below: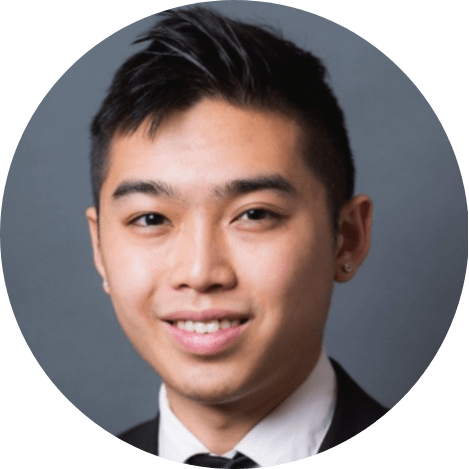 Andy is a full-time animal rescuer and owner of a toy doodle. When he's not saving dogs, Andy is one of our core writers and editors. He has been writing about dogs for over a decade. Andy joined our team because he believes that words are powerful tools that can change a dog's life for the better.
Why Trust We Love Doodles?
At We Love Doodles, we're a team of writers, veterinarians, and puppy trainers that love dogs. Our team of qualified experts researches and provides reliable information on a wide range of dog topics. Our reviews are based on customer feedback, hands-on testing, and in-depth analysis. We are fully transparent and honest to our community of dog owners and future owners.