Havanese breeders in Ohio know that the Havanese is a favorite among toy dog enthusiasts. Their happy and bright temperaments make them great companions. Additionally, they are devoted and loyal dogs, hearty, and smart. There is a good reason that they are the National Dog of Cuba!
The Havanese has been an American Kennel Club breed since 1996 and were the 142nd breed to be added to the roster. The Havanese are considered extremely smart and have grown in popularity in Ohio for their small size and hypoallergenic features. In addition, Havenese puppies excel at learning tricks and are also great little watchdogs. They take their job as protectors quite seriously but are not known for barking excessively.
Since Havanese puppies are hypoallergenic and shed very little, they do require daily grooming. Some owners cord their Havanese's hair (like a Puli) and still, others will give their Havanese a short clip to make it much easier to maintain that silky coat. No matter what you decide, your Havanese is going to look adorable in either a long or short hairdo.
You should also know that Havanese puppies for sale in Ohio come in an array of colors: white, black, red, sable and white, and black and white. Not every coat color is AKC standard for Havanese. If you think you are ready to have a Havanese puppy in your life, you will want to choose your dog carefully from a reputable breeder. We've compiled a list of the best Havanese breeders in the state. These are listed in no particular order, but all puppy mills have been excluded. We are only listing breeders that consistently meet a certain standard of care for their breeding stock and the puppies they produce and sell. Take a look at our picks for the best Havanese breeders in Ohio.
Other articles you will like: Havapoo Breeders in Ohio and Maltese Breeders in Ohio!
A family of dog lovers, Premier Pups is committed to raising happy and healthy puppies. They are one of the most experienced and respected Havanese breeders in Ohio, having sold over 200.000 small breed puppies since their debut. At Premier Pups, they offer much more than just puppy adoptions. They provide their customers with a unique and memorable experience that lasts.
24/7 on-site Puppy Agents are there to guide you through all the important moments, from choosing the right puppy to guiding you through your puppy's first night at home. They provide financing options, nationwide delivery, and customer support before and after you adopt. There are no waiting lists and no necessary deposits, and their puppies come with a 10-year health guarantee, which is the highest guarantee anyone has offered.
Premier Pups has partnered with top breeders from all over the nation to deliver the sweetest puppies to loving families. Their puppies are raised in a family setting where growth through nourishment and socialization is achieved. The puppies are health-tested, screened, and given a clean bill of health by their on-site veterinarian before adoption.
Being a member of the Premier family comes with many more benefits. You can reach out to their Puppy Agents at any time with any questions concerning your puppy, share your puppy photos and experience on their website, and be part of a wide community on their social media.
Havanese Puppy Information:
Choose by gender, coat color, size, and size.
Havanese Breeder Information: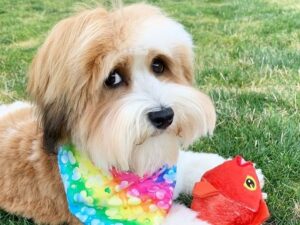 PuppySpot is the #1 Havanese breeder on our list for two main reasons. First, you won't have to wait on a long puppy waitlist to get your dog. PuppySpot only lists Havanese puppies for sale that are already born. You can view their available puppies today and easily choose one based on coat color, size, price, gender, and more. If the Havanese puppy you find isn't located in Ohio, they have their own airline that can safely transport the puppy to you.
Second, since PuppySpot is a community of ethical breeders, they extensively screen all their Havanese breeders with a 200-point inspection. This entire process is more stringent than even USDA guidelines and is backed by the American Kennel Club. This helps to ensure that you are getting a Havanese puppy that is going to be healthy and live a long life. A fun fact is that less than 10 percent of all Havanese breeders who apply will be able to list a puppy.
We bought one of our puppies from PuppySpot so we can attest to how easy it was. We didn't have to contact several different breeders and screen them with our own questions. Additionally, we didn't have to worry about getting scammed since PuppySpot has sold to more than 200,000+ different customers. All their Havanese puppies come with AKC certification papers, a 10-year health warranty, and a health inspection. We highly suggest you check them out!
Havanese Puppy Information:
Sort by gender, age, color, and see live pictures/video.
Havanese Breeder Information:
3. Cupid's Havanese Ohio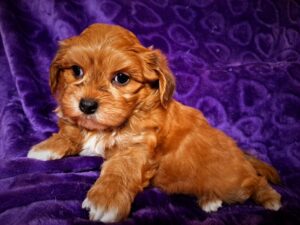 Located in Waynesville, Ohio, Cupid's Havanese is a high- quality, low-volume small breeder of Havanese. They produce only a few litters per year and specialize in red Havanese puppies. Their goal is to provide a happy, healthy, and well-socialized Havanese puppy and to create a happy and satisfied customer in you. They request that you inquire with a text or email, and they're going to have some questions for you to make sure that you are the kind of dog owner they want to sell one of their special Havanese puppies to.
Cupid Havanese accepts deposits for upcoming litters but, due to health and safety restrictions, do not have meet and greets for the parent dogs or the Havanese puppies at their home in Ohio. They only meet potential buyers in person when it's time to pick up their chosen puppy. However, you can schedule a video chat to verify that the dogs and Havanese puppies are real, bouncing balls of energy. Once you pay your non-refundable deposit you are placed on the list for the next available puppy pick list.
Havanese Puppy Information:
No breeders, family homes only
No outside visitors until puppies are 8 weeks of age
Havanese Breeder Information:
4. Green's Havanese Ohio
Green's Havanese is located in Enon, Ohio, and they've been breeding AKC Havanese puppies since 2015. The puppies from Green's Havanese go home with vaccines, dewormer, and AKC registration forms to verify they are purebred.
These Havanese breeders in Ohio produce Havanese puppies for sale in Ohio in an array of colors and prefer that you call them for more information. Their website has information on the latest litters and available puppies. One of their main goals is to produce happy, healthy, fun-loving, and family-friendly Havanese that are family raised by them in their home.
All their Havanese puppies in Ohio they produce are normally pre-sold. If there are puppies left after all the pre-sold dogs are gone, they will post any available puppies for sale on their website. If you specify gender-specific puppies it may take more than one litter for you to get your puppy match. If you're looking for a puppy with a specific coat color, this is one of the best Havanese breeders in Ohio for you.
Havanese Puppy Information:
Puppies are spoken for by 8 weeks of age
Breeder breeds for all colors
Havanese Breeder Information:
Contact: 937-450-0349
Location: Enon, Ohio
5. Bristolwood Havanese OH
Bristolwood Havanese is located in Bowling Green, Ohio. They focus on breeding high-quality Havanese puppies that are raised with early neurological stimulation and Puppy Culture. The dogs are raised with the family and given lots of good attention, creating a well-socialized dog that will be a happy and well-adjusted part of your family.
Additionally, they have a lot of champion Hanavese dogs in their kennel and have a form online for you to obtain more information regarding buying a puppy from Bristolwood. This is a dedicated Hanavese breeder in Ohio who produces show-quality puppies that are sent home with all their age-appropriate vaccines and health clearances. If you're interested in a puppy from Bristolwood, you can pay a deposit to get on their list for a future puppy. Check out the website for more information.
Havanese Puppy Information:
Puppies are bred to adhere to AKC Standards
All health clearances and age-appropriate vaccinations
Havanese Breeder Information:
6. Sunny Brook Havanese
Located in Canfield, Ohio, Sunnybrook Havanese are breeders of AKC-registered Havanese dogs, both for show and for companions. They specialize in home-raised Havanese, bred for health and temperament.  While they are a kennel, their Havanese puppies are raised at home with them with Ohio. Their dogs are treated like family before they go home to your family.
The Havanese puppies from Sunnybrook are sold with a health guarantee and a spay/neuter contract. Additionally, the dogs are AKC registrable but their offspring are not. For breed enthusiasts like Sunnybrook Havanese, Havanese are like potato chips. You can never have just one. They request that you contact them by phone for more information on their available puppies and the purchasing process to obtain one of their fine dogs.
Havanese Puppy Information:
Puppies go home at 12 weeks of age
Foundation breeding stock goes back 8 generations
Havanese Breeder Information:
Contact : (330) 793-3539
Location: Canfield, OH
Tips for Choosing a Havanese Puppy in Ohio
Do your research: Not all Havanese breeders in Ohioare created equal. Call and speak to them, ask if they allow home visits. Take a look at their facility, meet the breeding pair and ask lots of questions. Additionally, pay close attention to the temperament of the parents of your puppy. They are going to pass along many of their personality traits and temperament to their puppies.
Health Records: All reputable Havanese breeders in Ohio will test their breeding stock for genetic health issues. The results of the testing should be made readily available for potential buyers to see. Beware of any breeder that will not make health testing results available to you.
Puppy vet care: Your puppy should come home with all age-appropriate vaccinations and de-worming at 8-12 weeks of age. Many purebred dog breeders also send their puppies home with a genetic health guarantee and vet records showing they have passed a vet check (usually performed at 8 weeks of age).
Communicate: Stay in close communication with your Havanese breeder from the time you make your first deposit and choose your puppy until the puppy is ready for you to bring it home. Request regular updates, pictures, and videos and do your best to see the puppy before it's time to bring it home. Communication with your breeder is crucial to forming a good, long-lasting relationship with your breeder and your puppy from the time he's born until it's time for you to bring him home.
Make a good match: Choose a breed of dog that fits your lifestyle, even if it's not a Havanese puppy. Do yourself, your family, and your potential new dog a favor and make a good match with the type and breed of dog that you choose. Be sure that you are prepared to commit to giving your puppy all the obedience training, socialization, family time, and exercise that your dog needs. If you're not prepared to make a 15-year commitment to a dog, don't adopt or buy one. Your new dog deserves the best of everything and whether it's a lapdog you choose or a sporting or herding breed, be ready to meet your dog's individual needs for activity and attention. Your dog is not going to be inexpensive. Make sure that you are investing in the right breed and type of dog to suit your expectations and your lifestyle.
Avoid Puppy Mills: If the Havanese breeder in Ohio you're looking at offers every and any breed you want, chances are that they are a puppy mill or broker that works with breeders all over the country. Many of these breeders have no standards when it comes to the health of their breeding stock. Females are often required to have more litters than they should, putting her health at risk.  They often live in sub-par cleanliness and unhealthy conditions. Be sure that the puppy you plan to buy comes not from a pet store, but from a small home breeder that knows what's best and provides a health guarantee for the dog they're selling you.
You will also like:
Garrett loves animals and is a huge advocate for all Doodle dog breeds. He owns his own Goldendoodle named Kona. In addition, he volunteers at the Humane Society of Silicon Valley, where he fosters dogs and helps animals. Garrett enjoys writing about Doodles and believes that dogs can teach humans more about how to live than humans can teach a dog.
Why Trust We Love Doodles?
At We Love Doodles, we're a team of writers, veterinarians, and puppy trainers that love dogs. Our team of qualified experts researches and provides reliable information on a wide range of dog topics. Our reviews are based on customer feedback, hands-on testing, and in-depth analysis. We are fully transparent and honest to our community of dog owners and future owners.