If you're trying to find the best French Bulldog breeders in Ohio, then you probably know by now how adorable this dog breed is. French Bulldogs are miniature English Bulldogs with bat ears and bobtails! A dog breed that doesn't bark much, the French Bulldog is a well-mannered and tame puppy. One of the main reasons that people love Frenchies is because they don't bark as often as small dogs, and when they do, it's a very soft bark.
French Bulldog puppies for sale in Ohio have become so popular in recent years. It's important that you do your own research and ensure that you are not supporting a puppy mill and buying from a reputable breeder. We will help you with your search for your next puppy!
Other articles you might like: Dachshund Breeders in Ohio and French Bulldog Rescues in Ohio.
French Bulldog Puppies For Sale in Ohio
When doing our research, we saw a ton of French Bulldog puppy mills and backyard breeders around Ohio. It's important that you do your research to verify that any potential breeder is healthy checking their puppies for genetic diseases. It's also important to find a breeder that you can ultimately trust. Here's our list of the best French Bulldog breeders in Ohio.
1. Premier Pups' French Bulldogs For Ohio
We recommend you start your journey for a French Bulldog companion by browsing through Premier Pups. Premier Pups is highly trusted by thousands of pet owners across the United States. After finding a suitable French Bulldog puppy from the marketplace, you can connect with reputable French Bulldog breedersin Ohio.
If you encounter any problems while searching for a French Bulldog companion in your state, you can contact customer support and the team will take care of you. The Premier Pups team provides exceptional customer service, so your experience finding a puppy will be smooth and easy.
If you're unsure whether you want a French Bulldog or a different breed, you can find many other similar dog breeds on Premier Pups. We recommend you check out this platform before continuing down our list of French Bulldog breeders in Ohio.
Premier Pups' Details
2. Amanda's Frenchies
Next on the list of French Bulldog breeders in Ohio is Amanda's Frenchies. Amanda's Frenchies, a registered breeder, is located in Dublin, Ohio. Their puppies are given tons of tender loving care as they grow up with the family inside their home. French Bulldogs are Amanda's passion and she is devoted to caring for them full time. Amanda's vast experience as an animal education specialist at the Columbus Zoo serves her well.
Each of her French Bulldog puppies in Ohio are reared to have a calm and friendly temperament and personality. That makes all the Frenchies outstanding companion dogs and emotional support animals. This breeder hand delivers its puppies throughout the United States and is American Kennel Club (AKC) registered. Thus, when you get a Frenchie puppy from Amanda's Frenchies, it will come with AKC certification. The team will assure assistance throughout the process of buying a French Bulldog and are happy to answer any of your questions.
Amanda's Frenchies Details
Address: Dublin, Ohio 43017
Phone: +1 614-363-3088
E-mail: amandasfrenchies@outlook.com
Website: Amanda's Frenchies Ohio
3. Shady Grove French Bulldogs
Shady Grove French Bulldogs is based in Charm, Ohio. They have been breeding the Frenchies successfully since 2004 and have many happy pet parents. Each of their puppies for sale is bred to be a friendly and social dog with good health. Their sires and dams are AKC registered and have OFA certification for the heart, knees, and eyes. Because they believe in the health of their puppies, they will come with a 1-year health guarantee. Shady Grove French Bulldogs welcomes people to their farm and meet their Frenchie adults and puppies. They will deliver your puppy by road if you cannot drive to their farm and pick it. Apart from all that, they offer financing options to support the new puppy in your family.
Each French Bulldog puppy in Ohio gets all the required shots and has been wormed before it is handed over to its new pet parent. If you find out that your puppy has a genetic defect after purchase, Shady Grove French bulldogs will replace that puppy.
Your replacement request must be accompanied by a licensed vet's phone number and official report saying that it is the case without any doubt. You can see photographs of their past and current French Bulldog litters as well as the sires and dams on their website.
Shady Grove French Bulldogs Details
4. First Class Frenchies Ohio
Veterinarian-owned, First Class Frenchies is based in Eastern Ohio. Their French Bulldogs – sires, dams, and their litters – all live with them in their home in 100 acres of scenic wooded property. First Class Frenchies breeds on a small scale as that enables them to focus on the French Bulldog breed qualities. For that reason, their puppies are well socialized and have the ideal temperaments that make perfect human companions. The new owners can be sure that the Frenchie they get from First Class Frenchies is a high-quality French Bulldog.
At First Class Frenchies, puppies are family. They are very transparent with your puppy's progress before they go to their forever homes. Throughout the Frenchie's adoption, the team sends updates and will match puppies suited to each family's temperament and lifestyle. They even offer expert veterinarian advice to make selecting your perfect French Bulldog pupy seamless.
Each puppy gets all the required shots and has been wormed before it is handed over to its new pet parent. When you purchase your puppy, you will also get a health guarantee. However, the French Bulldog puppy must be examined within 48 hours of purchase by a licensed veterinarian at the owner's expense. In case of this condition not being met, the health guarantee will become void. 
If the puppy develops hereditary defects within a year of the purchase or fails the examination, First Class Frenchies will replace it free of charge. However, the new owner must provide reports from two licensed veterinarians, which includes diagnosis and a written summary, test results, and other required documents. The replacement pup is selected from a future litter. You can see their past and current litters as well as those of the sires and dams' photographs on their website.
First Class Frenchies Details
5. Czar Frenchies Ohio
Last on the list of French Bulldog breeders in Ohio is Czar Frenchies. Based in Ontario, Ohio, Czar's Frenchies' pups are top-quality French Bulldogs because the breeders select sires and dams that have no health issues. For that reason, the puppies here have no genetic defects. To ensure that each litter stays healthy, this breeder keeps their puppies for sale in sterile nurseries which are free of germs and other infections. The French Bulldog puppies are individually handled and bottle-fed till they are ready to eat on their own. Additionally, their weight is monitored regularly.
At 5-weeks-old, the French Bulldogs begin house training. This includes pan training, dog door training, and outdoor training starts, and continues till they go to their forever homes. At Czar's, parents of special needs children also get help through fully trained service dog Frenchies. In case you would like to adopt a Frenchie in Ohio who was born disadvantaged, as with a cleft palate or the runt of the litter (be it a Czar litter or a rescue), Czar makes that possible.
They hand-rear all their French Bulldog puppies for sale in Ohio and get them ready for adoption, where they make loving and healthy pets. Czar's also adopts abandoned Frenchies, then fosters them till they go to their forever homes. Fosters are available for adoption. 
You pay in full before you pick up or get your French Bulldog delivered to you. In case you need help with delivery, then you can choose from Czar's Nannies list, get your puppy via flight, or collect it from the Cleveland or Columbus airports, where a Czar representative will be waiting with your puppy for you. Each of their French Bulldog puppies comes with a one to two year health guarantee.
Czar Frenchies Details
Address: Ontario, Ohio
Phone: 567-215-2927
E-mail: info@czarfrenchies.com
Website: Czar Frenchies Ohio
More Information About French Bulldog Puppies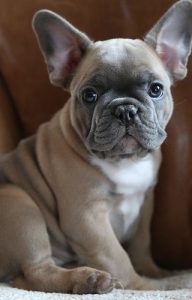 French Bulldogs are friendly and make excellent companions for all – singles, couples, and families. These dogs are also called 'frog dogs' because they often stretch out their hind legs when sitting. As these dogs have fantastic temperaments and can entertain not only themselves but also their humans, they are also fondly referred to as 'clown dogs.'  French Bulldogs went to France during the mid-nineteenth century and won the French hearts with their wrinkled faces and sunny dispositions. Frenchie puppies have short, muscular bodies but can easily be the fastest runners in their size!
Additionally, Frenchies adapt well to living in apartments, just as they do to houses with yards. However, their owners need to ensure that they get their daily short runs without overexerting, as they can suffer from heat exhaustion. They do not drool and are not mouthy either. In addition, grooming this breed is easy, as their thin coats do not shed much. Weekly brushing with a rubber grooming mitt will do fine. However, do be particular about trimming their nails and keeping their facial wrinkles clean. Their coat colors are fawn, brindle, or white with brindle patches ("pied").
Like all breeds, early socializing and training will do wonders for any French Bulldog puppy in Ohio. However, as Frenchies are 'free -thinkers,' you need to make training seem fun; otherwise, they might show their stubborn side and not listen. Crate training your French Bulldog puppy is advised, especially if it will be alone with its owner away for work or otherwise. That will keep them from chewing harmful objects. One thing to note is that they do not like being alone for long hours.
A daily diet of 1 to 1.5 cups is advisable for a French Bulldog which should consist of high-quality dry food twice daily. Feeding adult Frenchies depends on the dogs' size, age, build, metabolism, and activity level. A more energetic dog would require more nutrition than a calm dog. French Bulldogs typically weigh between 20 to 28 pounds for males, and females are 16-24 pounds. They stand 11 to 12 inches tall.
Conclusion For French Bulldog Breeders in Ohio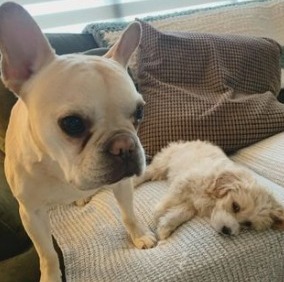 We hope this list of French Bulldog breeders in Ohio will help you bring home a new family member. If you're purchasing from breeders that are unfamiliar to you, keep an eye out for potential puppy mills. We also always advise that you visit each breeder in person and ask them several questions before putting down a deposit!
If traveling to these French Bulldog breeders in Ohio is too far, you can check our recommendations from other states:
Do you want to learn more about the French Bulldog dog breed? Watch "How To Take Care of a Frenchie" from Laura Price down below:
Garrett loves animals and is a huge advocate for all Doodle dog breeds. He owns his own Goldendoodle named Kona. In addition, he volunteers at the Humane Society of Silicon Valley, where he fosters dogs and helps animals. Garrett enjoys writing about Doodles and believes that dogs can teach humans more about how to live than humans can teach a dog.
Why Trust We Love Doodles?
At We Love Doodles, we're a team of writers, veterinarians, and puppy trainers that love dogs. Our team of qualified experts researches and provides reliable information on a wide range of dog topics. Our reviews are based on customer feedback, hands-on testing, and in-depth analysis. We are fully transparent and honest to our community of dog owners and future owners.