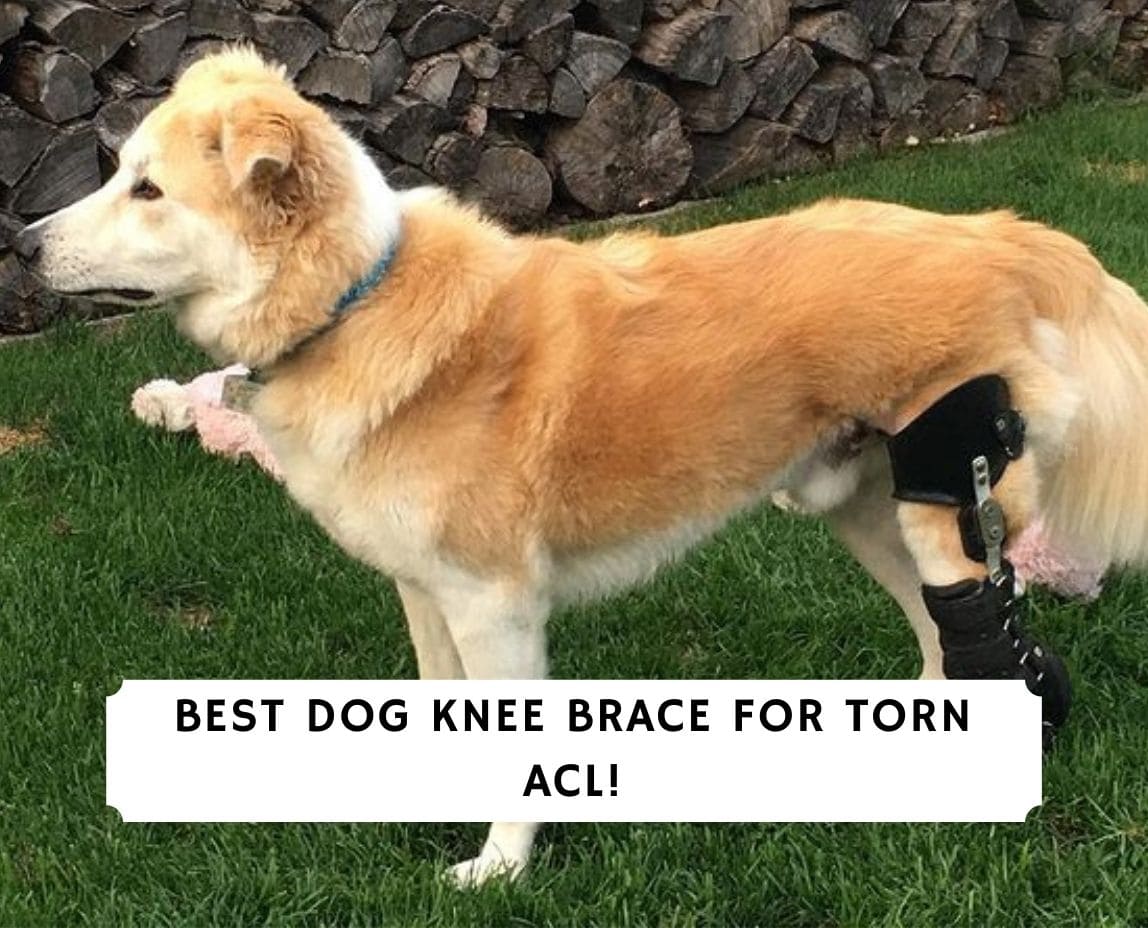 In this review, we'll discuss the six best dog knee braces for torn anterior cruciate ligaments (ACL). If your dog shows signs of lameness in one of his back legs, it may be suffering from a torn or ruptured ACL. 
Today, numerous pet parents are also opting to purchase dog knee braces for their senior pets or for pets that would benefit from them. You should focus on working with your veterinarian first so that your furry best friend can return to normal activities after an accurate diagnosis and with the appropriate veterinary care. In this ACL dog knee brace review, we'll show you our top 6 picks for 2021.
A brief note: The knee is often referred to as the stifle or tibiofemoral joint of the rear legs. The primary joints of a dog's front legs are referred to as " elbows."
Tearing the crucial cranial ligament of the stifle (knee joint) is usually the result of a severe injury. This ligament connects the back of the femur (the bone above the knee) with the front of the tibia (the bone below the knee). The CCL is responsible for keeping the tibia in place beneath the femur and stabilizing the knee joint.
Still, in most cases, there is already degeneration of the joint structure, a weakened immune system, or defects in the dog's conformation as in straight-legged dogs. 
Most ACL injuries will involve a tear in the middle of a ligament, but some ACL injuries result from bone separation at the ligament's origin. When this happens, the stifle joint becomes unstable, and this may result in the following:
Cartilage injury

Bony outgrowths

Hardening & thickening of the joint membrane

Cartilage injury
Today, we will review the best dog knee braces for a torn ACL to help you puppy recover faster!
In a rush? Here are the top 3 picks!
Product
Best Overall
Ortocanis Original Knee Immobilizer
Runner-Up
NeoAlly Dog Leg Brace
Best Value
Labra Dog Canine K9 Knee Stifle Brace Wrap
Walkabout Double Knee Brace
Image
Best Overall
Product
Ortocanis Original Knee Immobilizer
Image
Best Value
Product
Labra Dog Canine K9 Knee Stifle Brace Wrap
Image
Product
Walkabout Double Knee Brace
Image
The Ortocanis dog knee brace is made from neoprene and features twin aluminum splints for optimal additional support. The Ortocanis Original Knee Immobilizer is one of our favorite dog knee braces for a torn ACL because it's available in 9 sizes for all dog breeds. These dog knee braces are a beneficial option for dogs with certain types of knee and rear-leg problems. It's important to note that the Ortocanis original knee brace for dogs was initially designed for dogs struggling with ruptured ligaments or patella luxation. Here's the take with Ortocanis:
Features
Made with neoprene & aluminum

2-millimeter-thick neoprene

Offers lots of support & stability

Easy to put on and take off

Suitable for dogs with ligament rupture or patella luxation

Ergonomic design for an easy adjustment and fit
The Labra dog canine K9 knee brace works well for all dog breeds and is slightly cheaper than the OrtoCanis brand. Their braces are a good option for post-op knee support and stabilization during the rehab process. This is a simple and easy-to-use dog knee brace and may be beneficial for both legs. 
We like this dog knee brace because it features a rigid hinged support system that will provide a high level of support to your dog's knees while allowing them to remain mobile. Your dog needs to move to recover, and the knee braces will speed up the rehab process by supporting his knees and allowing for an active recovery.
Features
Hinged metal support system is sewn right into it for maximum support and stability.

Different design compared to other dog knee braces

Crafted with a strap to attach to harness to keep knee brace in place
Poveo dog knee braces are also orthopedic knee braces that are tailor-made for dogs. The angle of both sprint/ splints is made by determining the femoral-tibial angle of canines. The angle locking sprint mechanism does not allow for the hyperextension of the knee. 
This is an effective treatment for dogs with CLR, where the dog may experience hyperextension. Dogs that have severe symptoms or that are postoperative may benefit from this splint. It is recommended for the healing of CL. 
We like this knee brace because it's lightweight and provides stability and protection to the stifle. These knee braces are suitable for patella luxation, cruciate ligament damage, and osteoarthritis.
Features
Lightweight & easy to use

Small pouch bag included

Soft-cushioning silicone supports knee muscle

Made from soft and breathable neoprene material.

Tailor-made for dogs

Made with breathable neoprene material

Suitable for small and medium-sized pups
We like the NeoAlly hind leg braces because they feature reflective straps for visibility and added safety. They are also super lightweight. These braces are not designed to support your dog's knee joint directly, but it does provide support to your dog's entire leg, including the knee. NeoAlly may also be beneficial for dogs with torn ACL or CCL.
Features
Secure, safe & soft

Lightweight

2 Reflective velcro straps

Crafted with 4mm premium quality neoprene and nylon lining

Easy to hand wash 
The Walkabout dog leg brace is available in numerous sizes and may be beneficial for dogs with ACL, CCL injuries, arthritis, joint pain, luxating patella, fatigue, and stress. 
Features
3mm neoprene knee braces 

Suitable for all dog breeds and sizes

Priced well

Attaches to a chest harness

Vet recommended

Large orthopedic product line
MerryMilo Dog Knee protector features a soft knee brace that can be used with or without a harness. We like this dog knee brace because there's a supplementary back strap that slides underneath your dog's abdomen. The knee brace may be beneficial in helping your dog while he's healing from an injury or surgery. It also features many sizes and comes with a guide.
Features
Eight different sizes to choose from
Signs of an ACL Injury
If your dog has been affected with painful joint trauma like an ACL tear, you will need to visit your veterinarian right away. The signs may include the following:
Lameness

Joint swelling

Pain

Fluid build-up

Grating sound when the joint moves

The joint may seem loose

Inability to move the joint

Cartilage injury is usually accompanied by a clicking sound when the joint bends or is extended and during movement.
Your vet will need to do x-rays that may show injury with or without joint damage. Joint fluid is also tested to help make a diagnosis. Your vet will usually provide you with both surgical and medical treatment options. These may include the following:
Physical therapy

Nonsteroidal anti-inflammatory drugs to help with discomfort from inflammation and degenerative joint disease.

Weight reduction

Surgery is usually recommended for active dogs to stabilize the knee joint with physical therapy after surgery for recovery. This is critical.
The take with the outlook post-surgery is good as long as the degenerative joint disease has not progressed too far.
A study from Kansas State University explains that "cruciate ligament rupture, an injury common in large breed dogs, especially dogs that are very active, or in older dogs with arthritis. The rupture occurs when dogs stand on their toes with their knee bent forward, causing the femur to bear down heavily on the cranial cruciate ligament, the only ligament opposing the femur as it pushes down. When the stress becomes too much, the ligament ruptures. Rush likened the cruciate rupture in a dog to a knee injury suffered by athletes when they tear their anterior cruciate ligament, or ACL."
James Roush, DVM says that they also see active dogs tear their cruciate ligaments when they jump up in the air, come down and land on one leg with a twist and a pop. Dr. Roush adds that obesity, activity, and genetic tendencies may all contribute to a dog's level of risk of a cruciate tear.
Fortunately, some surgeries help repair cruciate ruptures in dogs, with the most common surgery involving tibial plateau leveling osteotomy. (TPLO) "The TPLO surgery levels the tibial plateau and eliminates the need for the ruptured cranial cruciate ligament. According to Roush, he performs an average of about six TPLO surgeries a week" (Science Daily).
Cruciate ruptures and traumatic fractures make up the two largest groups of injuries that Roush treats, where he explains that"In nutrition, especially, the two things that cause problems are too much energy, where we feed the puppy food with a lot of calories, and too much calcium, especially in large breed dogs, where most of these diseases occur," he said. This is what Roush recommends:
Look at your dog's pedigree and purchase only from reputable breeders.

Control your pup's diet and feed young puppies low-calorie puppy food so that they maintain an average weight or are thinner than the normal weight. Roush says that obese dogs will be more susceptible to congenital orthopedic disease.

Look at your dog's calcium intake, especially in larger dog breeds. According to Roush, you should refrain from giving calcium supplements to large-breed dogs.

Dogs should not run without a leash if they tend to run off.

Don't let your pup ride unrestrained in the back of your car.
Knee braces should never be used as a replacement for a veterinary consult. As usual, always carry comprehensive pet insurance for your pet so that you can be sure to cover all emergency treatments and surgery when you need to. Veterinarians may recommend knee braces for the following conditions that may require partial immobilization.
Cruciate ligament injury

Patella Luxation

Kneecap problems

Support pre and post-surgery
Cruciate Ligament Tear
The cruciate ligament is one of the essential stabilizers in a dog's knee(stifle) joint. Each knee has two cruciate ligaments that cross inside the knee joint. When your dog injures his anterior cruciate ligament, he may have a tear in the middle of the ligament. 
It takes about 1~2 weeks for your pup to get used to having a knee brace on. You should begin by putting the brace on for a short period so that your pup becomes used to have something on his knee. Later on, you can take your dog for a short walk and reward him with treats. This will be beneficial in helping him get used to wearing a knee brace.
Benefits of Dog Knee Braces for a torn ACL
Pet parents understand that dog knee braces help with numerous dog joint issues but don't fully understand how dog knee braces work. Here's the take:
Improve weight distribution by keeping weight off injured joints. This is important and helps to allow for mobility and faster recovery time post-surgery and throughout the healing period.

Provides optimal support by helping to prevent falls. 

Aids in keeping your dog's joints in place while healing

They help to reduce pain by taking pressure off an injured joint

They can be used as an aid while deciding with your vet if surgery would be beneficial. (surgery may cost in the thousands but is often necessary)

Affordable and less costly than custom braces
You can help your dog if he has arthritis or joint pain by purchasing a dog knee brace. With severe cases of CCL damage, your veterinarian may recommend surgery. 
In this instance, your pup will benefit from the use of a brace for post-op recovery. A brace will help support and ease pressure on the affected area. It also may be beneficial in speeding up recovery and reducing your dog's discomfort.
Dog Knee Brace Uses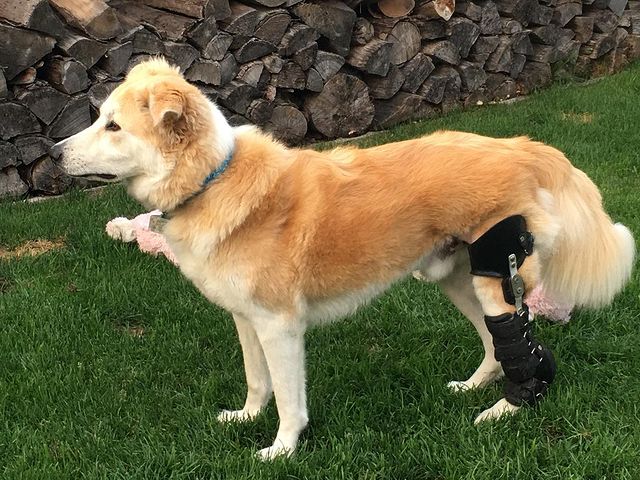 If your pup has injuries to both knees, you can use knee braces to help to support both knees. Research indicates that up to 60% of dogs that tear one ACL/CCL will injure their other legs. That's why it's so important to visit your veterinarian to have your dog examined. Knee braces can help with the following:
Pre-existing health condition

Conservative management instead of surgery, but you will have to work together with your veterinarian.

Post-surgery recovery with crate rest

Senior dogs with joint issues
Luxating Patellas
Dog knee braces can also be used for luxating patellas. This is when your pup has a knee cap that moves around. Knee braces may help to keep your dog's patella in place, but you should visit your vet for treatment since luxating patellas can lead to osteoarthritis.
Canine Arthritis
Arthritis is a joint disease and may result in debilitating pain and extreme discomfort. Symptoms include pain, lameness, and swelling in multiple joints together with a fever and loss of appetite. Your vet will do x-rays, joint tissue biopsies, and an examination of the joint fluid (joint tap)
In these cases, knee braces may be beneficial to help reduce pain and provide support and stability. Dogs suffering from arthritis do well with knee braces because surgery is not an option. Knee braces are combined with pain and anti-inflammatory meds, weight loss, and a healthy lifestyle.
Conclusion for Best Dog Knee Braces for a torn ACL
Just like us, our furry best friends may come down with a range of injuries that can affect their mobility and everyday lives. Fortunately, there are so many options when choosing a dog knee brace. In cases with severe ligament damage, your veterinarian may suggest using a knee brace as an alternative to surgery. 
If you think, though, that your pup would benefit from a knee brace, reach out to your veterinarian for the best advice since these may also be beneficial for arthritis and other leg injuries too. Some knee braces may work better for larger breeds like Shepherds and Great Danes. 
Look for a snug fit option that supports the knee without restricting natural movement. The fabric should always be comfortable against your pup's skin, and the product should be clinically proven to reduce pain and inflammation.
Other articles you might like:

Claudia Bensimoun is a writer who specializes in dog content and veterinary topics! Aside from writing for We Love Doodles, Claudia also writes for other major dog blogs like Fido Friendly, Animal Wellness Magazine, and the United States Dog Agility Association (USDAA). She has a ghostwritten over 50 different dog e-books. Her passions include animal welfare, veterinary research, and wildlife conservation.
Why Trust We Love Doodles?
At We Love Doodles, we're a team of writers, veterinarians, and puppy trainers that love dogs. Our team of qualified experts researches and provides reliable information on a wide range of dog topics. Our reviews are based on customer feedback, hands-on testing, and in-depth analysis. We are fully transparent and honest to our community of dog owners and future owners.