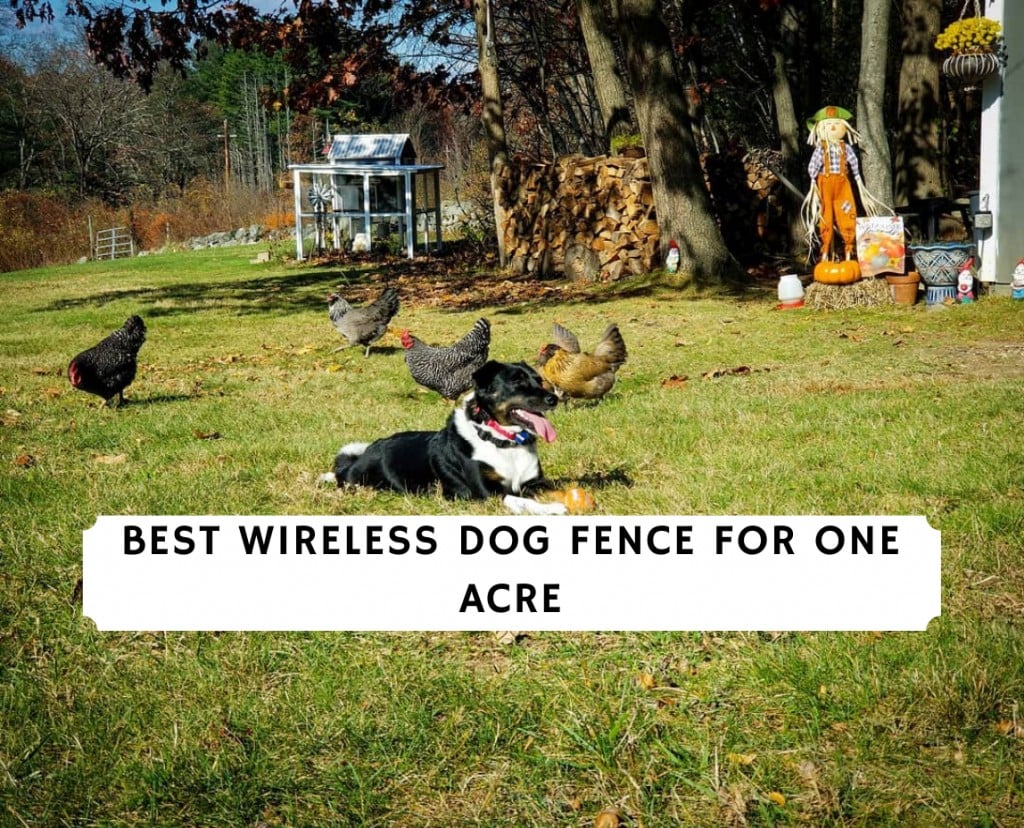 Do you have a large property that is over 1 acre and allows your dog to roam freely? Pet parents who have at least one acre of property often allow their dogs to roam free and enjoy life. The only problem is usually their dog runs beyond the property line, gets lost, or goes into the neighbor's yard. 
The go-to solution is installing a huge wood fence that costs a lot of money since the property is so large. However, the good news is there's an easier and more affordable solution called a wireless dog fence. In general, there are two types of wireless dog fences that will cover 1 acre.
First, there is an in-ground type dog fence with a wireless collar where you bury the wire underground. This is convenient because it covers any area type and can work on up to 100 acres. Second, the alternative solution is a wireless transmitter where you don't have bury wire underground and setup is very easy. The downside is that most wireless transmitters only cover up to 3/4 acre in a circular radius. You'll have to purchase multiple transmitters to cover an area that is 1 acre.
The following list contains the best wireless dog fences for 1 acre or larger. We have solutions that are both in-ground with wire and wireless transmitter solutions. Check out the list to find the right one for your dog! 
In a rush? Here are our top picks!
Product
Best Overall
Extreme Dog Fence
Image
Don't let this standard wireless dog fence fool you as it's the best solution out there for properties that are 1 acre and larger. It's a high quality and specially designed in-ground dog fence with innovative technology and compatibility. The Extreme Dog Wireless Fence features three antennas, wireless collar options, batteries, and more! 
The best part about this dog fence is that the collar is completely waterproof and continues working even when it's submerged 10' feet deep. This means your fun-loving dog can enjoy swimming and splashing around at the beach or swimming in a lake or pond. In addition, if you live in an area with heavy snow then this dog fence will still work on your property.
This wireless dog fence for a 1-acre kit includes a collar receiver, batteries, 20 gauge high tensile boundary wire with heavy protective jacket, a digital transmitter, splice kits, and training flags. In-ground dog fences are convenient because they can be set up on any contour of land and aren't subject to a circular radius like a wireless transmitter.
This wireless electric dog fence for 1 acre is specially designed for stubborn dogs. It features five levels of high-intensity electrical static correction plus a tone and vibration for safely. It allows you to successfully training your dog and keep them on your property, no matter how big it is!
This wireless fence kit comes with everything you need such as 100 feet of pre-twisted boundary wire, 4 flexible contact points, and 1000 feet of 16 gauge heavy-duty solid copper wire.  If you need a wireless dog fence for more than 1 acre then you can purchase additional wire.
The comfortable wireless collar fits dog neck sizes ranging from 6" to 28" inches and is fully waterproof and can be submerged in water up to 3 feet. This in-ground dog fence is great for small dogs and large dogs.
A neat feature about this wireless dog fence is that it has a run-through prevention feature that makes the correction increase gradually if your dog runs through the boundary zone. This helps to train your dog on where the boundaries of your property are so they won't continue to run in the wrong direction. In addition, the dog collar automatically shuts off after 30 seconds to ensure your dog doesn't get overstimulated by the vibration.
You can use this dog containment system with more than one dog as long as you use PetSafe collars that are compatible with the wireless fence system. It has 5 levels of static shock that you can manually adjust that will keep even the most stubborn dogs on your property. The best part about ordering from PetSafe is that they are a large company and have U.S. customer support to help with you any issues that should arise.
The SportDOG underground dog fence is easy to install and has everything you need to cover 1 and 1/3 acres of property. You can expand the dog fence to cover 100 acres with added wire and flags if needed. 
The waterproof collar uses a 9-volt battery which is included in the kit. Typically the battery lasts 6 to 12 months depending on the use which is one of the longest run times for any wireless dog fence. The collar fits dogs that weigh 10 pounds and up. 
If you have more than one dog that you need to contain on your property, this is the wireless dog fence you need! It's designed to contain an unlimited amount of dogs on your property and you can buy more collars separately. 
The effective and safe collars have tone, vibration, and static stimulation correction system. The stimulations levels are adjustable from a range of 1 to 4 so you can find the right one that works best on your dog. Always make sure to start at the lowest settings and gradually adjust to higher settings until your dog starts to react.
Your dog is safe with the built-in lightning protector and wire break alarm. This wireless fence works great and covers more than 1 acre with the option to extend the barrier with additional wire. Underground dog fences are the best solution if your property is 1 acre or larger.
The easy to install wireless dog fence allows ½ acre in circular coverage that's adjustable. The wireless fence needs to be placed ½ acre from the indoor portable transmitter for optimal use. This is the best dog fence if you're looking for a wireless transmitter and you don't have to bury wires underground. However, to get a wireless dog fence for 1 acre or more, you will need to buy another wireless transmitter.
The best feature about this dog fence is you don't need to bury wires. It features a wireless boundary that allows you to create a barrier that contains your pets without all the hassle. You can get this wireless dog fence setup in 1-2 hours as compared to 2-3 days if you have to bury wires underground.
In addition, this wireless fence for dogs has static-free re-entry which helps train your dog properly. This means that when your dog exits the perimeter and comes to re-enter, it won't get shocked again. Thus, your dog can easily identify the perimeter of your yard.
In addition, the wireless transmitter is portable and can be used on your property, vacation homes, or even camping. It's quick and easy to set up so you can feel confident your dog is protected even when you are away from home. When you buy an underground dog fence, it's not portable and you have to keep it in your yard. 
The wireless collar is also waterproof and fits neck sizes ranging from 6 to 28 inches. You can use the same electric dog fence on more than one dog, but you need to purchase a compatible collar for the other dogs. 
Another neat feature is that the collar has an indicator that alerts you when the battery needs to be replaced. Typically, the battery lasts up to two months, but an indicator lets you know when it's about to stop working. Lastly, you can customize the correction training mode by choosing one of the five levels of static on the collar.
This hidden fence system helps train your dog to remain inside the set barrier you establish on your property. It has 500 feet of industrial-grade copper core wire that expands up to 20 acres. In order to get a wireless dog fence for 1 acre, you will have to purchase additional wire.
This dog containment system has three correction modes: tone, vibration, and static shock. It has seven correction settings so you can feel confident you aren't overstimulating or hurting your dog. 
This wireless dog fence works in below zero freezing temperatures and is 100% waterproof. During the summer your dog can go swimming with the collar in water up to 3 feet deep. This collar is so durable it also withstands rain, snow, and muddy puddles and still keeps working! Lastly, this wireless fence for dogs can be used on numerous dogs but the collars are sold separately.
This wireless fence allows you to customize coverage in any yard and on any property contour. It's especially beneficial for complicated spaces and large yards that have elevation.
The 492 feet of 20 gauge wire is easy to layout and is covered with a thick outer coating for protection from the elements. It stands up to any weather conditions so you can rely on it throughout the entire year. 
The collar comes with a remote that controls the correction modes and allows you to customize the levels from 1 to 10. In addition, the comfortable collar works with a rechargeable battery that provides 3 to 7 days of service when fully charged. The battery recharges quickly and usually only takes between 2 and 3 hours. 
The special shut down feature stops correcting your dog eight seconds after the collar is activated for correction. This special feature gives you peace of mind that your dog isn't experiencing over-correction or stimulation longer than necessary. This shock collar system handles up to two dogs and is lightweight and comfortable for your dog to wear.
How to Choose a Wireless Dog Fence for 1 Acre
Owning your own large property and being a pet parent is like having the best of two worlds. Your awesome property provides privacy, safety, and a great place to raise dogs. Chances are you just found out how much a standing physical wood, aluminum, chain, and iron fence costs and it's way beyond your budget. 
A wireless fence dog fence for 1 acre allows you to maintain the beauty of your property while safely keeping your canine contained within a designated area. Choosing the right one to suit your dog's needs takes just a few minutes. 
Designate an Area for Your Dog
The first thing you need is to determine is the area you want to designate for your dog. An excellent way to make this decision is to observe where your dog already enjoys spending their time on your property. Do they have a favorite tree that provides shade? Do they like to splash around in a pond or lake located on your property? 
Take a look at where your dog already spends most of their time and you will know the perfect spot to designate for your dog.
How Large is Your Yard?
Now that you know the exact location, decide if you want to use an underground system that involves wire or a wireless transmitter. In general, if you need a wireless dog fence over 1 acre, the best solution would be a get an in-ground dog fence where you bury the wire. Otherwise, you will need multiple wireless transmitters to cover over 1 acre.
If you're using an underground wireless dog fence, you will need to determine how much wiring you will need. Most of the wireless dog fences on the list shown above offer the opportunity to purchase additional wiring if you need to cover more property than you expected. 
The next step to making your decision is based on the distance between your home where the transmitter will be located and the designated area. If it goes beyond the usual 1 acre, you will need to choose an option with more wire.
Installation
The last thing to consider when making your decision is the amount of work you want to do when installing the fence. If you don't mind digging a trail around the designated area to place the wiring you should choose a containment system that has everything you need in the kit. However, if you don't want to do any physical work when installing the dog fence, choose the wireless option that involves easy installation. However, you will have to buy an additional transmitter to cover an area that is 1 acre or larger.
In-Ground vs. Wireless Dog Fences For 1 Acre
In-ground and wireless dog fences do the same job but in a slightly different way.  The following are five differences between the two options: 
1. Landscape and Size of Your Land
Typically, a wireless dog fence covers a maximum of 1/2 without having to bury wires underground. However, you can buy multiple transmitters to cover more than 1 acre. However, if you have more than 1 acre of land that needs to be covered by the fence then the in-ground fence is the best option. Underground dog fences can easily cover over 100 acres if needed.
2. The Shape of the Land
Wireless transmitters where you don't have to bury wire can only be used in a circular shape. This means the boundary or designated area you establish for your dog will be circular instead of square. The in-ground option allows you to determine the exact shape of the area since you will be the one installing the underground wire. This is the main benefit of getting an underground wireless dog fence. 
3. Installation Difficulty
In-ground fences take more effort to set up because it involves digging in the ground and placing the wire around the designated area. An underground dog fence typically takes about 2-3 to setup. On the other hand, a wireless transmitter system doesn't involve much physical effort and only takes a couple of hours to setup. The most work you will do with a wireless system is setting up flags to outline the perimeters. 
4. Maintenance
The most you will do to maintain a wireless fence is recharge or replace the battery and replace the metal contact point flags from time to time. However, an in-ground dog fence involves maintenance such as routine collar maintenance and repairing the boundary wire if it breaks. There usually isn't a ton of maintenance, but it's worthwhile to note.
5. Reliability
In-ground dog fences are generally considered more reliable because the wire is located in the ground and it doesn't move. However, wireless fences sometimes experience inconsistent reception that can make the boundary line unclear to your pet. If you have a stubborn dog that tends to run far off your property, I would get an underground dog fence.
Benefits of a Wireless Dog Fence
Convenient to use
Easy to install
No need for digging holes
Sets up quickly
Great for portable use like camping
Low maintenance 
Services up to two dogs
Benefits of an In-Ground Dog Fence
More Reliable
Covers 100+ acres
Opportunity to purchase more wire for larger properties
Services an unlimited amount of dogs
Large Acreage Wireless Dog Fences for Multiple Dogs
Do you have a large property that goes 1 acre and beyond? Wouldn't it be nice to allow multiple dogs the freedom to enjoy the land? If you have pets that like to roam the property or working dogs that herd animals on your property it's wise to install a wireless fence. Since more 1 acre is too large for a standard wood or chain fence the best option is a dog containment system. 
Installing the in-ground wires might take some time but it's well worth the hard work. The great thing about in-ground dog fences is they are designed to contain more than one dog. Some options on our list have an unlimited dog capacity and the only thing you need to do is purchase additional collars for each dog. Just make sure you choose the brand that matches the fence. 
Are wireless and in-ground dog fences waterproof? 
Yes. Most wireless and in-ground dog fences are waterproof. Wireless dog fences don't involve placing a wire in the ground. They run on a transmitter and flag pinpoints for designating the area for your dog. The collar is waterproof and designed to withstand natural elements such as rain and light snow. 
The in-ground dog fence involves heavy-duty wires being placed in the ground. The wires are covered with durable material to prevent rusting and damage. They withstand harsh weather conditions such as heavy rain and snow. One of the options on the list was specifically designed to withstand freezing temperatures. 
Can I rely on wireless dog fences? 
Wireless dog fences sometimes experience a connection interruption due to bad reception in the area. However, you can feel confident about the brands mentioned on our list because they are well researched and have positive feedback from pet parents who have used the product for a long time. 
If you are nervous about a wireless fence not working due to reception interruptions it's wise to consider your surroundings. Does the weather in your area cause blackouts, WiFi interruptions, and other issues? Is your land flat or does it have hills and mountains? If so, you can expect the wireless fence transmitter to experience the same service. 
This won't be a big deal if you keep your dog indoors and only let them outside when the weather is nice. This is standard protocol because most pet parents bring their pets indoors during harsh weather anyway. However, if you need dependability in-ground dog fences are the way to go! 
Can I rely on in-ground dog fences? 
Yes. Since you place wire underground to determine the safe zone for your pet, in-ground fences are generally considered the most reliable. It also presents a square area or different contour area while the wireless options can only create a circular space for your dog to roam.
How long will it take to train my dog with an invisible fence? 
The amount of time it takes to train your pet depends on your dog and how quickly they learn. Most dogs learn quickly and naturally stay away from the areas that cause the collar to beep, vibrate, or shock. Typically, most dogs begin to understand when the collar activates so they avoid making it happen again. 
Some dogs are stubborn and don't notice the collar is beeping or vibrating which makes the static shock option the best one for this scenario. Your goal as a pet parent is to find the right level for your dog that safely catches their attention. 
It's wise to begin with the beep mode when first training your dog with the electric invisible fence. If you notice your dog doesn't respond to the beep noise, move forward to the vibration mode. This mode often has level options that adjust to suit your dog's needs. As a last resort, most pet parents choose the static shock and start using it on the lowest setting. If your dog doesn't respond to the low setting gradually increase the level until it catches your dog's attention. Large dogs with a thick coat usually require a level above to in the static shock mode. 
Keep your pet safe on your property with an invisible fence! Check out the wireless and in-ground options on the list above and order today! 
Conclusion for Best Wireless Dog Fence for 1 Acre
There are two main types of wireless dog fences that can cover 1 acre. The most traditional method is to get an in-ground or underground dog fence where you bury the wire underground and use a wireless collar. The second method is to use multiple wireless transmitters, but they only cover circular regions. We hope that you found a great wireless dog fence for 1-acre properties and larger.
Other articles you might like:
Still interest? Check out how to set up the PetSafe Wire Dog Fence:
Garrett loves animals and is a huge advocate for all Doodle dog breeds. He owns his own Goldendoodle named Kona. In addition, he volunteers at the Humane Society of Silicon Valley, where he fosters dogs and helps animals. Garrett enjoys writing about Doodles and believes that dogs can teach humans more about how to live than humans can teach a dog.
Why Trust We Love Doodles?
At We Love Doodles, we're a team of writers, veterinarians, and puppy trainers that love dogs. Our team of qualified experts researches and provides reliable information on a wide range of dog topics. Our reviews are based on customer feedback, hands-on testing, and in-depth analysis. We are fully transparent and honest to our community of dog owners and future owners.