Dogs that look like pigs mostly have shortened faces with pushed-in snouts. Dogs that look like pigs are called brachycephalic breeds, which means they have smaller airways because of their narrow nostrils and flat-looking noses. Brachycephalic breeds include Pugs, Boxers, and Mastiffs, among others.
Due to the pushed-in snouts, brachycephalic breeds struggle with breathing issues, as their narrow nostrils make breathing more difficult. Dogs that look like pigs also have difficulty regulating body temperature because of their breathing patterns. Other health concerns include skin, eye, and oral issues because of the shape of their skull and the folds of their skin.
If you own or are considering owning a brachycephalic breed, try not to over-exert them when it comes to exercise and introduce them to hot or cold weather. Of course, owning dogs that look like pigs is not all bad, as most brachycephalic breeds are friendly, well-tempered, and incredibly loyal. In this article, we'll look at dogs that look like pigs.
Before scrolling down this list of dogs that look like Pigs, you can check out these other guides from our team at We Love Doodles: Dog Breeds That Look Like Polar Bears and Dog Breeds That Look Like a Fox.
1. Boxer
A healthy and well-loved Boxer will live up to 12 years, and males grow as tall as 25 inches shoulder height: females a few inches smaller. These short-haired muscular dogs usually have fawn, tan, or brown coats paired with white markings. 
Boxers were bred for baiting bulls for slaughter, though they were later recognized as guard dogs. Today the brachycephalic breeds are police dogs, and some work for the blind, but most of all, they're known as guard dogs. 
Weighing up to 65 to 80 pounds for males or 50 to 65 pounds for females, Boxers are stalky and powerful breeds who love to stay busy. Boxers hate being alone and are prone to separation anxiety; they are loyal breeds that fit well in more prominent families.
Related: Best Boxer Rescues in the United States For Adoption and Best Boxer Breeders in California.
2. Bulldog
The Bulldog grows about 14 inches from the shoulder and can weigh up to 50 pounds, with a life expectancy of up to 10 years. Today, the Bulldog is known for its calm, relaxed, and collected temperament, making great companions for families with children and other pets, although their history can't say the same.
Bulldogs are known for their powerful jaws and high pain tolerance. This pig-faced-looking breed was bred specifically for bull and dog fighting. It wasn't until 1835 that bull-baiting was made illegal under the Cruelty to Animals Act.
The Bulldog's underbite and hanging chops tend to drool and represent specific features such as small, somewhat floppy ears and pushed-in snouts resembling a Pug.
Related: Best English Bulldog Breeders in the United States and Best Dog Bones For Bulldogs.
3. French Bulldog
The French Bulldog is a much smaller version of the Bulldog family, though identical, weighs up to 26 pounds, stands as tall as 12 inches, living up to 12 years. Instead of small floppy ears, this brachycephalic breed resembles small bat ears, their trademark feature.
Although stubborn and aloof, the Frenchie is an intelligent breed who thrives on social needs with their loving companions. Frenchies do not like to be alone, though they aren't easily stressed when things change as they are very adaptable miniature Bulldog breeds. French Bulldogs make the top of the list regarding family-friendly as they are patient, firm, mostly quiet, and very affectionate.
Related: Best French Bulldog Breeders in the United States and Red French Bulldog Puppies For Sale.
4. Brussels Griffon
The Griffon weighs up to 10 pounds and stands about 10 inches tall. This small and light breed comes packed with a prominent personality and is not for beginner owners. These toy breeds make great companions to one owner, and if trained and socialized efficiently, they make great companions with smaller families. 
Brussels is a noisy breed and can become quite stubborn, demanding, and even sense when they want something or feel as though they are left out. Originally the pig-faced breed was bred to keep rats away from farms and barns as they are very alert and over-sensitive to sound and movement.
Related: Best Brussels Griffon Rescues in the United States and Weird Dog Breeds with Pictures and Facts.
5. Bullmastiff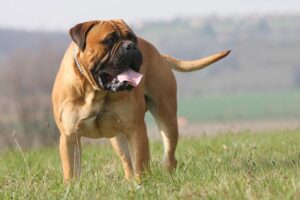 Crossed with a Bulldog and a Mastiff, the bullmastiff was born. Bullmastiffs were bred to take down poachers from killing gamekeepers' meat. Today the bullmastiff makes for an excellent guard dog and an easy-to-care-for breed. Though bullmastiffs drool a ton, they don't require much grooming needs.
Bullmastiffs weigh as heavy as 130 pounds and stand as tall as 27 inches. Due to their large size, they only live about 7 to 9 years old. Even though these pig-looking dogs are large, they don't need a ton of exercise but rather routine, structure, and socialization.
Bullmastiffs don't take well to strangers, so proper socialization is vital from puppyhood. If you plan to own a bullmastiff, it's essential to have a large yard, as they can easily knock anything over with their tails and heavyweight.
Related: Best Bullmastiff Breeders in the United States and Best Bullmastiff Rescues in the United States.
6. Boston Terrier
Boston Terriers are known for their tiny heads, bat ears, and tuxedo markings. These miniature puppies are well-rounded dogs who are easy to train, friendly, curious, and adaptable, making great companions for city life and large families. The Boston Terrier stands just over a foot tall and weighs 25 pounds.
The Boston Terrier is a cross between the English Bulldog and the English white terrier, originally bred as a new dog-fighting breed. Although the pig-faced terrier is a friendly breed, they can be highly territorial and don't get along well with newcomers or other dogs.
Related: Best Boston Terrier Breeders in the United States and Best Boston Terrier Rescues in California.
7. Cane Corso
The Cane Corso comes from two Mastiff breeds – the Italian Mastiff and the Neapolitan Mastiff. At first glance, the Cane Corso comes off as dangerous and intimidating, but they are quite the opposite. The Corsi are intelligent, gentle, and loving giants who can get out of hand and outwit their owners if undertrained or not properly socialized.
The Cane Corso is perhaps one of the oldest-bred dogs from ancient Rome. Some people believe the Corsi are descended from greek molossus dogs, although after being bred with England fighting dogs, they're known as Roman pugnaces.
Related: Best Cane Corso Breeders in the United States and Best Cane Corso Rescues in the United States.
8. Chow Chow
As fluffy as a sheep and a little taller than a pot-belly pig, the Chow Chow is one of the oldest dog breeds and represents a basal lineage. The Chow originated in northern Siberia and is believed to come from the Chinese. Chow Chows are exceptionally easy-going and are happy to lounge around or go for a brisk and long walk.
They're aloof to strangers and overly eager to please their owners, though they require patience and understanding regarding training. Chow Chows have a protective nature but a laid-back and disinterested mindset and look on life.
Related: Chow Chow Poodle Mix Information, Facts, and Images and Chow Chow Puppies in Missouri For Sale.
9. Dogue De Bordeaux
Similar to the look of a Mastiff, yet closer to the build of a Bulldog, the 100-pound and 25-inch tall Bordeaux breed is one of the most loyal due to their affectionate behavior and need to protect and guard.
Keeping structured and routined household will allow this dog to stay friendly and happy as long as training is maintained throughout its life. Don't let this dog's massive size and look deter you from being its loyal companion, as they're known for being sweet and docile.
Related: Scrunchy-Faced Dog Breeds with Pictures.
10. English Toy Spaniel
The English Toy Spaniel is of a royal breed, favored by the Queen of Scots and Queen Victoria, yet originated in ancient Japan. They're reasonably quiet and good-natured dogs with proud and willful behaviors.
The toy Spaniel works well in families with children and other pets due to its loving and compassionate temperament. Even though this 10-inch, 15-pound delights live to be 12 years, they are all the dogs you need for personality and personal fulfillment.
11. Japanese Chin
Another long-haired 10-inch, 12-pound, pig-looking pooch to adore is the Japanese Chin. This royal breed evolved from the Tibetan spaniel and is mainly found in Chinese temples. Japanese Chins are easy to care for regardless of their long silky coats; their only goal is to please and become nurturing and easy-going companions.
Chins do well in city living, small apartments, and couples who don't make much noise. The Chin is relatively quiet and well-mannered, provided they are socialized appropriately and trained efficiently at a young age.
12. Pekingese
Like the Japanese Chin, the Pekingese were bred to be companions of the imperial family of China. Most Pekes are found in shows as entertainment dogs, as they are bright and willing to learn new tricks.
Though moderately easy to train, Pekes can be extremely stubborn and will only learn after a strong bond has been formed due to their independent nature. Unlike Japanese Chins, Pekingese are fairly yappy dogs who bark at every sound of movement or noise and can be difficult to housebreak.
Due to their small size and pushed snouts, it can be challenging for Pekes to breathe in extreme temperatures. Pekingese have a life expectancy of 14 years and grow less than a foot tall, weighing no more than 15 pounds, but they tend to overeat and become obese.
Related: Dog Breeds that Look Like Ewok.
13. Pug
Pugs are hard to ignore with their bulging eyes and tendency to please and beg for affection. These toy breeds are the ultimate companion. The Pug is perhaps the oldest royal breed, dating back to 400 B.C., bred only for companionship to the wealthy and royal families.
Although some Pugs can be distempered and stubborn, they are the most adaptable of toy breeds as they are one of the most friendly and loyal brachycephalic breeds. The Pug grows no taller than 13 inches and gains 18 pounds.
They make the best pig-faced companion because of their willingness to learn and adaptability to do anything you'd like. They are happy as long as they are with you, doing what you're doing.
Conclusion

For "Dogs That Look Like Pigs"
Most dogs that look like pigs are relatively small in size, like the affenpinscher and Shih Tzu. All brachycephalic breeds have pig-like features, though each has a distinct personality and temperament.
As a dog owner, you must learn as much as possible about brachycephalic breeds due to underlying health conditions. Brachycephalic breeds have different needs than that other dogs and need special care.
For more guides similar to this list of dog breeders that look like Pigs, you can check out:
Aside from dogs with pig-like appearances, you can learn more about what dogs look like celebrities by watching "Animals That Exactly Look Like Celebrities And Famous People" down below: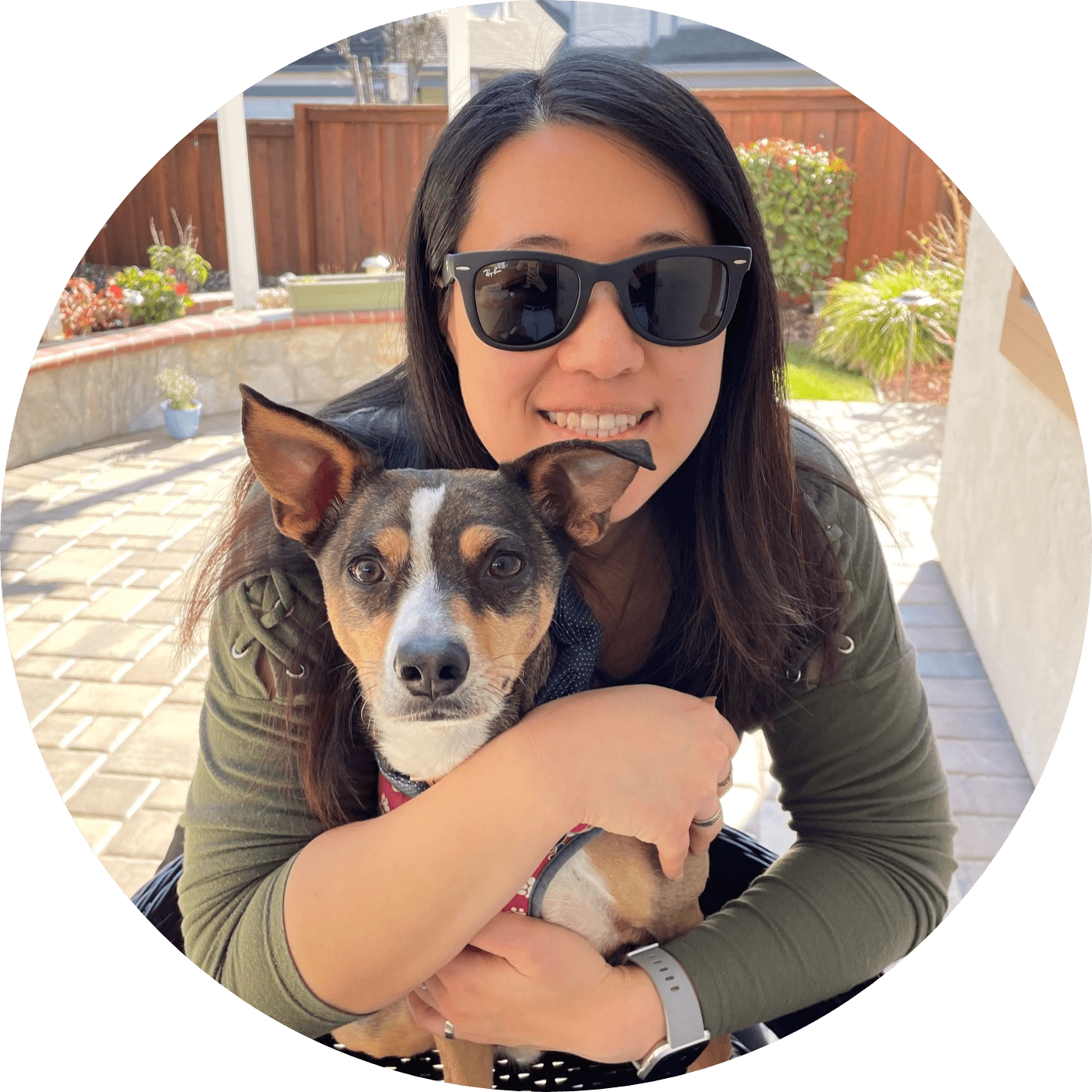 Dr. Sabrina Kong graduated from the Royal Veterinary College in England in 2016 and has been working at a small animal clinic in Northern California since then. She grew up in the Bay Area and got her bachelor's degree from Cal Poly San Luis Obispo. She also became a Certified Canine Rehabilitation Practitioner through a program at the University of Tennessee.
When she isn't in the clinic taking care of her four-legged patients, she enjoys traveling and trying new foods with her friends and her three-legged dog, Apollo. She adopted Apollo from her clinic when he was a puppy with numerous health issues. Dr. Kong truly cares about taking care of animals.