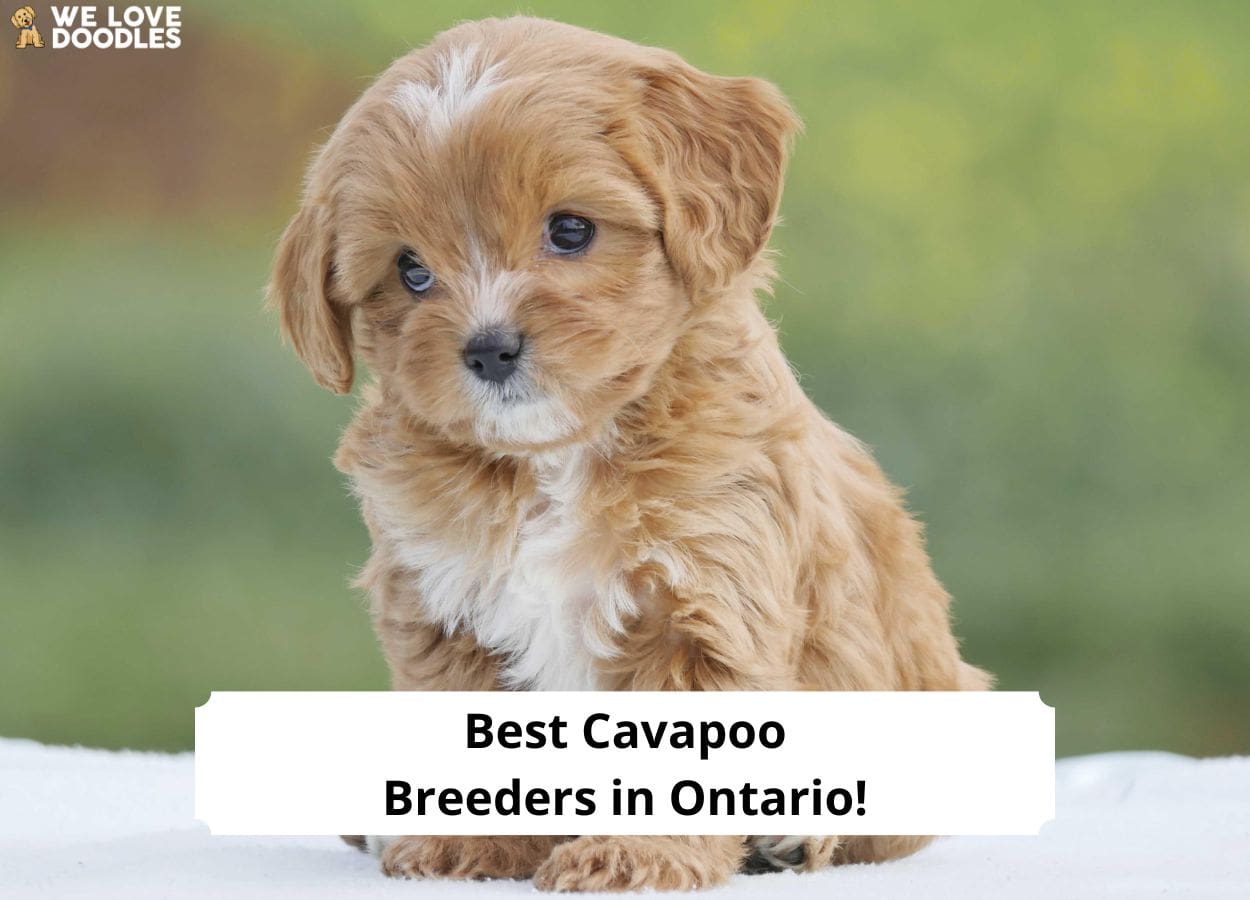 If you are looking for a lovable Cavapoo puppy, you've come to the right place! Here are all of our favorite Cavapoo breeders in Ontario.
The adorable cross between a Cavalier King Charles Spaniel and a Toy or Miniature Poodle, Cavapoos are one of the most popular designer dog breeds.
Not only do they bring a fun-loving spirit to their homes, but they are incredibly intelligent companions as well. As with most hybrids, these pups vary in size and color depending on the parents' genetics, but typically the Cavalier King Charles Spaniel's gentle nature combines with the Poodle's intelligence to form an energetic yet loyal pup that loves attention and cuddles.
Check out our full list of recommended Cavapoo breeders based in Ontario.
Before scrolling down this list of Cavapoo breeders in Ontario, check out: 10 Best Poodle Mix Breeders in Ontario! (2023) and The 10 Best Labradoodle Breeders in Ontario! (2023).
1. Stoney Acre Puppies
Stoney Acre Puppies use a team breeding program, where they have several parent pairs at home and several others kept with guardians using guardianship programs where they vet every one of the homes.
This beautiful, family-run breeding business is located in Bancroft. They have over a decade of experience in breeding Cavapoos and Cavalier King Charles Spaniels. The puppies are already vaccinated and dewormed before they go to their forever homes.
They have four different puppy suites on their farm, each equipped with in-floor heating and cooling, double magnetic sealed doggy doors, and a designated outdoor area for the puppies to explore and practice their social skills. Early socialization creates a good temperament and family-oriented puppies that are healthy and happy.
You can check out their website to see the available puppies, videos of their facilities and parent dogs, and also tips and tricks on how you can take care of your new puppy.
Stoney Acre Puppies Details:
2. A & R Country Kennel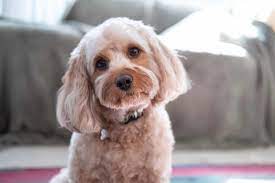 Established in 2001, this wonderful kennel is run by Amy Dillabough. They're registered with the CKC and are known to be one of the most reputable dog breeders in the area. Their focus is on many Poodle crosses including Cavapoos.
Their main concern is the health of their puppies, and they practice natural breeding techniques with regular veterinary visits. They have a two-year health guarantee for their puppies, which means they will be responsible for any health concerns.
They encourage prospective dog parents to visit their facilities to see how the puppies grow and connect with them first. Because their main concern is the well-being of the puppies, they do not allow shipping puppies as it could create a stressful and unhealthy situation.
They have fully renovated their facilities with the latest technology. The puppy nursery is heated and cooled with a CCTV system so that the owner can check on the puppies at any time.
Check out their website to see the puppies and their kennel facilities. You can also follow them on social media on Facebook, Instagram, and Youtube to see what their dogs and puppies are up to.
A & R Country Kennel Details:
3. Pleasant Meadows
One of the first breeders focused on Cavapoos, Pleasant Meadows has over 13 years of experience in breeding. Their founders are educated in the areas of Animal Sciences and genetics which shows in the quality of their well-raised, healthy Cavapoo puppies.
Pleasant Meadows have stated that they are not a kennel, but rather a farm. They raise all their puppies in a family setting together with their breeding pairs and other adult dogs.
The breeders treat each puppy as a member of the family. The farm is not just home to dogs and puppies but also other farm animals such as their mini horses. The puppies are free to roam the beautiful area and practice their social and athletic skills.
They have a strict purchasing or adoption method, where each of the interested customers will be required to register on the waiting list. You are then required to visit the farm to see if you connect with the puppy and see its surroundings. They want to make sure that each puppy will be matched with the perfect home.
Pleasant Meadows are very concerned with the puppy's safety, so when you visit, you will not be allowed to interact with other puppies that are already on hold for other adopters. Check out their website to see their facilities, available dogs, and their litter of puppies.
Pleasant Meadows Details:
4. Cavapoos of Ontario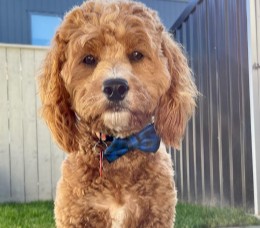 This family-owned business is located in Newmarket and focuses on Cavapoos and Cavalier King Charles Spaniels. They breed their puppies with a guardianship program, where each of the parent dogs has their own loving family that they live with.
The dogs will be whelping eight litters before the entire ownership is transferred to the guardian, but before that, guardians will be required to collaborate during the birth and before the weaning of the puppies. Each of the guardians is carefully selected, so the parent dogs will be healthy and happy.
The puppies will be born into the breeder's home, so they will be treated as a family unit before being given away at the age of eight weeks. If you are interested, they have information on their breeding program schedule on their website so you can book in advance.
You can check out their website to see the parent dogs that will be in the breeding program, their previous litters, and also numerous information on how you can raise your Cavapoos from crate training to other necessities.
Cavapoos of Ontario Details:
5. Serendipity Acres
This beautiful facility is a family-owned business that has its own farm, and the puppies have a spacious play area where they can explore and enjoy their lives in the mountains. The puppies are trained and have great social skills because they are raised with the family.
Unlike the others on this list, Serendipity Acres keep all their parent dogs on site due to the big area they have. They have also undergone expansion in 2020 where they built a new agility center for their dogs and puppies.
They even have onsite grooming and veterinary facilities to take care of all their dogs, so it's guaranteed that the puppies are well taken care of.
The puppies from Serendipity Acres have pleasant temperaments and come already health-checked, vaccinated, and dewormed. Each of the puppies from Serendipity Acres will be provided with a health certificate.
This breeder also requires you to spay or neuter your adopted puppy to avoid further health problems and overpopulation in the future. In addition, you can adopt one of the older dogs.
Cavapoos are excellent service or therapy dogs due to their gentle demeanors and loving personalities. Check out their website to see what they have to offer, such as their facilities, breeding program, and their parent dogs.
Serendipity Acres Details:
6. Three Shades Cavapoos
This family-owned business is located in a beautiful facility called Ranch Santagato. They have over 25 years of experience in breeding Cavapoos. In addition, they also have experience in breeding champion Golden Retrievers and award-winning mini pigs.
Three Shades pay loads of attention to the temperament of their puppies, striving to provide them with a healthy and safe environment in their ranch.
Aside from being raised around adult dogs and other puppies, the ranch is also home to different farm animals which provide the puppies with plenty of socialization opportunities. There are vast indoor and outdoor spaces for the dogs to roam and play.
Check out their website to see their facilities and pictures of their parent dogs and past puppies. Currently, due to high demand, Three Shades have no available puppies for adoption, but you can send them a message to get your name on the waiting list.
Three Shades Cavapoos Details:
7. Spruce Ridge Kennels
Last on our list of Cavapoo breeders in Ontario, Spruce Ridge Kennels is a family business where all the parent dogs are cared for onsite. The puppies are a part of the family, so you'll know that they will come healthy, happy, and with a sound temperament.
They also guarantee the health of each puppy with regular veterinarian check-ups, vaccination, deworming, and microchipping. The health guarantee also means that you can bring the puppy back if there are any issues in the future.
Aside from breeding Cavapoos, they also breed other hypoallergenic non-shedding dogs. They have a breeding schedule on their website which you can monitor. If you are interested, you can contact them to be put on the waiting list according to the adoption schedule.
For further information, you can check out their website to see some pictures of their available puppies and parent dogs.
Spruce Ridge Kennels Details:
Frequently Asked Questions
How much should I pay for a Cavapoo?
Depending on the breeder and their dogs, a Cavapoo puppy can cost anywhere from $1,200 to $4,000.
Which Cavapoo generation is better?
An F1 Cavapoo has Cavalier King Charles Spaniel and Poodle parents, while an F2 Cavapoo has two Cavapoo parents. You might prefer an F1 Cavapoo for its looks and an F2 Cavapoo for its lower-level shedding. For more information about Cavapoo generations, check out our full guide.
Are Cavapoos high maintenance?
Due to their frequent grooming needs, Cavapoos are considered very high maintenance.
Conclusion for "Best Cavapoo Breeders in Ontario"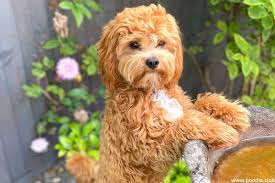 Lovable, friendly, and hypoallergenic, it isn't difficult to see why Cavapoos are so popular. However, like any dog, they are prone to certain genetic diseases like epilepsy, hip dysplasia, and luxating patellas.
That's why selecting a responsible breeder who tests for these conditions is paramount. Happy searching!
For more guides similar to this list of Cavapoo breeders in Ontario, check out these recommendations:
Before buying a Cavapoo puppy in Ontario, learn more about this dog breed by watching "Cavapoo Dog Breed Guide | Dogs 101 – Cavapoo/Cavoodle" down below: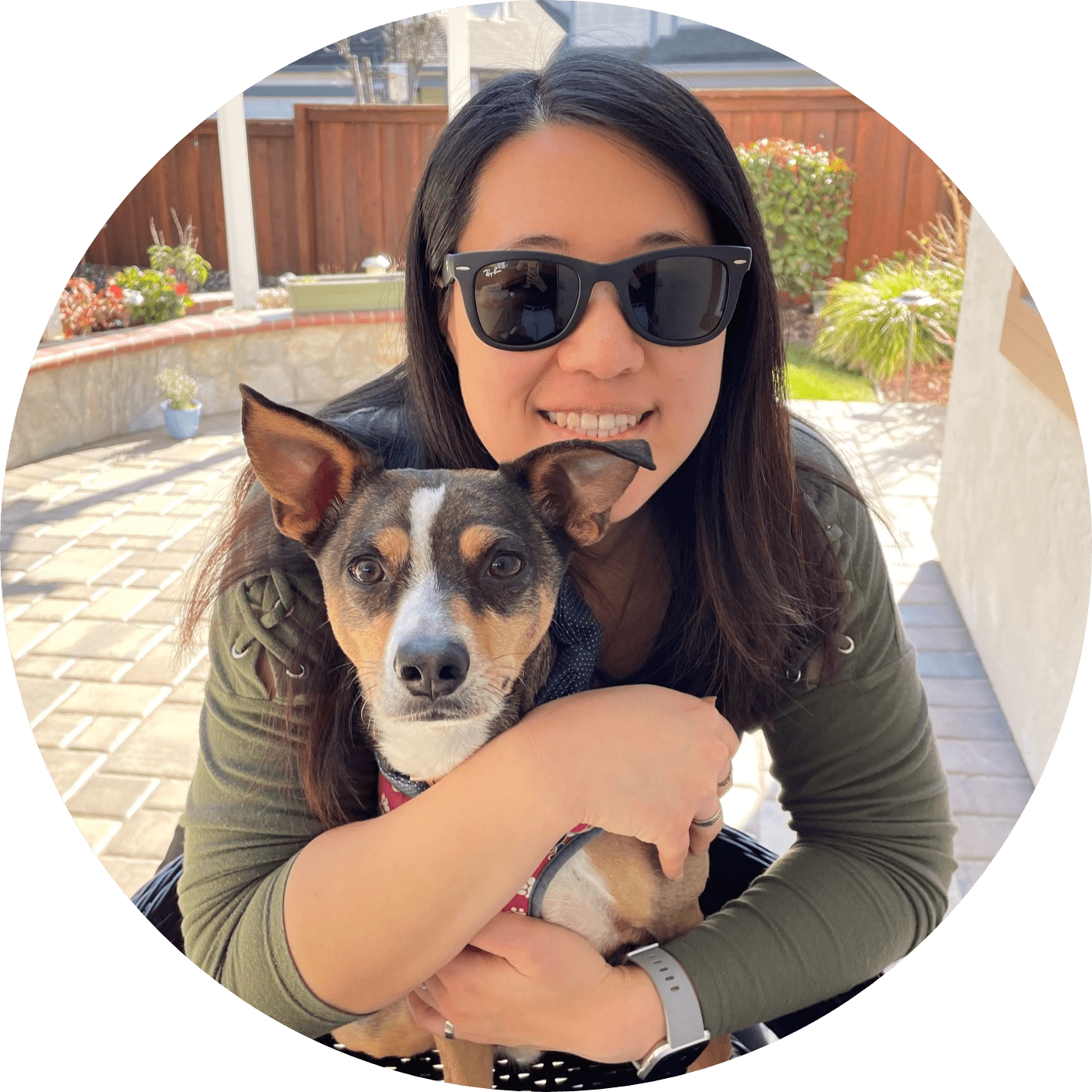 Dr. Sabrina Kong graduated from the Royal Veterinary College in England in 2016 and has been working at a small animal clinic in Northern California since then. She grew up in the Bay Area and got her bachelor's degree from Cal Poly San Luis Obispo. She also became a Certified Canine Rehabilitation Practitioner through a program at the University of Tennessee.
When she isn't in the clinic taking care of her four-legged patients, she enjoys traveling and trying new foods with her friends and her three-legged dog, Apollo. She adopted Apollo from her clinic when he was a puppy with numerous health issues. Dr. Kong truly cares about taking care of animals.