If you're searching for the best Cockapoo breeders in Ottawa, then here's what you need to know. The Cockapoo, also called a Cock-a-Poo, crosses between the Miniature Poodle and the Cocker Spaniel. By breeding these two kinds of dogs, you produce a breed that is non-shed or very low shed.
Cockapoos are one of the most popular breeds of puppies and make great family pets. Cockapoos can either be curly, shaggy or have a teddy bear look. Moreover, they are available in different colors, a significant reason for their popularity.
Before scrolling down this list of Cockapoo breeders in Ottawa, check out these other recommendations from our team at We Love Doodles: Best Dog Rescues in Ontario and Best Labradoodle Breeders in Ontario.
Cockapoo Puppies For Sale in Ottawa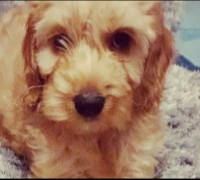 Let's look at the top breeders in Ottawa so you can get a cuddly Cockapoo companion.
Cockapoo Product Recommendations: Best Dog Food For a Cockapoo and Best Dog Bells For Potty Training.
1. A & R Country Kennel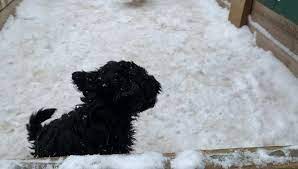 A & R Country Kennel started in 2001 when the owner started breeding Poodle crosses. Their tagline is that they are passionate about raising healthy dogs. Their mixed breeds include Bernedoodle, Cavapoo, Cockapoo, Schnoodle, and Shih-Poo.
A & R Country Kennel produces a very low shedding version of Cockapoo puppies. Therefore, they are the best choice if you or anyone in the family is allergic to pet hair. These Cockapoo breeders in Ottawa are located in Hermon, about a couple of hours' drive from Ottawa.
Regarding the tail, some dog owners prefer to have a cropped tail, and some prefer to have the tail intact. So the breeder prefers if adopters inform about the tail preference when they register for the waiting list.
If you are interested in purchasing from A & R Country Kennel, then you should keep the following in mind:
They practice natural

breeding

techniques, as the puppies' health is their utmost concern.
They have a two-year guarantee regarding health issues after the puppy is purchased.
They have raised 85% purebred stock and take pride in that.
They welcome and encourage vitiation so adopters can see the facilities first hand.
Depending on your proximity, they do not ship puppies but are willing to deliver them.
They believe in helping the puppy potty train after birth as they have a vast outdoor area where they can train.
Their nursery recently underwent renovations in 2013 and now has heated ceramic tiling and a separate birthing room.
A & R Country Kennel Details
2. Perfect Puppies
Perfect Puppies are located in Bancroft, Ontario, a short two-hour drive from Ottawa. They specialize in breeding Cockapoos and Shih-Poos.
If you are looking for a Cockapoo, this puppy breeder in Ottawa could be an excellent choice for the following reasons:
They recently renovated their nursery, which has windows so the puppies can take in the property's breathtaking views.
They have a homely setup and believe in raising the puppies inside their home.
They start training their puppies at seven weeks, where they are trained to go potty outside.
Perfect Puppies believes in giving a large amount of outside time to the puppies to get regular exercise and fresh air.
If you are interested in purchasing a puppy from these Cockapoo breeders in Ottawa, then you should keep the following in mind:
The best way to contact the

breeder

is to use the contact form. If you want to talk to the

breeder

on the phone, you can email them your phone number.
When you email them, you need to include when you would be ready to purchase the puppy so that they can let you know when the next one will be available.
They are open only Monday-Friday.
All the puppies are first-generation Cockapoos. This means the mother and father are both purebred.
Each puppy comes with a three-year health guarantee against any genetic or health defect. You will get a 100% refund if one of your puppies has a health defect.
Perfect Puppies Details
3. Legacy Cockapoos and American Bernedoodles
Legacy Cockapoos and American Bernedoodles is not a Cockapoo breeder in Ottawa but located in Beaverton, Ontario. Beaverton is about a four-hour drive from Ottawa. Legacy Cockapoos and American Bernedoodles is a home-based breeder that takes pride in giving personal attention and care to each puppy born.
They do not have a kennel environment as they believe in an in-home environment to raise their puppies. Puppies are allowed to interact with Mama Dog until she has to go back to her guardian home, which is usually well after being weaned.
Legacy is very attentive to DNA testing and ensuring that all parent dogs have been tested before they mate. They have a complete profile of the Cockapoo parents on their website and the complete contract that they will make you sign when you purchase one of their puppies.
The puppy application form will ask you for the following information:
Do you want to purchase a puppy because you want

breeding

rights, or are you interested in providing a guardian home?
Have any of the pets you own been suspected of having Parvo in the last year?
Questions about yourself, including your family members and work schedule.
Do you have an outdoor space and the time to take your new puppy outside for exercise?
Will you be willing to enroll your puppy in obedience classes?
Do you need your puppy shipped?
Legacy Cockapoos and American Bernedoodles Details
4. Nancy's Kennel
Nancy's Kennel is a well-known Cockapoo breeder in the Ontario region; it is located about an hour from Ottawa in Kingston. Nancy's Kennel is a small hobby breeder run by Nancy herself. She has been breeding Cockapoos since 2002; her puppies are well socialized and vaccinated.
If you are interested in purchasing from Nancy's Kennel, then you should keep the following in mind:
All puppies are vet checked and tested for Parvo.
All puppies are vaccinated, vet checked, and dewormed.
Puppies are ready to go to owners when they are eight weeks and not before.
Their puppies are medium-sized and weigh about 25 pounds and 15 inches tall.
 
Due to COVID-19, only one person can come to pick up the puppy; she does not ship them.
Visitation is allowed, but she will not let you see the parents, just the puppies. It is a good idea to read her 'Health Guarantee,' which she has detailed on her website.
A $200 deposit is required to put your name on the waiting list.
Nancy's Kennel Details
5. Curious Puppies
Last on the list of the best Cockapoo breeders in Ottawa is "Curious Puppies." Curious Puppies is a family-owned business that breeds puppies and gives pet training lessons to new pet parents. They have even made various puppy-training videos that can help you train your dogs.
Curious Puppies puts a lot of attention on the training of their puppies. Through tutorials and videos, they want to pass on their expertise to new-time pet owners. You can find available puppies on their website as litters become available. They have Cocker Spaniel mothers that are studded with Mini Poodle males.
If you want to purchase a Cockapoo from this pet breeder in Ottawa, then you need to keep the following in mind:
They only use waitlist email lists. So to get your name on the list, you need to email them.
If you see a puppy, you are interested in it. You need to contact Curious Puppies to inform them and add your name to their waiting list.
They will email you if a litter is available and they feel you would be a good match. Unfortunately, they cannot contact everyone, so they will only contact those who they believe can be potential dog owners.
They will send pictures of your puppy after the litter is born.
Curious Puppies is not a Cockapoo breeder in Ottawa, but they are located in Hamilton, about a four-hour drive from Ottawa.
Curious Puppies Details
How to Choose a Cockapoo Breeder in Ottawa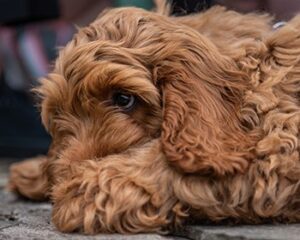 If you are looking for a pet breeder in Ottawa, you can find several reliable ones around the Ontario area. Although some of the ones listed above will not ship, they are a short drive from Ottawa, so making the trip should not be a problem. Visit the breeding facility if you have the chance.
By physically going there, you will get a better idea of the kind of care to their puppies and dogs. When visiting the breeding facility, you should make sure that the kennels are clean and the animals have the opportunity to get fresh air and exercise outside.
The best Cockapoo breeders prioritize the health and happiness of their dogs. When looking for a breeder, it is essential to consider whether or not they meet these standards.
When choosing a

breeder

, be sure to ask about the health history of both the parents and puppies.

Breeders

should also genetic testing on their

breeding

stock.
A responsible

breeder

will also provide information on caring for a

Cockapoo

and will be available for support long after you take your puppy home.
Related: Cockapoo vs. Poodle and How Much Does a Cockapoo Cost?
Conclusion For The "Best Cockapoo Breeders in Ottawa"
As you can see, you can find a reliable Cockapoo breeder in and around Ottawa by consulting our guide. Although we have only included the most trustworthy breeders, it's still best to visit the premises and do your analysis. By following these tips and our guide, you will find a healthy and happy Cockapoo puppy.
For more guides similar to this list of Cockapoo breeders in Ottawa, you can check out:
Before you bring home a Cockapoo from a breeder in Ottawa, you can learn more about the breed by watching "Cockapoo Dog Breed Guide" down below: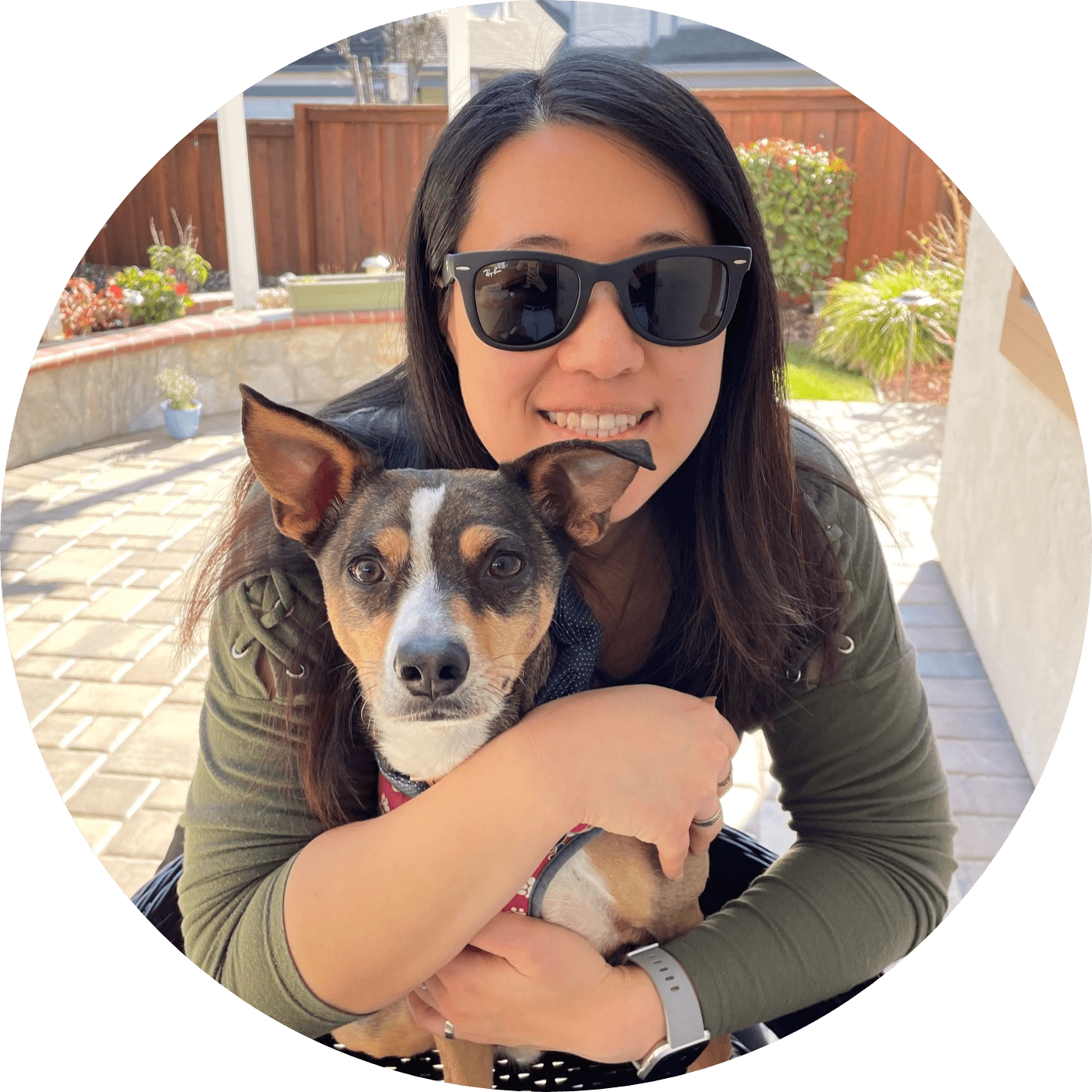 Dr. Sabrina Kong graduated from the Royal Veterinary College in England in 2016 and has been working at a small animal clinic in Northern California since then. She grew up in the Bay Area and got her bachelor's degree from Cal Poly San Luis Obispo. She also became a Certified Canine Rehabilitation Practitioner through a program at the University of Tennessee.
When she isn't in the clinic taking care of her four-legged patients, she enjoys traveling and trying new foods with her friends and her three-legged dog, Apollo. She adopted Apollo from her clinic when he was a puppy with numerous health issues. Dr. Kong truly cares about taking care of animals.