Are you looking for the best Cockapoo breeders in Essex? This list of the most reliable places in Essex can help refine your search.
Above all, finding a breeder that breeds responsibly and is also a good match for your family can be challenging. The growing number of puppy mills and backyard breeders further complicates the matter. If you are not careful enough, you can easily fall into the trap of these deceitful breeders.
Consequently, you might end up with a Cockapoo puppy with significant health issues, which can cause a lot of stress. Moreover, the last thing you want is to support unethical breeding practices.
To avoid such a situation, you must conduct thorough background research before trusting any breeder. Try to confirm even the smallest detail from each breeder, such as their breeding license, the vets they work with, and the pedigree of their parent dogs.
We understand how exhausting it can be to individually verify and cross-reference all the breeders to find a reliable one. Therefore, to make it easier for you, we have handpicked five of the best breeders offering ethically-bred Cockapoo puppies in Essex.
Before reading this list of Cockapoo breeders in Essex, check out: 5 Best Dog Rescues in Essex! (2023) and The 5 Best Dog Breeders in Essex! (2023).
1. Thackery's Kennels
First on our list of the best Cockapoo breeders in Essex is Thackery's Kennels. It has over 50 years of breeding experience. Therefore, you can expect it to produce puppies with great care and expertise.
It performs extensive DNA testing on all its dogs, including progressive retinal atrophy (PRN) and familial nephropathy (FN) tests. This helps to ensure that the puppies are free of any genetic disorders. New owners get DNA-cleared laboratory certificates at the time of adoption.
A licensed vet also regularly inspects puppies to monitor their growth and progress. For more information regarding Thackery's Kennels, visit its website linked below.
Thackery's Kennels Details:
2. Benbela Cockapoos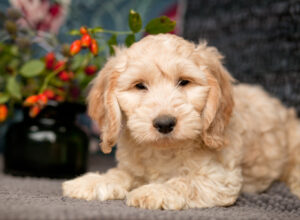 This family-owned kennel has been breeding dogs for the last 35 years and is fully licensed by the Maldon District Council. Benbela Cockapoos specialize in F1 Cockapoo puppies, which is a first-generation cross.
The breeder DNA tests its parent dogs to ensure that genetic diseases aren't passed on to the offspring. Additionally, the puppies get their deworming and flea and tick treatments at regular intervals. They also receive their first set of vaccinations within eight weeks of birth and are examined thoroughly by a licensed vet.
Benbela Cockapoos microchips all of its puppies to ensure their safety. Furthermore, it weans the puppies slowly so that by the time they are adopted, they have fully converted to puppy food. They are usually allowed to be taken to their new homes at around eight weeks of age.
Each puppy is sent home with one month of free pet insurance. If you have further inquiries about this Cockapoo breeder, you can contact them through their contact us page or also the information below.
Benbela Cockapoos Details:
3. Sawbo Pup's
Sawbo Pup's raises Cockapoo puppies for sale in Essex in a home-based environment where they get accustomed to household noises and socialize with other dogs and children. In addition, Sawbo Pup's only uses health-tested parent dogs to ensure that the puppies are free of hereditary diseases.
To secure a puppy through this pet breeder, you must deposit a holding fee of £50. This will guarantee a place on their waiting list, and you will be contacted as soon as a healthy litter is born. This fee is non-refundable; however, it can be transferred to the next litter in case you cannot find a suitable match in the current one.
Sawbo Pup's will provide you with regular updates about the growth and milestones of your selected puppy. The puppies are allowed to be moved to their new homes when they are at least eight weeks old. By then, they would have been fully weaned and properly crate-trained.
The new parents receive a puppy pack at the pick-up time to aid in a smooth transition. This package includes a bag of food, a scented blanket, the puppy's favorite toys, and a puppy plan. Moreover, this breeder also provides health certificates and kennel club registration papers for the puppy and its parents.
If you are looking for an experienced Cockapoo breeder, then Sawbo Pup's is the one to trust. Reach out to them directly for further information regarding their adoption criteria.
Sawbo Pup's Details:
4. Paddock Farm Dogs
Paddock Farm Dogs is fully licensed through the Braintree District Council and registered with the Kennel Club. Additionally, all its parent dogs are DNA tested for hereditary diseases that commonly plague Cockapoos.
Paddock Farm Dogs inserts microchip implants in all puppies to ensure their safety. Additionally, it strives to maintain its litter's quality of health through frequent vet examinations. Puppies are given deworming solution several times during the eight weeks to maintain proper gut health. They also undergo flea and tick removal treatments.
Its total fee for a Cavapoo puppy is £1,600. However, interested pet owners can place a small deposit in advance to secure a puppy. You can view photos of its past litter by following the link provided here.
In addition to Cockapoos, this breeder also specializes in breeding Cocker Spaniels and Cavapoos. To find out information regarding the availability of its upcoming litters, fill out its online contact form or contact it through the details mentioned below.
Paddock Farm Dogs Details:
5. Newland Cockapoos
Newland Cockapoos has gained a reputation as one of the most reliable Cockapoo breeders in Essex. They consist of a passionate and caring team that supports the puppies even after they are adopted and shifted to their new homes.
All the puppies purchased through Newland Cockapoos are vaccinated according to their age. They are also cleared of being free of diseases by a licensed vet who carefully monitors their health and growth.
Moreover, the puppies are also subjected to genetic testing for progressive retinal atrophy (PRA), familial nephropathy (FN), and acral mutilation syndrome (AMS).
The Cockapoo puppy you will adopt through this breeder will come with microchipping and formal registration with the Kennel Club. Visit their website page linked here to look at the puppies they have available for sale.
Newland Cockapoos Details:
How to Choose a Cockapoo Breeder in Essex
An ethical breeder will care about their dogs more than the profit they can generate. Therefore, if you buy a dog from such a breeder, you can expect it to be well-bred and well-adjusted.
There are several ways to judge and verify the authenticity of a breeder.
Firstly, responsible breeders usually have a clean, spacious, and well-maintained kennel. This provides the puppies with a safe and comfortable environment to grow. They also have vast open fields to give the puppies enough space to play and exercise.
Secondly, good breeders welcome visitors. It would be best if you visited the kennels and breeding facility in person to learn more about the breeder's breeding practices.
Come prepared with questions you can ask the breeder to see how much understanding they have about the particular breed they specialize in. An ethically responsible breeder is often well-informed about its breed and requirements.
Another way you can verify the breeder's claims is by asking for their registration certificates and health records. A reliable breeder that had nothing to hide would not hesitate to provide you with proof of those documents.
This depicts that the breeder has faithfully abided by the standard breeding policies and takes great pride in it. Such breeders would also have several customers and other vets that would vouch for the quality of their services.
Frequently Asked Questions
Should I get an F1 or F2 Cockapoo?
If your priority is allergies, you may want to get an F1 Cockapoo. That said, an F2 Cockapoo is also a great choice — it really comes down to personal preference.
Are Cockapoos good for seniors?
While Cockapoos are attentive and affectionate dogs that will work well with seniors, they do still require physical and mental stimulation, including daily walks.
What is the lifespan of a Cockapoo?
A typical Cockapoo should live for 12 to 15 years.
Conclusion for "The Best Cockapoo Breeders in Essex"
Finding the right companion is a time taking process that requires a lot of patience. The results, however, always prove to be worth it when you find a Cockapoo puppy that fills your life with love and joy.
We hope some of the breeders in Essex listed above suit your family's requirements. With a bit of research and time, you will have a loving best friend for life.
For guides similar to this list of Cockapoo breeders in Essex, check out:
Learn more by watching "Cockapoo Dogs 101: Everything You Need To Know – Is It the Right Dog for You?" down below:
Garrett loves animals and is a huge advocate for all Doodle dog breeds. He owns his own Goldendoodle named Kona. In addition, he volunteers at the Humane Society of Silicon Valley, where he fosters dogs and helps animals. Garrett enjoys writing about Doodles and believes that dogs can teach humans more about how to live than humans can teach a dog.
Why Trust We Love Doodles?
At We Love Doodles, we're a team of writers, veterinarians, and puppy trainers that love dogs. Our team of qualified experts researches and provides reliable information on a wide range of dog topics. Our reviews are based on customer feedback, hands-on testing, and in-depth analysis. We are fully transparent and honest to our community of dog owners and future owners.