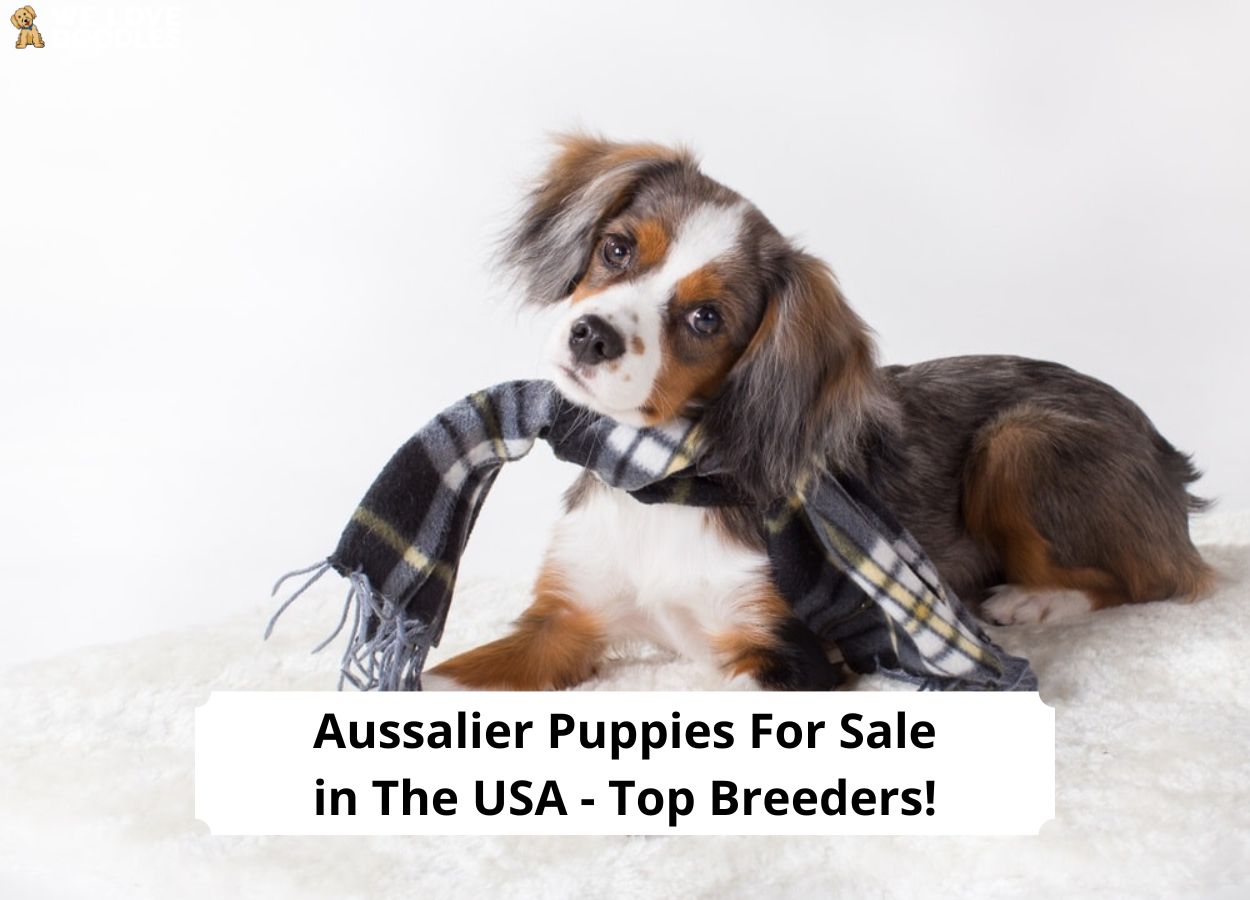 The best place to find Aussalier puppies for sale is from reputable breeders. You want to avoid purchasing a mixed breed from a pet store or puppy mill, as these puppies often come with health and behavior problems. Instead, check out the following reputable breeders on our list.
Loyal, loving, and endlessly adorable, Aussalier puppies are the perfect addition to any family. These active little dogs are a cross between an Australian Shepherd and a Cavalier King Charles Spaniel, and they inherit the best traits of both breeds.
Aussaliers are intelligent and quick to learn, making them excellent candidates for obedience training. They are also outgoing and affectionate, getting along well with people and other animals. In addition, their moderate energy level makes them well-suited for families with small children or busy lifestyles.
Before scrolling down this list of breeders with Aussalier puppies for sale, check out: When is an Aussiedoodle Full Grown? (2023) and Do Aussiedoodles Have Tails? (2023).
1. Copper B Farms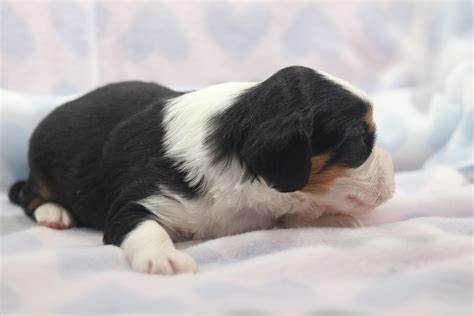 Copper B Farms in Minnesota is a family-run operation with the goal of breeding high-quality dogs for potential owners. In addition to the many furry friends on the farm, they also have kids running around!
Their dogs come from an excellent line that produces adorable and healthy dogs. They own several Aussies, a Poodle, as well as a Cavalier King Charles Spaniel.
They breed Aussiedoodles to Aussaliers a few times per year. You need to put down a $300 deposit on the litter once you know which puppy you want to secure.
All puppies come with a health guarantee for your peace of mind. They will also have their first round of shots completed, but it is the owner's responsibility to ensure that the dog gets all its required vaccinations.
Copper B Farms Details:
2. Rose Garden Kennels
The family that owns Rose Garden Kennels has always loved dogs, so choosing to make their business focused on breeding was an easy decision. They are passionate about the Aussalier and Cavalier breeds in particular.
Aussaliers begin at $1,600 and the price goes up from there depending on gender and coloring. The puppies also come with a health guarantee, have been dewormed, and are given initial vaccinations.
When this breeder has a new litter of puppies, they choose their owners via a waiting list that's determined by the order of deposits recieved. For an Aussalier puppy, the deposit is $200 and credited towards the total purchase price.
Rose Garden Kennels Details:
3. Royal Crown Kennels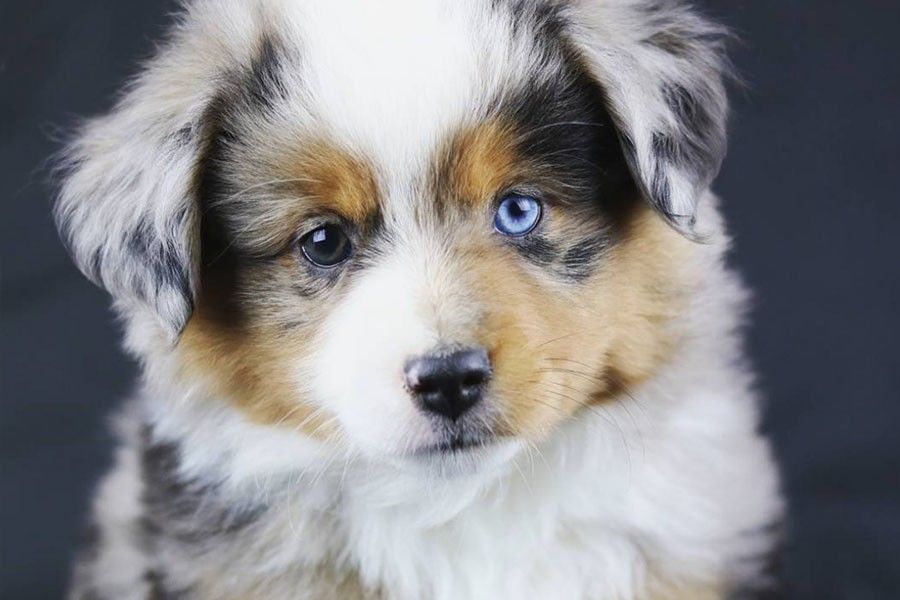 This breeder specializes in the best-tempered adult dogs to get puppies that are not only loyal to their family members but outgoing with strangers.
They aspire to have these qualities with all their puppies:
Eagerness to please
Loyalty
Friendliness
Low or medium energy/drive
Small size
They are dedicated to raising puppies responsibly. To ensure the health of their dogs, pups undergo extensive testing and are raised with Early Neurological Stimulation as well as the Puppy Culture program.
Each puppy comes to a new home with a large pack of supplies, a health guarantee, and lifetime breeder support for peace of mind.
Royal Crown Kennels Details:
4. EverReady Australian Shepherds
Lisa Ott, the founder of EverReady Australian Shepherds, got her first Aussie to help out around their Wisconsin dairy farm. She grew to love the breed and understood why so many people did as well.
Lisa is an ASCA Hall of Fame member and an AKC Breeder of Merit. Before any dog is considered for breeding, it must go through health testing and be proven in competitions. All Australian Shepherd puppies raised by Lisa are socialized and given training in her home environments.
In order to apply for a puppy, you must complete the online application and submit it via email. A representative will review your application and contact you via email or phone to follow up.
Although they take your gender and color preferences into account, they will ultimately match puppies to you based on temperament and suitability to your lifestyle. Simply submitting an application does not guarantee that you will be able to purchase a puppy.
Upon receiving a puppy, the breeder will provide you with a list of necessities. In addition, all puppies come home with registration papers, health records, and, more importantly, a crash course on puppy care and training.
EverReady Australian Shepherds Details:
5. Chadwick Cavaliers
The owner of Chadwick Cavaliers first got involved with the breed in 1976 when they purchased their first Cavalier King Charles Spaniel as a pet. They have since been active in obedience training, conformation events, and agility courses.
Not only have their Cavalier King Charles Spaniels won many championships for both the Cavalier King Charles Spaniel Club and the AKC, but the owner is also a licensed judge for both clubs.
The Chadwick Cavaliers have received many recognitions, such as the AKC's Breeder of Merit title. They're also honored with Good Dog's badges for being an excellent breeder and for having passed all health tests with flying colors.
In order to keep their dogs healthy and free of common conditions, they regularly test for diseases such as MVD, retinal dysplasia, hip dysplasia, and patellar luxation.
Cavalier King Charles Spaniel puppies for sale from this breeder typically cost between $4,000 and $6,000. In addition to the dog, you will also receive a one-year health guarantee, breed club registrations, AKC registrations, updated vaccines, and more.
All of their puppies receive socialization training with humans, car or travel training, potty training, crate training, and bite/chew avoidance training. Plus, the puppy package comes with a lot of freebies for the owner.
Chadwick Cavaliers Details:
6. Pine Spring Australian Shepherds
Janet Matkins, the owner and Breeder of Pine Spring Australian Shepherds, got her first Aussie in the early 1990s. Janet soon after produced her first litter from the farm in Central Virginia.
She used to breed working lines, but after years of research, she decided to switch to conformation. Since then, she's shown her dogs in AKC, ASCA, and UKC events and is now an AKC Breeder of Merit.
You can contact Pine Spring Puppies via email or phone, and they will provide you with a questionnaire to fill out.
Most of the time, puppies are sold with a spay or neuter contract to be kept as companions. There are, however, a few exceptions with full registration for show homes or those who plan to breed. For all customers, she offers a written health guarantee for two years.
A $250 non-refundable deposit is required to secure a puppy. Puppies sold on a companion contract will start at $1,200, while show prospects begin at $1,500.
Visitation of the puppies is allowed by appointment only and must be scheduled ahead of time. Shipping is available, but prospective owners are encouraged to visit the puppies beforehand.
Pine Spring Australian Shepherds Details:
7. Athercroft Cavaliers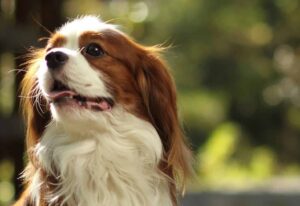 Athercroft Xavaliers is a leading member of the American Cavalier King Charles Spaniel Club, Inc, where one of its owners serves not only the board of directors but is also a director for its Rescue Trust.
They have extensive experience with the Cavalier King Charles Spaniel breed, and they have 20 years of success stories to share. This includes many champions, performance titles, and national specialty wins of both their male and female dogs.
At Athercroft Cavaliers, they are dedicated to bettering the breed as a whole. This includes improving behavior, health, and lifespan. Because of their accomplishments in these areas, they have been named a Breeder of Merit by the AKC.
Not only are all their puppies house-raised and fed an organic and corn-free diet, but they are also up to date on vaccines and deworming. In addition, each puppy will be microchipped and AKC-registered.
If the buyer does not have time to train their puppy, they offer to do it for them and release the puppy as a "graduate."
Athercroft Cavaliers Details:
8. Absoloot Australian Shepherds
Absoloot Australian Shepherds is a small hobby breeder of Australian Shepherd dogs in Connecticut, and they frequently have Aussalier puppies for sale. The company's founder, Keli Gaunt, got her first Australian Shepherd dog in 1987 and tried joining shows a few years later. Today, she is an AKC Breeder of Merit and ASCA Breeder Judge.
Her dogs live in her home and are fed a raw food diet supplemented with holistic kibble. Dog parents have all been certified by the Orthopedic Foundation for Animals (OFA) for healthy hips, and the Canine Eye Registration Foundation (CERF) has cleared them as breeding stock.
To be sure your new puppy is healthy, they check for hereditary defects at eight weeks. By the time you pick them up, they will have had their first eye exam and vaccines, as well as started crate and leash training.
Performance and companion puppies begin at $3,500. If you're seeking a bit older age group, young adult Australian Shepherds that are trained as companions start at $3,800. Although not as frequently available, show and breeding stock can also be agreed upon through private contracts.
If you want an Absoloot Aussie puppy, please fill out the questionnaire on the website and email it back to her.
Absoloot Australian Shepherds Details:
Frequently Asked Questions
How much does an Aussalier puppy cost?
You can expect to pay anywhere from $1,500 to $3,000 for  healthy Aussalier puppies for sale from reputable breeders.
How big do Aussaliers get?
An Aussalier can be 13 to 16 inches tall and weigh 16 to 35 pounds.
Are Aussaliers hypoallergenic?
Aussaliers come from Australian Shepherds and Cavalier King Charles Spaniels, and they are not hypoallergenic.
Conclusion for "Aussalier Puppies for Sale in the USA – Top Breeders"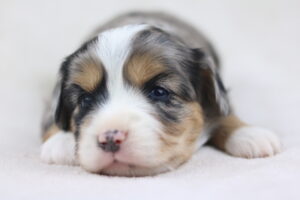 If you are looking for a dog that can keep up with your active lifestyle, then the Aussalier is the breed for you. These dogs are intelligent, athletic, and trainable, and they make great hiking companions.
When choosing an Aussalier breeder, it's essential to research reputable breeders who produce high-quality puppies. The eight breeders listed above are all great choices if you're looking for an Aussalier puppies for sale in the United States.
For more guides similar to this list of Aussalier breeders with puppies for sale, check out:
Before you get an Aussalier from a breeder, learn more by watching "GETTING A PUPPY!! ✈️ Aussalier (Toy Aussie + Cavalier MIX!) FROM the AIRPORT! 🪐" down below: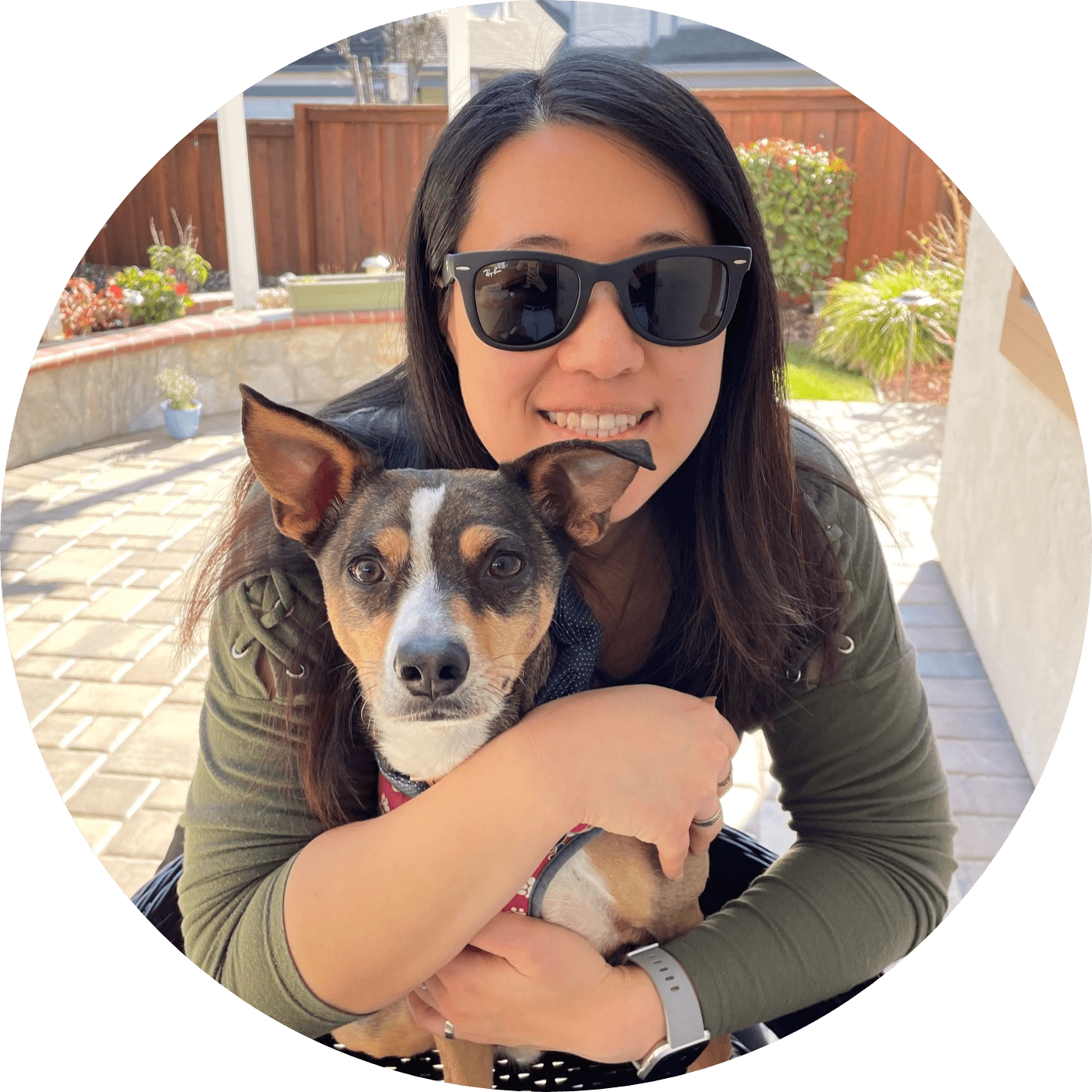 Dr. Sabrina Kong graduated from the Royal Veterinary College in England in 2016 and has been working at a small animal clinic in Northern California since then. She grew up in the Bay Area and got her bachelor's degree from Cal Poly San Luis Obispo. She also became a Certified Canine Rehabilitation Practitioner through a program at the University of Tennessee.
When she isn't in the clinic taking care of her four-legged patients, she enjoys traveling and trying new foods with her friends and her three-legged dog, Apollo. She adopted Apollo from her clinic when he was a puppy with numerous health issues. Dr. Kong truly cares about taking care of animals.