E-Collars, short for Electronic Collars, are tools designed to deliver an electric stimulation on a dog's neck. This isn't the burning or zapping kind of electric shock. Instead, it's a low-energy jolt that teaches your dog using negative reinforcement methods. It's used to help dogs learn via association, which will oftentimes train your dog significantly faster than positive reinforcement. If your dog is stubborn or refuses to listen to you, then chances are an e-collar can help. Today, we will go over how to use an e-collar to train your dog!
Other articles you would like: Best Training Collar for Stubborn Dogs and Best Shock Collar for Large Dogs.
What You Need to Know Before Using an E-Collar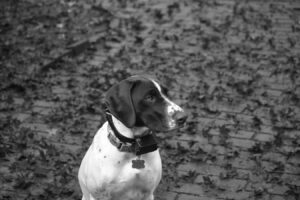 Before you even open that box, there are a few things to keep in mind. Make the first one a mantra if you must, because having great power to remotely deliver electric stimulation comes with greater responsibilities.
An E-Collar is Not for Punishment
The cardinal rule: use the shock collar to help guide your dog to do the right thing. Please do not use it to punish unwanted behaviors because it can and will quickly go out of hand. Before you know it, your dog's spirit is broken, and they live their lives out of fear of being shocked. When that happens, it's difficult to undo. Always treat your furry best friend with the love and respect they deserve.
An E-Collar is for Obedience and Conditioning
There are three ways to use them, one is catching your dog's attention, the second is to tell them which action is correct, and the last to use it as a signal. These methods ultimately condition your dog to associate the wrong actions with a kind of stimulation, whether it be static stimulation or vibrate.
Read the Manual
Modern shock collars are chock-filled with features meant to give you an easier time or opportunities for better training methods. Some kits work out of the box with easy-to-understand buttons while others don't, and most collars need you to pair the remote to the receiver. You need to fully understand how to use the remote and avoid accidental shocks or delivering a much higher stimulation level than intended.
Pre-Training Preparations For an E-Collar
Now that you've understood the concepts of a training collar and read the manual, you're ready for the next step. To ensure successful e-collar training, start by making sure the shock collar always makes contact with your dog's skin. Secondly, you need to keep your dog from getting collar-wise. Let's go into detail with what that means.
What do you mean by collar-wise?
Dogs are smart. They sometimes do silly things, but they didn't get this far as a species without some wit. They may figure out how the e-collar works and only behave when they wear it. They could become reluctant to wear the collar in the long run, hindering your training goals.
How do I avoid making my dog collar-wise?
Before you start your collar training, have your dog wear the shock collar on a daily basis, at least for a few hours per day. Play with them while wearing the collar, go for walks, sometimes let them sleep while wearing one. Do this for a week or two so that they don't realize that the collar is only for training situations. It's also a good idea to keep the collar on for an hour after training is done, for the same reasons. This is a long wait, and you may be itching to use the collar, but it's worth it in the long run.
E-Collar Must Make Contact with your Dog's Skin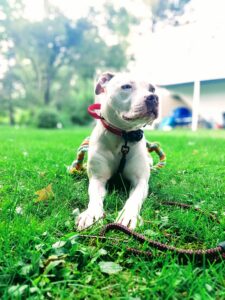 We'll start this with a scenario: You're done with all the pre-training business, and you start teaching your dog how to follow verbal commands. You trigger the e-collar with the lowest level of shock, but your dog doesn't even bat an eye. You crank the level up to, say, 50% of max power and finally get a small reaction from your dog. You continue with the training, your dog is happy that they are getting it right, then suddenly your dog yelps in horror when you press the trigger, and it breaks their heart a little.
What happened? The contact points on the shock collar's receiver weren't completely touching the skin, dampening the sensation. A random hop or jiggle allowed for complete contact, and your dog felt a jolt far higher than they are okay with. 
To prevent this, you need to do the following:
Brush your dog's neck hair
This won't be a problem for some short-haired breeds like German Shepherds or Beagles, but long-haired dogs like Golden Retrievers or Border Collies will. Hair will resist the shock quite well, so to solve it, brush the hair on their necks. This removes excess hair and also means you can better judge the collar's tightness. Speaking of which, the next one is about tightness.
Two-Finger Rule
Check if you can easily, but snugly, put two fingers between the dog's neck and collar. The e-collar has to be tight enough so the contacts are always touching the dog's skin but loose enough that the metal points don't cause pressure sores too fast. 
Avoid placing the collar on the dog's larynx
The larynx is the dog's windpipe. You can already tell at this point that it's not a good idea to induce spasms or tighten the e-collar on it. The ideal area to position it on the side of the neck where most of the muscles are. It maximizes the effects and minimizes discomfort. 
Related Article: Best Shock Collars for Long Haired Dogs
E-Collar Training Techniques
Now that your dog is familiar with the collar and hasn't figured out how the collar works, you can start training. We'll show you a few tips before starting and the basic training process with a shock collar. 
Calibrate to the lowest shock level possible.
It's a given that you'd want to minimize the stimulation your dog needs. However, it doesn't mean that always use the lowest shock either. Dogs have different resistances, and some are more resistant to lower levels of shock, especially larger dogs.
When you've ensured that the dog is wearing the collar properly, start at the lowest level, press the remote to deliver a quick stimulation. Once you did, watch your dog. It's the small things that you need to pay attention to, such as the dog closing their mouth upon pressing, or looking partially confused, or raising their head. 
If they don't seem to be responding, raise it to the next level until you get that desired reaction that your dog "feels" the shock. When your dog twitches their head, snaps to one side, or makes any yelping or whimpering noises, you need to turn down your e-collar
Once you've found the lowest possible level, lock that in or make a note of it.
Prepare for positive reinforcement.
Using a shock collar is practically a carrot and stick approach, but with a much softer stick. Prepare treats for your puppy since half of the process will be rewarding them for good behavior.  Eventually, your best friend won't need the shock collar to obey or behave, but they wouldn't say no to a treat!
The Training Process. 
Now that you have everything prepared, we'll show you how to use the collar with a basic training method. The process is as follows:
Shock > Command > Yes! + Treat
It looks like a formula, and it is. For this scenario, our goal is to make our furry friend approach us when called, also known as recall commands. Let's look at an example of how to use an e collar for recall.
Let your dog know what the command is, call their name, and tell them the command. For example, let's use "come." They don't need to follow it, but when they hear it, give them a treat. It helps them associate the command with a tiny reward.
Next, use a long, maybe 3-meter leash and walk a few steps away from your dog, then trigger the continuous shock, and at the same time, loudly say "come!" or their name and the word "come!". When the dog looks in your direction, stop the shock. This tells them that they are doing the right thing. If they aren't, keep on holding the trigger and repeat the command until they do. 
When they've learned to face your direction, do the process again and lightly tug at the leash to encourage them to approach you. If they stop halfway, trigger the collar until they do. 
When they finally reach you, clearly say "Yes!" then give them a treat. 
To summarize, you let your dog associate the wrong actions to the stimulation and the right action to the "Yes" and the treat. Keep doing this with the leash on until they master it. Then, you can try it without the leash.
Related: Best E-Collar for Large Dogs
Beginning E-Collar Training
One misconception a first-time e-collar trainer may have is the formality of the training process. The best way to describe it is to make the training process feel like a normal day for your dog. For example, say you're training your Husky on the front lawn, and during training, your neighbor and their Chihuahua walk by, and your large dog wants to say "hi" to the tiny dog.
Let your dog do so and don't use the shock collar to prevent it, unless your dog misbehaves like startling the Chihuahua. Teaching them even the most basic obedience commands may take the whole afternoon, and learning can be quite exhausting for both you and your dog, so try your best to make it fun. 
Clarity and Consistency of Communication
The training process is broken down into simple steps to ensure this. You must reduce confusion between the trainer and the dog, not just to make it easy for you but also to help minimize the time you're pressing the trigger. Being consistent in the timing of both trigger pressing and command is crucial. If you do it a certain way, even if it's a bit different, make sure you stick to it.
Typically, when you begin e-collar training, you'll want to shock your dog immediately after their bad behavior. For instance, if your dog is barking at the front door, you want to shock them after the first or second bark and not let it go on for minutes. This provides clarity and consistency to your dog, in which they will know not to bark in the future.
Myths and Misconceptions about E-Collars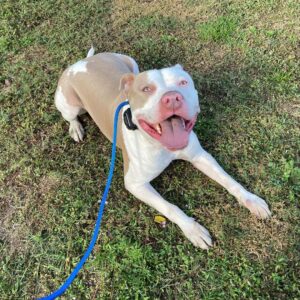 When a product is called a "Shock" collar, you know eyebrows will raise and furl. The word "shock" is so loaded with bias that it divides people's opinions about it. This is why some companies call them e-collars or remote training collars. Within that division are misconceptions and myths. Let's address some of them and the information behind them. 
Shock Collars will Hurt your Dog
This is the epicenter of controversy against shock collars for a good reason: no one wants to deliberately hurt their pet, let alone "shock" them. 
Pain is a very subjective scale, especially for dogs who can't rate them from one to ten. So let's use something we can measure like energy: A kid rubs their socked feet on the carpet then touches the doorknob on a dry winter day, causing a visible zap of static electricity. The result? The kid laughs, probably does it again with more gusto.
That static pin-prick transferred energy of about 1 MegaJoule (1000 Joules). We use this instead of Volts because that tiny static shock can deliver anywhere between 700 and over 20,000 volts, but what matters is the amount of energy transferred in that millisecond, not the rate.
A shock collar will deliver, at the lowest level, 5 Micro Joules, and at a maximum, about 300 Micro Joules. It's a third of a joule compared to that 1000 joules.
This makes the word " shock " more technical since it uses electricity but incredibly tiny amounts. If you still have doubts, use them on yourself to find out how your dog may feel. The results may not shock you. However, e-collars can possibly hurt your dog if you use the highest setting and decide to shock them.
E-Collars = Lazy Training
This one may not be apparent, but to stop people from using shock collars, people will use many angles to convince them to use another training method. 
An E-collar is a powerful tool, but a tool nonetheless. It's meant to help you communicate with your dog differently. This new way of communication teaches your dog how to obey you, and that streamlines the training process.  It's still a process, one that takes effort, time, and commitment, which far from the word "lazy." However, e-collars can expedite a training schedule since dogs respond faster to negative reinforcement.
E-Collars are Not for Small Dogs
The logic behind this misconception is easy to guess. Small dogs have less mass to resist the energy from the collar and overall seems cruel to use on small, fragile-looking breeds. 
The amount of energy the collar delivers is so small that the energy diffuses after one or two millimeters. If anything, you should be more concerned about using them on big beefy breeds since they have a lot more resistance.
Modern shock collars can fit dogs as small as 8 pounds. This may exclude tiny breeds like Chihuahuas, but as a general rule, any dog as small as adult Mini Pinschers and bigger can fit, unless you have a bear of a dog with a neck size over 27 inches. 
E-Collars Will Cause Your Dog to Fear You
Brussel sprouts can cause your kid to fear dinner time. What we mean is that anything used (or cooked) irresponsibly can cause negative effects. 
We mentioned earlier that the E-collar is not for punishment. It's never meant to intimidate your dog to submission. Dogs who do end up fearing their owners or trainers do so because the collar was used irresponsibly and inhumanely. You can end up doing the same with any other tool, even your own hands, so this misconception can apply to just about anything. 
The sub-misconception here is that "E-Collars will cause fear in dog owners," which may be true if you haven't read everything here yet.
E-Collars Cause Burns on a Dog's Skin
Electricity + Resistance (like skin) = Heat, and therefore cause burn marks. This is generally not the case though for e-collars. The energy is nowhere near enough to cause instantaneous burns, even if you hold the trigger for a very long time. 
If it's not burn-marks, what is it and causes it? There are many answers, but the most common are contact dermatitis, also known as skin irritation and pressure sores. 
Some dogs are unfortunately allergic to the titanium contact points, which is why some types of collars have plastic points. They may not conduct electricity, but modern shock collars have vibrate and tone as secondary signals. 
The more common reason why some dogs have either skin irritation or pressure sores is that owners don't turn the collar every 2 or so hours. Just like how some hospital patients get bed sores if they don't get rolled now and then, dogs can get a small version of those sores when they have the collar on for long periods of time. 
The E-Collar will Break Your Dog's Drive and Spirit
This misconception is perhaps the worst of the bunch. As we've repeated plenty of times here, shock collars are not for punishment and should be used as respectfully as possible. There are stories of owners dialing the collar on high and going to town on the button whenever their dog does something they don't like. These poor dogs end up losing their drive to play and do the doggy things we know and love. 
Used even with the slightest bit of love and respect, a shock collar will not break them. If anything, it will help them understand you better, as using a shock collar is a learning experience for both of you. 
Conclusion How to Use an E-Collar to Train Your Dog
To summarize everything, the shock collar is an efficient tool in teaching your dog how to follow your commands – it's not meant to punish your dog. Like other collars, an e-collar is only a part of the entire training process. When you train your dog properly with an e-collar, eventually, you won't need the shock collar. Their loyalty and understanding of you, along with yummy treats and good praise, is all you need to train your dog. An e-collar helps expedite the training process, especially if you have a dog who doesn't listen at all.
Other articles you will like:
Still not convinced? Check out this video on how to train your dog with an e-collar:
Garrett loves animals and is a huge advocate for all Doodle dog breeds. He owns his own Goldendoodle named Kona. In addition, he volunteers at the Humane Society of Silicon Valley, where he fosters dogs and helps animals. Garrett enjoys writing about Doodles and believes that dogs can teach humans more about how to live than humans can teach a dog.
Why Trust We Love Doodles?
At We Love Doodles, we're a team of writers, veterinarians, and puppy trainers that love dogs. Our team of qualified experts researches and provides reliable information on a wide range of dog topics. Our reviews are based on customer feedback, hands-on testing, and in-depth analysis. We are fully transparent and honest to our community of dog owners and future owners.